Since the fall semester of college is about to begin in a few weeks, it's guaranteed that many students are finishing their dorm room shopping, possibly starting to pack, or wondering what they want their dorm room to look like.
As someone who has already been through her first year of college, I've found that guys typically don't care too much about decorating their rooms, but girls definitely do. For us, it's the perfect opportunity to take advantage of a new space by buying/making cute things and eventually having one of the prettiest rooms ever. If this sounds like you and you're looking for a couple more DIY ideas on how to decorate, I've got 10.
---
1. Heart Photo Collage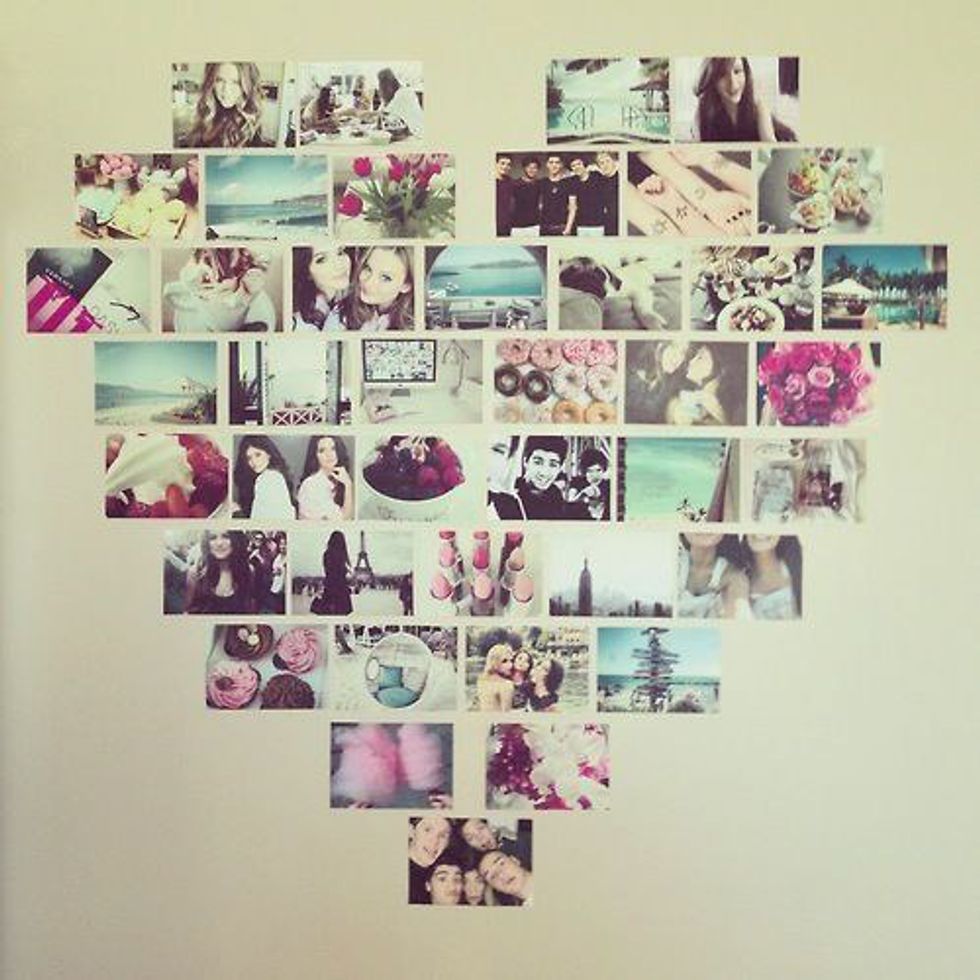 This is literally one of the simplest and cutest ways to cover up the boring white wall that most college rooms have. All you need are tape and printed photos. Feel free to make the heart taller or wider by spacing out photos and rows more. Just try using the same amount of photos in each row, so it actually looks like a heart in the end. I did this in my dorm room and found it best to start with the middle row!
Here's a tutorial video on YouTube!
*Bonus tip -- stores like Walgreen's, CVS, Walmart, etc. do sometimes have discounts on printing photos, so be sure to check before you go. If I remember correctly, I was able to print 100 4 x 6 photos for just $10 at Walgreen's last year.
2. Clothing Line Photo Display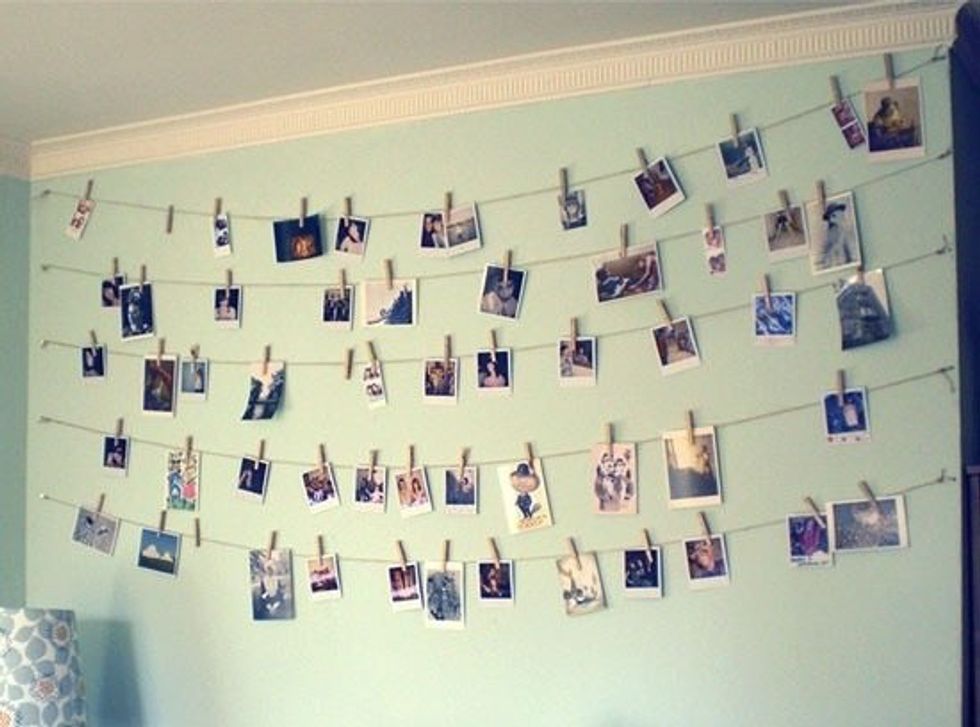 This is also super easy, because all you need are string, tape, clothing pins and photos. The string can also be hung in different ways, rather than just straight. I've seen some rooms where people have painted the clothing pins a different color too, so that's definitely a cool idea.
Here's a tutorial video on YouTube!
3. Pennant Banner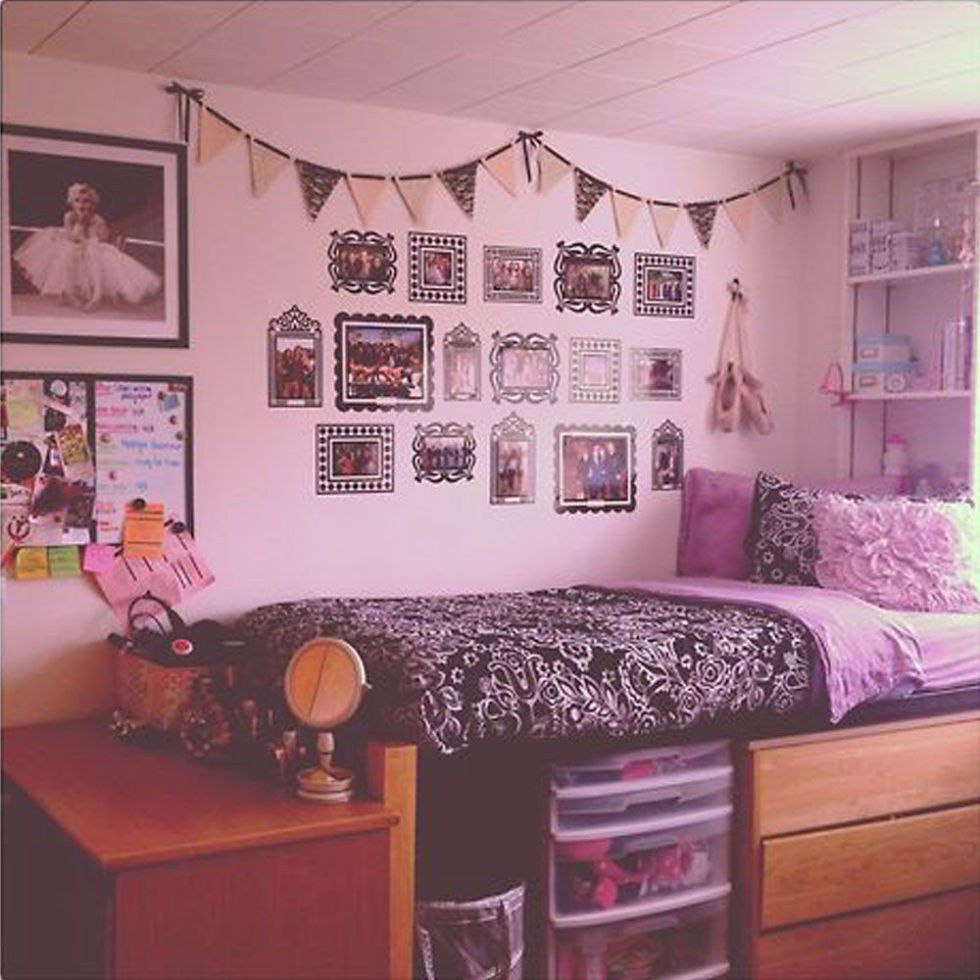 I did this in my dorm room (not the picture above), and it actually turned out really nice! All you have to do is cut out triangles (or whatever shape you want) and tape them to string, or punch holes in the triangles and run the string through them. I suggest using construction paper or scrapbook paper for the triangles, and ribbon can also be an alternative for the string.
Here's a tutorial video on YouTube!
4. Paper Rosettes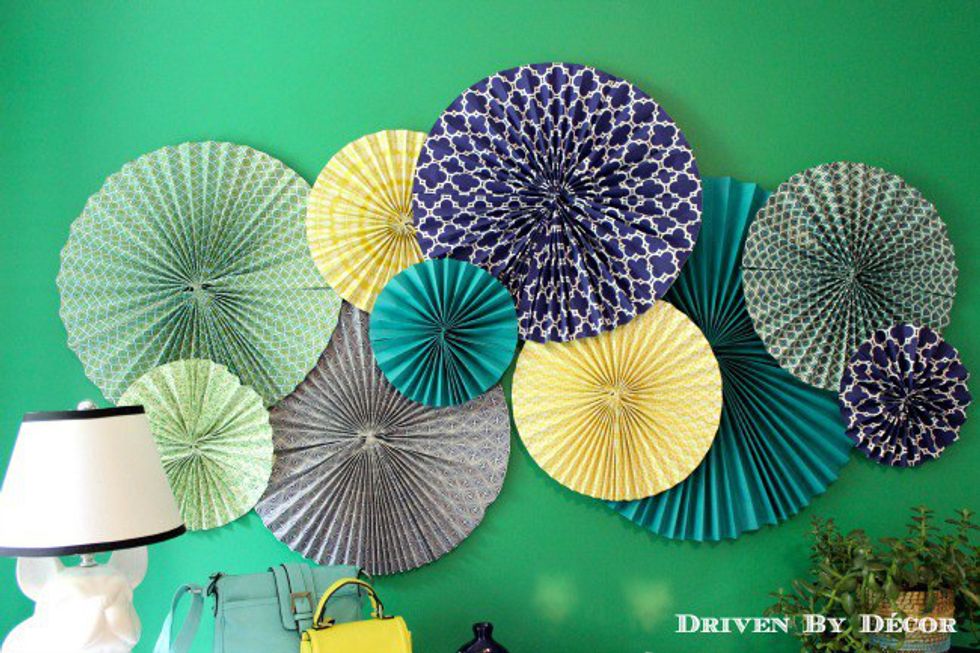 These might look a little complicated to make, but I promise they're easy. You fold pieces of paper and tape/glue/hot glue them together.
Here's a photo tutorial that shows each step!
5. Cork Boards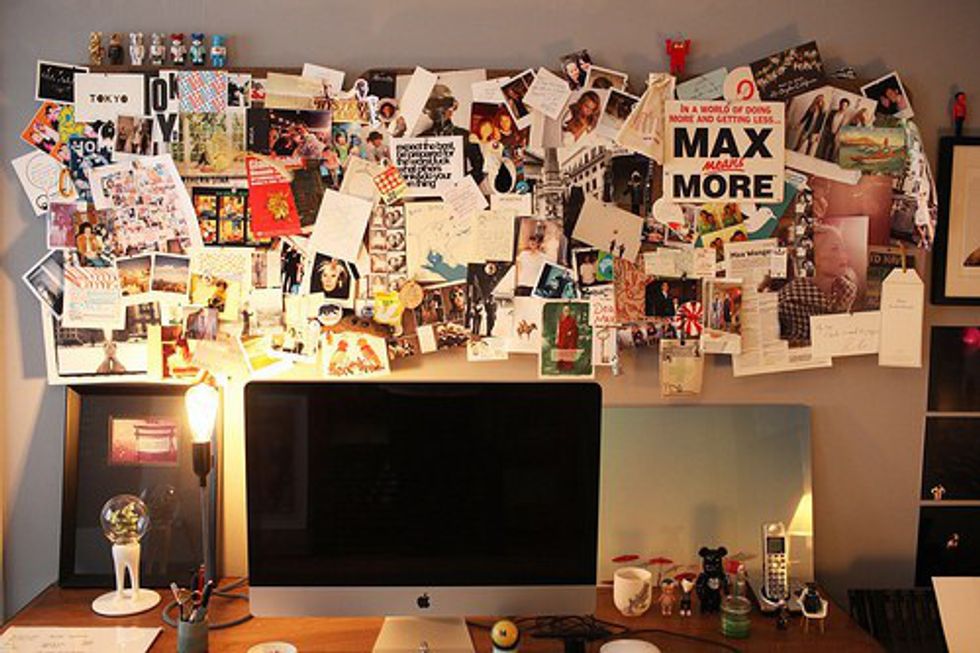 The cork board in the picture above is pretty wide, but you could use a smaller one because cork boards come in all different sizes and shapes. I have one in my dorm room that's travel-themed, but you could make yours band-themed, fashion-themed, family-themed, etc. Just print out pictures or find some in magazines, and you'll be good to go!
6. Washy Tape Photo Display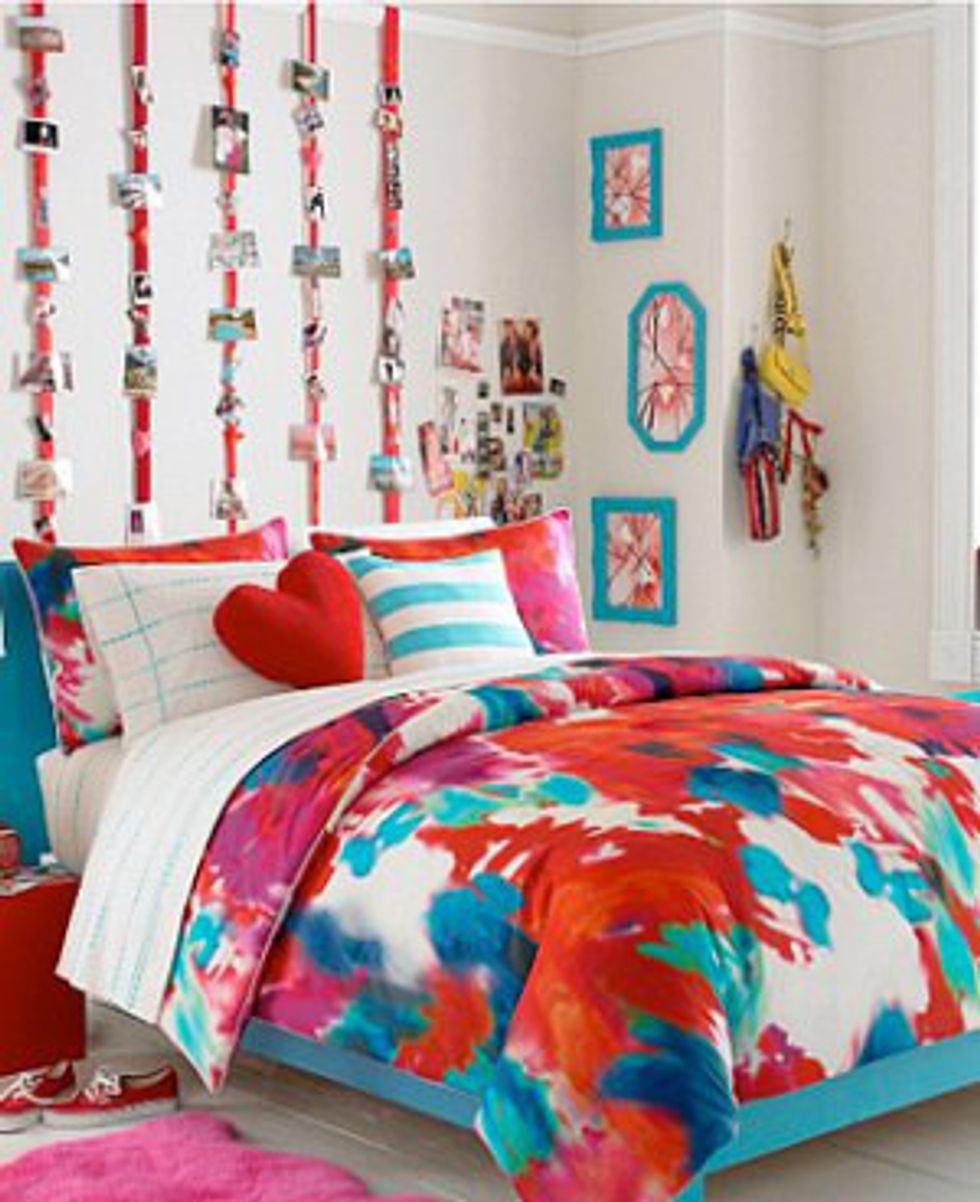 Okay, I'm not sure if it's ribbon or washy tape in the picture above, but either way, you can do this. Just make lines with washy tape on your wall and then add pictures on top. Or do the same thing with ribbon if you want the photos to hang, rather than be stuck to the wall.
7. Cork Board Jewelry Organizer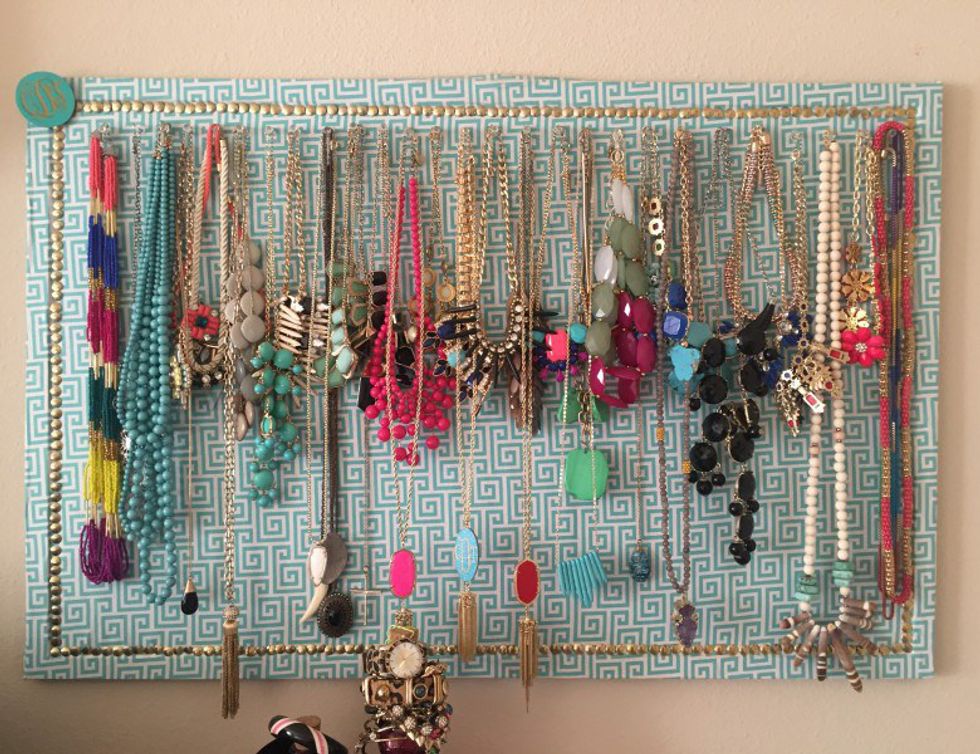 This jewelry organizer in the picture above looks pretty fancy, but you could make yours simple. I personally would just use a cork board, paint it with acrylic paint or cover it in some fabric, and then add some pins to hold jewelry. There's no need for a border or anything like that, unless you want to make it fancy.
Here's a tutorial video on YouTube. It's a little bit different than the picture above, but still great!
8. Toilet Paper Roll Flower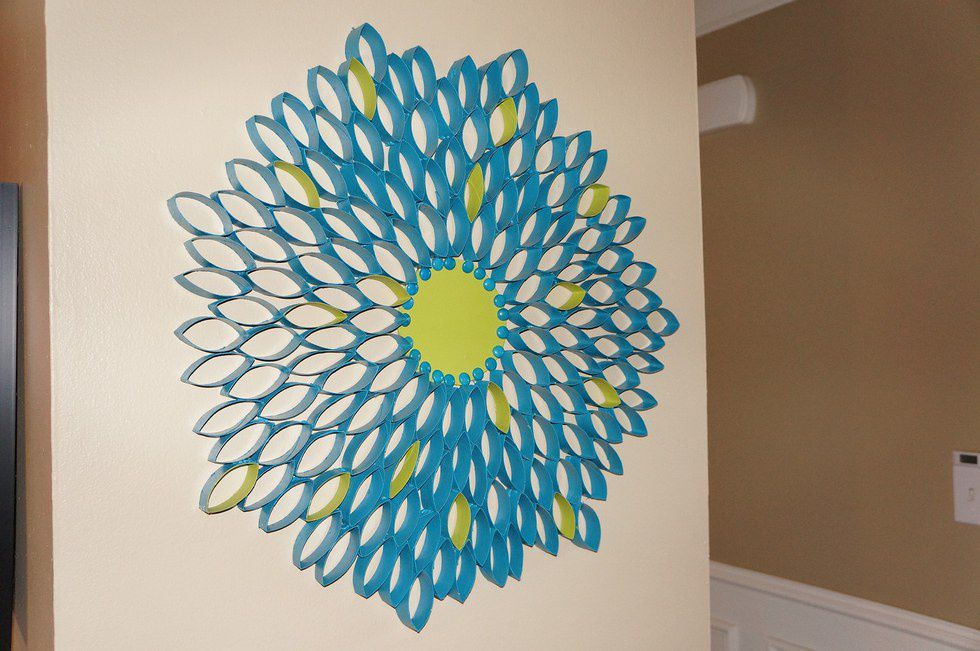 You know those toilet paper rolls that you just throw out because they're not useful for anything? Well, think again. You could use them to make this awesome flower. All you have to do is paint the rolls, cut them in pieces, bend them a little bit and glue the sides together, or just do all of that and spray paint them at the very end.
Here's a tutorial video on Youtube!
9. Plastic Storage Drawer Makeover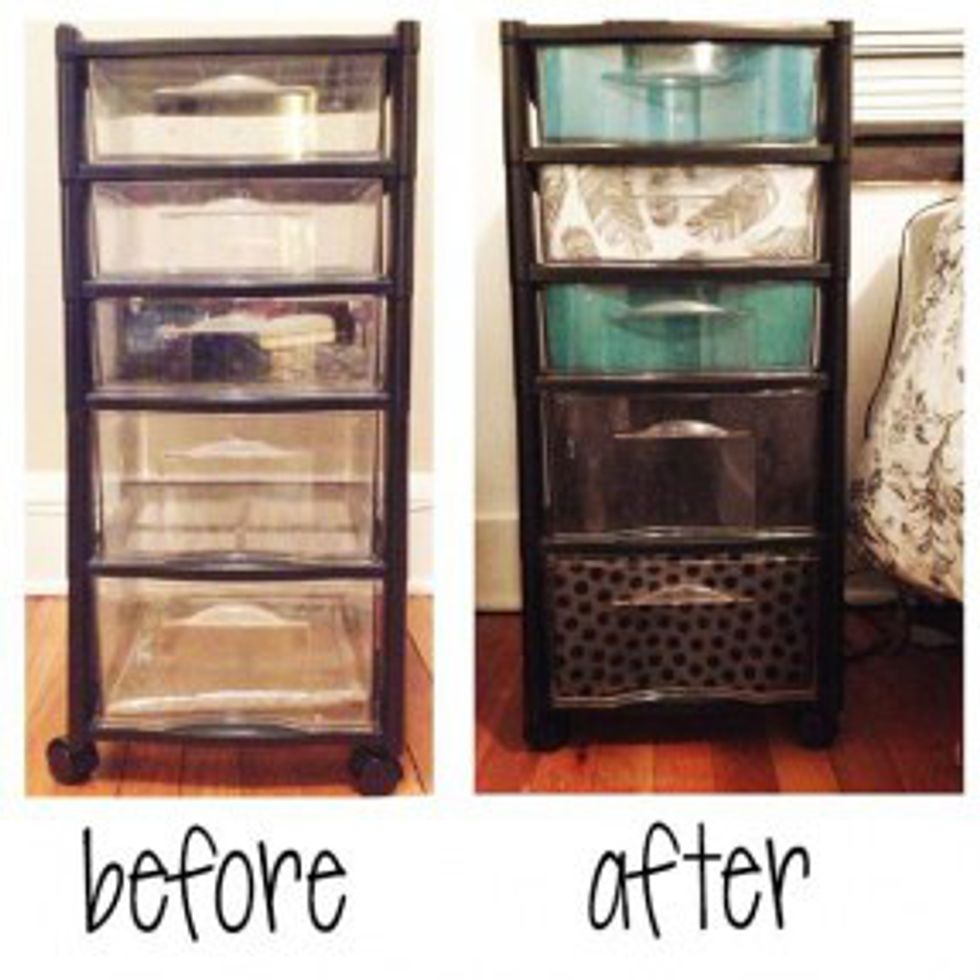 Okay, we all know that space is very limited in college. With that said, I'm sure many of us have these plastic storage drawers underneath our beds, and they look boring. But with some patterned paper, a pencil, ruler and scissors, you could quickly change that. It's so easy, as long as you know how to measure correctly.
Here's a tutorial video on YouTube!
10. Magazine Cut Out Quote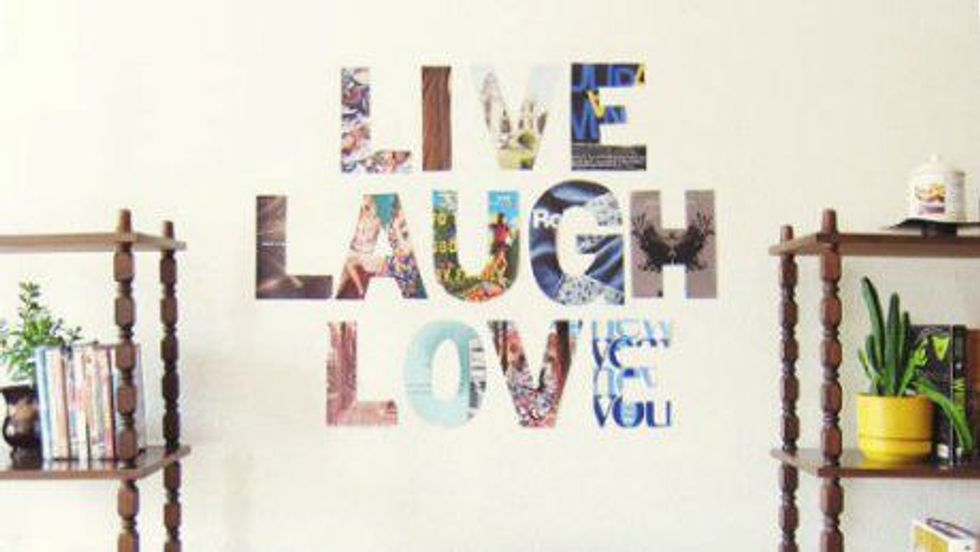 This is a pretty generic quote, but you could choose whichever one suits you best. All you have to do is cut out letters out of magazines. Measuring the letters might be a little tough, but it's not too bad after you get the hang of it. Just cut carefully and don't accidentally rip the paper!
Here's a tutorial video on YouTube!