We've all done it. No matter the time of day or where you're at, sometimes all of the responsibility just gets to you. Whether you like being alone or surrounded by friends or buried underneath your own laundry, there's bound to be a perfect place on Wellesley's beautiful, sprawling campus for you to just let it all out.
1. Parking Lot
Personally, the parking lot behind the Hazard Quad is where I fell to my knees and cried around 11PM on Election Day. I was shielded by the cars and comforted by the consistency of the concrete beneath me. Dramatic and secluded, just like me!
2. Room of Requirement
This secret bathroom in the Science Center got its name for appearing as a random closet on all but the fire escape plans. This unmarked bathroom on the 4th floor is "a single stall and it's perfect." (Rachel Hale)
3. Paramecium Pond
A worn bench, a communal journal filled with warm memories and heartbreaking confessions, and a view overlooking the beautiful Paramecium Pond. Are we in "Pride and Prejudice" (2005) Dir. Joe Wright?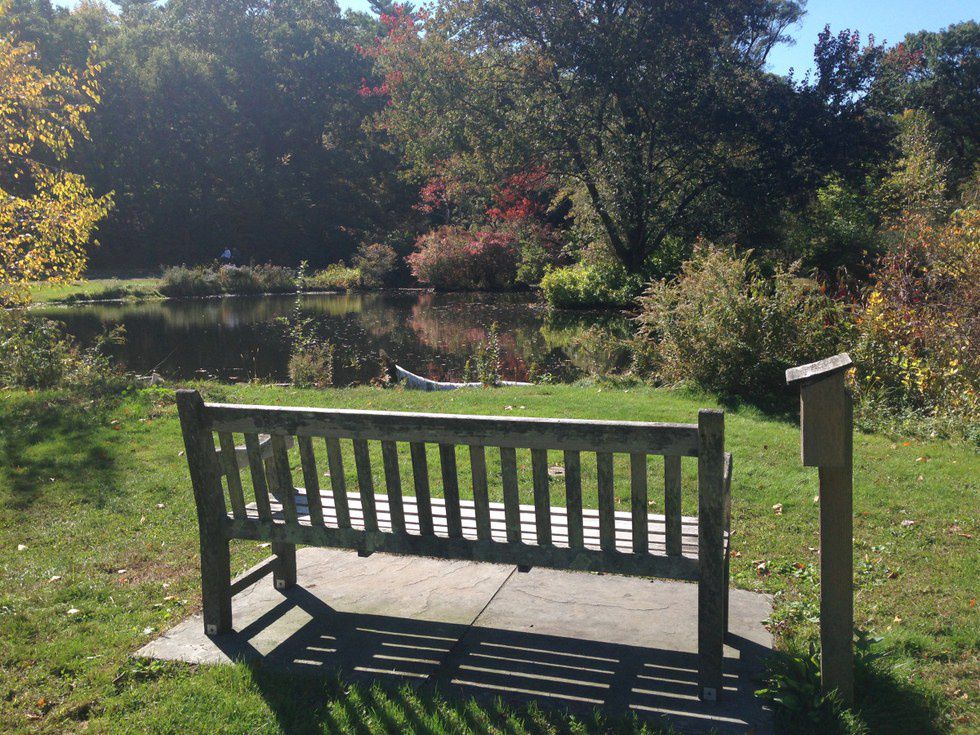 By extent, I think it's only right to include the entire arboretum, since No One Ever Goes There.
4. Lake Waban
The path winding around this old lake almost feels like another world -- just the other day, I walked by a total of three pine trees adorned with orange slices and cranberries. Senior Xiao Lin claims that "any view is good for crying but the secluded random tree stumps are optimal." An average lap around Lake Waban usually results in at least five dog sightings. You can also take a breather on one of the benches behind the Lake House and Clapp Library. Rachel Hale also recommends "lying in the grass sobbing."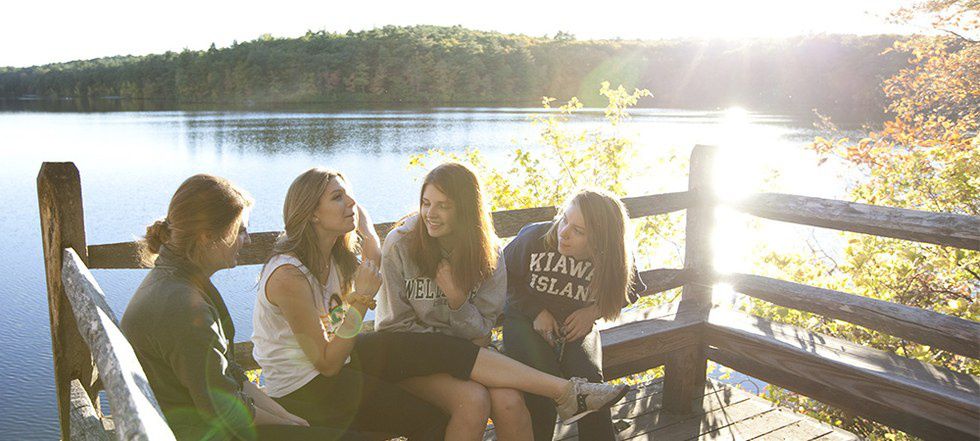 5. No Place Like Home
At the end of a long day, nothing helps you to unwind as much as lying "in the middle of the floor of your room while your roommate looks on in horror and dismay" (Casey Melton); "As a junior with experience, the crying doesn't end, you just get a single" (Rachel Hale).

6. Green Beach
"Green beach at night!! The moon is so pretty and u can see planes go by which is both comforting and as sad as u!!!" (Maddie Kim)
"Green beach...amidst the geese" (Francesca Gazzolo)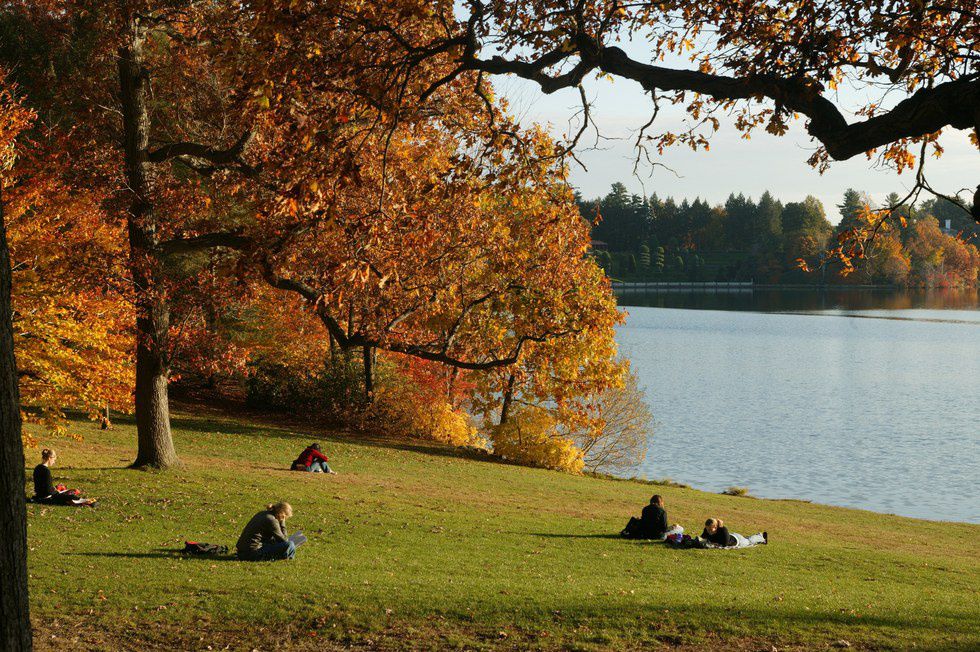 7. We Have a Waterfall?
"Near the waterfall by the practice fields - no one can hear your sobs" (Isaac Zerkle). Indeed, the dam halfway between the Lake Waban trail and the outdoor track is quite deafening. No one will know of your strife aside from...the geese...

8. The Chapel
Memories of Flower Sunday drift back to you as you sit forlornly on the Swing; you then drift into the empty chapel and try to determine if the words above the altar say "God is Love," "God is Done," or perhaps "God is Jojo."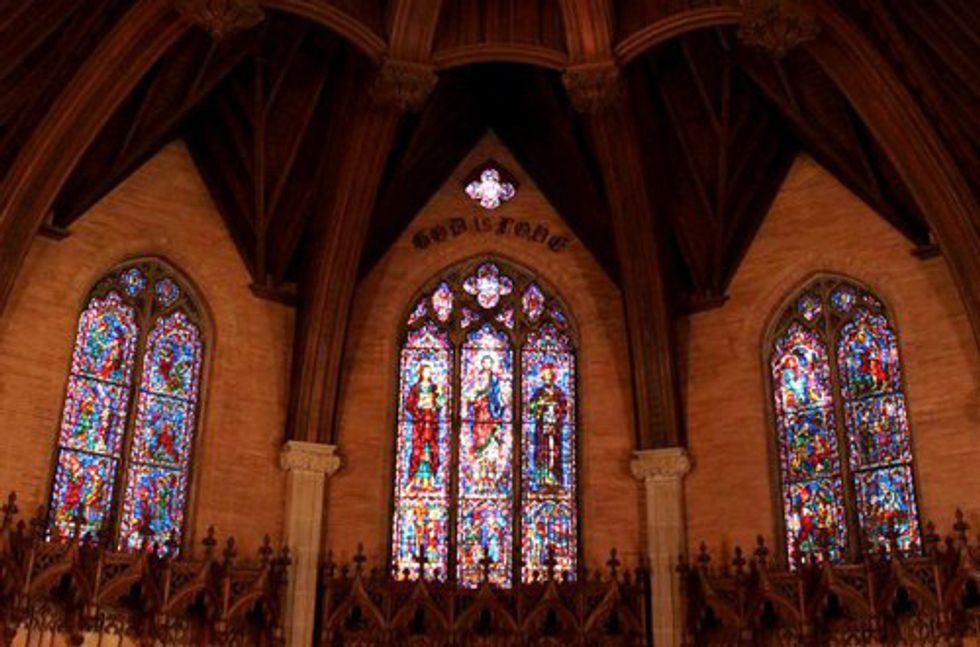 9. Stone Center
Where you can cry under Professional Supervision™ in a beautiful old house with lots of windows and a bathroom that smells like a mother's bosom.
10. But Wait, There's More!
Here are some additional gems from those who know best:
"On the Peter" (Phoebe Amory)
"Facedown on the carpet in the seating area outside the bookstore, but that was only one time" (Shannon Mewes)
"LBH the real answer to this question is in stairwells" (Becca Pyeon)
"Next to my mini fridge clutching a bottle of wine" (Sarah Hucklebridge)
"In your arms" (Kayleigh Svensson)
"The greenhouses!!" (Sarah McBride)
"In my goggles while I swim" (Francesca Dong)
"Your big's room while snuggling her emotional support animal." (Sarah Young)
"Outdoor teaching classroom below the observatory (also feat. nice shade tree and a view)" (Casey Melton)
"Jewett practice rooms" (Ally Ang and Sarah Michelson)
"The Clapp library because when I started crying a fellow student suffering from finals offered me Lindt chocolate! Turned my stress tears to happy tears" (Eva Mullarkey)
"The Founders second floor bathroom where you can lock the door to the hallway + go sit in the single stall with two doors between you and the world as an ideal cry spot tbh" (Liz Wendell)
"The laundry room"... (Meg Berry) "Always very warm and comforting" (Alex Kew)
"Pendleton atrium has a nice echo" (Erin Wright)
"Tower courtyard steps @ 3 am or bust; In front of your dorm's vending machine while you buy yet another unhealthy snack in an attempt to fill the empty void within your sad, smol soul - also at 3 am" (Kimberly Morgan)
"Not exactly my 'favorite' place to cry on campus, but the very first time I cried at Wellesley was at one of the tables just outside Collins Cafe" (Justine Duan)
"At Student Financial Services" (Julia Leslie)
"In the Davis u can pretend ur having an emotional reaction to art" (Sarah Michelson)
"In the middle of Bates dining hall" (Meg Berry)
"In class with no shame" (Karen Lew)
"Oh I also forgot slumped in the KSC watching Hitler win the presidency" (Christina Chen)
"Private showers in Freeman" (Azalea Troche)
"Bathroom on the 2nd floor of the KSC where no one goes and it always smells like oily skin" (Me)
"Ramming yourself into the 9 3/4 wall in an attempt to transport yourself somewhere else" (Also Me)
"Office hours better be on this list or it's fake news" (Erin Wright)
"Lulu 4th women's room is a classic and i cry there at least once a semester after trying to put off a breakdown for a week or so" (Shannon Mewes)
"Rescheduling the breakdowns is a Real Feeling. Like, no, I don't have time to cry today, I'll deal with my emotions tomorrow." (Margaretta Mitchell)
As always, thanks to the amazing Class of 2020 Facebook group!