This post was created by Lily Moe on October 31, 2016. It originally appeared on Odyssey's Grand Canyon University community page.

A year ago, on November 2, 2015, my first article was published on Odyssey. I distinctly remember being nervously excited, wanting to write a piece that would change the world. After the notification that my article was needed in 3 hours, I whipped out "You Know You're A Camp Counselor When..." and called it a day. That groundbreaking article may have been put on hold, but nonetheless, I was thrilled to be writing for something other than a dinky Google blog. As the Grand Canyon University Odyssey community "went live" that day, I felt like I was doing something real, something important -- little did I know how big of an impact Odyssey would have on the following year of my life.
Soon -- as in, the second day of my Odyssey career -- writing my weekly article become the highest priority on my to-do list. I couldn't wait to receive the email that read: "Congratulations! Your article is live on Odyssey's platform." I had full creative liberties. I could write whatever I wanted to. I was on cloud nine.
In January, I was offered an interview for an editor-in-chief position for the Grand Canyon Odyssey team. I knew I loved to write, and I knew I loved what I was doing, but editor? That was a large step up in responsibilities. As I went through the screening process, the idea excited me. I had the ability to take an opportunity and run with it -- not just for myself, but for the entire GCU community. As a school that does not have a student publication, Odyssey could become the media for Canyon...and how rad would that be?! After being offered the role, I gladly accepted, thrilled with the road ahead.
With this opportunity came a lot of hard work -- after the holiday season, our team had dwindled to 3 people, myself included. The next 4 weeks were soon filled with writing samples and interviews.
By the end of January, we had a team of 19 strong, driven individuals, all having joined Odyssey because they cared about community, their futures, and the ability to stir the pot -- isn't that what media is for anyway? I was jazzed, and could not have been more proud of the people on my staff.
Come February, our numbers were better than ever, with a continuous list of applicants ready to interview for their chance to join our team. This month held another interesting component: the chance to apply to be an intern in Odyssey's headquarters in New York City. I went back and forth with this application, knowing that I "probably wouldn't stand a chance." But with a little encouragement from my manager, I submitted my application, and soon found myself dreaming of 5th Avenue.
March brought even higher numbers for our community, in both members and pageviews. We were rocking and rolling. I was loving life -- even more so when, after the third round of the interview process, I was notified that I was one of 15 interns for Odyssey's summer program.
The months leading up to that summer in New York all blend together; our team was getting bigger, stronger, and more excited to change the world. Sure, we were a bunch of 20-somethings looking for our big break -- and yes, we still are -- but we were loving every second. Our team was becoming a family, and departing from school for the summer was bittersweet.
My summer as an Odyssey intern cannot be explained in a paragraph. Call me, and we'll chat all day. I'll let you in on Justin's love for Nick Jonas, Emi's fabulous style, and Emily's dreamy semester abroad in France. Brittany will forever be the wildcard, but don't underestimate her ability to have a deep conversation. I'll share how Christian is really a big teddy bear, and EA is someone you want in your corner. Hollan and Katie will soon become some of your favorite people, and Meredith will inspire you to be better, stronger, and more confident. Sam will keep you laughing, while Serg remains calm in all situations. Brittan is the coolest chick you've ever met. Whit has a heart of gold. Oh, and you'll want to be roomies with Julia, because she clearly belongs in the city. And a little shout out to ZShal, because who can forget the little brother of the group?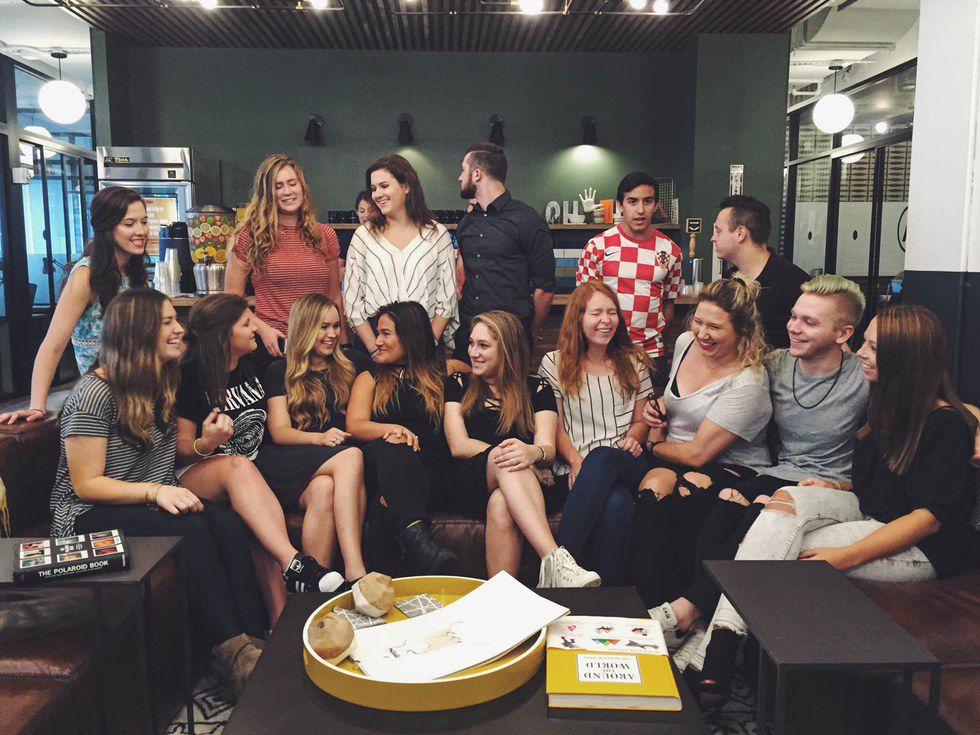 These incredible people, as well as our amazing managers, mentors, and friends that call that office in Midtown home, made life as an Odyssey intern better than I could've ever imagined. They pushed me, encouraged me, and our GroupMe is still exploding on any given night. There will always be space in my heart reserved just for them.
Coming back to school, off the internship of a lifetime, I was beyond pumped to bring what I had learned in New York to the desert of Phoenix. Our GCU team was continuing to grow, kick butt, and inspire the community around us. I'm so glad to say that we're stronger than we've ever been. We are currently at 41 content creators, creating both video and written pieces, having game nights, auditioning for a lip sync battle together, and always being up for what comes next. I am proud of the kindness, toughness, and passion I see from these people through every piece they write.
Hitting the year mark with Odyssey is an incredible opportunity to look back and reflect. I tear up thinking about how far the GCU team has come, and how much I have changed as a person. Every conversation I have "would make a great article," and I find myself correcting the TV subtitles at the gym. I didn't know how much of an 'editor attitude' I had until I started doing this -- doing what I love. From the content creators who want to grab coffee just because, to the interns that I know I can always call up for advice, to my manager who is to this day the coolest person I've ever met, I love my Odyssey family. It's such a blessing to be connected to a group of people who don't only dream of change, but work for it. I am so proud to be an Odyssey editor-in-chief, an Odyssey intern, and, most importantly, an Odyssey friend.