Californian singer and songwriter Anna Vaus has been leaving her mark on Nashville, Tennesee for nearly three years - and she doesn't plan on stopping anytime soon.
Born and raised in Poway, a tiny suburb in San Diego, CA, Vaus had always found comfort in making and being surrounded by music. Having a father as a musician introduced her to the art of making music, leading Vaus to sing and write her own music since she was just a young kid. Growing up in a family where music was every seemed "totally normal" to Vaus.
When asked how she knew pursuing music was what she wanted to do for the rest of her life, Vaus was unapologetically herself in response.
"I'm a pretty awkwardly shy person but writing and performing is where I get to be 100% unapologetically myself, which isn't always pretty, and I love that," Vaus said. "Just being able to be so candid and open in the songs I write is like a total adrenaline high for me and I don't feel that doing anything else!"
As she has grown, Vaus has learned to play guitar, a "little bit" of piano, and the mandolin. However, she states that she is biased towards her guitar because that it the instrument she does all of her songwriting on.
Vaus views Miranda Lambert, Brandy Clark and Randy Newman as her biggest inspirations because they are "overall inspiring and encompass both life and musical inspiration."
When asked about Miranda Lambert, Vaus shared that her favorite experience so far has been being chosen as the first recipient of the Miranda Lambert Women Creators Fund.
Vaus first heard about the scholarship opportunity, in which she walked away with over $40,000 in scholarship funds, on Facebook. According to Vaus, she was excited to see Lambert "walk the walk" on supporting females in the music industry.
"I honestly was not going to apply for it because I thought I had no chance of being chosen," Vaus said. "It wasn't until I got an email suggesting that I apply that I really buckled down and poured my heart into my application."

Vaus shared that in her remaining time at Belmont, she plans to keep on writing and hopes for something she writes to be picked up and recorded. "I'm really excited because I've got some cool stuff happening in these next few weeks that I'll be thrilled to share with the world!"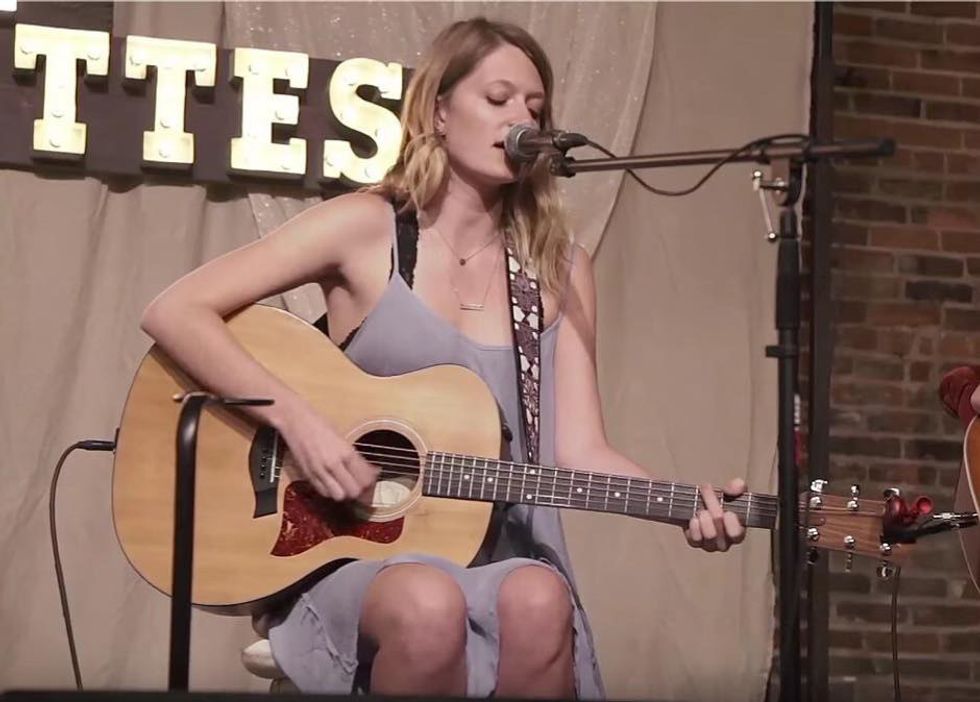 Vaus will be performing Belmont University's Best of the Best showcase as a 'featured songwriter's on April 8th. She is especially looking forward to this as she will get to perform in front of her family who will be in town at the time.
While she shares that if she could choose one other profession to go into it would include being a Supreme Court Justice ("I freaking love the judicial system and if I had to do anything else that would be the dream") she has many visions for herself in the future.
When asked where she sees herself in five years Vaus said she hopes to have a No. 1 song under her belt. "As a writer, it's a dream of mine to have lots of my songs recorded by other artists," Vaus said. "So fingers crossed in these next five years I'll be able to do that and release a project of my own as well."
As for ten years, she said while it is much tougher to envision, she hopes that she will have established herself as a writer that is in Nashville to stay and not just there for short term success.
Vaus also shared that a lot of her inspiration comes from outside sources such as conversations with friends and the Southwest area of the United States. "That influences a lot of how I envision where I set my songs in terms of the little movies that go on in my head," Vaus said.
Vaus has big dreams, and even though she knows they are very ambitious, she hasn't backed down, saying "I really believe in the power of a song and my biggest goal is to impact the country music genre in some way shape or form just by saying things that haven't been said yet."
When it comes to sharing her advice for other aspiring musicians and students, Vaus says to just be yourself.
"That sounds incredibly cheesy and overused, but I've learned that in embracing the weird and quirky parts of me are what make me unique. So bring what makes you 'weird' to the table, you'd be surprised at how much more people want to join your club so to speak."