Since Trump's election to office in 2016, women all over the country have been publicly voicing their opinion with regard to politics. A few weeks prior to the 2018 midterm elections, Brett Kavanaugh's confirmation to the Supreme Court sparked tremendous outrage and stressed the importance of women in elected office.
Women voters are demanding more than what is currently being offered to them, and we are all here for it!
The 1992 election was named "Year of the Woman"—it was the year following the Anita Hill hearings, as well as the year that inspired a record number of women to run for Congress. Could history be repeating itself?
"If 1992 was the 'Year of the Woman', then 2018 must be the 'Year of Accountability.' And in the 'Year of Accountability', we must demand accountability from everyone who fails to support women and our needs, no matter their race, gender, or political party..."-Karine Jean-Pierre, political campaign organizer, and activist.
At such a crucial time in present-day politics, women are seen at the frontline of a long fight towards race and gender equality! Strong females in office, fighting for the rights of all women, create a set of moral values worth looking up to.
Needless to say, none of this will matter if we as a society don't recognize the concept of white feminism. The first wave of feminism began in the mid-1980s and continued well into the 21st century. However, the women's suffrage movement stopped gaining momentum after white women got the right to vote in 1920—African American women were unable to exercise their right to vote up until the 1960s in the majority of Southern states.
If a woman identifies as a feminist, she must stand for the rights of all women regardless of their race, nationality, sexual orientation or color.
Stacey Abrams, a Yale law graduate, former Atlanta attorney deputy and Minority Leader of the Georgia House of Representatives, is on the edge of making history. If successful, she will become the first female African-American governor in the history of the United States! What would Stacey Abrams' victory mean for young women of color?
Stacey Abrams' victor would be "earth-shattering," said Shirley Franklin, who was the first black female mayor of Atlanta. "And it would be a breakthrough for other people, not just for African-Americans, but for Hispanics and Asians."
Ms.Abrams is working towards expanding "the growing base" for likely Democrats among people of color, many of whom were not registered to vote. Her goal is to raise the number of voter participants among people of color ages 18-29, as well as unmarried women.
Alongside Ms. Abrams ongoing fight, Ayanna Pressley became the first black woman elected to Congress from Massachusetts 7th District.
However, the fight doesn't stop there.

Alexandra Ocasio- Cortez, 29, went on to win the Democratic primary for New York's 14th Congressional District, becoming the youngest women ever elected to Congress.
Having grown up in the Bronx, Cortez is looking forward to being the first representative of color for the area. "Our district is 70 percent people of color, and we have never had a person of color represent us in American history..."-Alexandra Ocasio- Cortez.
What does Cortez's victory mean for her constituents? Cortez promises to tackle issues such as the abolition of the Immigration and Customs Enforcement agency, tuition-free college, guarantee of federal jobs, universal Medicare, gun reform, an end to private prisons and access to affordable housing.
Cortez set an unprecedented example to her younger constituents. Having been a bartender the year prior to her victory, Alexandra Cortez highlights the fact that passion, hard work, and determination have the capacity to get you far regardless of your socio-economic background.
Alexandra Cortez serves as an outstanding role model for her younger constituents, showcasing that it's possible to achieve great things at a young age if you just believe.
Among Stacey Abrams, Ayanna Pressley and Alexandra Ocasio- Cortez stand Rashida Tlaib and Ilhan Oma.
Rashida Tlaib, Michigan's 13th District representative, and Ilhan Oma, Minnesota's 5th District representative, became the first Muslim women elected to Congress in U.S., history!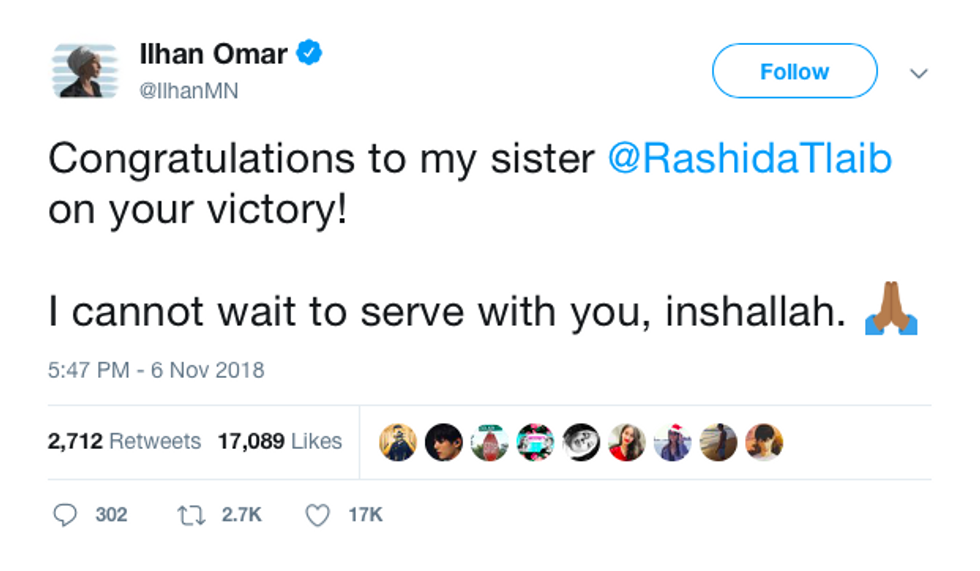 A victory like such is a huge step for the Muslim community. All eyes will be on the two newly elected Congresswomen if issues regarding the refugee crisis resurface on the political agenda. Talib is a child of Palestinian immigrants, while Omar immigrated to the United States as a refugee from Somalia.
Both Congresswomen have publicly criticized Trump's approach to migration issues, specifically the Muslim ban. Talib and Omar made pro-immigration policies the centerpiece of their campaigns, sparking a much broader movement behind their victories.
Both Talib and Omar play critical roles in bringing progressive women and minority groups together in hopes of combatting Trump's anti-Islam rhetoric and policies alike.

Alongside anti-Islamic statements, President Trump fails to recognize the importance of Pocahontas in indigenous communities. In November of 2017, President Trump referred to his political rival, Senator Elizabeth Warren, as Pocahontas in his speech honoring the World War II Navajo code talkers.
"I just want to thank you because you're very, very special people," Trump said when addressing the Navajo code talkers. "You were here long before any of us were here. Although we have a representative in Congress who, they say, was here a long time ago. They call her 'Pocahontas.'"
Such statement caught the code talkers off guard—Pocahontas is often viewed as an offensive racial slur by the community.

However, a year later the Indigenous community made a political comeback by electing Sharice Davids, in Kansas' 3rd District, and Deb Haaland, in New Mexico's 1st District, as the first Native American women elected to Congress.
There is currently a lack of statistic present regarding missing and murdered Indigenous women in the United States. However, with both Davids and Haaland in office, there is hope for change.
All in all, it's important to recognize that although this year might not be the "Year of the Woman," it can be the year of the women. Democrats gaining control of the House for the first time in eight years is a start of the political change we all have been waiting for.