Why the hell would anybody choose a Historically Black College or University?
They aren't fiscally stable. They aren't diverse. They aren't academically challenging. They lack social and professional networks. The real world isn't "all black". They aren't respected…Many of these aforementioned assumptions are attributed to HBCUs. But there's a reason why these sentiments are just assumptions and not facts. In a world where many students of color have an array of college choices, we must revisit why HBCUs are enriching and beneficial.
Morehouse Junior, John Mancini, has taken responsibility to preserve and enhance the image of an HBCU experience. Because Mancini came in as a transfer student, he has oversight of life outside and inside an HBCU. As a new HBCU student, Mancini noticed that there weren't many platforms to discover the value of schools like Morehouse or Spelman. More importantly, there wasn't a space where students could share their HBCU experience. He immediately knew that the HBCU community needed a platform to highlight the positivity that stems from these campuses.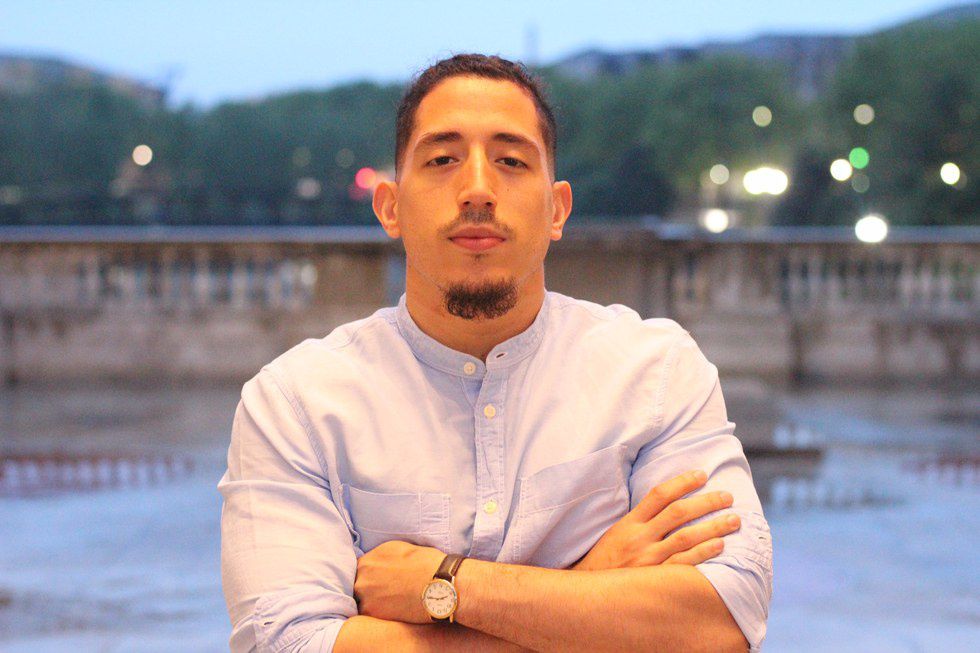 (John Mancini pictured above)
As a Cinema, Television, and Emerging Media major from Houston, Texas, Mancini wanted to enhance the image of HBCUs using his field of study. As a result, he founded the WhyHBCU Instagram page. Mancini says, "I decided to start this page because I believe our stories need a home and a platform to be shared with the world. A place that highlights what makes our culture so beautiful. Attending an HBCU is unlike any other thing you can experience in the world and it's something you can only understand by doing."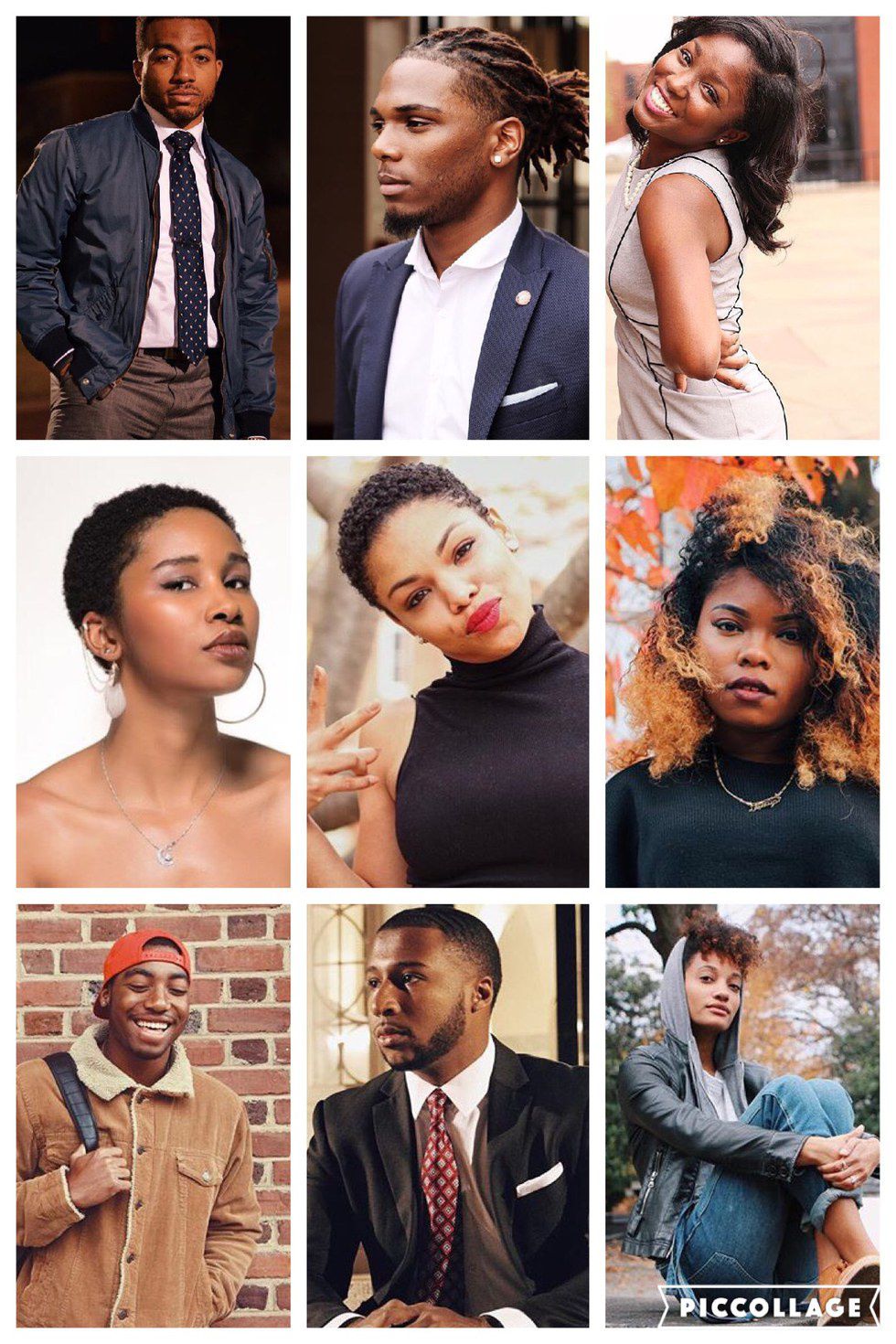 (featured students on WhyHBCU)
Mancini started the page with the purpose "to tell HBCU students' stories. Why they choose to attend an HBCU, what their HBCU means to them, and how their experience at an HBCU has helped their personal and professional growth." WhyHBCU spotlights individuals around the nation to share their story about how they ended up at an HBCU. Through this page, the WhyHBCU team hopes to encourage more people of color to consider attending HBCUs.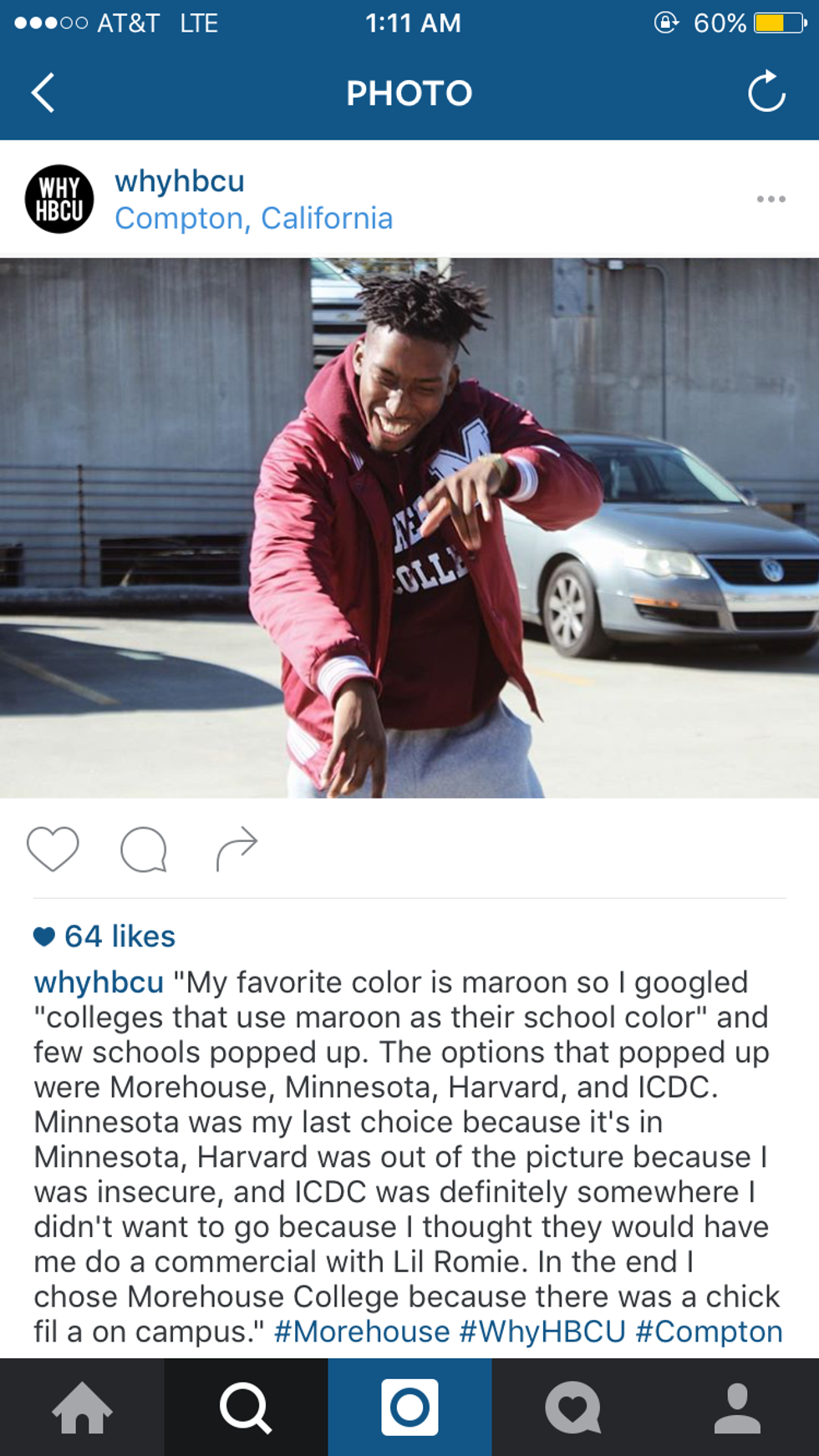 (featured student showing comic relief)
The WhyHBCU campaign originated with stories from students of the Atlanta University Center (Morehouse, Spelman, and Clark Atlanta University). From there, WhyHBCU gained recognition from other HBCUs such as NCAT (North Carolina A&T), Bethune-Cooke University, Howard University and FAMU (Florida A&M University). Mancini has developed a working relationship with many students and faculty at those institutions. He plans to work in coordination with HBCUs to use WhyHBCU as a marketing and recruiting tool for potential incoming students. But for now, Mancini says "the movement will continue to be a nationally circulated awareness campaign to empower and inspire youth of color to become apart of such institutions and really invest in a better understanding and awareness of their own communities and cultures."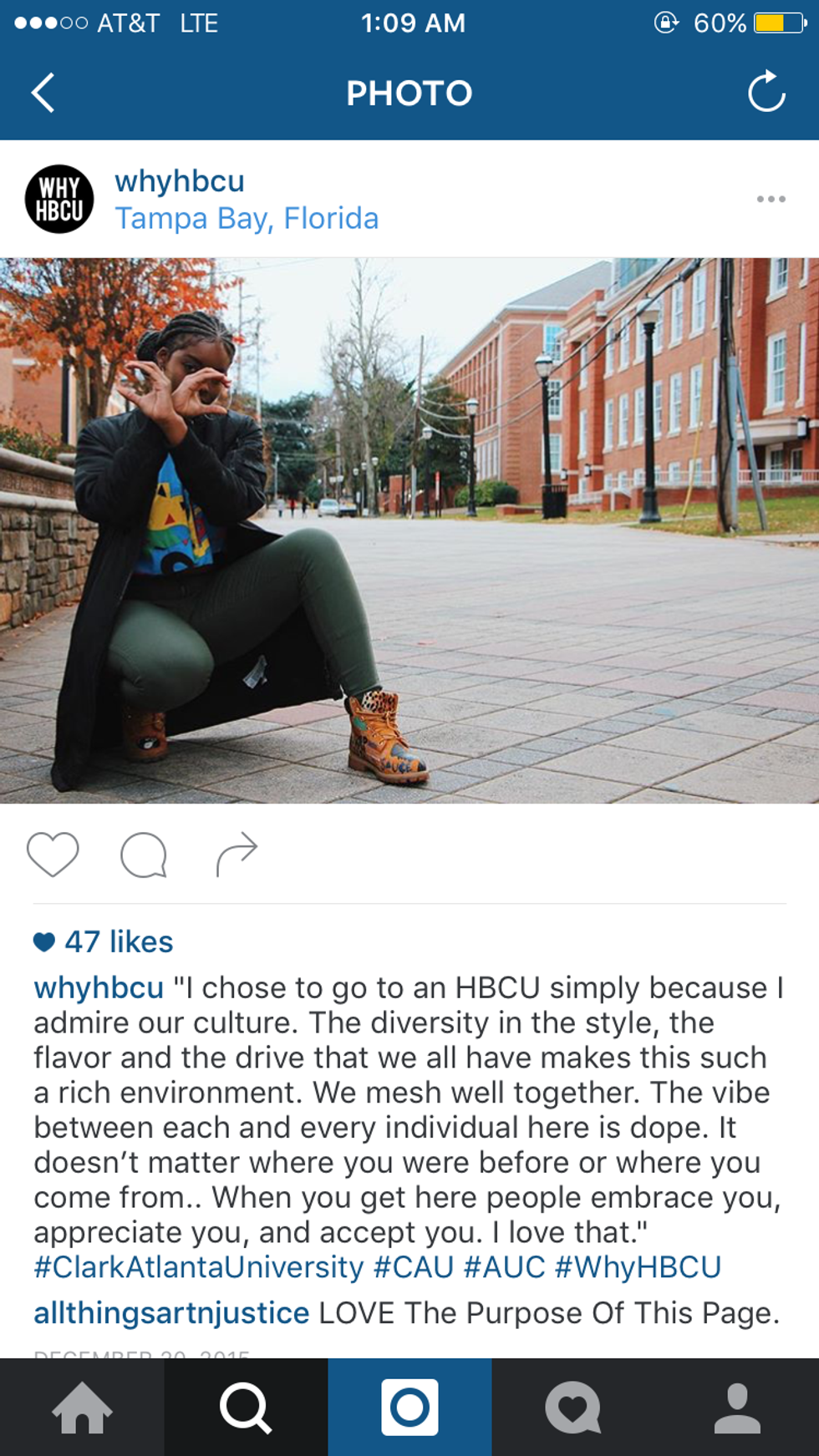 Students who are considering HBCUs should maximize this platform to its fullest potential. WhyHBCU is meant to recruit and sponsor programs to make high school students of various ethnicities aware of the opportunities at HBCUs. WhyHBCU is completely unfiltered, so potential HBCU students receive candid insight from current students. Mancini believes the most rewarding part of WhyHBCU "is the feedback we get from incoming students who tell us that the WhyHBCU page is the reason they decided to attend an HBCU."
Follow @WhyHBCU on Instagram.