From the first touch-and-feel board books to chapter books to complex classics to e-books, books come in many different varieties. Sometimes you get to lose yourself in a daring mystery novel set in Victorian England or have to procrastinate reading a textbook about history. Either way, you're reading something. And that is very important.
As both a college student and librarian, books are something I'm literally surrounded by every single day. Even at home, I have multiple bookcases overflowing with all types of works: fiction, non-fiction, reference, poetry, art, etc. You name it, there's a strong chance I have it or plan to get it at some point. I don't get to read for fun as much as I would like to simply because I'm a full time student with two jobs (doesn't leave much room for anything).
But I can, without a doubt, tell you my love for books and reading started when I was a young child.
I lucked out as a kid when it came to reading. I'm the youngest of three, so I probably got read to the most simply because I had four people (my two siblings, mom, and dad) who could read to me at any given time. We had multiple bookcases throughout the house that were filled with all the favorites: Curious George, Sesame Street, Dr. Seuss, If You Give A Mouse A Cookie, The Little Red Hen, Frog And Toad, The Very Hungry Caterpillar, Caps For Sale, and so on. I can distinctly remember getting to pick out a book (or sometimes more than one), cuddling up on the couch, and listening to one of my family members read to me for half an hour or more. Even as I got older to where I could read on my own, I would read aloud to my family instead. As a result from all these things, I would typically read at a much higher grade level, scored well on my reading and vocabulary tests, and even had a nearly perfect score on my English portion of the ACT.
Unfortunately, my childhood reality was not the same for everyone. Often times, some children simply do not have the home life that allows them to have multiple books or be read to all the time. According to the RIF (Reading Is Fundamental) organization, there is a major literacy crisis throughout the United States:
93 million adults in the U.S. read at or below the basic level needed to contribute successfully in society.
65% of 4th graders read below grade level, contributing to 8,000 students dropping out of high school every day.
43% percent of American adults are functionally illiterate.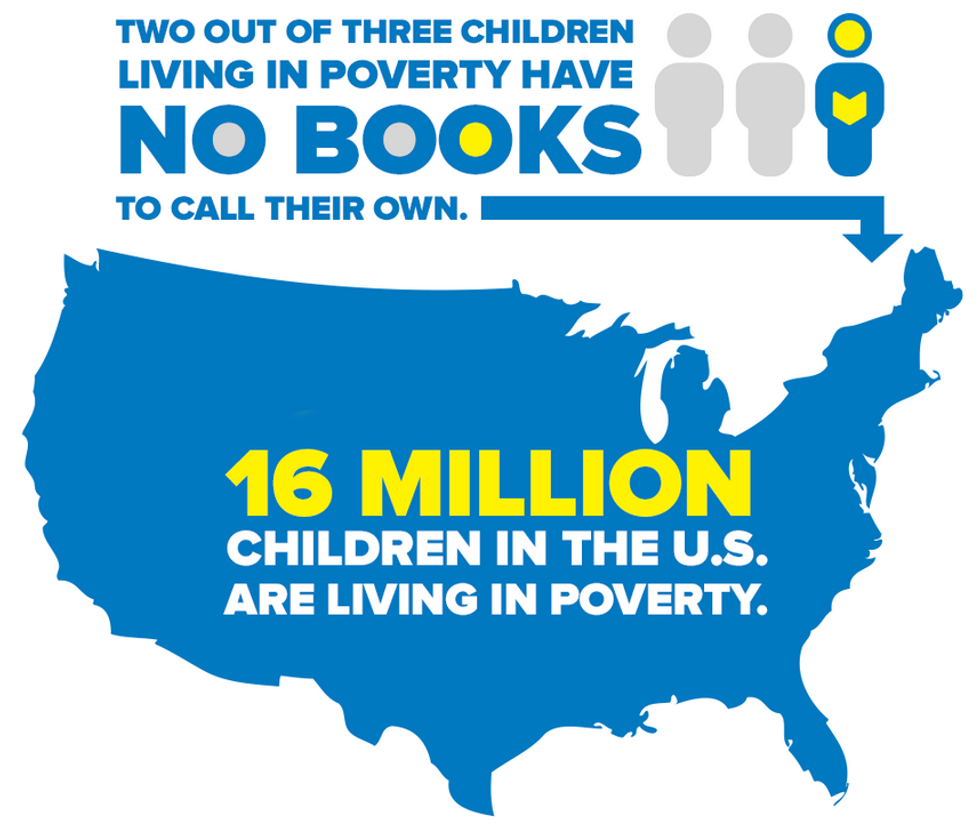 "Literacy begins with parental involvement – often, reading aloud – and continues with the development of a genuine enjoyment of reading. Books play an essential role in a child's development and are the building blocks for a better future." (Credit: rif.org)
So why does all of this really matter?
For starters, every child deserves the chance to get books. Working in the library allows me to see all kinds of people come in, whether they're low-income, a typical middle class family, or a more wealthy household. But nothing makes me happier than seeing little kids walk around with multiple books and pleading with their parent or guardian to "just pick one more."
The American Library Association has a calculator tool to estimate how much money people can save by going to the library. By checking out just ten children's books, an individual can save an estimated 170 dollars. By borrowing ten adult books, ten children's books, ten DVDs, and attending ten children's programs, a family could save an estimated 450 dollars. Anyone would agree that saving money is awesome. (Who doesn't love having money?) But just imagine what a difference that makes for people who can't afford books, Internet, and various events.
It also matters that children, as well as their families, feel empowered to read. Everyone needs support to achieve their overall goals. But if families don't have access to reading material, it makes it a lot harder to build that foundation necessary for success. I'm certainly not saying that it's impossible for children to succeed when they don't have reading materials. But I know I certainly wouldn't be where I am today if it weren't for reading at home.
Organizations like RIF provide free books to children for them to read. They partner up with a multitude of different volunteers and communities to make sure children have access to these literacy materials. They even partner with groups like Scholastic to provide those books as well. According to Scholastic, the RIF program "provides 4.5 million children with 15 million new, free books and literacy resources each year." Who wouldn't want children to have access to all of these things? Children are the future of tomorrow, so it matters that we encourage them to become readers, thinkers, and writers.
What now?
Support organizations such as RIF, whether it's through donation or volunteering. Supporting local libraries also helps so they can provide more reading materials and create more programs for the public use. Consider donating books to a local shelter, children's home, or underprivileged school. Support and encourage kids to read. It doesn't always matter if they read "classics" or "academic" work. If they're reading, they're reading. So let them read magazines, graphic novels, online articles, e-books, chapter books, picture books, science fiction, non-fiction, or whatever they love to read.
It's time we accept the love of reading and encourage the future generations to love it too. Just as the famous Dr. Seuss once said, "The more that you read, the more things you will know. The more that you learn, the more places you'll go."