Historically, music hasn't played a big role in my life. I had my go-to Pandora stations for things like studying and working out and didn't even attend my first big concert until I was in college. After getting into the live music scene, I've realized that music is more than just notes and lyrics. It's a very intimate avenue of communication, a means of self-expression, and has the power to create entirely new worlds around it.
In June, I had one of the coolest weekends of my life at Mountain Jam 2015 in Hunter, NY. I got to experience the side of a music festival that most people only dream of with the help of the all-powerful media wristband, and came back with a newfound appreciation for what music can be to different people. For some, it's little more than background noise. But for others, it's a way of life and its power extends far beyond the thumping of speakers at a concert. Diving into festival culture this summer has shown me that music is much more than a form of entertainment. In the right environment, music is a powerful force for good.
In the second installment of my New England festival tour, I found myself in the rolling hills of western Massachusetts for the Green River Festival. It's a smaller festival, featuring a lot of up-and-coming artists in genres ranging from folk music to jazz. Aside from the tunes in the air, there were hundreds of vendors selling handmade artisanal goods, hot air balloons everywhere, and of course, tons of great people. It was here that I saw the world that comes to life when you mix great music with loving and compassionate people.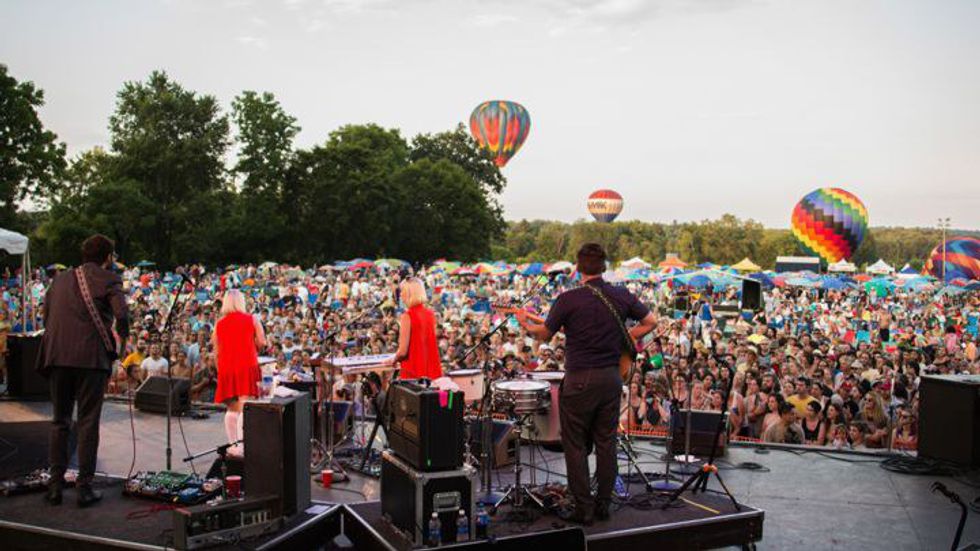 At bigger festivals, it's easy to get caught up in the craziness and lose sight of what festivals like Green River hope to create; a sense of community. When you don't have a bunch of punk teenagers running around trying to score booze and drugs, the positive energy and radiance of the festival scene shines through. At Green River, I had an up close and personal look at what I believe is the real reason music festivals like this exist. That reason is to make the world a better place by using music as a catalyst for positive social change.
At the festival, I had the privilege of meeting an inspiring 18-year-old folk artist named Hayley Reardon. She's been performing since she was 11 and is showing the world that music can and should be more than entertainment. It's a way for people to connect with one another and can be a very tangible force for good.
Hayley's attitude as a musician is that, "whether we're bringing people together to smile and tap their feet, or to stand up to some kind of injustice, us musicians have the opportunity to make a difference while doing what we love."
And if you ask me, I think that helping just one person through the art of music is infinitely more valuable than a trophy case full of Grammys. Hayley has carved out her place in the musical crusade for good by working with the National Bullying Prevention Center to promote acceptance and compassion among teens, and has become a role model for many because of it. Much of her music ties into what it's like to grow up, being a teenager, and the whirlwind of emotions that come along with it. To Hayley, making music is intrinsically tied to helping people, and that belief is something that artists the world over should take to heart.
In the words of Bono, "Music can change the world because it can change people."
The next stop on my festival tour will be Gathering of The Vibes in Bridgeport, CT. If any of you will be there, drop me a line at dillon.havens@olympiamediagroup.com or find me on Twitter @dillonhavens so we can meet up and enjoy it together. You can also download this really neat app for festi-heads called Radiate and look for me there. It's essentially Tinder for festival-goers without all the creepy pickup lines. It was created to help like-minded music festival enthusiasts connect with one another and make new friends. And of course, look out for the third and final installment of my summer music festival adventure, coming to a social media feed near you.