In Harry Potter and the Goblet of Fire, two previously unheard of wizarding schools were introduced: Beauxbatons and Durmstrang. In the 2005 film adaptation, these schools were gender specific. Only female students were shown from Beauxbatons while Durmstrang was shown to only have male students. In the books, however, this is not the case. In the books, both Beauxbatons and Durmstrang were shown to be co-ed, like Hogwarts.
At the end of this year it will be 12 years since the film adaptation of Goblet of Fire was released and yet I am still deeply bitter about this book-to-movie change. The movies have influenced people so much that there are many movie-watchers and book-readers alike that have forgotten that the schools were not gender specific in the books. So, in case you don't believe me and don't feel like grabbing your copy off the shelf to search through it, here is solid proof.

When the Beauxbatons students first arrive at Hogwarts in their horse-drawn carriage, a boy is the first student to come out of the carriage.

Madame Maxime did not bring girls that enter in a feminine cutesy way with butterflies, but she brought an entourage of both boys and girls to compete in the tournament.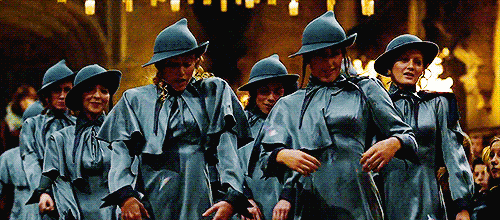 I'll admit this was pretty, but they could have done this with boys in the mix.


We see another Beauxbatons boy when Harry is a very bad date at the yule ball. Parvati has a much better time when she goes off with him.
It's a lot harder to find proof of girls from Durmstrang than boys from Beauxbatons, but they do exist. There was at least one girl that arrived at Hogwarts on Durmstrang's ship.

When the Durmstrang students first see the Boy Who Lived, Poliakoff nudges a girl next to him. Sure it doesn't explicitly say that she's from Durmstrang, but this is when they've only just arrived and it's doubtful that Poliakoff has had much time to make friends with a student from a different school with whom he could ogle at a celebrity.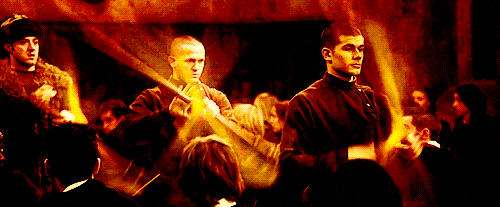 It would have been so great to see a girl in their introductory performance doing cool tricks with a staff.
Want more proof? According to Pottermore, Durmstrang was founded by a woman and Nicolas Flamel attended Beauxbatons. Granted these are outdated screenshots from the days when you had to do activities to unlock this information on Pottermore, but the information is still true.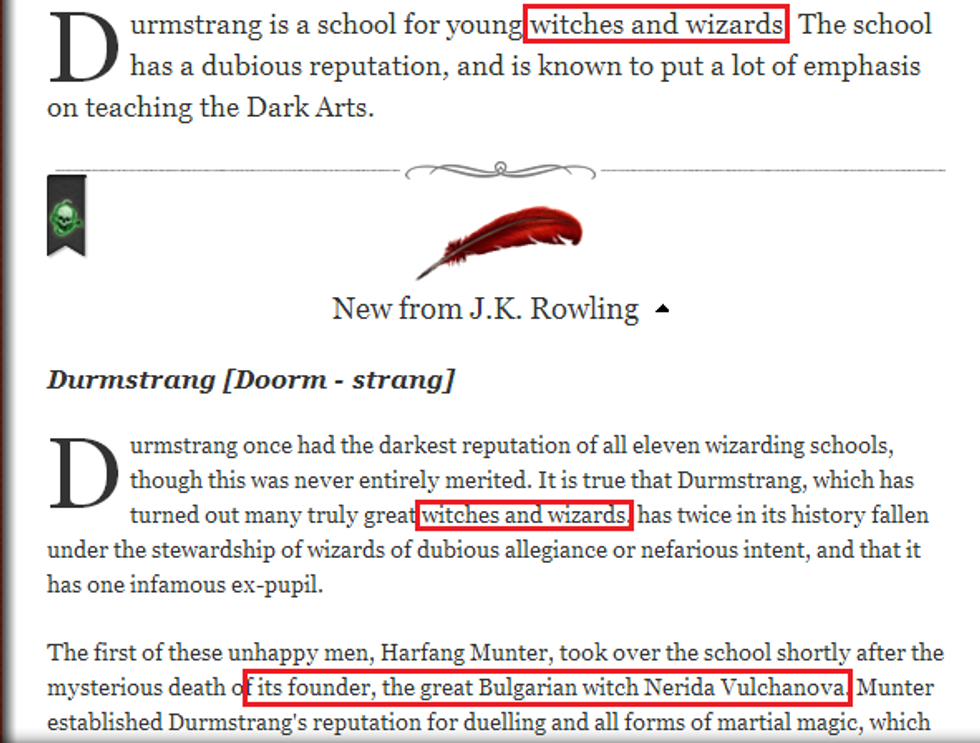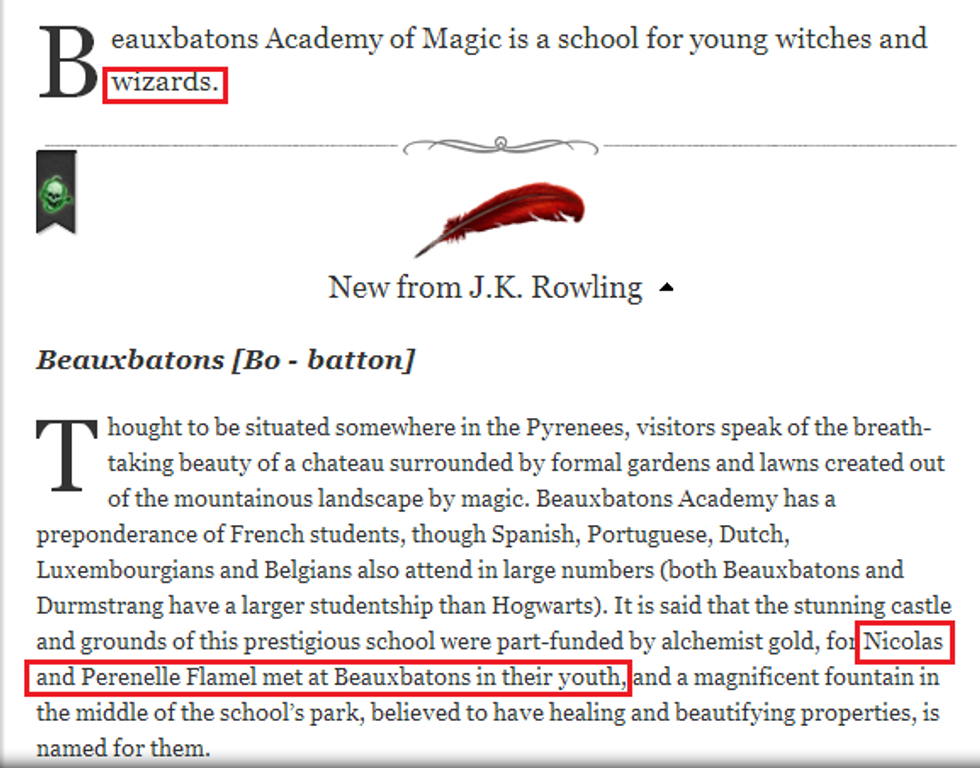 Hogwarts, Beauxbatons, and Durmstrang are supposed to be the biggest and best schools of Europe. If the best wizarding school in France is only for girls, then where do the French boys learn magic? If the best school of magic in Scandinavia is only for boys, what happens to the Scandinavian girls? It just doesn't make much sense.
One of the reasons this change really bothers me is that it feels cheap to have the only girl champion come from an all-girl school. Fleur Delacour is the only female champion for the Triwizard Tournament, along with Viktor Krum of Durmstrang, and Cedric Diggory and Harry Potter from Hogwarts. What does that tell young girls that see this movie? To me, it felt like there was the implication, intentional or not, that a girl cannot be champion unless there are no boys to choose from. Fleur Delacour deserved better than to be treated as the pretty token girl champion. Honestly, I could probably write a whole other article about Fleur and how she deserved better.
Fleur was champion of Beauxbatons because she was the best option from her school, better than all the girls and boys that came with her. It's been over a decade and I'm still annoyed that I didn't see French boys and Scandinavian girls in Goblet of Fire. I accept a lot of the book-to-movie changes, for example, I don't mind that we didn't see the Deathday party in Chamber of Secrets and I've forgiven the complete absence of Winky. But this is one change that still bothers me, right up there with the lack of Peeves and "he asked calmly."