Three words. Caroline Calloway's Instagram. If you have not discovered who this lovely human being is yet, you must. Caroline is a 23-year-old writer who moved from New York to England to study at Cambridge University and is using Instagram to document her many adventures with friends while trying to balance college, her love life, and all the madness that comes with having her first book published. She's been using the app to write her memoir (which pst, comes out next year!) and to keep in touch with her many followers. I believe what makes her so appealing is the realness she possesses and the bubbliness that simply radiates off her. Not only is she the most likable person in the world but she's changing the writing game in a huge and positive way by redefining what it means to be a successful writer. Among the many reasons people admire her, here are just a couple that showcase why she's such an inspiring individual.
1. She has proven that a great story can come from anywhere and can be written on anything.
One of the things I admire most about Caroline is her ability to remain humble. I know I may mention this a thousand times, but she is truly the walking definition of optimism and genuineness. It's one of the main reasons why she has become a personal hero of mine. She's accomplished her dream of being a writer and her infectious persistence has people feeling encouraged to do the same with their own aspirations. What makes her account so unique is that she isn't afraid to express her happy and crazy self through the photos and captions she posts. Her photos aren't just about capturing one moment in time but stringing together pieces of her life to tell one big story. The fact that she has taken a simple social media app and created such an intimate environment with the people who read her stuff is creativity at its finest.


2. She takes risks (whether they're physically dangerous or personal) and is spontaneous.
You just have to check out the photo of her on the roof of one of Cambridge's "castles" and then read about how much she doesn't care if she gets in trouble.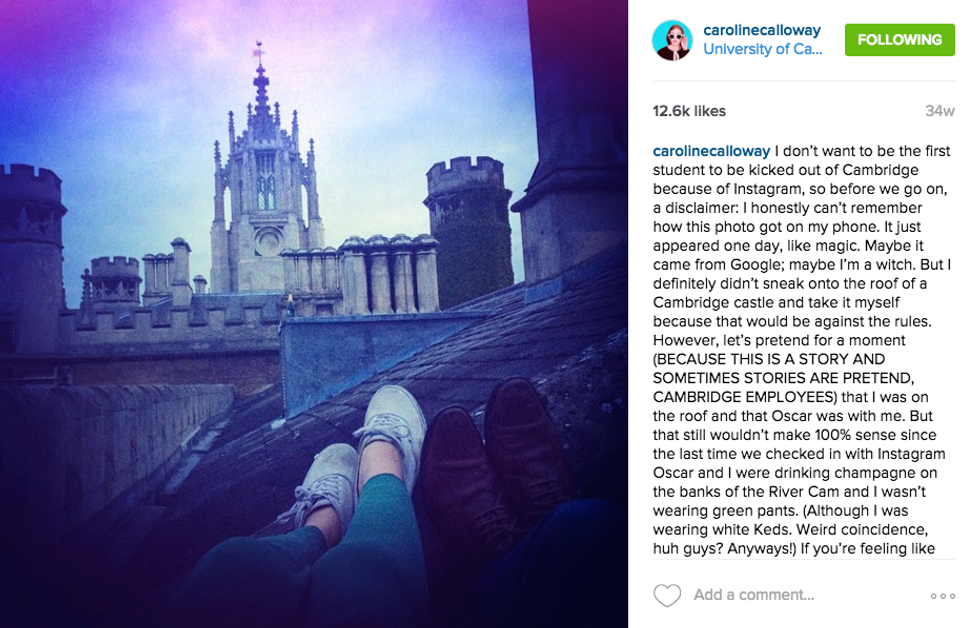 Or the time it was revealed that the outfit that always strikes a win with the opposite sex is her strawberry onesie.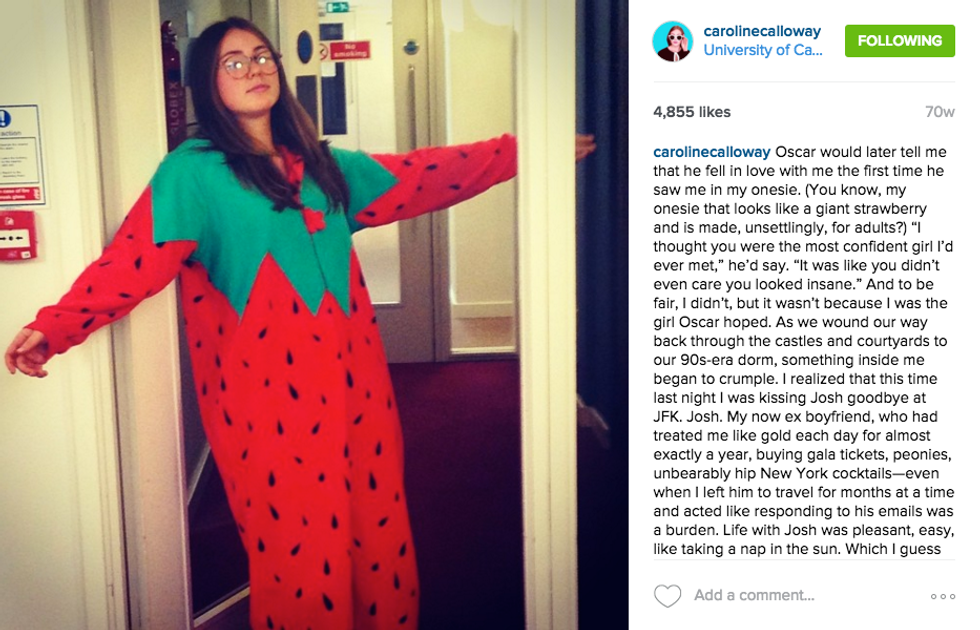 And then there was the time she decided to walk around New York City wearing her bathrobe and fur coat without a care in the world.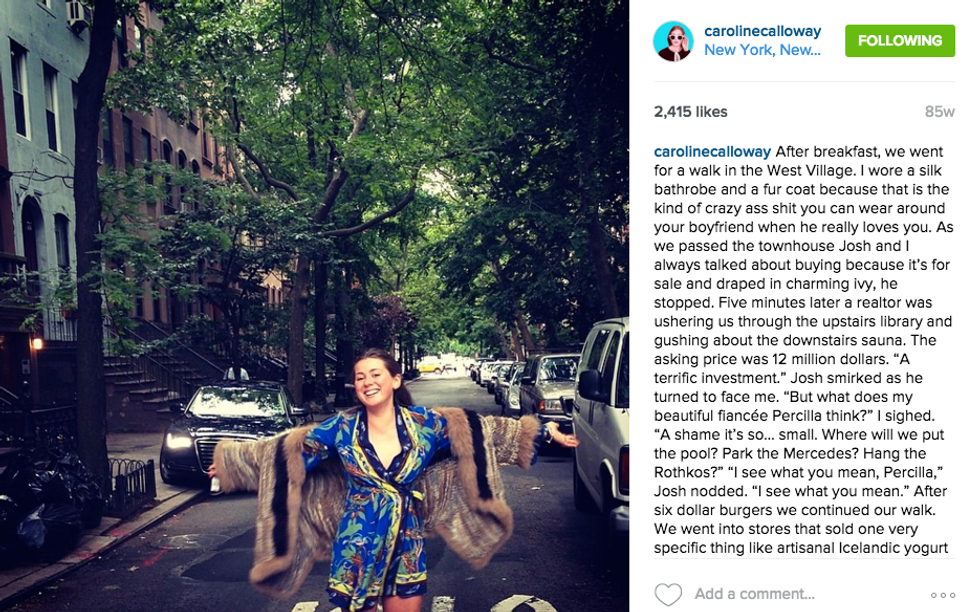 You simply cannot stop the powerful and charming force that is Caroline Calloway.
3. She is quirky as hell.
Not only does she make you want to get on the next plane to anywhere but her bubbly personality makes you just want to meet her in person and be her best friend. You can tell just how eccentric and expressive she is with reading just one of her posts. Some photos you'd never guess would have such a random caption from referencing "Harry Potter" to "Pride and Prejudice"'s Mr. Darcy.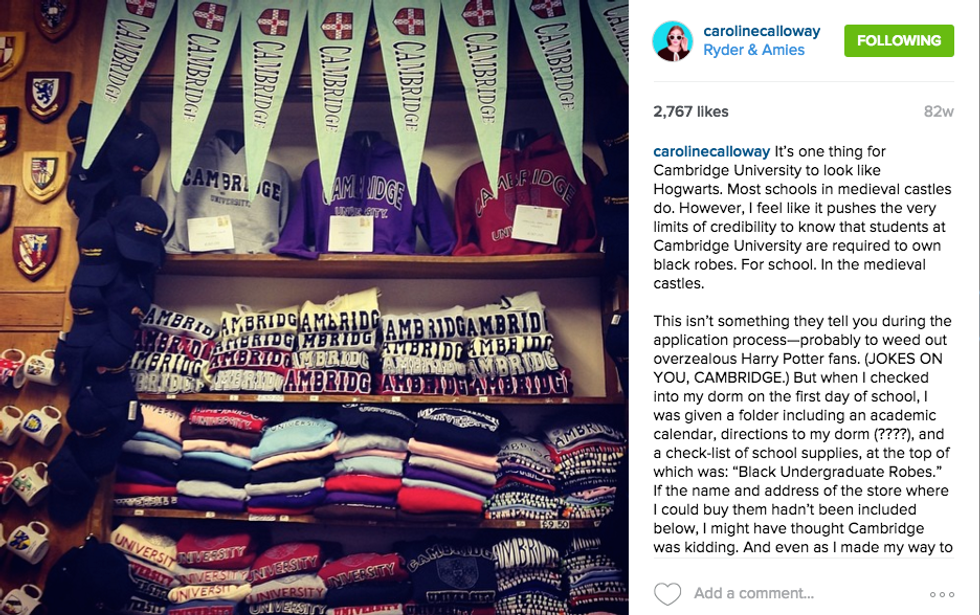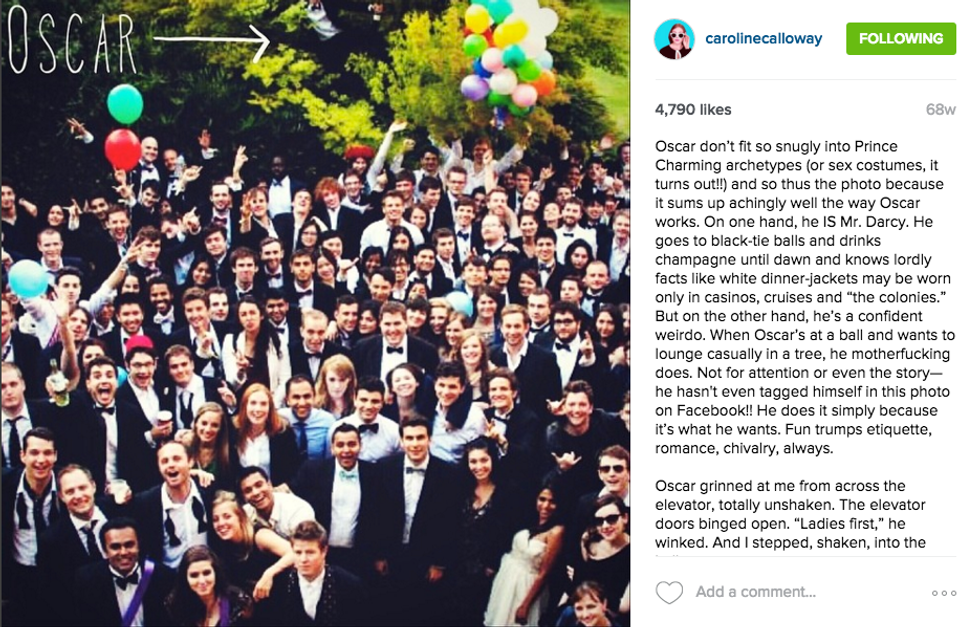 4. Whether you have followed her adventures from the beginning or are a new fan, she'll love you and make sure to let you know.
The fact that she thinks of her fans as friends shows just how caring and dedicated she is to letting them know how much importance they have in her life.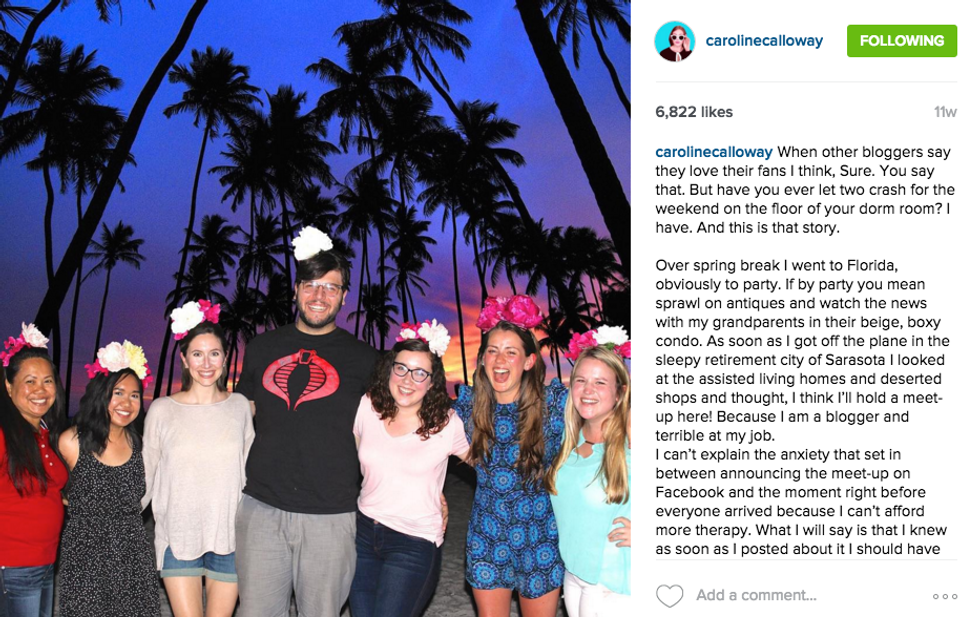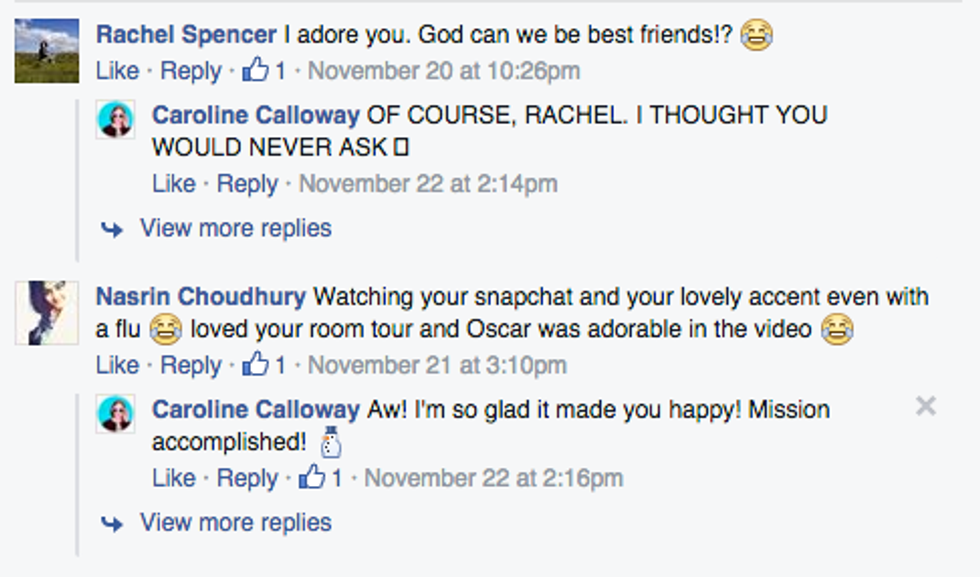 5. She is completely relatable.
She has dedicated a lot of posts to her ongoing love with a guy named Oscar who was her neighbor when she first settled at Cambridge University, and you can't help but just root for them to be together forever. She's also expressed what has gone on behind the scenes of her moving so far away, from facing heartbreak to feeling sad about leaving home. Amongst the silliness and jokes that she is so notorious for, Caroline reminds her readers that in all seriousness, they're never alone. Using her Instagram to bring people together and create this storytelling platform is simply extraordinary. The fact that she uses her photos and words in such a way that conveys the realness of human emotion and experience is what makes her a brilliant writer and storyteller. What I've come to truly admire about her habit of always looking to the bright side is that it speaks to a bigger message of encouragement for people who are having a hard time living life to the fullest. It's like she says about always being in complete awe of the world around her, "I can't tell what would be sadder: to react to these things in the right way or to live without wonder entirely."