Twitter has been one of the most talked about companies of 2016. Twitter, which was once viewed as a legitimate competitor to Facebook has seen markedly slower user growth and has failed to monetize their product. Wall Street. has taken notice and its stock has suffered as Twitter still has never turned a profit. Acquisition rumors have been swirling all year, especially after Microsoft made a play to buy struggling LinkedIn for $26 billion in June. With an uncertain future, the question remains… What's next for Twitter?

The Power of Twitter
There is no question that Twitter is an extremely powerful platform. Twitter has played a central role in developing modern social media culture. Twitter invented the #hashtag and gave meaning to the @sign, ideas that were implemented by Facebook and their subsidiary Instagram. Twitter is used by the most visible people in the world: Presidential candidates exchange words on Twitter, celebrities throw shade on other celebrities, and athletes share their voice. Twitter's essence is that it is where the world goes to discuss live events. Twitter is the most instant and the most concise place digest news and other content. People don't open the Facebook or Instagram app to talk about a crazy football play, or comment on the breaking news.
Social Media Theory
Here is my theory on social media: Social media has always been a platform for vanity, especially for millennials. When Facebook first came out people would try to have the most Facebook friends to appear popular. When Twitter came out and introduced the follower/following system users flocked to Twitter show off a their "ratio." Today Instagram is the standard for judging status on social media where it is all about the "likes." Although, these traits of the social media platforms are not functional, they are ever so important to their growth which primarily comes from younger generations. Sex sells and currently Instagram is the hottest. Social media is a brand and status symbol that is just as powerful as a Louboutin heel or a Cadillac car. Twitter right now is not selling and is on the discount rack (which may be an opportunity for potential investors).
Acquisition Rumors
To put it simply, Twitter's financials are messy. The market values Twitter based on its ability to make a profit and a provide a return on investment in the future. It has never done that since it became a public company. Acquisition rumors heated up as larger information technology companies have mulled the idea of buying Twitter. Twitter stock popped more 20% on September 23 after a vague tweet from a Salesforce.com executive: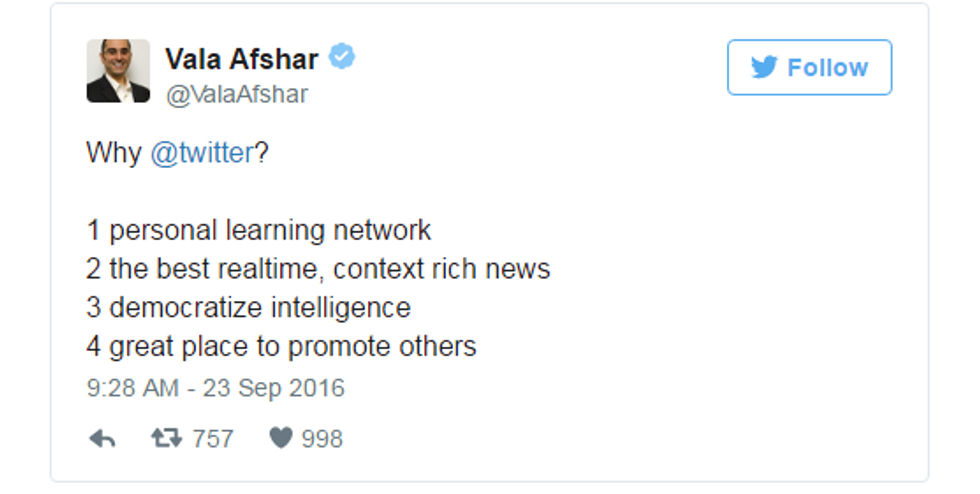 That 20% increase on buyout rumors created an additional $2.5 billion in market value. Unlike the LinkedIn-Microsoft deal in which there were no buyout rumors prior to the deal to drive the stock up, Twitter rumors are running wild. Google, Salesforce, Verizon, Microsoft, Disney, and even Facebook have been speculated as potential buyers. I believe Google is the most likely suitor and would look to enter the social media space and make use of Twitter's data. Google, being the master of online advertising would be able to monetize Twitter's platform based on their existing advertising relationships. In buying Twitter, Google would own four of the ten most popular web entities between Google, Youtube, Gmail, and potentially Twitter.
Financial Analysis
Note: If you are new to investing you may find my article about "How to Be An Investor" helpful.
The question everyone is wondering: If Twitter is indeed bought, what will be the price? Twitter is a difficult company to value because of its intangible assets and negative return on their debt and equity. In comparison to LinkedIn's financials, Twitter has similar costs and spends similar amounts on research and development. However, the difference lies in Twitter's gross profit margins (67%) that are well below LinkedIn (85%). At its current state, Twitter's fundamental business is not as good as even a struggling LinkedIn at the time it was acquired. However, if Twitter can increase its revenue, its costs are in line with the industry.
If Twitter was to get to the same premium as LinkedIn, Twitter stock at its current price still has the potential to rise. LinkedIn was given a 54% premium to its enterprise value multiple (enterprise value/EBITDA), the most common ratio used to determine the value of a company during an acquisition. Since acquisition rumors started, Twitter's enterprise value multiple has risen 27%. Using LinkedIn as precedent, Twitter's enterprise value multiple has the potential to rise an additional 27% to 54%. LinkedIn's 54% enterprise value premium was reflected in a 50% premium on the stock price. Twitter stock has risen 23% on rumors, by using that same ratio Twitter's stock price has the potential to rise another 27%. That would represent a share price of close to $30 a share and a market cap of $21 billion, still $5 billion less than LinkedIn.
Intrinsically, I think Twitter can potentially be more valuable than LinkedIn. Twitter has a broader and more usable platform than LinkedIn and can reach more people. I believe Twitter has a stronger brand and more growth potential, especially within its video services. If Twitter is to be acquired, I think it at least demands the premium LinkedIn received from Microsoft and possibly more. My price target for a Twitter takeover is between $30-$35 a share.
*All numbers were taken from market data 9/30/16 via Bloomberg.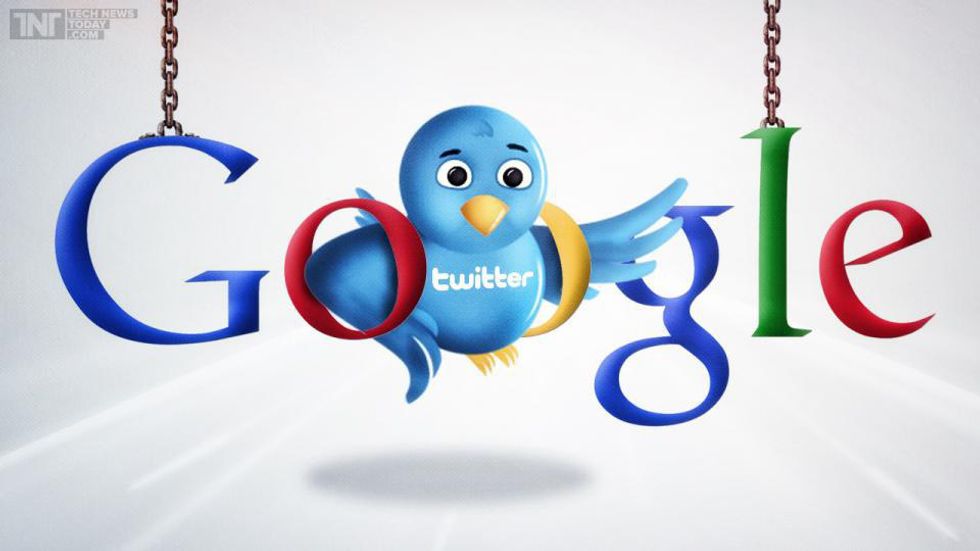 With or Without You: How Twitter can win
I do not think Twitter needs a takeover to be successful, but they are not going to win by being a sexy social media platform anymore. Instead, Twitter must be the most functional social media company and leverage its platform that is so valuable, especially in a society that wants information and wants it fast. Twitter's path toward success is twofold.
Twitter currently attracts social media extroverts, those who want to join in the conversation and share their thoughts. However, even if you don't want to tweet much Twitter can be both an extremely entertaining and informative news app. If they want to see user growth they need to attract the more middle-aged population that wants news but isn't compelled to tweet.
Perhaps more importantly, Twitter needs to dominate video. Mobile video marketing is still in its infancy and markers are not as comfortable with video advertising as they are with traditional online advertising. Twitter is currently pioneering streaming through its app showing football games and presidential debates in-app. Twitter created a Twitter TV app that streams through your TV showing live events and the live discussion on Twitter side-by-side. Twitter also offers other innovative services in their video suite in Periscope and Vine but faces competition with Facebook Live. Twitter needs to become both the place to discuss live events and also show live events through their video products. Taking hold of the online video advertising market will be the key to sales growth.
All that to say...
Twitter will continue to be an interesting company and stock to follow. I believe investors will be in a good situation if the company is bought. If Twitter is not bought the stock will most likely suffer short term, but I have faith the company is headed in the right direction. Twitter's success in the streaming/video market will be of key interest in the coming months with the 2016 presidential election, and more NFL games scheduled to be streaming on Twitter.