Tinder, like all social media, has its pros and cons. For a straight teenage girl, pros include screen-shotting straight white males' profiles and sending them to my friends for a good laugh. Cons include... well, basically everything else. But it's an intriguing concept: Online dating, reduced to your name, age, a couple pictures, and a brief bio. How do you sum up a life in so little room? How do you consider a potential partner with such little information?
Regardless, people do it. And profiles are super interesting to look at, to see what exactly people think is important about themselves. Come on, you've definitely wondered before: What would _____'s Tinder profile look like?
I have speculated on famous presidents and celebrities, but no group is more interesting than my favorite writers. What would happen if I was lying on my bed one lazy night swiping away and suddenly, Cormac McCarthy's face flashed across my screen? Would I do the "duh" thing and swipe right? Would I be too shocked to respond? (If I did do the "duh" thing and swipe right, would we match?)
For those of you who have wondered the same, fret not. Check out your favorite authors' profiles below! Too bad you can't actually find out if you matched... let's just assume you would, yeah?
John Steinbeck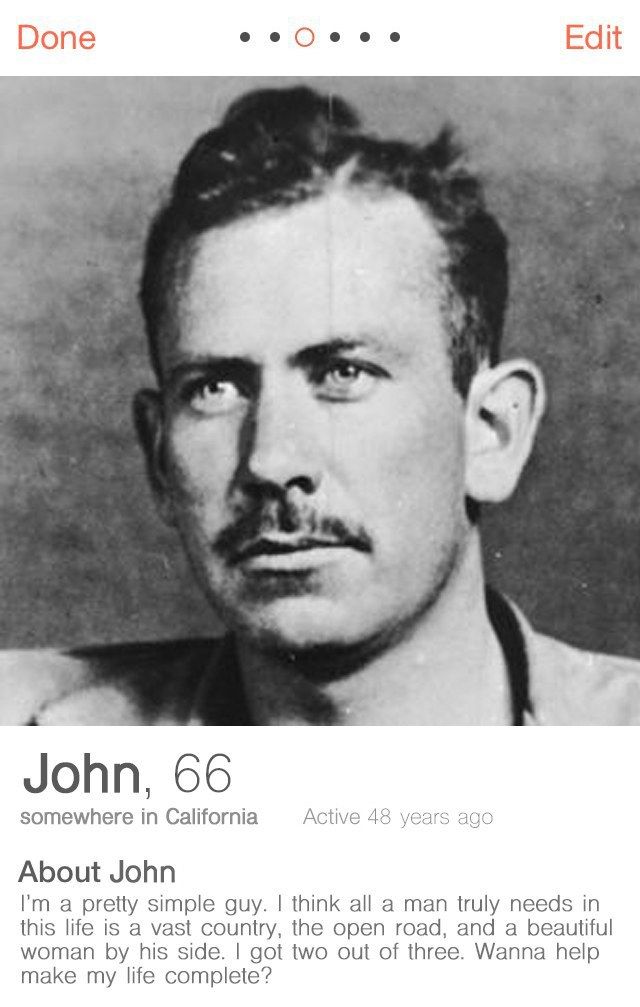 Don't tell me Steinbeck wouldn't try to take you hiking on a first date, because we all know he would.
Allen Ginsberg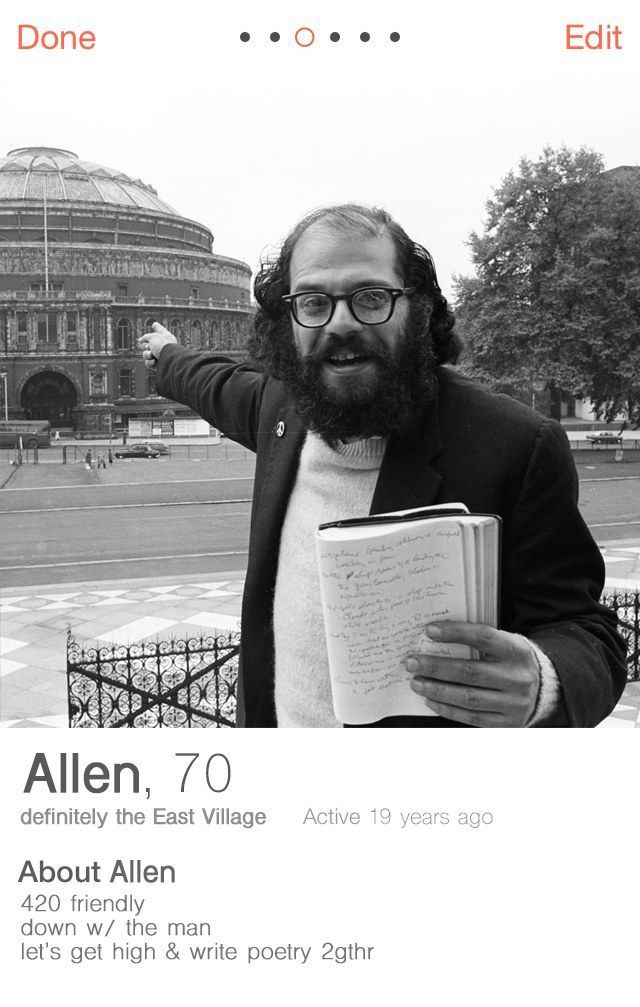 Ginsberg would so be "that guy" that talks about weed in his profile. You're probably going to want to swipe left, my friend.
C.S. Lewis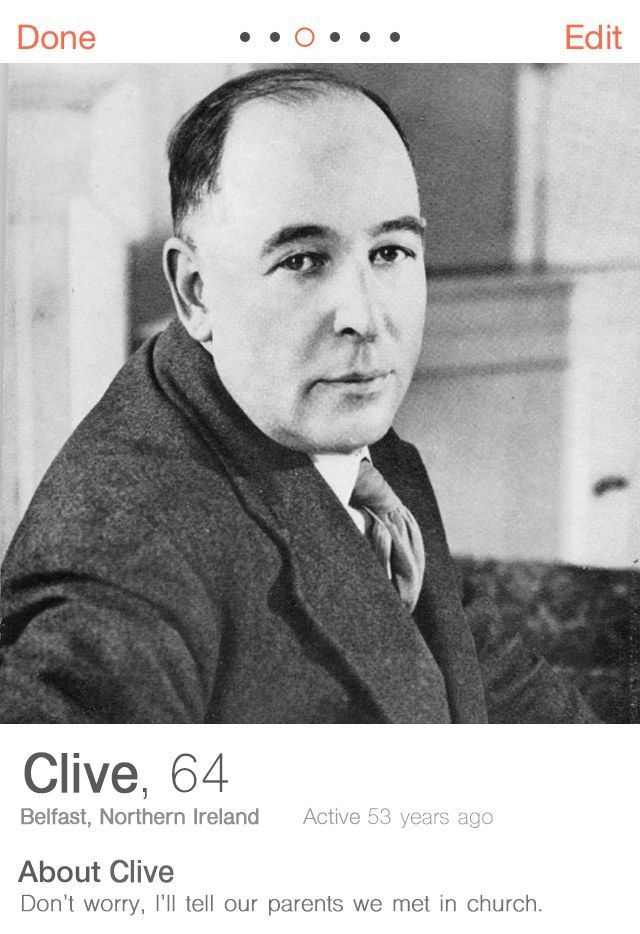 Aside from the stereotypical caption, Lewis just might be one of those boys you meet on Tinder that actually warrants a second date. And maybe a third.
Henry Miller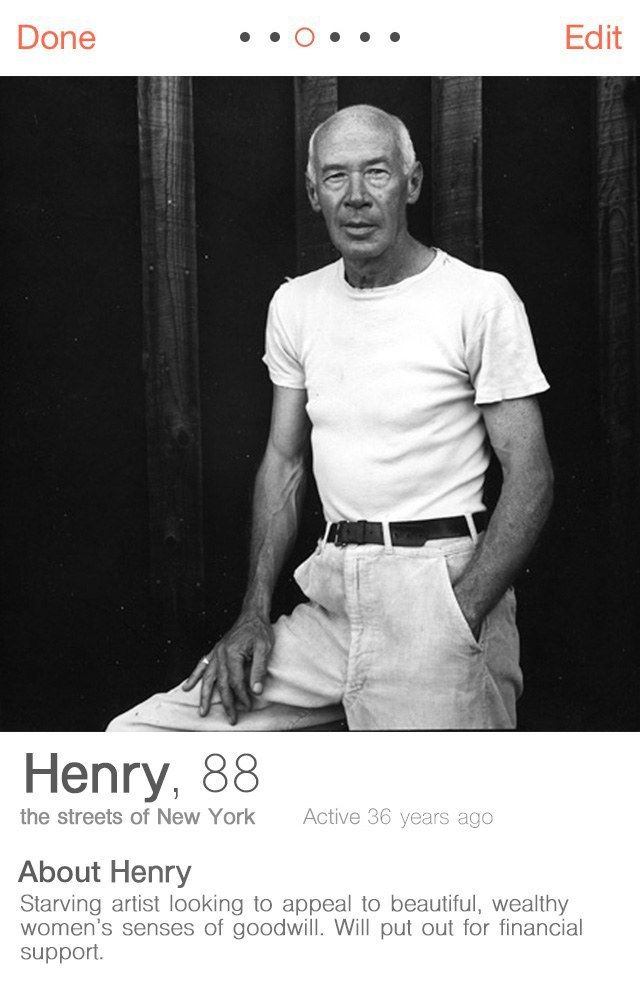 He's definitely cute, and you're pretty desperate, but are you really that desperate?
Ayn Rand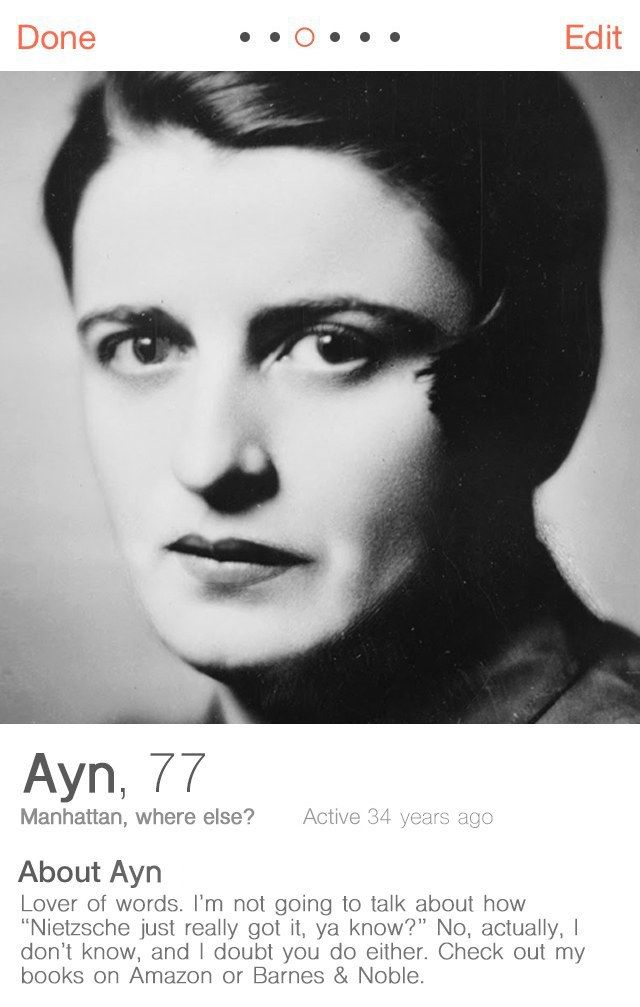 She'd be the only one to promote herself, and she'd be the one we'd all still swipe right on, just in case.
F. Scott Fitzgerald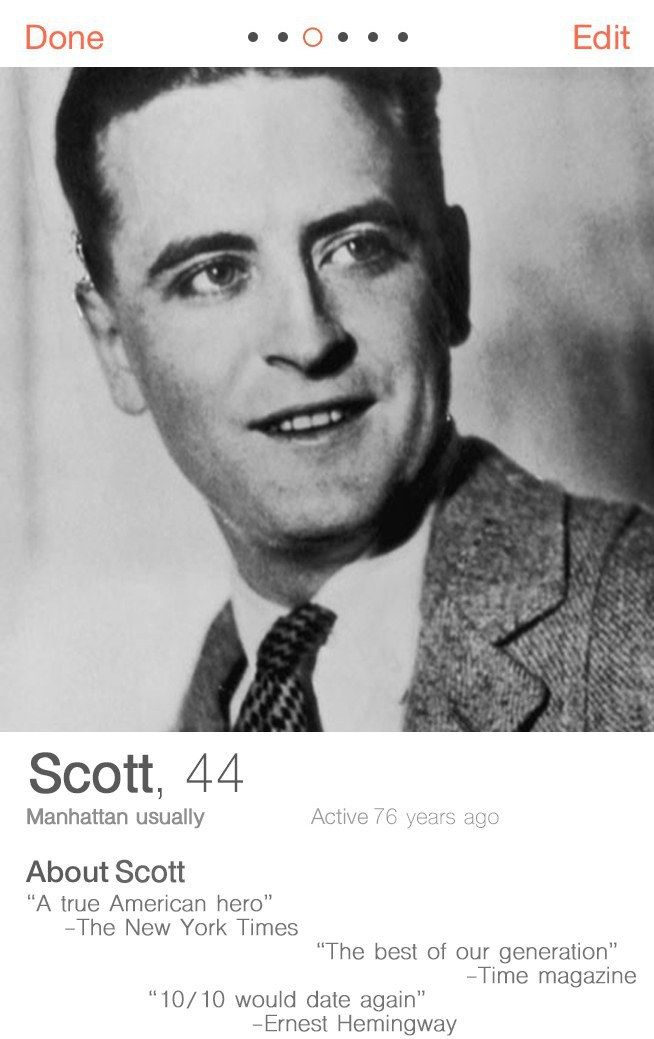 Okay but Fitzgerald is definitely that "bro" that we all secretly swipe right on, as long as he doesn't have any half pics.
Sylvia Plath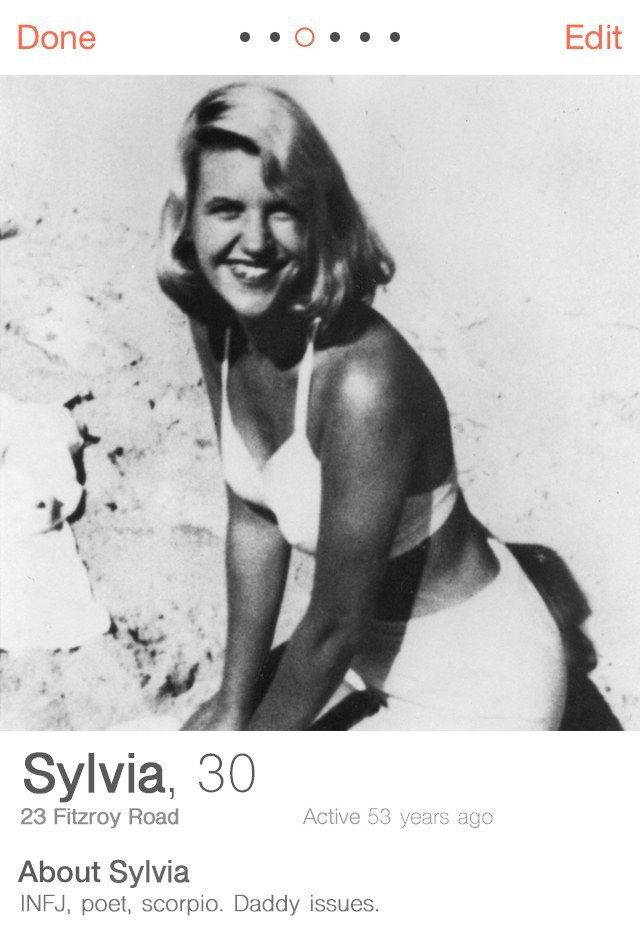 We all know that one girl with the really weird bio who still gets a ton of matches because all her pictures are out-of-this-world cute. Yep, that'd be Plath.
Vladimir Nabokov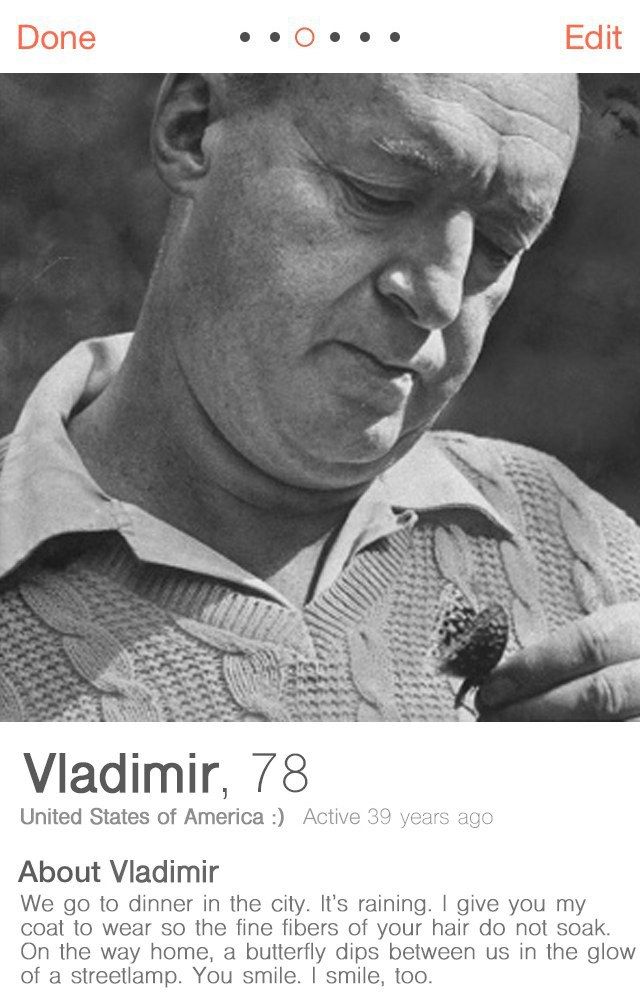 "Yeah, he's pretentious-sounding, but isn't it romantic?" you croon to your friends after setting up your first date (butterfly hunting in the park, of course) with Nabokov.
E.E. Cummings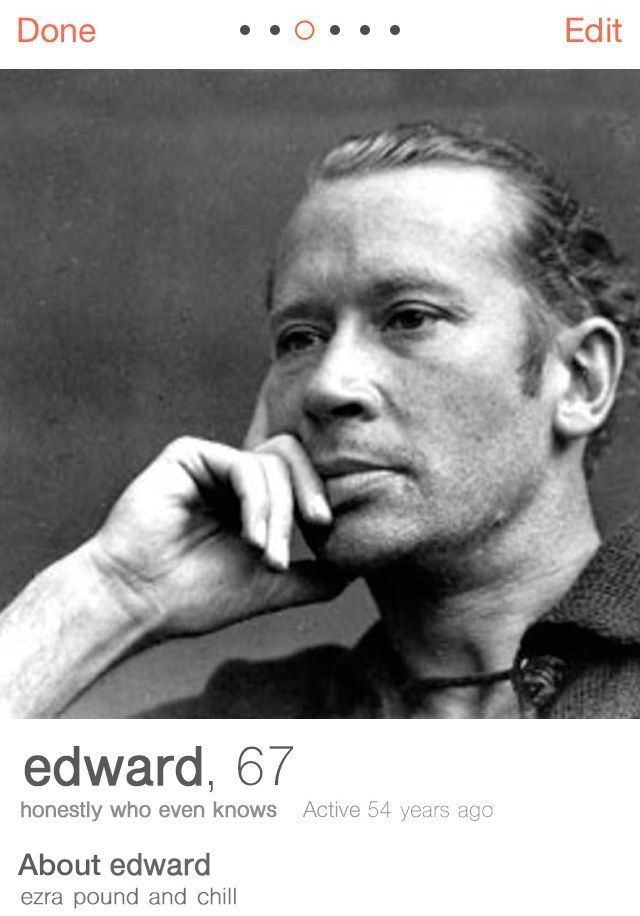 Cummings would be one of those guys obviously on Tinder just for sex, but he's cute and seems down-to-earth enough, so what can it hurt, right?
Anaïs Nin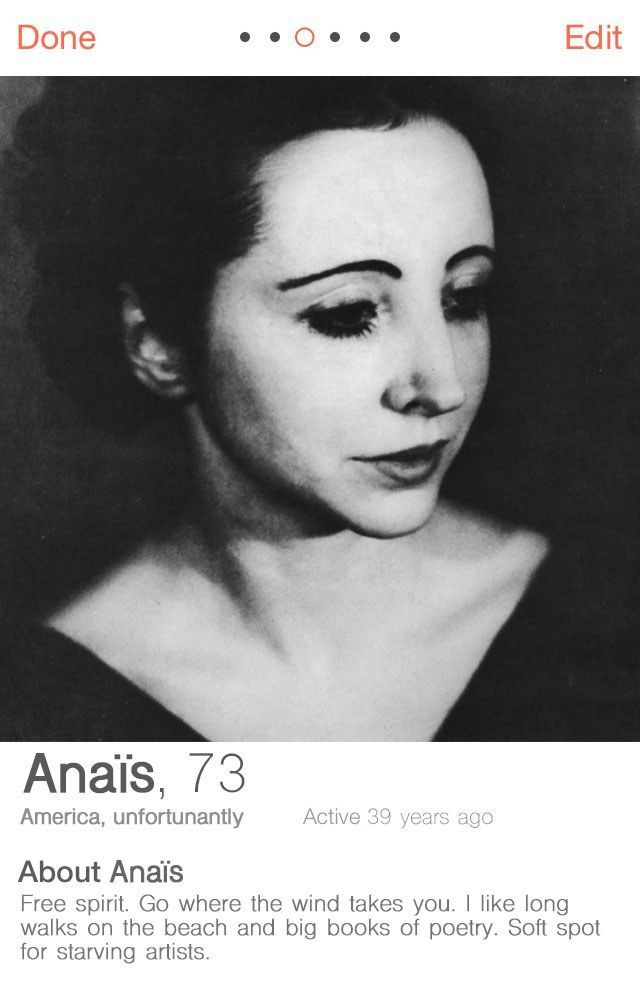 You come across her profile after you've already swiped left on Henry Miller, and everything makes sense.
Virginia Woolf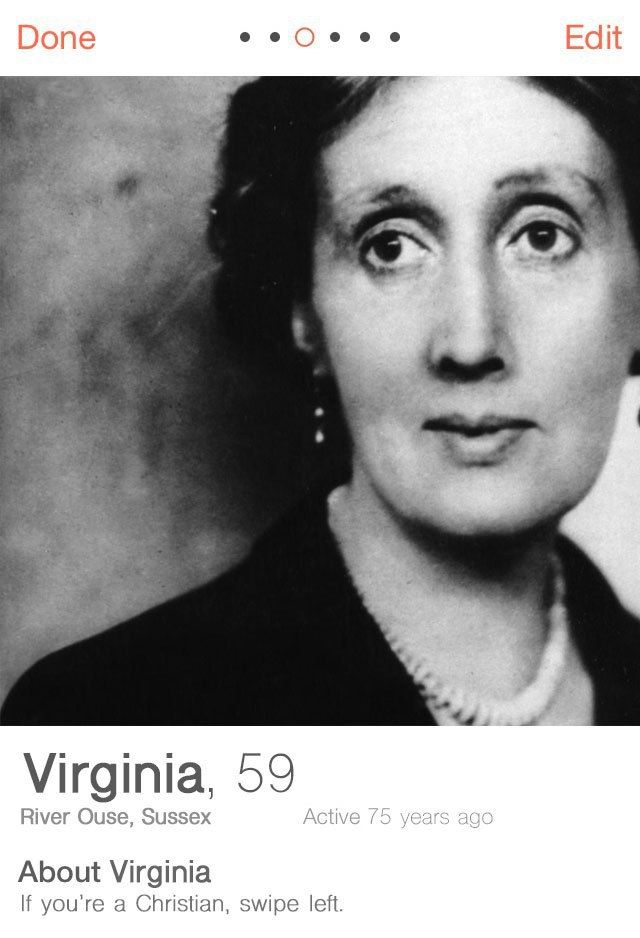 She's the one you match with but never message—not for any reason, you just forget. And then her profile mysteriously disappears.
Franz Kafka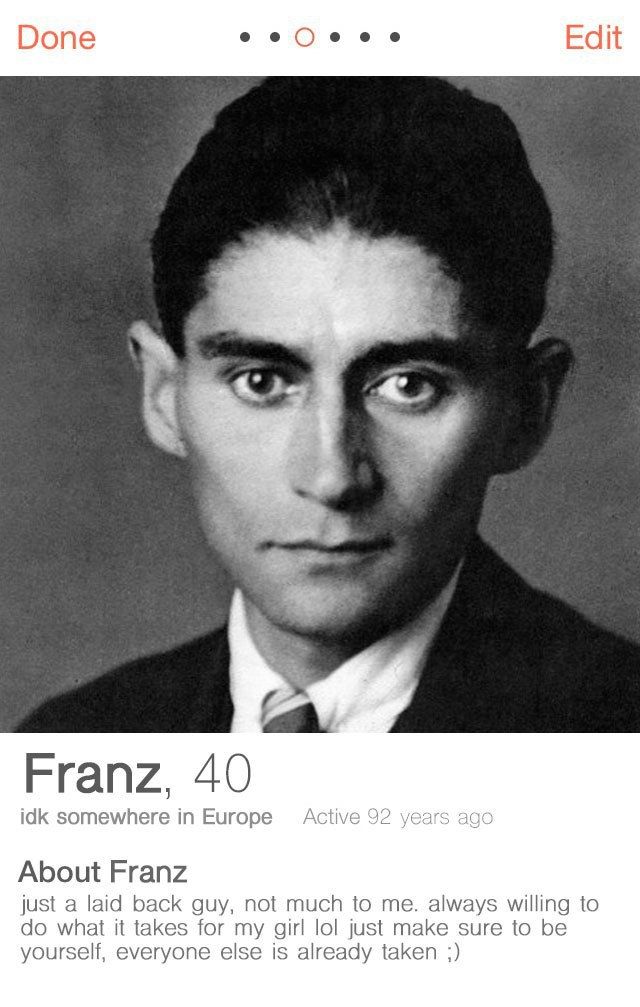 So what if he's that awkward dude who uses a headshot for his first pic and kinda looks like he's staring into your soul... at least he sounds sweet?
William Faulkner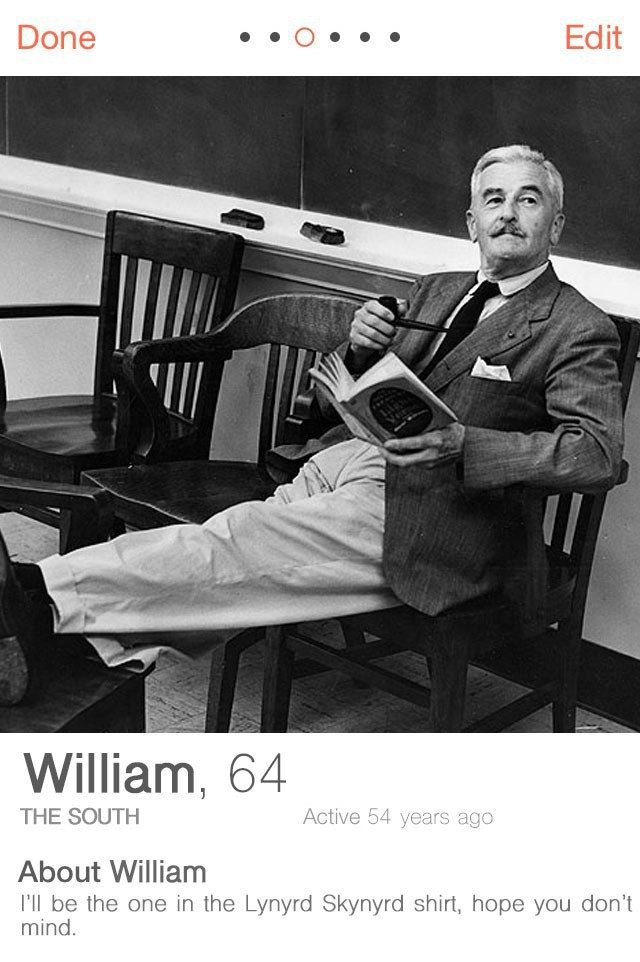 Faulkner is the one you'd secretly want to take home to your parents, as long as he doesn't own a Confederate flag.
---
Maybe someday will find Cormac McCarthy on Tinder. (He and his ex-wife split in 2006, so it's not totally out of the picture, right?) But for those who never got to see this speed-dating app come to fruition, we'll just have to guess at what they'd say.
Perhaps living without Tinder made life easier for these writers. I sometimes wonder how wonderful a simple life would be if I wasn't stuck in this horrible circle of deleting and remaking my online profile just so desperate boys will call me cute.
If only all Tinder profiles looked like those above. (Okay, except for maybe Henry Miller — we still love you, but not in that way.) I guess we'll just have to swoon over the possibility of one day matching with the writers of our dreams and in the meantime, keep swiping left on everyone else.
Cover Image Credit: McKinley Catherine Keener