Now, I know what you're thinking -- Adrienne, this isn't a sports article...?
And you're right, it's not.
There's not much going on right now in the sports world that I find the need to voice my opinion on. For example, as of right now in the NBA, there's been a sudden outburst of fights and problems between players and referees, which I find very childish and has absolutely no importance to me as a sports writer.
So, here is something that is far more important than these current issues --
Last Wednesday, XXXTentacion, better known as "X," donated toys, gaming consoles, and other wonderful things to those less fortunate in his local community: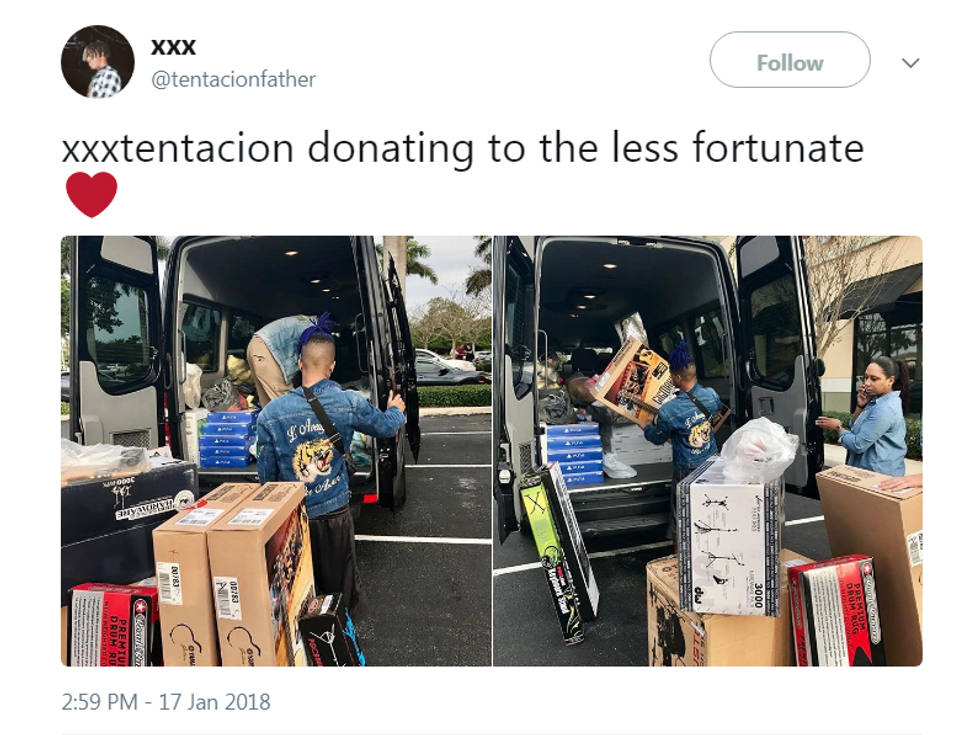 The soon-to-be 20-year-old has been making music since he was very young in order to help cope with his own emotions and express himself in a more positive way.
X was discovered by the mainstream media when his 2015 song "Look At Me!" blew up in 2016, which is also when I found out about him.
Months later, in July of 2017, X was part of the 2017 XXL Freshman Cypher (NOTE: video contains "vulgar" language) where many current famous artists such as Lupe Fiasco, J. Cole, Kendrick Lamar, Travi$ Scott and Logic were really first showcased in the eyes of the public.
His verse in the cypher caused a lot of controversy and made people question whether he was psychotic, satanic, or both, but in reality, he was trying to make himself stand out and honestly? He did it right.
Then two months later, in September, X dropped his official music video to "Look At Me!" (NOTE: video contains "vulgar" language and "disturbing" and inappropriate images. Viewer discretion is advised.), which created even more controversy and added on more hate.
However, what people fail to realize is that he's a genius for what he did in this music video. He used his biggest hit, and most anticipated music video drop, to lure in millions of people and, literally, force them to listen to the deeper meaning of it all.
In the beginning of the video, X is having fun with it and rocking with his song, but then not even a minute in, the scenery changes. He switches the song to one of his older ones named "Riot" and raps it over images of him being hung in a tree and video clips and reenactments of African Americans who lost their lives in the most horrible ways imaginable such as Emmett Till, Philando Castile, and the Ferguson Riots.
At the end (NOTE: disturbing imagery ahead), two little boys, one is Caucasian and the other is African American, are taken to a stage and separated by a rope hanging from a ceiling, in front of a crowd of people. X shows up and puts the rope over the Caucasian child's head and basically hangs him. After that, the scene switches once again and it's just X, sitting down, reading off of his phone and this is what he says via lybio.net:
Equity and equality: the end result we all – the ones that don't want to live in misery, that is – desire. And naturally we all black and white are schadenfreude or malicious.

Here are a few examples.
Emmett Till, August 28th, 1955, Mississippi – pulled out of his house in the middle of the night, in front of his mother who had to watch her son be taken from her on the sidelines, for little to no reason at all worth murdering a fourteen-year-old boy. Castrated, mutilated, but also documented for the years to see.

Kori Ali Muhammad, black-on-white.

Philando Castile, white-on-black.

Now these things never come to or remotely remain in the public eye. And the youth is never inspired to take a stand to make a difference. So I will speak for them. The youth, that is, the ones full of innocence. The ones inspired by the things around them, to matter.

I can go on forever about the fact that murder is murder whether you're black or white. You should always feel free to voice your opinion, but to act out on these irrational thoughts in every shape or form is disgusting. You cannot, as black or white, call yourself the supreme race when moved out of your comfort by the opposition's color, their skin color. That is no form of being or demonstrating being a supreme being.
If you are a supremacist, be unmoved by the opposition. Remain unscathed in the comfort of your own home, in your own realm. Demonstrate care for the youth's future, white or black, black or white.

Are you willing to risk your child's future due to your own bigotry?
The choice is yours, but your child will not stand for the hate.



This generation will be loved, nurtured, heard and understood.
Now, you can interpret that however you would like, but just understand, that is trying to get a message across and it would be inhumane and insensitive of us to try and misconstrue that message.
I've been listening to X for about a year now and have been watching his interviews, livestreams, and videos in order to get a further look into the kind of person he is and that's what we, as a society, fail to do.
We judge and hate on people, especially artists or celebrities, based on misconceived connotations. We do not do research on these people that are perceived as "juvenile," "reckless," or "uneducated." Instead, we take whatever it is that the media feeds us, which should never be the case.
Do research, educate yourself -- learning isn't only for school subjects. What you say or do impacts people's lives.
With that said, a lot of people have these misconceived connotations of X as a person, that he is all three of the adjectives listed above. A lot of people have these misconceived connotations of X as a musical artist, that he "screams too much" or just raps about nonsense.
And I'm here to tell you that all of those connotations of him are false.
Listen to his "17" album, "Vice City," "I spoke to the devil in miami, he said everything would be fine," and "sad n low."
Then go watch his No Jumper interview and facetime interview with DJ Akademiks.
Then come back and try to tell me that this young man is "juvenile," "reckless," "uneducated," "screams too much," or raps about nonsense.
People forget, or are just simply unaware, that X is only 19-years-old. Yes, he does have a criminal record, but watch his No Jumper interview and try to tell me that growing up he had a good support system and lived in a healthy environment. In fact, if you watch any livestream or interview of his, you will find out that it is his fans, his supporters, that are his support system; he's made it clear that he is alive because of his supporters.
I'm tired of people hating on this kid because he's still trying to find himself in the eye of the public. He's been through so much and the hate does no one any healthy justice.
He's lost and just needs genuine love from not only that close to him, but from his supporters, and the people in general. He's actually trying to make a difference in the world, and if we're reckless in how we treat X, we may lose him, and that guilt will be heavily weighed on everyone on this planet.
Lastly, probably the most important thing in this article, is his first vlog. If anything I said stuck with you at all, please watch this: