A lot of conspiracy theories do not have merit behind them – Flat Earth, COVID-19 related theories, even the Chuck-E-Cheese pizza scandal that Shane Dawson publicized in 2019. However, after seeing and hearing about this theory which was first discovered on Reddit and Tik Tok – I don't know if Wayfair is telling the truth.
Redditor PrincessPeach198 made the following post on July 9th which has since gone viral and drawn the attention of more than just conspiracy theorists.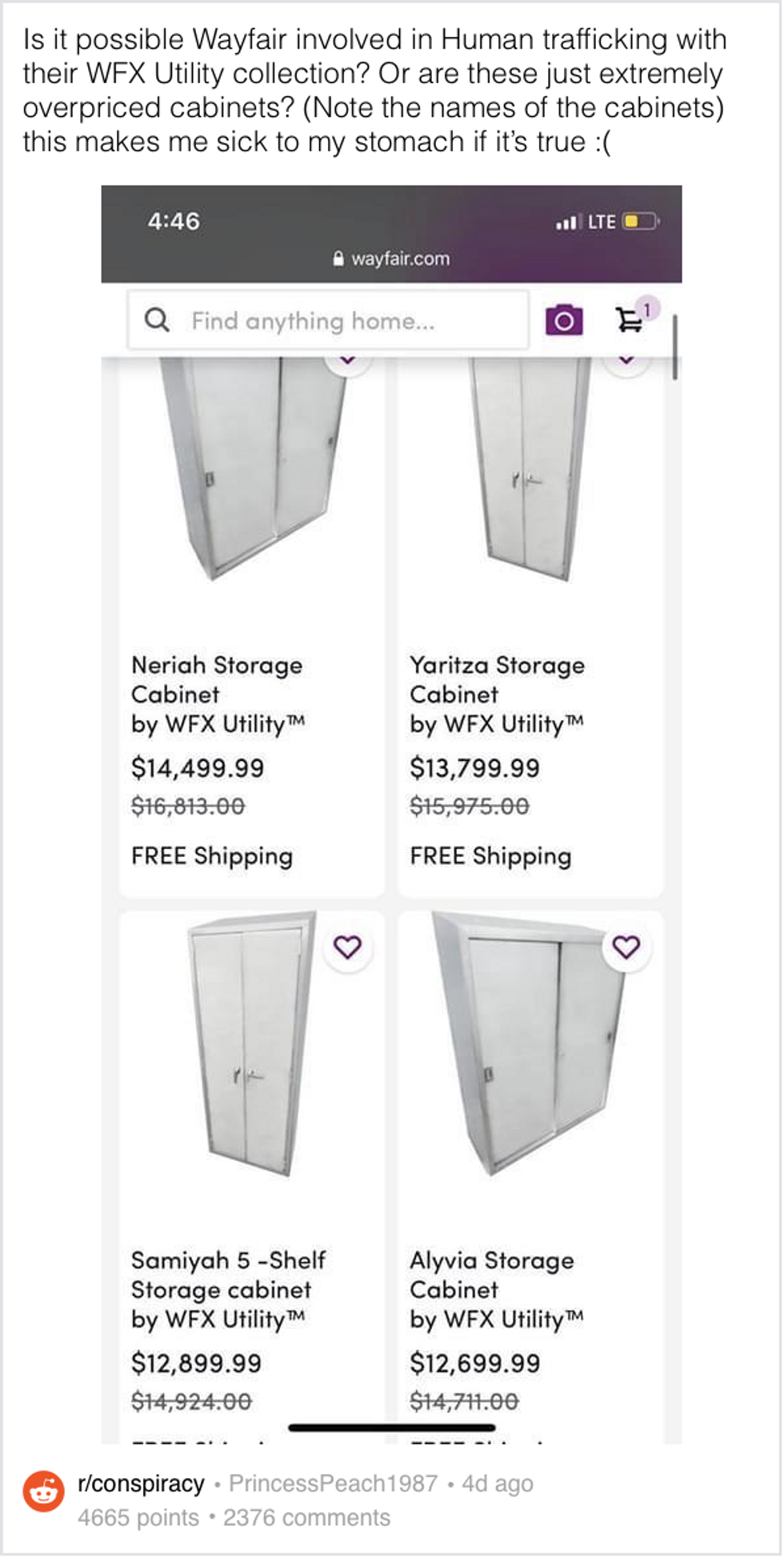 These cabinets – which have prices ranging from $12,000 to $15,000 – have names like Neriah, Yaritza, Samiyah and Alyvia, which are also coincidentally named after missing persons. Despite the alleged conspiracy, the e-commerce business quickly denied all connections to sex trafficking.
"There is, of course, no truth to these claims. The products in question are industrial grade cabinets that are accurately priced. Recognizing that the photos and descriptions provided by the supplier did not adequately explain the high price point, we have temporarily removed the products from site to rename them and to provide a more in-depth description and photos that accurately depict the product to clarify the price point."
– Wayfair spokesperson
While Reddit user, PrincessPeach198, was initially just confused and in search of answers, the answers might be grim if Wayfair is intentionally covering up these allegations. Other intrigued social media users found more overpriced items including a $9,999.00 shower curtain and a desk that is being sold for $16k. This has users questioning if there is actually something tangible or is Wayfair just selling items at unreasonable price points.
If you look further into the conspiracy you will get stuck in a black hole of intriguing plots. Some users believe that the SKU numbers are connected to sex trafficking also while others suspect that Wayfair is also connected to a trafficking chain originating in California. Without more investigating and less theorizing – Wayfair will continue to supply their customers with "just what [they] need" – and hopefully, a human trafficking ring is not included.