Hulu just released a new show called "Shrill." It stars the SNL comedian Aidy Bryant and is also created by Aidy Bryant along with other writers including Lindy West.
Shrill: Trailer (Official) • A Hulu Originalwww.youtube.com
This shows is just, in one word, AMAZING!
It addresses race, sex, birth control, obesity, body image and so much more. I binged in within a day. If you're a man, woman, gay, straight, WHATEVER, I recommend this show in a heartbeat.
SPOILER ALERTS ARE AHEAD, I RECOMMEND WATCHING THE FIRST EPISODE AND THEN FINISHING THIS ARTICLE OR IF YOU DON'T CARE, THEN CARRY ON AND READ ABOUT THIS INCREDIBLE SHOW!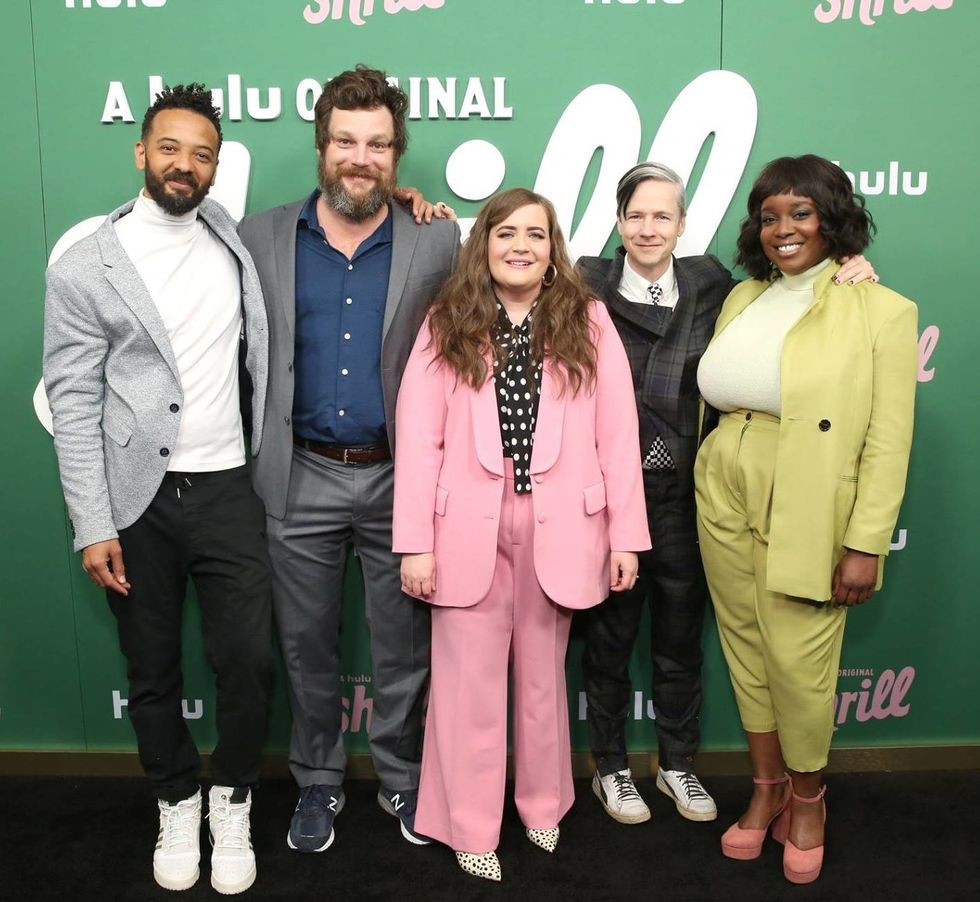 The Shrill Cast at Premiere
In the first episode, an issue is addressed that I have never heard of before. Annie, Aidy Bryant's character, is hooking up with this man who likes to have unprotected sex. This character is insecure about herself and her weight so she goes with it. After you have unprotected sex, you can take the morning after pill for an emergency and reassurance after the first 72 hours of the unprotected sex. So she takes it in this episode.
As the episode goes on she realizes she is late, her period hasn't happened, and she is worried. Naturally, she gets a pregnancy test and it is positive. She flips out and goes to the pharmacist and complains because how is she pregnant when she's taken the morning after pill so many times?
The pharmacist says "Did the other pharmacist not tell you that the morning after pill doesn't work if you're over 175 pounds.
After this episode aired, lots of publications like Teen Vogue who have a woman demographic who might be taking this pill, shared an article whether this is true, and it is.
The point is, I NEVER KNEW THIS AND THAT IS NOT OKAY. If you're a certain weight, the morning after pill might not be as effective for you?? That should be well-known knowledge!
That is one of the many groundbreaking issues in this series that blew my mind, right off the bat, one episode in.
New Rules 💅#ShrillOnHulu https://t.co/QHMYj44F8e

— huluween (@huluween) 1553378580.0
Also in that first episode, she gets an abortion and handles it like a boss. Her friend is super supportive and with her. Another thing I learned, that you can have support in the room with you. That is just wonderful and new knowledge to me.
I really really loved this show. This overweight woman who has been told her whole life "you can be pretty" and was made at such a young age to feel that her weight was an obstacle. Well, Annie overcomes that obstacle and it's beautiful.
Episode 4 Season 1 was my favorite episode. It shows flashbacks of Annie as a child avoiding the pool because of her weight. She looks out the window at the hotel pool on the little girls who are skinny in their bikinis. In this episode, Annie finds a "Fat Babe Pool Party" in Portland and attends with her best friend. Gradually you see throughout the episode how Annie overcomes that image in her head of skinny girls by the pool. She strips her clothes off and enjoys the pool party to the full extreme. It just shows Annie overcoming her image and an obstacle that she set up all on her own.
As a woman who faces her own body issues every day and is surrounded by other women who also have body issues, it's wonderful to watch a show that addresses so many issues and empowers you to accept yourself and love yourself.
Annie stops taking shit from that guy who doesn't treat her right, she says "F**k you" to the trainer woman telling her "That's a skinny girl inside that body waiting to get out" and "you could be so pretty." She conquers her own issues and stands up to her trolls and her haters.
I recommend this show so much and if you're someone with your own personal obstacles, watch this show and tell your friends to watch it. It shows diversity, shows self-love, female empowerment, LGBTQ empowerment, positive body image and so much more.
"Shrill" is found on HULU and you can watch all six episodes now.