Usually I'm not the type to get heated about politics, but not only do the current abortion bans affect me negatively as a woman, they are offensive to me as someone who has experienced rape. Luckily didn't end up pregnant when it happened to me, but not all women are as lucky as I was, and that's just one of the reasons why this infuriates me to my core.
Further, I'm simply not OK with men "mansplaining" to me why this is something that should happen, which is exactly what happened on Facebook just a few days ago after sharing a meme about the abortion laws. A meme, you guys, not even anything serious.
Here is what I shared: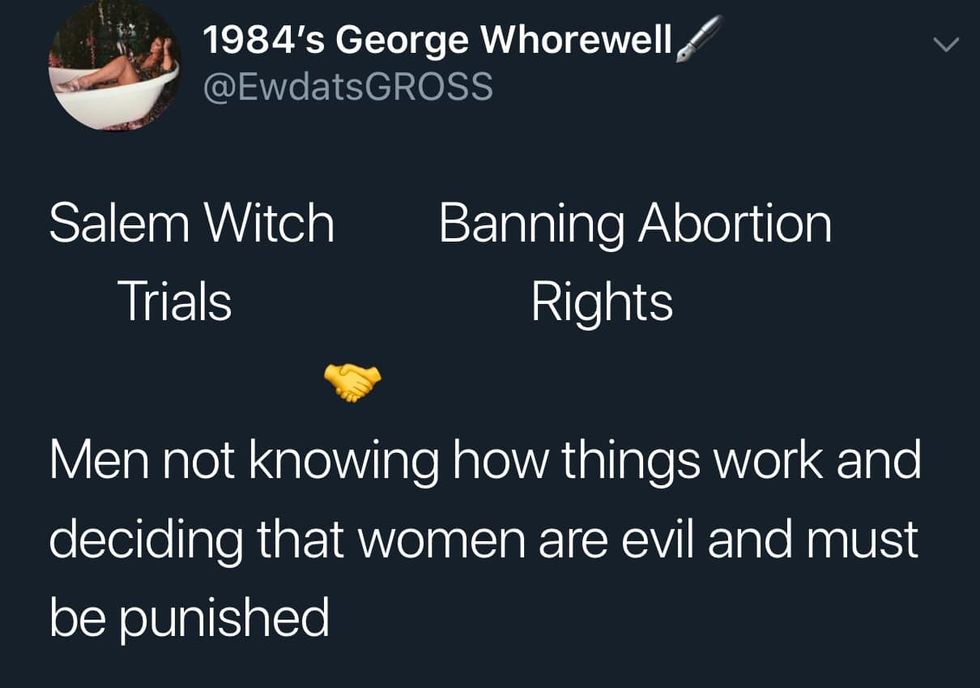 Facebook
Funny, right? With just a hint of seriousness. Well, of course one of my male "friends" on Facebook had to go off about how wrong i was. He wrote pretty much an entire essay, but here are a few snippets: "rape, incest, and mother's health is a reasonable argument for abortion but those only constitute well less than 1% of total abortions/year, so whatever" and "Since [the fact that murdering the defenseless is wrong] isn't clear anymore, we can continue the conversation...." And while some of his comments were fine, I don't appreciate the essay on how if I decided I needed an abortion, I'm considered to be evil or a murderer because of it. I didn't ask for his comments and I didn't want them.
While that's bad enough, it completely blows my mind that this is how so many men feel about women and abortions. How? Now, I don't ever foresee myself getting an abortion, but I'd like to know I have the option in case something ever happens like birth control failure, rape, etc. There's several reasons for needing an abortion, including medical ones, to the point where I can't believe we are passing these laws in the 21st century.
What's even more baffling to me is that in Alabama, a woman is the one who passed this bill. A woman. According to the Washington Post, "The legislation makes exceptions only for the health of the mother and for fetuses with "fatal anomalies" that make them unlikely to survive outside the womb. Rape and incest are not exceptions to Alabama's ban." While I appreciate that there are exceptions for the health of the child or mother (even though some sources are suggesting that even this won't stop them from preventing abortions), I want to know why rape is not a qualifying factor for abortion. I'm not trying to say that any child of rape means less than any other child, but a woman forced into that situation should be allowed to make that choice for herself and her future.
I also want to point out that women are not held criminally responsible for abortions under these bans, at least, not explicitly. However, the vagueness within the bills about women's responsibility means that in the future there is the possibility women could be criminally charged for abortions they have. Even if the possibility is small, it's still there.
It all comes down to the fact that women's rights are being violated. Women, in this case, are being held as lesser than men in terms of how their bodies are respected and protected. You don't see any bans on men for not wearing a condom, and there's no "birth control" readily available for men in our society. Why? Because it's up to the woman to ensure she's protected from pregnancy, and that's just not fair. Further, the comments made from men to women about these issues is astounding. Alabama bill sponsor, Clyde Chambliss actually made the comment about women, "I don't know if I'm smart enough to be pregnant," when talking about the bill.
A ban like this isn't about helping the unborn, because women who are seeking out these abortions aren't doing it for fun; they're getting abortions either for their own sake or the sake of the child. This ban is going to force children into poverty-stricken homes, homes of drug addicts, homes with unfit parents, etc. The list goes on. This ban is simply about restricting women and their rights. Point blank.
And as women we need to be doing everything in our power to prevent these bills from becoming laws.