The crafting-survival genre has been rapidly growing since Minecraft first appeared in late 2009. As someone who has been with that game since the Indev stage, I've always enjoyed the explore-gather-craft cycle of gameplay that this genre offers. Games in this category tend to shine brightest when their explorable spaces feed the player's curiosity, when they have interesting and deep crafting systems that take time to unfold, and when they offer something unique and compelling that sets them apart from their competitors. That could be anything from Rust with its intensely competitive and ruthless multiplayer, to 7 Days to Die with difficulty ramping and skill progression that keep the challenge fair over long sessions, to Minecraft's emphasis on creativity and expression. My Steam library has a lot of these types of games in them, but only a handful have managed to distinguish themselves. For every defining quality, there are one or two games that execute them well and three or four that try to do similar things but just can't measure up.
Today, I want to talk about my experiences with one of the good ones.
[rebelmouse-proxy-image https://media.rbl.ms/image?u=%2Ffiles%2F2016%2F12%2F04%2F6361648864713167111225686428_community_image_1425439327.gif&ho=https%3A%2F%2Faz616578.vo.msecnd.net&s=407&h=5ab51264e8c7002ea68740fc2afd92adf829a8a943a9bd79504ada05bf63449e&size=980x&c=1490306021 crop_info="%7B%22image%22%3A%20%22https%3A//media.rbl.ms/image%3Fu%3D%252Ffiles%252F2016%252F12%252F04%252F6361648864713167111225686428_community_image_1425439327.gif%26ho%3Dhttps%253A%252F%252Faz616578.vo.msecnd.net%26s%3D407%26h%3D5ab51264e8c7002ea68740fc2afd92adf829a8a943a9bd79504ada05bf63449e%26size%3D980x%26c%3D1490306021%22%7D" expand=1]
The Long Dark, by Hinterland Studio, follows the player whose plane was brought down by a geomagnetic disaster into the Canadian wilderness, and nothing out there is happy to see you. The weather is brutally cold, seldom reaching temperatures above freezing even at midday. When the wind isn't chilling you to the bone, it's howling up a blizzard that will cut visibility to zero. The local wildlife, agitated by said disaster, is much more inclined to attack humans on sight -- which sucks, because you're the only human around. Everyone else is nothing but frozen corpses, hanging out around the few outposts and dwellings that pepper what would otherwise be miles of pure, deadly nature. At least, that is the case as of my writing this. More on that later.
Where other games pit the player against zombies, dinosaurs, other players, or all of the above, The Long Dark is a lonely struggle between one person and Mother Nature. As a member of the "wilderness survival" sub-genre, it sets itself apart with a stiff difficulty curve, deep survival mechanics that include warmth and calorie management, and a subdued art direction: stylized, but not intrusive. Further, I've yet to play another game that executes on its tone with so few tools. The tone is this cocktail of different blended elements. The natural vistas are serene and beautiful, but the human settlements and buildings feel empty and somber. The musical cues that play when the player discovers a derailed train or an abandoned hydro-dam are haunting, making those locations feel creepy without actually being threatening in themselves. But there's also this cautious optimism that bubbles up through that haunted feeling -- the promise of supplies to scavenge and another day to survive. Even though there's not much story in the game (yet), there is already a great deal of environmental story telling in The Long Dark. The frozen bodies and items littered around tip the player off to what life out here was like before the disaster, and how everything went wrong when it struck.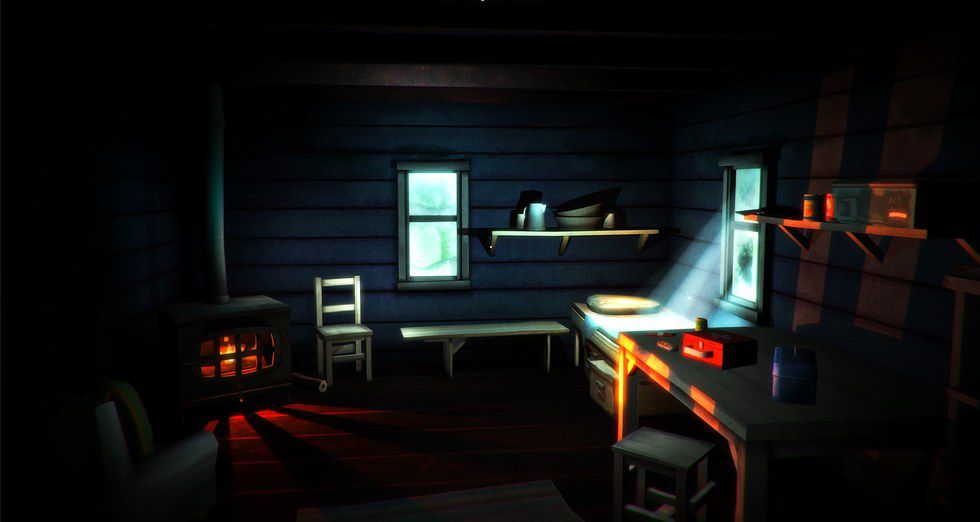 Since The Long Dark features permadeath (if you die, your save file ends), I'm happy that The Long Dark has persistent rewards for players who reach certain milestones. Surviving 500 days across all sessions unlocks the "Efficient Machine" badge, granting 10% slower calorie consumption. Normally, the longer I survive in a permadeath game, the harder it is for me to start all over again once I finally bite it, but that frustration isn't as severe for me with this game. I feel like I always have new lessons to apply after each failure. Maybe once I've played long enough to learn all there is to know, I'll finally quit? That day seems far off though, as The Long Dark is still in development. I still have plenty of new content to look forward to. Which reminds me!
There will soon come a day where the player is not the sole survivor in The Long Dark. Hinterland Studio has confirmed their plans to add an episodic story mode following a single protagonist, wherein: "any survivor you meet in the world can be friend or foe. Will you risk your life to discover what they know and selflessly sacrifice for the common good, or live—and potentially die—by the adage, "might makes right"?

I seriously look forward to that. I have confidence that Hinterland will deliver the same excellence in characters and story-driven gameplay that it already has with setting, tone, and sandbox gameplay.