Vine is an amazing 7-second video application that has made all of our lives better. When the application shut down in 2016 I actually shed a tear because I was an active user who loved the app. I did not understand how such a thing could happen?! Since their deactivation, the fans of Vine have become enraged and desperate some of them even making compilation videos of their favorite vines to commemorate the incredible app. Even a book has been published called Milk and Vine (I have two copies) which quote some of the best vines to ever happen to the app.
With all of this talk of Vine, the creator Dom Hofmann heard our wails and recently dropped this tweet about a Vine 2 happening!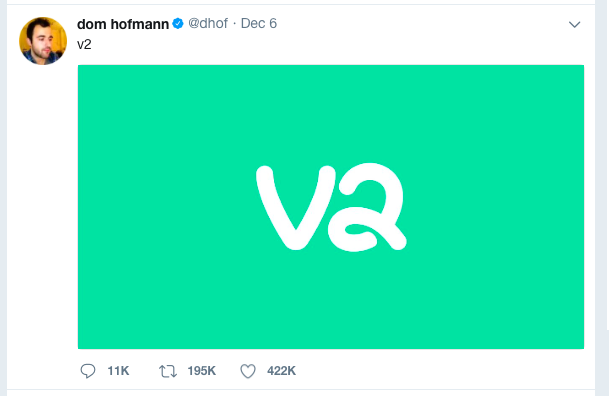 Dom is continuing to give us updates on this new application and we are all excited to see what it has in store for us.
Let's talk about a few things I hope to see in Vine 2.
1. Content Creators that create ACTUAL CONTENT
Wouldn't it be amazing if we could just come together as a community and make sure certain trash content creators (cough Lele Pons) don't get to have the opportunity to ruin the new and improved app. Instead, let's lift up some of the actual humorous content creators such as Christine Sydelko, Chloe Lmao, Danny Gonzalez, or Drew Gooden.
2. Time limit
Another thing I would really appreciate is to keep the time limit at 6 seconds. I feel like if it goes upwards to 30 seconds or even a minute it won't feel the same.
3. "Nope" Button
I really like the idea of there being a "nope" button which has recently been hinted at where you can "nope" a certain video and you won't see videos like that anymore or even videos similar to that. Goodbye Jacob Sartorius and all other Magcon boys!
4. Vine Playlists
One last thing I would really enjoy is being able to save certain vines in like folders? Like vine playlists maybe? I don't know now that I say that it sounds crazy, but sometimes I feel like there are certain vines that I know can cheer me up, but are hard to find individually so having a playlist of all my favorites would be amazing.
In conclusion, I can not wait for this app to be launched and I am willing to do or pay whatever the cost so I can enjoy Vine again.
Cover Image Credit:
Wired