Despite being too young to have caught it on-air, I would consider myself a die-hard "Veronica Mars" fan. I first watched the show my junior year of high school during its stint on the short-lived Go90 and fell in love with the show's snark and sincerity. I binged all three seasons, watched the movie, even found clips from the unaired pilot for a fourth season — I was a true Marshmallow, as fans call themselves. So I was understandably excited when I heard the show was being picked up for a Hulu revival. Finally, the world would see the beauty of this cult teen drama, and it would come at just the right time — when we needed to see a strong young woman overcome her trauma to fight for justice. But not only did season 4 not deliver on that hope, it incinerated it. Now, I am a Burnt Marshmallow searching for solace, and here's why.

WARNING: The following contains major spoilers! If you haven't finished season 4 of "Veronica Mars," don't keep reading — and, may I suggest, don't keep watching, either.
I wish I could say there was some good in all this, that season 4 delivered on at least some minute level, but I can't. I am thoroughly disappointed that what could have been a great update to a beautiful tale of love, loss, friendship, and heroism was reduced to a cheap whodunnit and a poorly-written end to a nuanced character. I expected more. Fans deserved better.
I'll leave you with this succinct sentiment from miss Mars herself: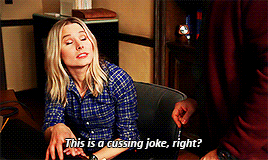 Tumblr