I have played soccer my whole life whether in a club soccer team, for the school or just for fun, I've done it and I love it. On September 11 of 2018 the US Men's National Soccer Team played a friendly match in Nashville against Mexico's National Soccer Team.
Miazga did what???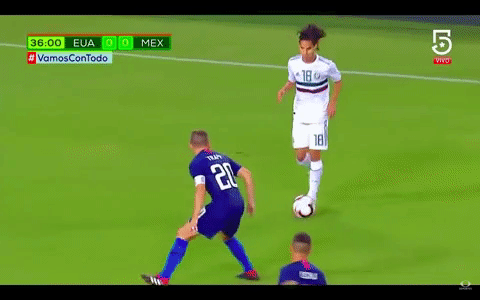 Got'em
Giphy
Possession of the ball is key for a soccer team and obviously working offensively to score goals. Throughout the whole game though, specifically the first half Mexico had possession of the ball most but in minute sixty-four something happened. For those who did not watch the game, a professional US soccer member named Matt Miazga mocked another professional Mexican soccer player named Diego Lainez for his height. Miazga is 6'4 and Lainez is 5'6. This changed the game completely from a friendly match to something else. A little mockery can change the feeling of a game completely within the player themselves or the team as a whole.
I completely see that as disrespectful because it is not about the height but of the heart of the game and the way it's played. Not only did this happen but right after the Nike campaign that all people had seen a few days before. If a person can play then prove it, don't mock or make fun of others. This is what Lainez did the rest of the game - he proved that he was a better player even though the US scored afterwards in minute seventy-one. Mexico worked very tactical, by making good passes throughout most of the game which was impressing for a friendly match. Unfortunately, Mexico was playing with one player less and Tyler Adams scored a goal.
Both teams are very young and growing which is easy to see. Both also have potential. The final score was 1-0 victory of the US Men's National Soccer Team. I do not just see the ending score, I also see and acknowledge the process and tactics used and possession of the ball and all the in between during a game. Yes, congratulations to the US for their win but Mexico played better throughout.