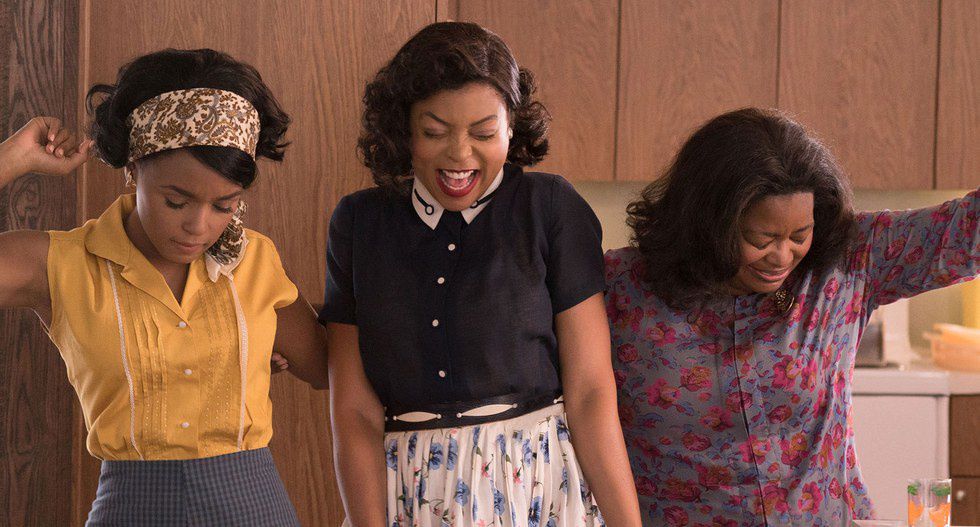 ---
There is a scene in the film where an irate Al Harrison (Kevin Costner), director of the Space Task Group at NASA, is pacing pack and forth, furious that he can't locate Katherine Goble (Taraji P Henson). Finally she bursts through the doors soaking wet and carrying an assortment of damp books, having sprinted in high heels through the rain.
"Where the hell have you been?" he demands in front of all the other members of the group. "Everywhere I look you're not where I need you! Where do you go for 45 minutes a day?"
"There is no bathroom for me here," she responds bluntly. "There are no colored bathrooms for me in this building or any other building on the West Campus which is half a mile away. Did you know that?
"I have to walk to Timbuktu just to relieve myself. And I can't use one of the handy bikes. Picture that, Mr. Harrison." Then like a runaway freight train the emotion behind her words builds until they're thundering throughout the auditorium.
"And I work like a dog, day and night! Living off of coffee from a pot none of y'all wanna touch! So excuse me if from time to time I go to the restroom a few times a day". She then calmly grabs her bag out of her desk and walks out of the room, leaving behind the rest of the Space Task Group, all white men, in a state of bewilderment and dumbfounded shock.
Yes, we are well aware of the hype behind this Hollywood blockbuster, with its star-studded cast that includes Octavia Spencer, Janelle Monae, Jim Parsons, and Kristin Dunst. And with a story it's a given that some scenes have been overly dramatized, and some fictional liberties taken in order to make the story appear even more momentous. But at the core of this real story lies a powerful, unmasked truth that everyone needs to learn about, understand, and incorporate in our daily lives.
Hidden Figures is the true story based on the experiences of three mathematically gifted black women: Katherine Goble (now Katherine Johnson), Mary Jackson (Janelle Monae), and Dorothy Vaughan (Octavia Spencer). All three were a part of Project Mercury, the first human suborbital space flights that ran from 1961-63, and Apollo 11 – each sojourn a critical advancement in America's success against the Soviet Union in the space race. Johnson's sheer mathematical brilliance was especially vital with the missions involving Alan Shepard, the first American in space, and John Glenn, the first American to orbit the Earth. Mary Jackson worked on wind tunnel experiments, focusing on studying the velocity of spacecraft. She overcame numerous hurdles in her pursuit of becoming a NASA engineer, including taking classes at an all-white school at a time when Jim Crow laws were still upheld in Langley, VA. And both women worked under the tutelage and leadership of Dorothy Vaughan, a skilled and expert programmer who recognized the growing importance of computers – she even taught herself the FORTRAN language, which was the common form of coding in the sixties.
All three women were a part of the group labeled by the administration as "colored computers" – assistants that performed low-level calculations for the scientists with more status and experience. But in spite of inherent barriers, hard working conditions, the casual segregation and disrespect by fellow employees, each one individually rose to every occasion. They ran the numbers on every equation concerning an aircraft, performed trajectories, and calculated how to resolve issues like aerodynamics – more often than not totally unaware of the complete scope of the missions they were involved in.
To date the exact number of women, particularly black women, who were involved in these momentous scientific adventures is still unknown. One 1992 study said the total was in the hundreds, but many claim that the sum is more likely in the thousands. And many of these women were denied the promotions, accolades, and publications in academic journals that were considered a rite of passage for their male counterparts – again another harsh reminder of their second-class citizenship. While the white scientists and mathematicians were allowed to live on campus, the black researchers had to find housing accommodations elsewhere, even if they came from out of state.
Hidden Figures pulls back a thick veil and allows us the opportunity to fully immerse ourselves in a neglected perspective on history. We bear witness to the small, daily battles these women fought against separate bathrooms and closed meetings that mirrored the larger divisive issues raging across the nation. Their stories are inspirational, their resilience commendable, their bravery unwavering, and their ordinary experience extraordinary.
Yet if you push back the hype and the flare of the "movie magic" involved in this story you arrive at one incontrovertible truth. That the true power of history doesn't come from the actions of the few, mighty and powerful – it is the sum total of what we achieve on a daily basis. While fighting through these obstacles and barriers, these three women, and the thousands of others like them, not only pushed past these differences, but refused to allow them to inhibit their ability to achieve their objectives or work with those who viewed them as "less than". And that very tenacity cemented a legacy immeasurable in its influence and power.
Johnson, Jackson, and Vaughan prove that your race, ethnicity, gender, sexuality, or religion does not define the extent to which your actions have an impact on history - that is a matter up to your own individual spirit. They remind us of the overwhelming power that lies in unity versus the destructive nature of division. And just as there are an infinite amount of numbers between 0 and 1, there are just as many opportunities in a day for each and everyone of us to transform a typical day spectacularly. And that's the truth.