I was grateful for the 25 MPH speed limit on a quiet two-lane road running through the small town of Bowman, S.C. Then, suddenly, I had to spin my head around in a way that was something like the girl in "The Exorcist" to see a huge, shiny spaceship-looking object. It had captivated my attention. There was nothing left to do but turn around and investigate. I turned around, pulled into the dirt parking area behind a small gas station and stared at what was indeed a spaceship.
The words "UFO Welcome Center" were printed on the object in large, childlike, capital letters. There was a small model of an alien outside alongside another smaller sign saying "UFO Welcome Center / Bowman / Planet Earth." The alien was a rather friendly looking type, though he was silver and not green as I would have expected. I almost expected Fox Mulder and Dana Scully to crawl out from behind the rubble.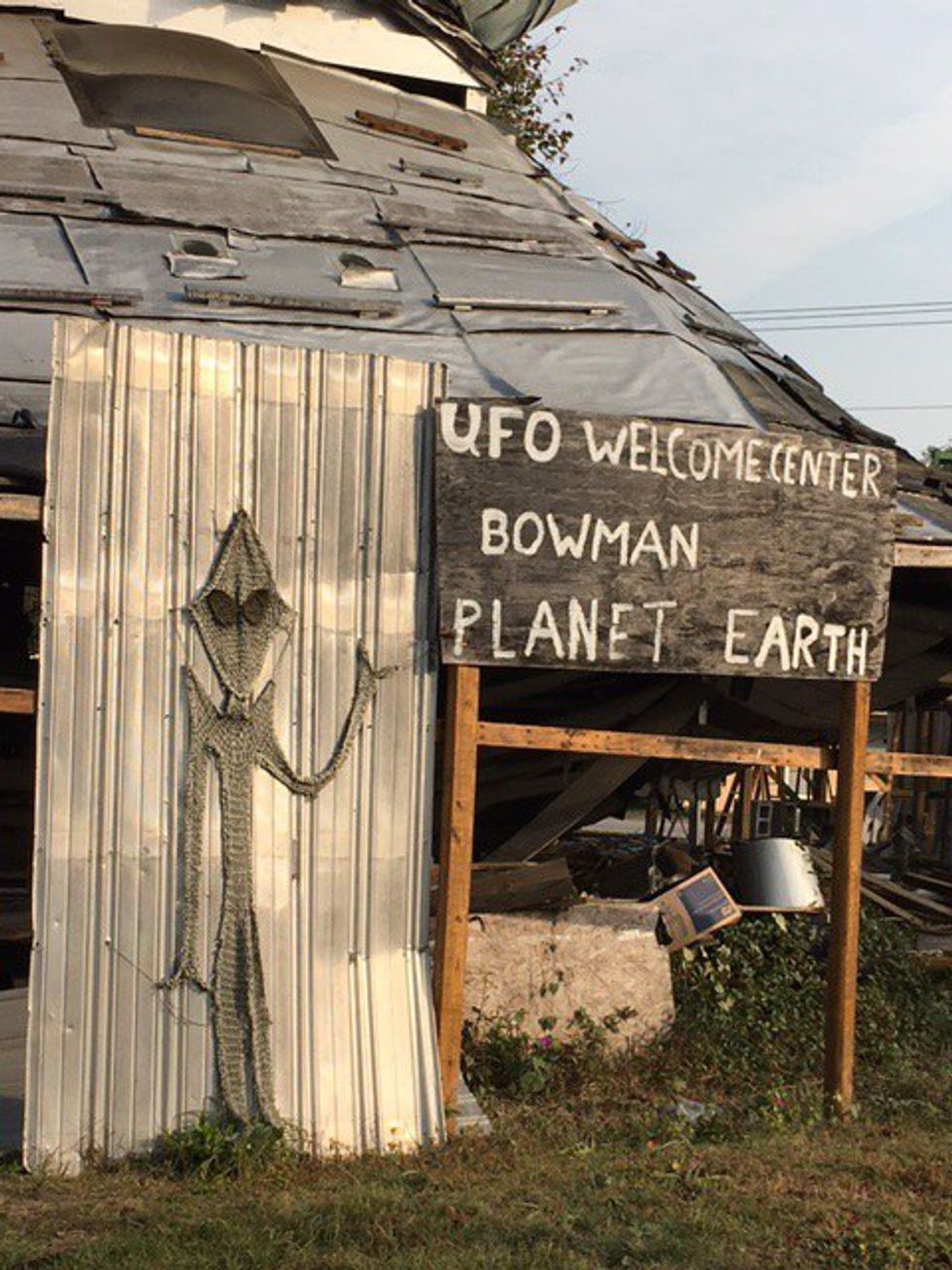 The spaceship looked as if it could fall apart any moment, but according to all reports it had been standing for more than 20 years. It even survived storms that damaged other buildings.
Apparently, the spacecraft and surrounding areas are built with tin, aluminum, wood slates and duct tape. Miscellaneous objects (pieces of trash) are spread about the property, in addition to a well-used couch. I can't imagine an alien landing party thinking it was a very welcoming place, but then again, I haven't met any aliens.
I arrived home and immediately had to find out more about this strange site. I discovered that among the 1,200 residents of Bowman is a unique man named Jody Pendarvis, the creator of the UFO Welcome Center. He is waiting for aliens to land after supposedly seeing a spaceship and meeting its crew. He claims that the "men in blue" (government folks) have visited him trying to get information, but he won't talk. He hopes that the aliens will return and stay at the Welcome Center or perhaps even put an engine in the empty engine space inside and fly it away.
I travel Highway 178 out of the Charleston area every month and make a quick stop at the Center each time that I do. I hope that I might meet Jody one day and find out more about the Center (and the aliens). I might have to convince him that I am not one of the "men in blue." If I show him my College of Charleston ID I think it will be OK. If the spaceship is gone next time I stop by, it will be obvious that Jody was right all along and that aliens have taken the spacecraft (perhaps with Jody aboard).
Check out this interesting video about Jody and the Welcome Center or read more about it in this article.