There is an obnoxious ringing I can't seem to get rid of. I swat around aimlessly until finally realize that my alarm is going off. It's 6 a.m. on a Friday in Munich, Germany. I am six hours ahead of my friends and family. Right now, knowing them, they are in my hometown slamming shots and drinking brewskis living for the weekend while I am struggling to get off a thin twin mattress that is next to my friend's bed. The sun is finally peeking through the clouds and I am still struggling to wake up, find my keys, and get ready, You would think after backpacking Europe this whole get up and move on a moments notice would be routine for me, but trust me it's not. I jump in the shower and head out the door soon after.
I am about five miles away from my job. What do I do? Well, I am a tour guide. Somehow some way I managed to land myself a job as a tour guide in a city where I only spent three days in a few months back. Now every morning I unlock my bike, hop on and ride five miles through the world's largest beer garden. What makes this even cooler is the fact that it is Oktoberfest. The Oktoberfest.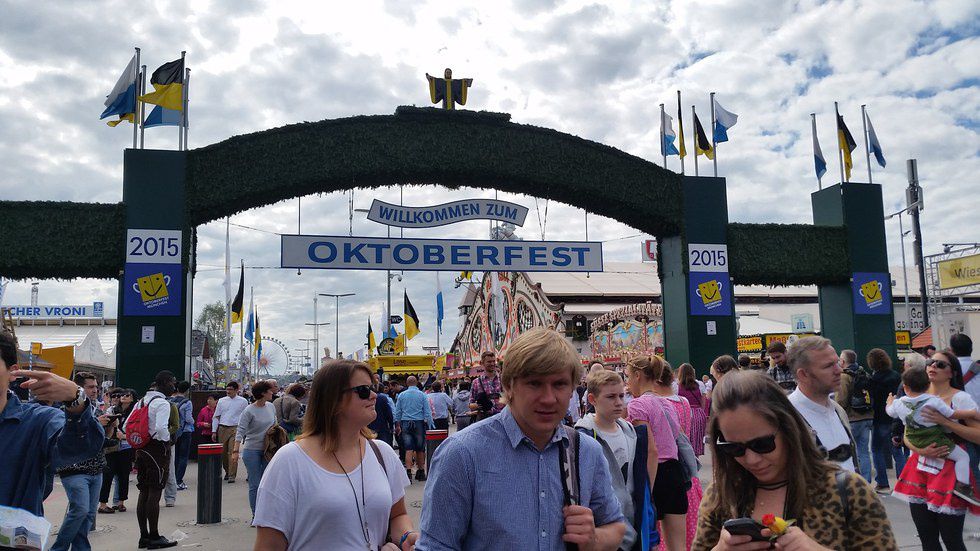 Munich just hit the milestone of roughly 1.5 million people. This is Germany's third largest city followed by Berlin and Hamburg. But this is nothing compared to the amount of people the visit the 16-day festival. I just want you to really take this in. There are roughly 1.5 million people living in this wonderful city. Within the 16 days that is Oktoberfest roughly 7.2 million people visit. That means nearly five times the amount of people living in Munich, Germany's third biggest city, visit during the festival. If that isn't insane then I don't think you really understand. It's like taking the population of NYC and having EVERYONE visit Oktoberfest.

My job as a tour guide was to ride around on a bicycle describing the all of the history in Munich. This ranged from Marienplatz where the famous Glockenspiel building is, to the Nymphenburg Palace, and Olympiapark where the 1972 Olympic Massacre occurred. When I wasn't renting out bikes to tourists I was bringing them through the world's largest beer garden. One of the many perks of this job was free food and a free liter every time I rode through it. Even the language barrier wasn't an issue. Nearly everyone under the age of 30 spoke perfect English. Although not everyone was pleased to speak it. I usually got around it with this one magical sentence "Ich lerne Deutsch aber können wir Englisch sprechen bitte" which means "I am learning German, but can we speak English please". After that it was all "ja ja, it goes quicker dis vey" followed by a nice chuckle.
I can't say that I have worked a job that was more fun than this one. My sole purpose was to lead a group of people by bicycle through two beer gardens, around national monuments and through the second largest city party in Europe. My job was to show them how beautiful Munich is. I met people from all over the world every day. I worked with people from Bulgaria, Canada, Germany, Netherlands, Ireland, and Argentina.
The mornings were spent teaching tourists while the nights were spent drinking liters with them. To experience Oktoberfest in action is nearly indescribable. There are about 14 tents with of upwards of 10,000 people in each. To order drinks you must be sat and they only come in a liter (aka LARGE), and if you don't sing along with the drunken German madness then you will be shunned! I have seen people stand on the table. Raise their glass in the air. Be cheered on by thousands of people. Raise their full liter to their mouth and chug. Those who are successful bask in the roar of the crowd. Those who fail to chug it all in one go are shamed with garbage and food being thrown at them.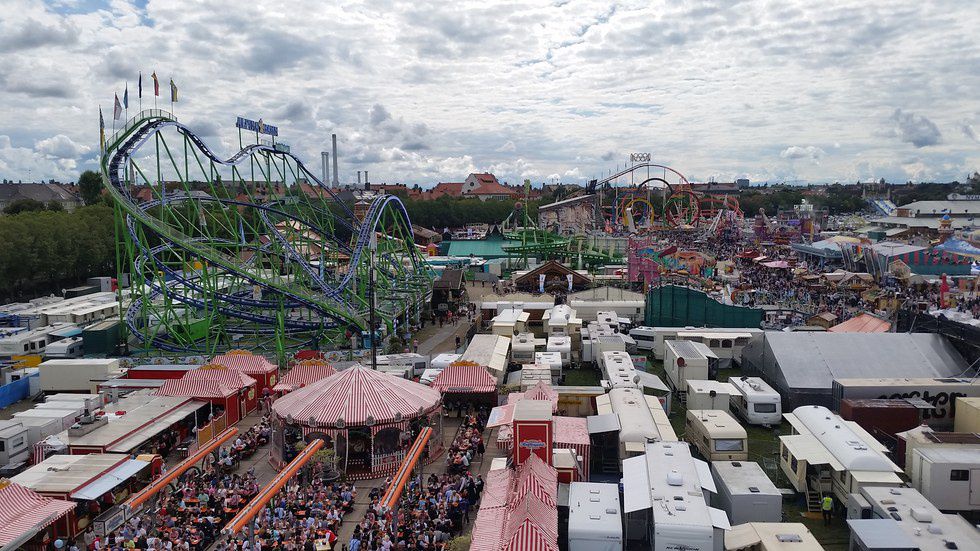 Oktoberfest is the highest form of organized chaos that I have ever seen—now bare with me on this. Nearly 7 million liters of beer were finished, 550,000 chickens were eaten, 111,000 attempts to steal a mug, 950 IDs, 570 wallets, 2 french horns, a walking stick, a clown costume, several wheelchairs, and my personal favorite, a prosthetic limb was found abandoned in the aftermath. Each one of these items has a story. Probably a beer-soaked nearly blacked out encounter, but a story nevertheless.
I spent several months working in a city I never thought I'd see again. I was able to check off a bucket list event and be paid to do it. This was one of the best experiences I've had and I'd do it again in a heartbeat. Now to leave you with the most important thing I learned during Oktoberfest.

Prost!