No matter what anyone says, I love country music. The old, the new. It possesses emotion that no other genre displays. The lyrics in country music speak to the heart. Many memes circulate the internet about how AWFUL country music is: like this one.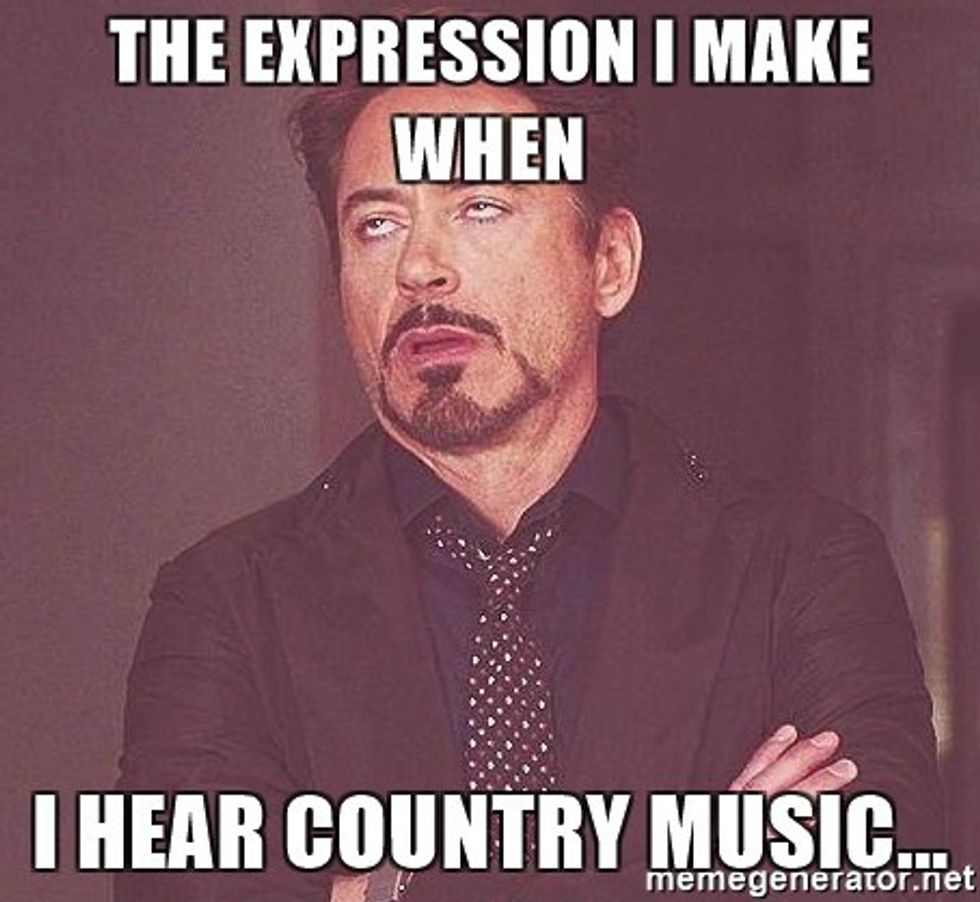 I have never understood the widespread opposition to the genre. I grew up in a house where all music genres were played, but country is by far my favorite. The soul hits me hard.
For November of 2016, some amazing songs have become popular. I am using the Top 40 list mentioned as the basis for information on the top 40 songs in country music right now. If you would like to look at the whole list, please use the link. I will only be mentioning some of the songs on the list, including the top ten.
10. Luke Bryan, "Move"
Luke Bryan is one of my favorite country artists right now. This song is more of the stereotypical country that people like to pick fun at. Jeans. Trunks. Boots. Blondes. It's the typical country dream. It's sexy and fun! Luke Bryan has the vibe to kill this song. He is always down to use his hips and drive a crowd crazy. His voice adds a sexual tone to the music which can drive you into addiction.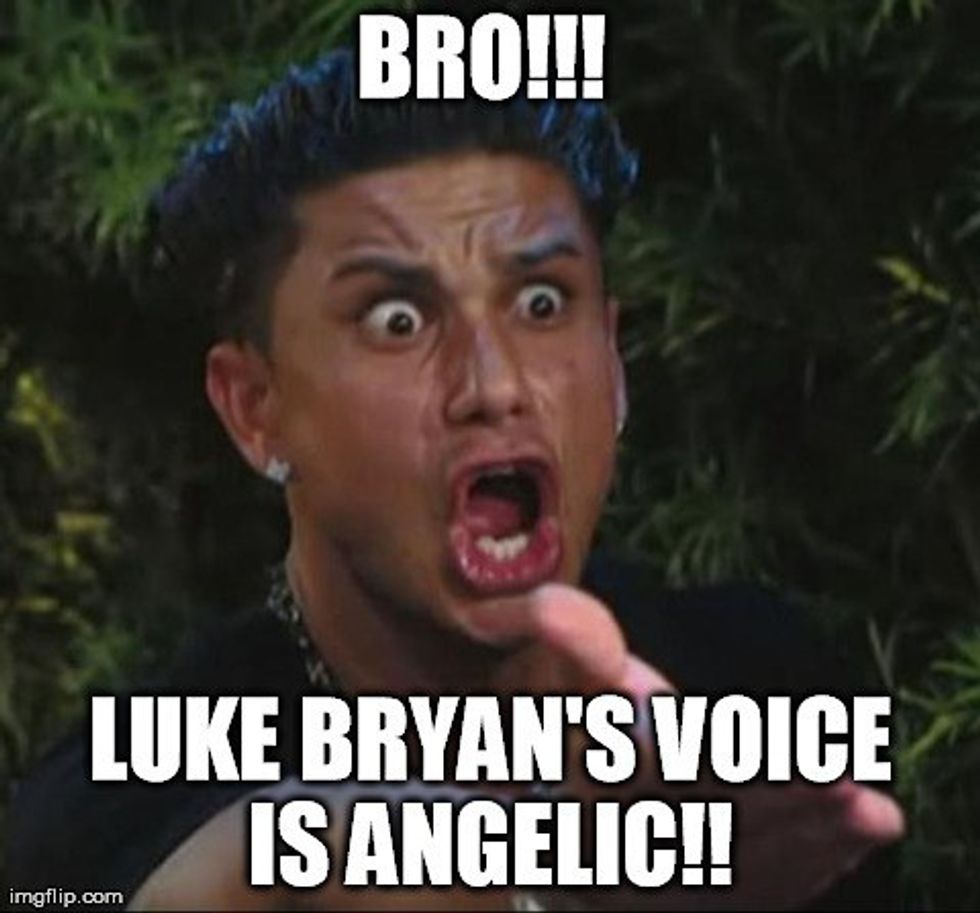 9. Cole Swindell, "Middle of a Memory"
This song is a love song, and a great one at that. It is about country music, dancing, and the first move. I love listening to this song, even though I cannot say I am a Swindell fan. The lyrics are beautiful and simple. It is a song that paints a picture of a beautiful night of two people falling for each other. The song captures the moment when you are falling and the other person walks away. Although the undertone is sad, the song in itself is beautiful.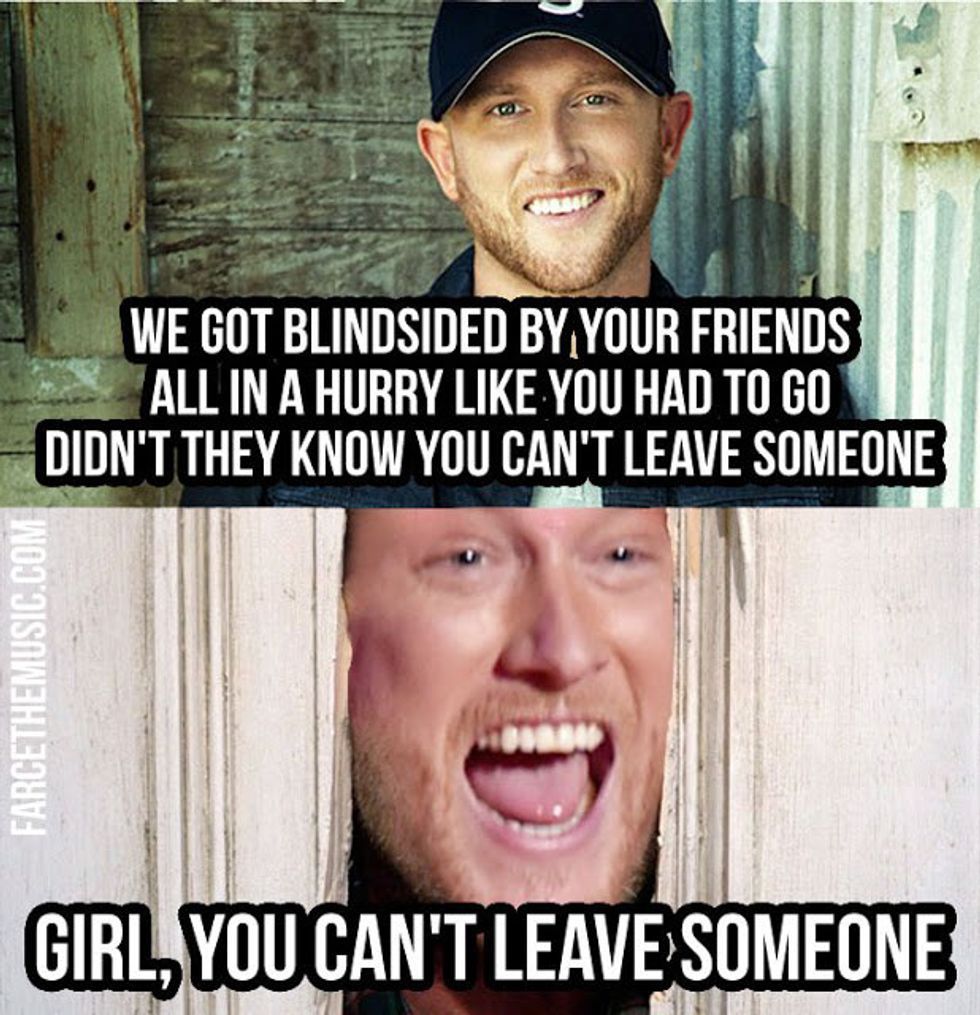 8. Thomas Rhett, "Star of the Show"

Thomas Rhett has put out some great singles lately. From "Die a Happy Man" to "Vacation," I have been in love with his music. Another love song, Rhett talks about how a girl is beautiful, and does not realize it. Although this may sound familar to "What Makes You Beautiful" (One Direction) in concept, the vibe is very much country. It is a great pick-me-up tune for a lady who is feeling down.
Plus, he is in a goal relationship!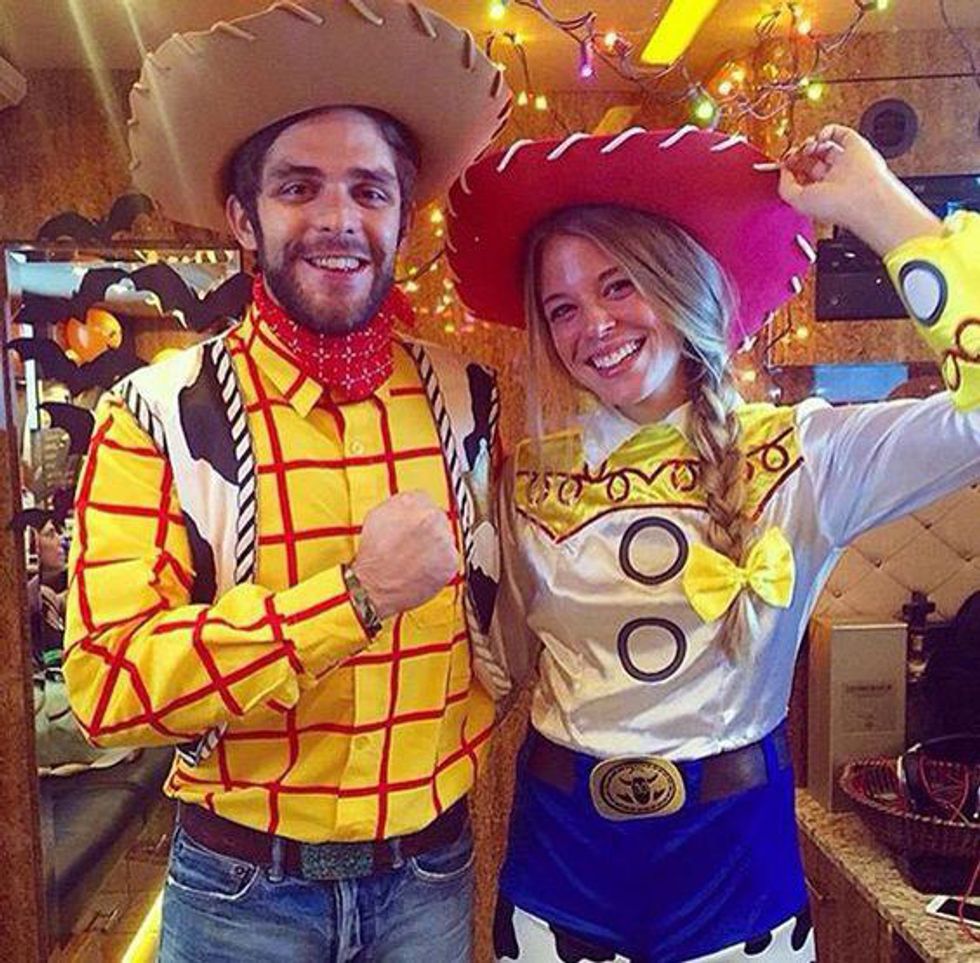 7. Artists of Then, Now, & Forever, "Forever Country"
I stumbled across this song on Facebook and oh my gosh. This is THE country song of the year for sure. It is the highlight of artists from George Straight to Luke Bryan and Dolly Parton to Carrie Underwood. The song was made in celebration of 50 years of the CMA awards and features 30 winning CMA artists. This is a song that you need to look up if you have not heard it.
[rebelmouse-proxy-image https://media.rbl.ms/image?u=%2Ffiles%2F2016%2F11%2F20%2F636152755928857805-1514706586_Forever-Country-Video.jpg%3Fw%3D600%26h%3D0%26zc%3D1%26s%3D0%26a%3Dt%26q%3D89&ho=https%3A%2F%2Faz616578.vo.msecnd.net&s=744&h=8a0b8ff11529e22e02f8ab43acefabc076305722facaa538d9306f1b7dc87cc0&size=980x&c=1293193056 crop_info="%7B%22image%22%3A%20%22https%3A//media.rbl.ms/image%3Fu%3D%252Ffiles%252F2016%252F11%252F20%252F636152755928857805-1514706586_Forever-Country-Video.jpg%253Fw%253D600%2526h%253D0%2526zc%253D1%2526s%253D0%2526a%253Dt%2526q%253D89%26ho%3Dhttps%253A%252F%252Faz616578.vo.msecnd.net%26s%3D744%26h%3D8a0b8ff11529e22e02f8ab43acefabc076305722facaa538d9306f1b7dc87cc0%26size%3D980x%26c%3D1293193056%22%7D" expand=1 original_size="1x1"]
6. Carrie Underwood, "Dirty Laundry"
Carrie Underwood is one of my spirit animals. Her music is very empowering as it draws in badass women.This song about finding a guys shirt as evidence that he was cheating. It is a powerful song. A song to sing at the top of your lungs. And that is what Carrie Underwood is good at. She captures the female spirit in her music, and I love it.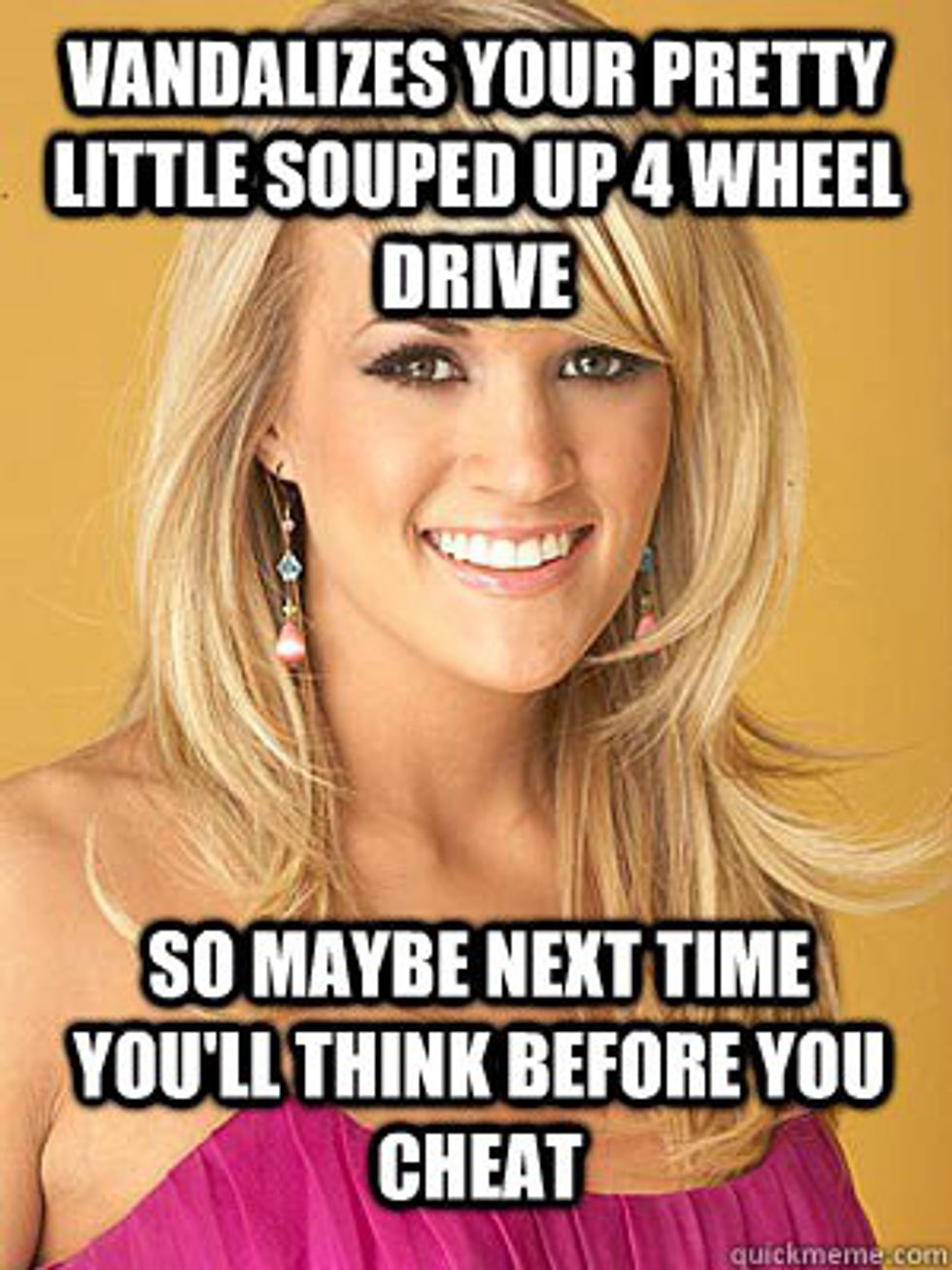 5. Brett Young, "Sleep Without You"
This is another cute love song. Although I do not know much about Brett Young, I do know that this is a good song. The song is about how he cannot sleep without his girl. He wants her to go out and have a good time, but he knows that he isn't going to be comfortable in bed without his girl next to him. If a guy told me this, it would be very well received as a romantic compliment.
4. Miranda Lambert, "Vice"
This is another bad ass woman with a great song. For a while, this was one of the only songs that I listened to. Many people have interpreted the lyrics differently, however the truth is that this is an honest melody. Springing out of her divorce with Blake Shelton, it is hard to pinpoint exactly what she wanted to say. But the song is great.
[rebelmouse-proxy-image https://media.rbl.ms/image?u=%2Ffiles%2F2016%2F11%2F20%2F636152765718275778347603736_tumblr_n9t0zxIGnb1t43am4o1_500.gif&ho=https%3A%2F%2Faz616578.vo.msecnd.net&s=1001&h=743c8fbae8fb4ee8454d8aff9d5eed9eab60dfc3e4d345ceff2de5f9decd3137&size=980x&c=1038617133 crop_info="%7B%22image%22%3A%20%22https%3A//media.rbl.ms/image%3Fu%3D%252Ffiles%252F2016%252F11%252F20%252F636152765718275778347603736_tumblr_n9t0zxIGnb1t43am4o1_500.gif%26ho%3Dhttps%253A%252F%252Faz616578.vo.msecnd.net%26s%3D1001%26h%3D743c8fbae8fb4ee8454d8aff9d5eed9eab60dfc3e4d345ceff2de5f9decd3137%26size%3D980x%26c%3D1038617133%22%7D" expand=1]
3. Kenny Chesney (Pink), "Setting the World on Fire"
I love this song to just jam with. It is about having fun and enjoying a night in love. Kenny Chesney enjoys talking about having a good time and being free. This is what this song encapsules, having fun.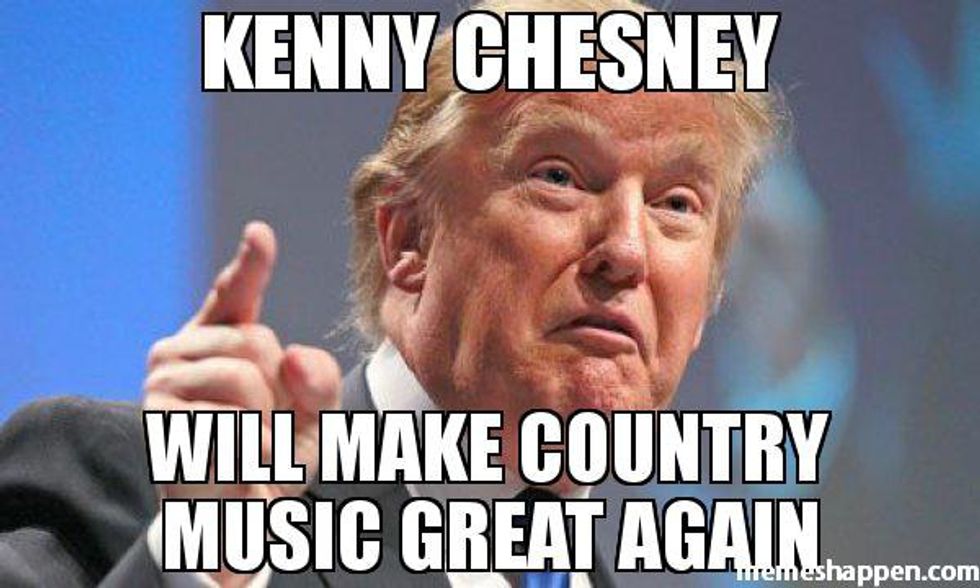 2. Florida Georgia Line (Tim McGraw), "May We All"
I am not very familiar with this song, but it sounds good!
1. Keith Urban, "Blue Ain't Your Color"
This is a very emotional song. It is about seeing someone who is sad and wanting to brighten their life. It is a beautiful melody that can bring an easy smile to your face.