As we head into the knockout round of the Men's Basketball Tournament at the Olympics in Rio de Janeiro, let's take a look at the 50 best basketball players who are representing their countries. Keep in mind, the best talent doesn't equal the best team.
50. Zhou Qi (China)
A 2nd round pick of the Houston Rockets in the 2016 NBA Draft, Zhou has shown promise through his shot blocking and athleticism for the struggling Chinese national team.
49. Bojan Bogdanovic (Croatia)
The undisputed leader of Croatia, Bogdanovic's ability to score transcends borders. His 25.5 points per game leads the 2016 Olympics through group play.
48. Michael Gbinije (Nigeria)
The best player from Jim Boeheim's 2016 Final Four Syracuse team, Gbinije is a role player for Nigeria. Still, at only age 24, Gbinije looks primed for a strong Olympic career.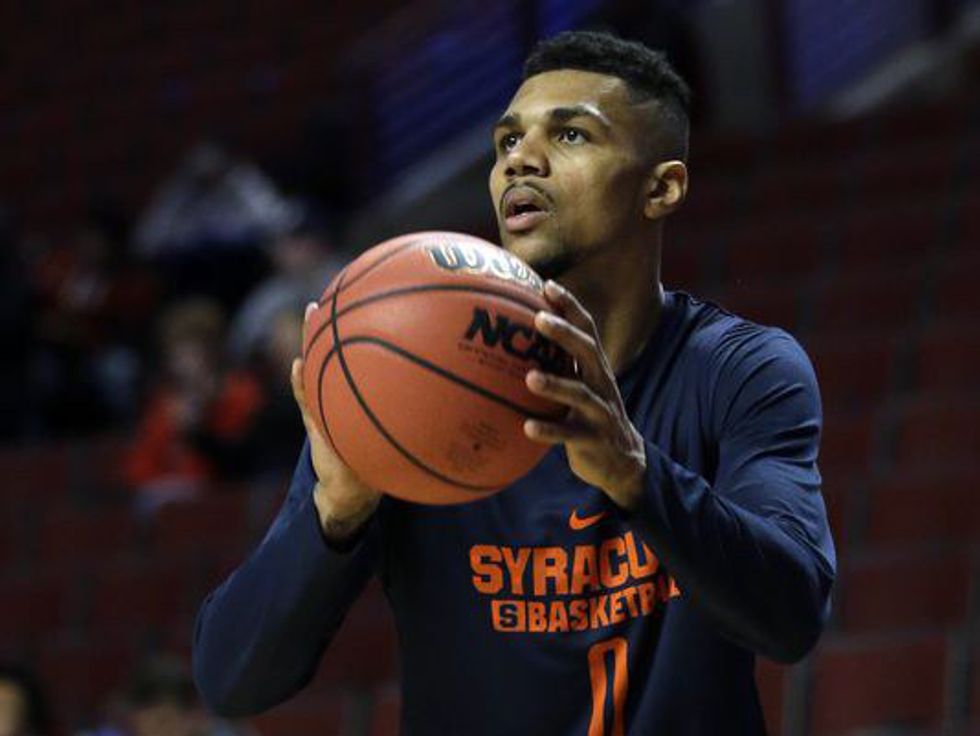 47. Sergio Rodriguez (Spain)
A veteran of the international game, Rodriguez has an NBA background, and will be returning to the league for the 2016-17 season. For Spain, he comes off the bench as an experienced game manager.
46. Juan Carlos Navarro (Spain)
Navarro already has two silver medals in his collection, and is in Rio looking for that elusive gold medal. This is likely the final Olympic run for the 36-year old Spanish basketball legend.
45. Joe Ingles (Australia)
The versatile and gritty Ingles isn't afraid to hit the deck to grab a loose ball, an attitude that perfectly complements Australia's rough style of play. His contributions will be necessary if the Aussies are to challenge for a medal.
44. Aron Baynes (Australia)
This former San Antonio Spur is another one of Australia's most important players. He makes up for his lack of athleticism by always being the toughest guy on the court.
43. Ike Diogu (Nigeria)
An alumni of the NBA, Diogu does a little bit of everything for the up-and-coming Nigerians. Always a threat to score, Diogu is an underrated playmaker and defender as well.
42. Nando de Colo (France)
Another international player who has suited up for Gregg Popovich, de Colo is an excellent scorer on the perimeter. He leads the NBA filled-French team in points through group play.
41. Rudy Fernandez (Spain)
A high flying wing player for Spain, Fernandez is another Spanish player with Olympic history who still provides scoring, defense and leadership on the 2016 team.
40. Yi Jianlian (China)
Yi is the best Chinese basketball player since Hall of Famer Yao Ming. Even after flaming out in the NBA, Yi still produces on the international stage at an incredibly high level, being the third leading scorer in group play.
39. Domantas Sabonis (Lithuania)
You can tell Domantas Sabonis is the son of a Hall of Famer. Technically and physically impressive, Sabonis is not Lithuania's first option quite yet, but inside eight feet he's as automatic as it gets.
38. Facundo Campazzo (Argentina)
The future of Argentinian basketball, Campazzo has the luxury of playing with the Ginobilis and Scolas of the world. By the time his basketball career is over, "Facu" may be remembered as being better than both of them.
37. Miroslav Radulijica (Serbia)
Miroslav Radulijica has an awesome name, and he made NBA All-Stars DeAndre Jordan and DeMarcus Cousins look soft. Not known as an NBA guy himself, Radulijica has some surprising touch around the basket and is Serbia's intimidator in the paint.
36. David Andersen (Australia)
Andersen comes off the bench for Australia, but don't let that fool you. This guy will play hard against any player on any team, including the stars of the United States. His work as a scorer and rebounder gives the Aussies essential depth.
35. Dario Saric (Croatia)
The Philadelphia 76ers have a lot riding on Saric, and so does Croatia in the Olympics. The best play of these Olympics so far is his game-saving block of Pau Gasol. Saric is his nation's most irreplaceable piece.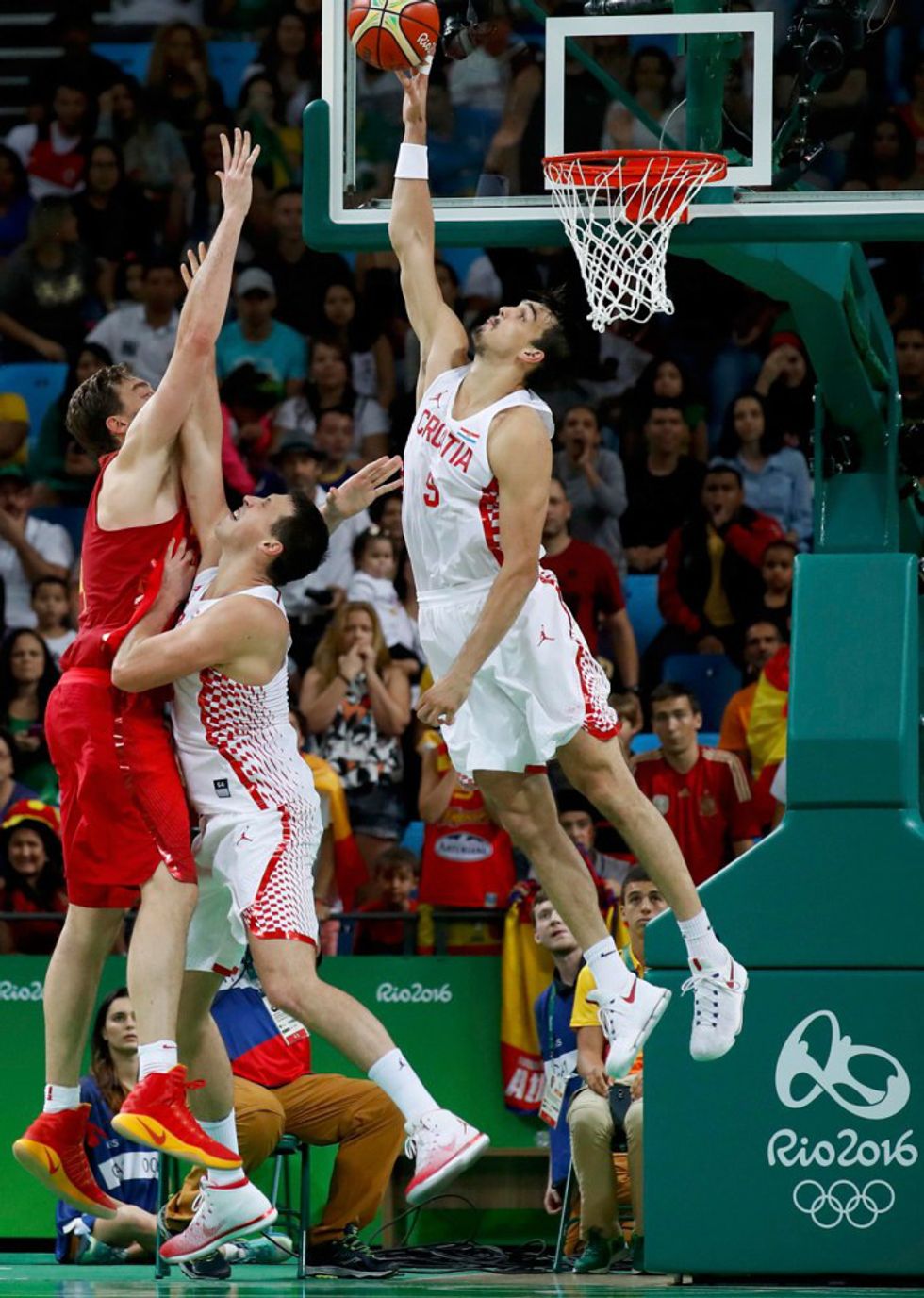 34. Andres Nocioni (Argentina)
Nocioni was a solid NBA role-player for nearly a decade and was a gold medalist in 2004. These experiences have made him one of the most respected foreign players in modern basketball who is still playing at a high level.
33. Bogdan Bogdanovic (Serbia)
This young man from Serbia is not the same guy as #49 on this list: He's even better. While he doesn't have the flashiest statistics, he leads with a steadiness that is rare for a 23-year old.
32. Mario Hezonja (Croatia)
A top five pick in the 2015 NBA Draft, Hozonja is flashy, quick and a bit of a project player. Still, at only 21 years of age, his skills are on par with some of the best players in the Olympics
31. Jose Calderon (Spain)
Calderon is another Spaniard in the twilight of his basketball career. He isn't the player he once was, but he still gives Spain valuable minutes off the bench that most teams can't get from their starters.
30. Carlos Delfino (Argentina)
An outside shooter out of Argentina's Golden Generation of basketball, Delfino is aged but effective. Don't be surprised if he hits some big shots in the knockout round.
29. Leandro Barbosa (Brazil)
A world champion with the Golden State Warriors and the holder of one of basketball's most quirky shooting forms, Leandro Barbosa is Brazil's most lethal outside presence. Brazil is as good as Barbosa plays.
28. Boris Diaw (France)
Diaw is the ultimate team guy. He may be the best passer on the French team, even being superior to Tony Parker in that regard, and he has an underrated jumpshot. All this, and he is listed as a strict forward.
27. Nene (Brazil)
Nene is Brazil's most consistent player and has put together a solid NBA career over the past decade. He doesn't need to play off of anybody to get going, and this makes him one of the only big men in the Rio Olympics who can take over a game.
26. Milos Teodosic (Serbia)
Milos Teosovic is a name all basketball junkies need to know. The best playmaker in basketball who's not in the NBA, he prides himself on making his teammates better while being a nice scorer when he needs to take over.
25. Luis Scola (Argentina)
The flag-bearer for Argentina at the Opening Cermony, Luis Scola is a sneaky scorer and rebounder who is at his best in international play. He's beaten the United States in his career and he, more than maybe anyone, would like to do it again.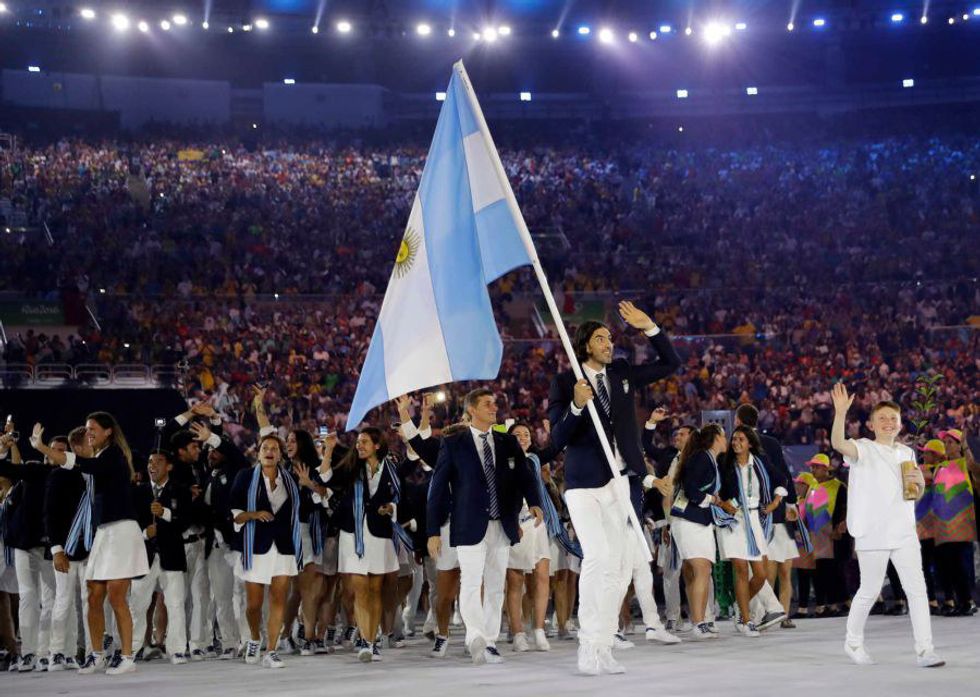 24. Andrew Bogut (Australia)
Andrew Bogut is the muscle in the middle for Australia who sends away any guards looking to get an easy basket. The Olympics give him a freedom he doesn't have in the NBA, making him perform much more fluently.
23. Patty Mills (Australia)
A dynamic scorer (Second in the 2016 Olympics to only Bojan Bogdanovic), Patty Mills backs up fellow Olympian Tony Parker in San Antonio. Mills' fearlessness comes in handy when he is matched up against more athletically gifted players.
22. Nikola Mirotic (Spain)
Mirotic's Olympic defensive breakdowns shouldn't take away from the fact that he is an offensive master. Spain has plenty of backcourt strength to feed him to ball, making him especially dangerous in international play.
21. Ricky Rubio (Spain)
Ricky Rubio has been around for a while, but he's still a young guy. His youthfulness has energized his aging teammates on multiple occasions in the past. On passing ability alone, Rubio is a top thirty Olympic basketball player.
20. Nikola Jokic (Serbia)
Coming off of an excellent rookie NBA season, Jokic took a little while to get going in Rio. Now that he's hit his groove, look for Serbia to play through him when he's in the game, especially against tougher opponents.
19. Matthew Dellavedova (Australia)
As scrappy as ever, Matthew Dellavedova has become the physical embodiment of Australian basketball. As one of the better defenders in Rio, "Delly" is taking his leadership role in stride, and is a serious threat to hit a baseline floater to boot.
18. Harrison Barnes (United States)
The weakest link on Team USA has gotten very little game action, but he still is one of the best players in the 2016 Olympic. To put into perspective, Barnes would be the best player on 7/12 teams competing in Rio.
17. Rudy Gobert (France)
A shot blocker and occasional low post scorer, Rudy Gobert is a nice NBA player who has the tendency to disappear from a game while still being on the court. Without a doubt, though, he always finds a way to make an impact and a big one at that.
16. Jonas Valanciunas (Lithuania)
A tank in the middle of the Lithuanian squad, Jonas Valanciunas is as good of a scorer on the block as they come. His tendency to show up in the biggest of moments will make him extremely valuable in the knockout round.
15. Nicolas Batum (France)
After signing a huge contract in the NBA this summer, Nicolas Batum brings his talents to Team France. He's a lights-out shooter, a tough defender and a guy you can trust with the ball. That's an essential trio of skills to have when competing against the world's best.
14. Manu Ginobili (Argentina)
There isn't a lot that Manu Ginobili hasn't done in his career. He's won gold, multiple NBA championships and he may be headed to Hall of Fame. At this point, you would foolish to count the guy out, especially considering he can still play with a lot of energy.
13. Tony Parker (France)
Tony Parker is a lot like Manu Ginobili in his accomplishments. He's just more productive at this point in his career. There is no doubt that Parker would like to finish off his Olympic career with a gold medal to match his Spurs teammate.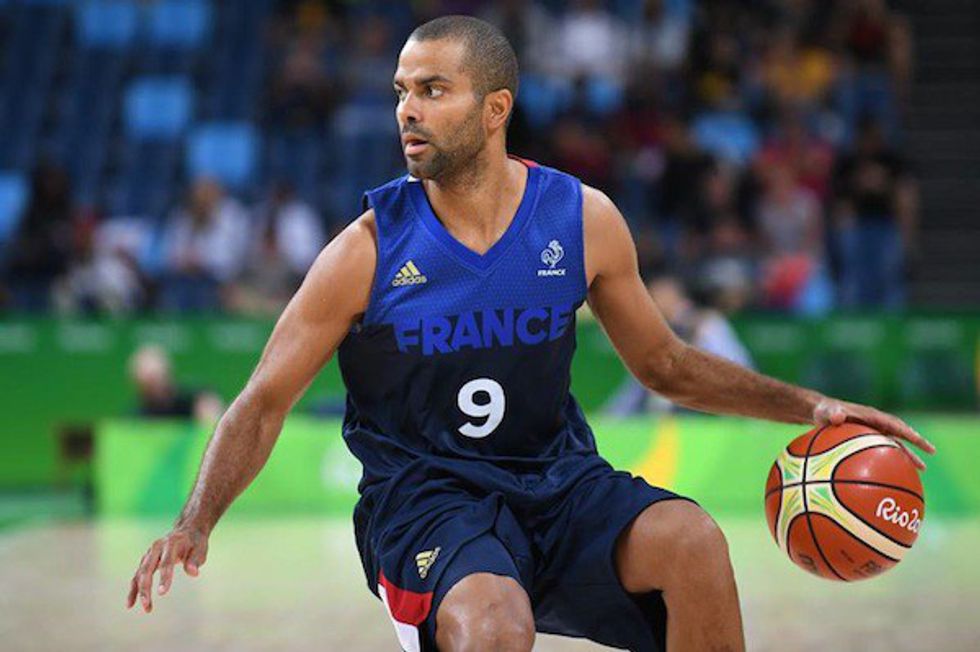 12. Kyle Lowry (United States)
Kyle Lowry barely made Team USA, and he has quietly gotten solid minutes for the Americans. His contributions are undoubtedly more heavily felt on the Toronto Raptors, but he can change a game quickly.
11. DeMar DeRozan (United States)
DeMar DeRozan is a quiet guy, but his game is a loud presence on the court. He draws fouls better than anyone in the Olympics and is also the most likely player to dunk over someone. Like his Raptors teammate, Kyle Lowry, he can score in a flurry and won't show off while doing it.
10. Jimmy Butler (United States)
One of Team USA's many defensive stoppers, Jimmy Butler will mostly defer to his teammates, but don't sleep on his impactful style of play. A big steal by Butler could swing the momentum of a game.
9. Pau Gasol (Spain)
Does Pau Gasol age? It's true that his aggressiveness has gone down some in the past few years, but his skill set seems to have sharpened in the best possible way. Gold medal or not, Gasol gets points for being a positive global ambassador for the game and being a future Hall of Famer.
8. DeAndre Jordan (United States)
DeAndre Jordan can't make free throws, but he makes up for it with his hustle and physical strength. Running the floor is the biggest advantage Team USA has over its opponents. Having a guy like Jordan who can do that is dangerous.
7. Paul George (United States)
An all-around player like Paul George is a guy that Mike Kryzyzewski doesn't need to start. George fits into virtually any role Coach K could possibly need him to fill, and then he outworks his opponents until the final buzzer sounds.
6. Draymond Green (United States)
While Green's shenanigans have taken away from his skill recently, there's no doubt the guy can ball. The 5-10 minutes he's been getting on the floor in the Olympics should probably increase.
5. DeMarcus Cousins (United States)
He can score on seemingly anyone, and his intensity is healthy when he has his head on straight. If "Boogie" can finally stay out of foul trouble, he could be the MVP of Team USA.
4. Klay Thompson (United States)
When his shot is falling, he is absolutely unstoppable. Combined with his status as a true defensive stopper, Thompson needs to be on if Team USA is to remain unbeaten. If he slips, it could setup a knockout round upset.
3. Kyrie Irving (United States)
Irving is coming off of an NBA Championship with the Cleveland Cavaliers and his success in the Finals seems to be carrying over to Rio. Whenever it seems like Team USA will give up a game, Kyrie saves the day.
2. Carmelo Anthony (United States)
It's crazy to think that Carmelo Anthony has become the elder statesman of Olympic basketball. Going for his third gold medal, Carmelo has taken advantage of the closer three point line in his international career more than any other player. Don't expect him to slow down in the knockout round in Rio.
1. Kevin Durant (United States)
Kevin Durant is a top five player in the world. Without LeBron, Steph or Westbrook in Rio, Durant, by default, takes his undisputed place at the top of this list. No one at the Olympics can even begin to guard him one on one. His success in Team USA's pursuit of gold will be up to him.