"Tony Romo's taken a lot of heat over the years for not playing in the clutch," Cris Collinsworth said after Romo and the Cowboys finished their Week 1 win over the Giants. "That was pretty darn strong."
Over last few years, Tony Romo has been largely criticized for his lack of clutch performances in the fourth quarter. He's been the butt end of a lot of memes over the past few years. Suddenly, after Sunday's win, we're discussing if Tony Romo is "elite." Numbers say he has been a long time now.
Romo has the most game winning drives in Cowboy history, at 27. That's more than Rodger Staubach and Troy Aikman.
Romo is second-best in fourth quarter passer rating, behind only Aaron Rodgers.
He also, at 97.7, is only behind Rodgers for best overall career passer rating.
Since 2006, Romo has 25 game winning drives. That's more than Brady, both Manning brothers, and Brees.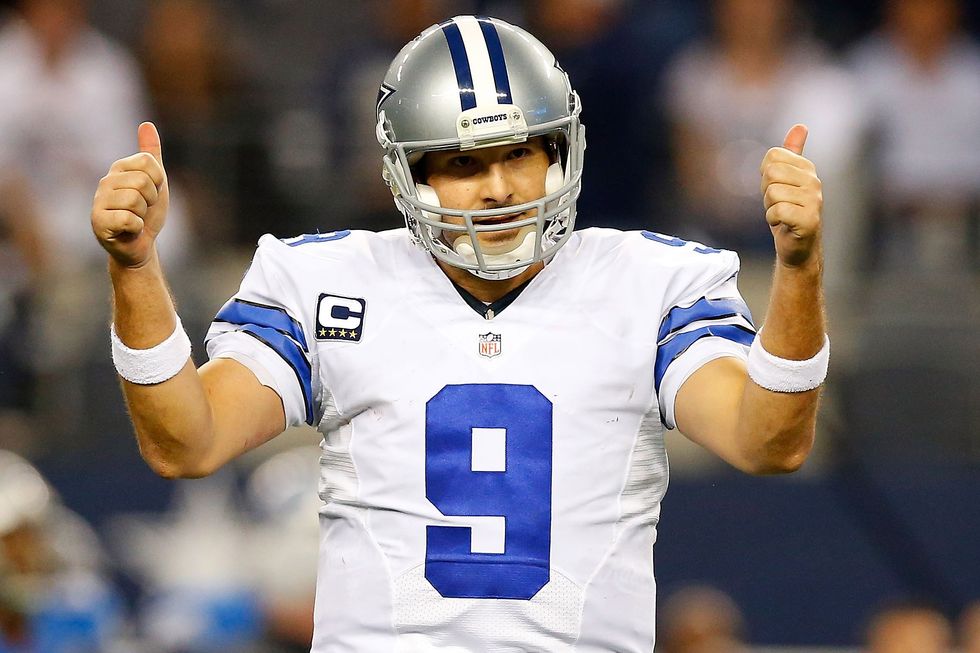 So why does he have this reputation of choking away games? There are virtually no stats that support his "choke artist" moniker.
In the same time span of those 25 game winning drives, Romo has thrown nine interceptions on potential game winning drives. That's tied with the Tom Brady. Phillip Rivers has 17. Where's the Rivers memes?
So why do we hate Tony Romo? Does he just have one of those faces? The heat that Romo takes likely stems from the team he plays for. Either you love the Cowboys or you hate them. A lot of people hate Jerry Jones and his football team. America sure seems to hate "America's Team."
To be fair, these picks that Romo is known for come at the absolute worst times. They're usually in late-season games with the playoffs on the line. They usually come in primetime games on Sunday and Monday nights. A lot of people have watched the majority of these 9 interceptions. But during primetime last Monday, in Week 1, Romo put together a clock-melting, six minute drive to beat their divisional rivals. Romo capped it off with an 11 yard dart to his boy, Jason Witten.
As well as he's played throughout his career in Dallas, Romo has gotten considerably better since Week 10 of last season. Sure, he's had the best offensive line in the NFL with DeMarco Murray to help out, but give the guy some credit. According to ESPN, Romo has been first in completion percentage, yards per attempt, and total QBR since Week 10. His 22 TD passes also have him tied for first in the entire league. He's literally been the best QB in the NFL.
Maybe this is the end of the mysterious Romo hate. Maybe we'll stop seeing these warrantless "no clutch" Romo memes. Maybe we'll rightfully start putting Romo in the same conversations as Brady, Rodgers, and Brees. If he keeps playing like this, there's no reason we shouldn't be. But who knows, he's still the quarterback of the Dallas Cowboys. People are pretty irrational about the Cowboys.