First off, let me expand on my experiences so I can comfort your wandering mind for a bit.
I have been there. I am still there.
Life got a little bit worrisome for me as I progressed through high school and more responsibility fell onto my shoulders. There were tasks that needed to be completed and decisions to be made- decisions that would affect the life path that I would take, decisions that were to be made by myself, solely.
Those who have made big decisions for me thus far, such as my parents, may provide helpful insight on these issues, but ultimately the choice has to be up to me. This is not an easy thing to come to term with as a sixteen, seventeen, eighteen year old. It is still not an easy thing to come to term with.
Where should I apply to for college? When should I start studying for the SAT's? What should I major in?
Am I making the right choices?
I have probably asked myself that last question a few dozen times over the past couple of years. I have felt it resonate in my brain for hours as I try to map out my life on a piece a paper, or a few pieces of paper taped onto my freshman dorm wardrobe (see inserted drawing by one of my best friends and roommate).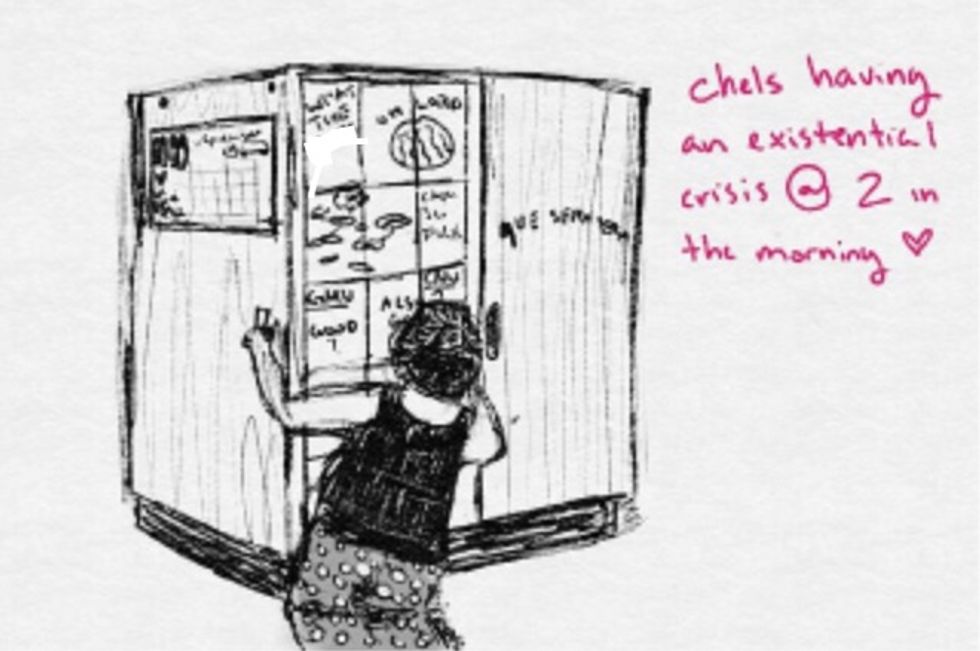 I think my biggest fear about making these choices is that they result in failure. This is not the failure in which I do not make something of myself- it is the failure of not creating the happiest and fullest life possible with the opportunities given to me. Will choosing option A fulfill me just as much as option B?
As I tackled my first year of college and continued "finding myself", I developed some ways to cope with the anxious feelings I have dealt with when thinking about the unknown. They have helped me, and I hope they can help you, too. Here is a list of a few of them:
1. Talk It Out With People You Trust
This is something I learned from a very wise woman (thanks, mom!), and is by far one of the most important pieces of advice I could pass of to anyone dealing with an air of uncertainty.
Don't keep your feelings to yourself; talk to someone about how you're feeling, map it out for them. They may offer a fresh perspective on your thoughts, and you might end up with some great advice.
2. Try Not to Compare Yourself to Others
I know, for me, it is sometimes difficult to not to compare myself to other people, the progress that they have made, or the goals they have set up for themselves.
Have people that inspire you to reach a little further, but steer clear from the comparison game. The path that you are on is going to be different from your classmate's or your neighbor's because you are all different people with different strengths and stories. Everyone gets to the place they need to be on their own time, based on their on their own wants and needs.
3. Visualize the Possibilities
When my mind is running around in circles and I need some relief, I grab two very simple things - a piece of paper and a pen.
I am a visual person. I like maps, colors, and diagrams. Transforming my thoughts into these mediums has been very helpful for me.
Try expressing yourself through physical forms. It will help organize your thoughts and give your brain a break.
4. Be Kind to Yourself
Progress rarely occurs in a straight line. Sometimes you might take one step forward and two steps back. This is okay.
When you feel as though you may have things figured out just to have second thoughts, try not to get upset with yourself.
You are your biggest advocate. You are your biggest caretaker. Show yourself some love.