To the author of this here text post: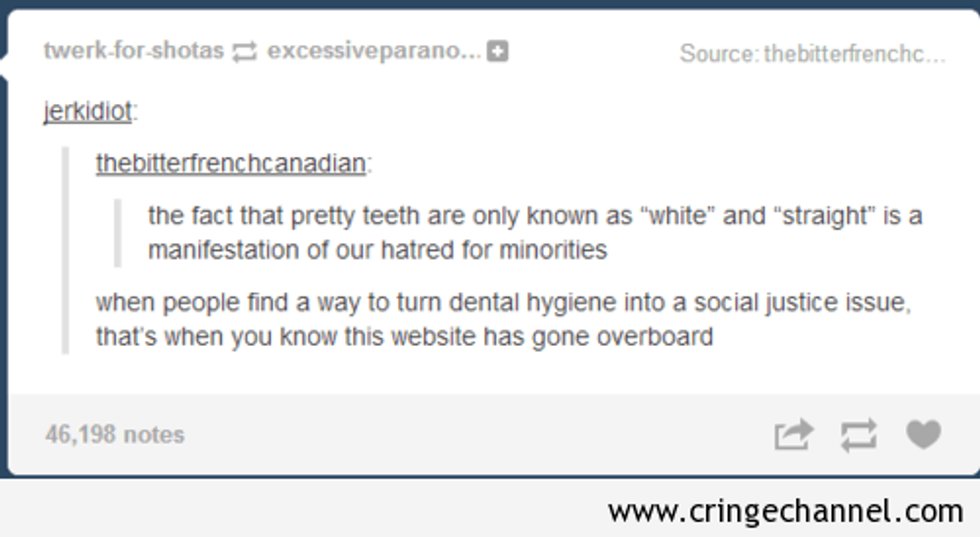 Oh boy. You poor, ignorant soul. It greatly saddens me to see that people have attempted to draw conclusions from the world that are this misinformed.
Listen, I know you were just trying to find another way to speak out against social injustice, and that you are obviously unaware that this conclusion you've drawn makes about zero sense. So, I would love to explain to you exactly why this text post is ludicrous. I'm here to help.
First, the argument that our ideals for teeth are socially constructed and arbitrary doesn't even make logical sense. The reason we, as a culture, decided that teeth should look this way is based purely on the ideals of health. There is a certain structure to our teeth and jaws that affects how we use them to eat food. I'm not a dentist or anything, but I'm pretty sure I learned sometime in 3rd or 4th grade that our teeth work best when they're going straight up and down so that all the teeth can actually fit in our mouth properly, rather than all being sideways, overlapped, and wonky and what not. The sharp ends of the teeth should probably face downward so they can actually cut and chew the food in our mouths, no?
In the same way, celebrating the fact that teeth should be white is not a social outlook; it's actually just scientifically based health standards. When teeth are white, we know that their enamel is intact and that they're not rotting. Teeth being as yellow as bananas or as black as coal would not be a cool way to change beauty standards because it would also mean your teeth are probably going to fall out soon and that you must have really bad breath. Again, I'm not a doctor, but I'm pretty sure it's plain fact that the brighter and more white our teeth are, the healthier they are.
I suppose you could argue that pure health of body has not always been our number one concern when it comes to beauty standards, and that our unjust desire for teeth to be straight could just happen to coincide with the critical dental health standard for them to be straight. But even then, do you really think our desire for them to be straight is actually based on our view of homosexual people as a minority? Really? Because I'm almost certain it's just because our brains naturally find symmetry and order the most pleasing aesthetic design. Psychologically, we happen to like things to appear straight—that is, the original meaning of the word straight, which brings me to my next point.
The word "straight" meant direct and linear long before it was a term used to describe heterosexual people. The word "white" referred to a color on the color spectrum long before it meant being Caucasian. And our standards for teeth being the literal definition of straight and white? Also came long before these words were used to refer to some corrupt majority of society, because the health standards are based purely in science, not social injustice.
Here's the thing … I know you're just trying to speak out against wrong. I know there are issues in our world and that you must feel passionately angry about how poorly we're handling them. There may very well be tragic issues with how we treat minorities today; I don't mean to make those issues seem unimportant. However, I believe that part of having passionate beliefs about something is not trying to see the evil you're fighting against in every corner of the world. The entire world and everything in it is not to blame for this one aspect of social injustice. Reaching this hard to find evil in the world to support your argument only makes your case seem like a joke. In fact, it's actually destructive to your case because it doesn't even make logical sense. We don't need more people in society trying to find every ounce of evil and publicly calling it out as evidence—especially when it's not even logically supported evidence.
Your beliefs about minorities being treated poorly are important and should be heard, but please try to keep your argument in the bounds of logic and in the arms of love. Seeking out random and illogical allusions to hatred in our world does neither of these things; it just makes people unnecessarily angry. Please be more thoughtful about what you say before you post it on the internet for the whole world to see. Appearing as though you cannot think logically about an issue this important only hurts your case. Don't make a bad name for your beliefs.
Just … please think a little harder before you speak—or text, okay?