Everyone knows the Three Musketeers, after all, they're basically synonymous with friendship and adventure. Since 1844 when Alexander Dumas wrote the first book, there have been several film adaptations of the Three Musketeers. This lists only discusses movies so unfortunately the BBC tv series will not be included although it is excellent, and I highly recommend watching it for yourself.
1. The Three Musketeers (1993)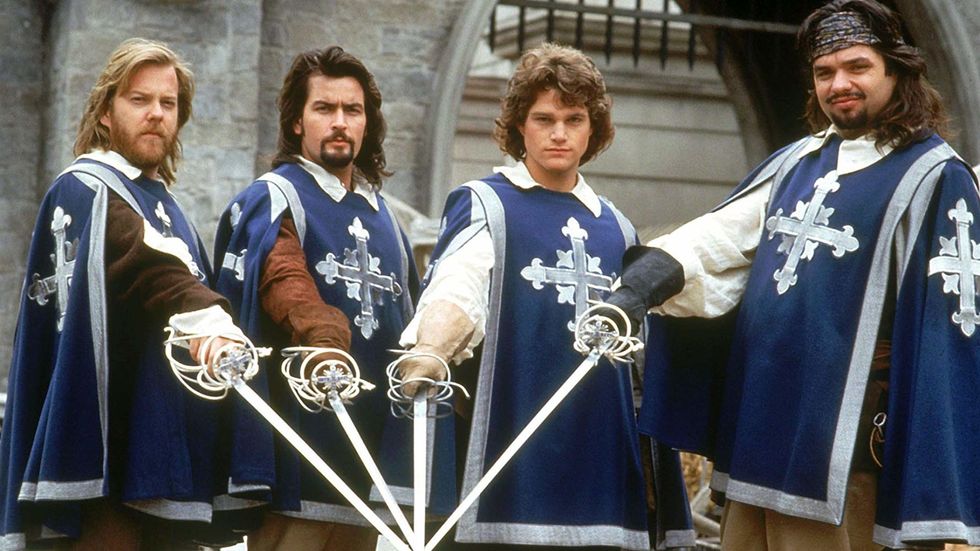 With a cast like this, how can you not enjoy this movie?
https://m.media-amazon.com/images/M/MV5BNTk1ZjBmZTUtZDgwNS00MWE4LTg2NDQtYWViOWViMWY3YjZmL2ltYWdlXkEyXkFqcGdeQXVyMjI3ODYyNDU@._V1_SX1777_CR0,0,1777,999_AL_.jpg
First place easily goes to Disney's 1993 adaptation full of stars like Tim Curry and Charlie Sheen. This version makes for a fun film for the entire family. It changes up the traditional story of the musketeers and adds a few twists to make it interesting for those who are familiar with the book.
2. The Man in the Iron Mask (1998)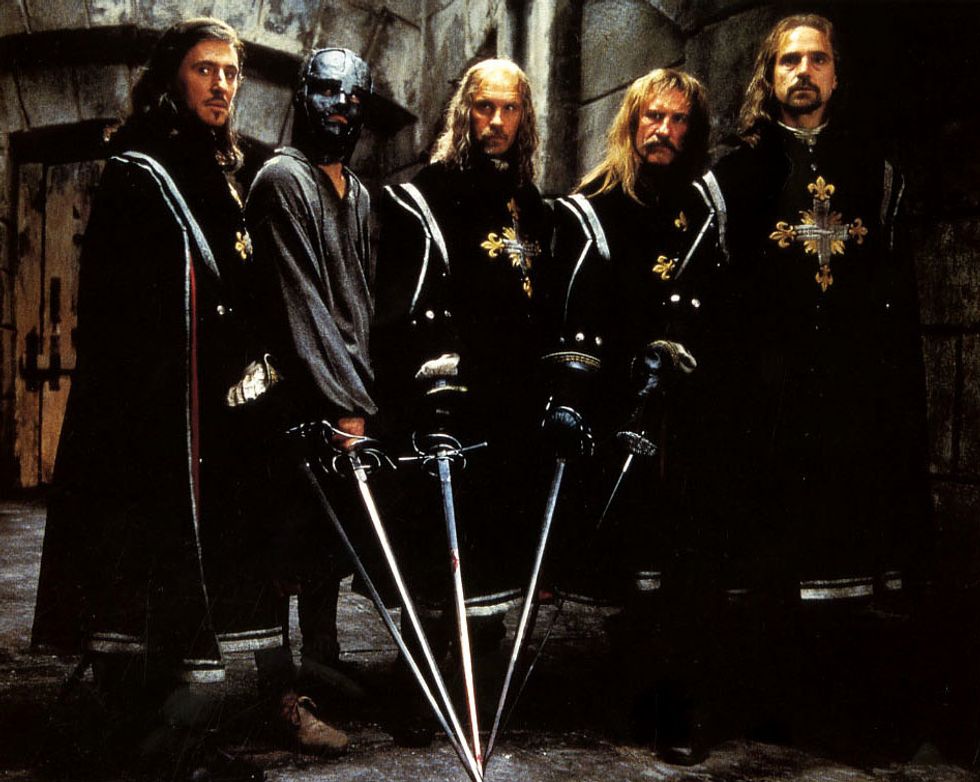 The Three Musketeers + Leonardo DiCaprio = a great movie
http://2.bp.blogspot.com/-ldSG9HrZeOo/VYLMj-Jg7DI/AAAAAAAAA6I/E76itNyy4hU/s1600/ManIron5.jpg
Although this is not the normal story of the Musketeers, it is based off one of Dumas' sequels. With Leonardo DiCaprio as the lead and Jeremy Irons as Aramis, this movie is full of wonderful actors that bring this story to life. They also have the best Musketeer uniforms of any of the films.
3. The Three Musketeers (1948)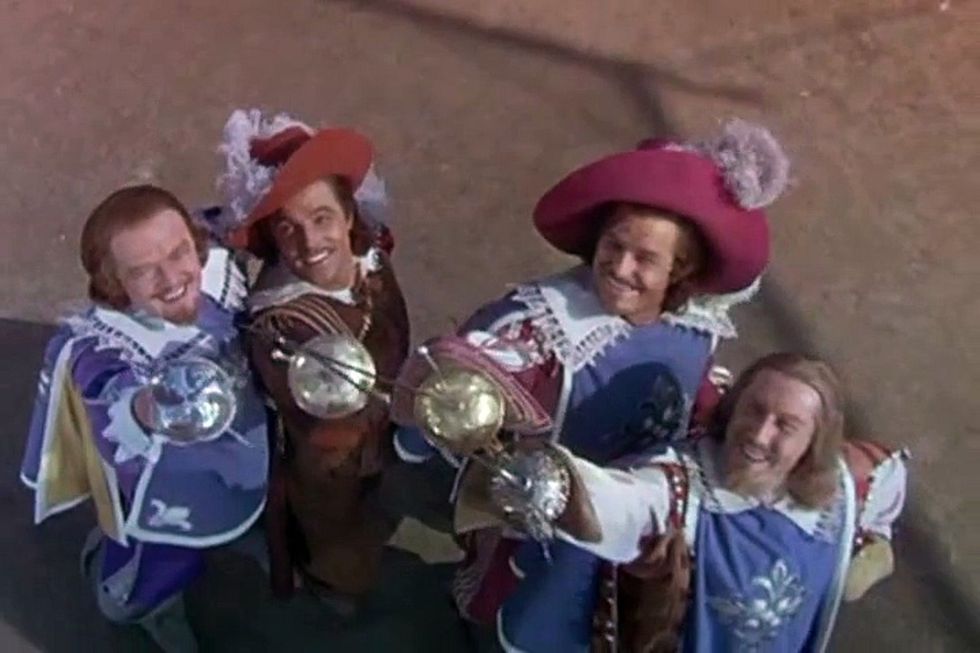 Sadly Gene Kelly doesn't dance in this film...
https://s1.dmcdn.net/jCJR9/x1080-GZJ.jpg
A great adaptation that sticks to the original story of the musketeers and properly develops the characters in a way that would make Dumas proud. While most people know Gene Kelly from Singing in the Rain, he originally starred in this film years before. Fun fact: a large portion of the "Dancing Cavalier" in Singing in the Rain is actually footage from this movie!
4. Mickey, Donald, Goofy: The Three Musketeers (2004)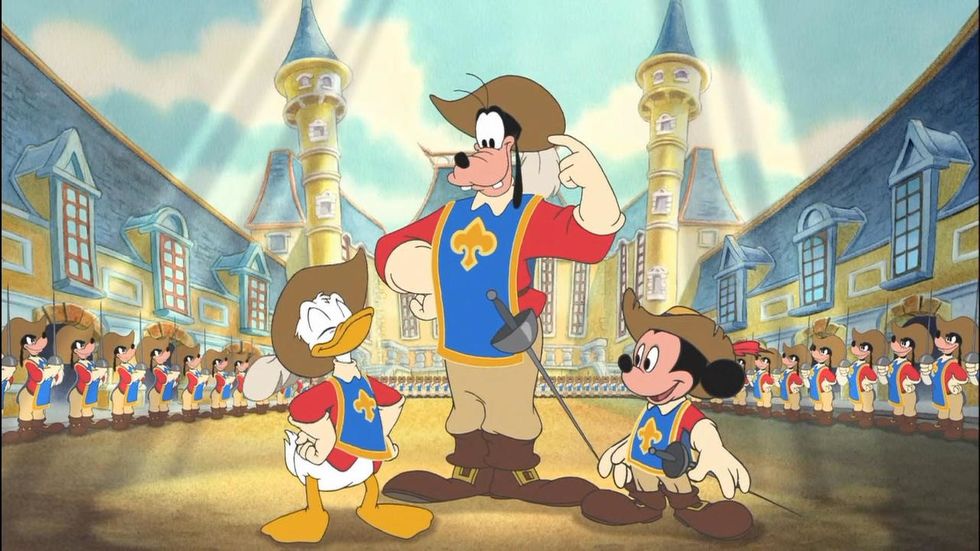 A staple of any childhood.
https://m.media-amazon.com/images/M/MV5BNDg5MDQ2MjktMTgwYi00YjM1LTk5MDEtZmNjZTYzNjJhMTQ4XkEyXkFqcGdeQXVyNjQ4ODE4MzQ@._V1_.jpg
It's hard to not enjoy this Disney remake, it is Mickey Mouse after all. Although this film has Mickey, Donald, and Goofy as the leads, they aren't supposed to represent the original three musketeers. No, this movie has them meeting the original hero's when they were just children leaving the viewer to wonder where they went after giving Mickey his feathered hat.
5. The Three Musketeers (1973)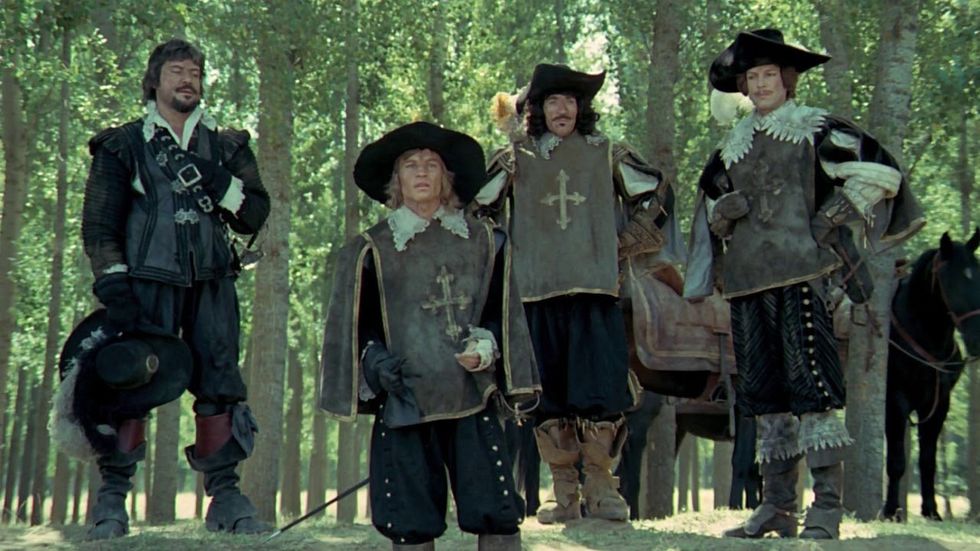 One wonders if this D'artagnan has any brain cells in that head of his.
https://i.ytimg.com/vi/XDbW1rg8SnY/maxresdefault.jpg
The first scene in this film leads the viewer to wonder if D'artagnan is in an incestuous relationship with his father. No, seriously. There's slow-motion shirtless sword fighting followed by the sentence "Thank you for showing me the special secret thrust father." And then it's never mentioned ever again. The fight scenes in this movie are hysterical and easily the best part of this film. Oh, and Planchet rips a tree out of the ground and beats a man with it… good times.
6. The Return of the Musketeers (1989)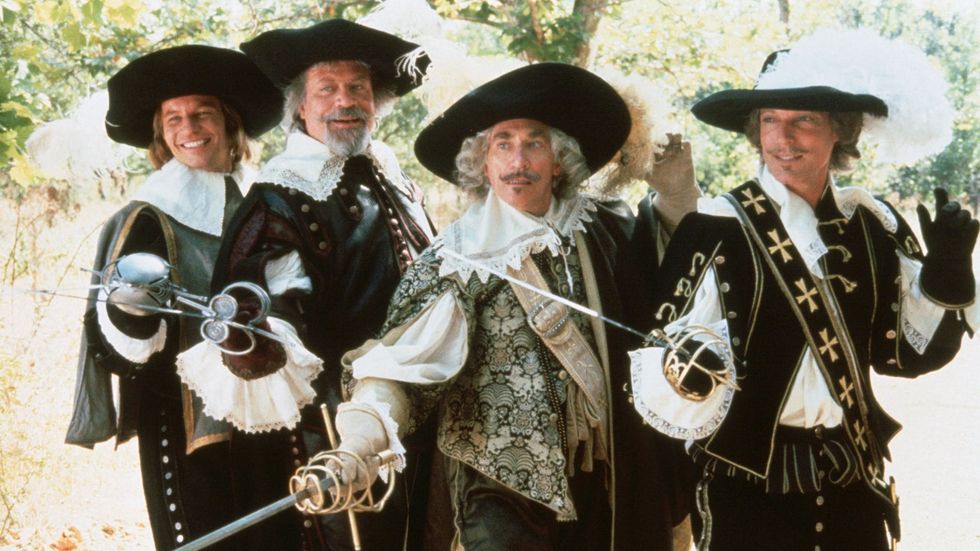 They managed to keep the same actors over a decade later, for that we applaud the filmmakers.
https://stz1.imgix.net/web/contentId/36108/type/STUDIO/dimension/2560x1440?w=1920&h=1080&fm=jpg&auto=compress,format
This movie is low in the rankings because Aramis is mostly left out of the film. Instead, he is cooped up in his weed tower, surrounded by women and replaced with Athos' son Raul. Don't get me wrong Raul is a fun addition, but it's just not the three musketeers without Aramis. There's also a hot air balloon?
7. The Four Musketeers (1974)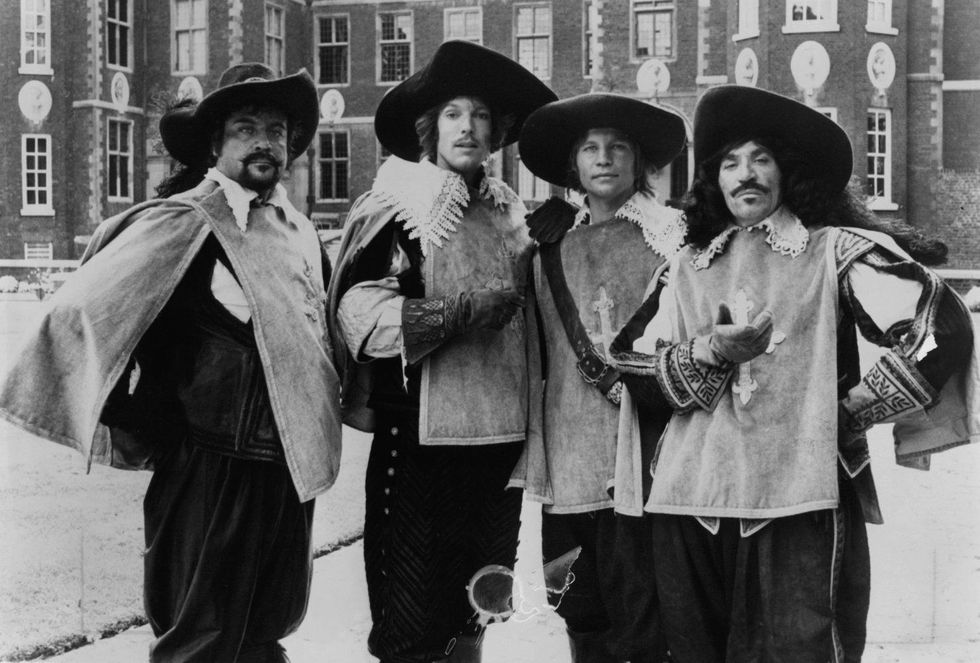 These characters deserved better than this movie...
https://i.pinimg.com/originals/62/1c/71/621c71a922f94a533894612155acb859.jpg
This movie is utterly forgettable. It blends with the 1973 film since it was a sequel that was originally part of the same movie. The filmmakers had to separate the two for time reasons and thank God they did. There is one fight scene on a frozen river which is hysterical as well as the gang trying to eat breakfast, but they just kept getting shot at. Yeah, this movie doesn't have much to offer other than that.
8. Barbie and the Three Musketeers (2009)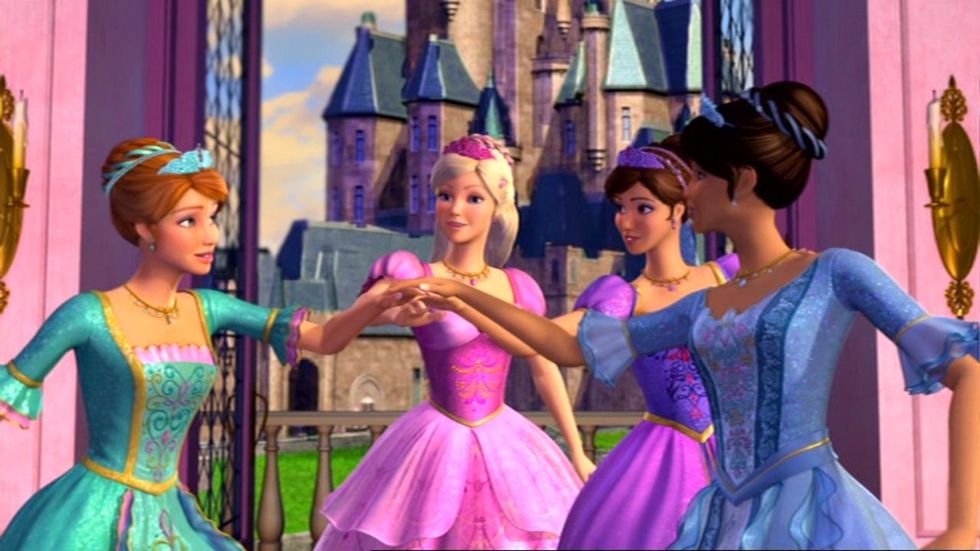 Just looking at the screenshots of this movie made me cringe in horror.
https://m.media-amazon.com/images/M/MV5BMGE0ODZjYzYtYjkxYy00OTkyLWI0ODMtMzc4ZDU0YmIwNjBiXkEyXkFqcGdeQXVyNDgyODgxNjE@._V1_.jpg
Oh god, where do I begin? The talking cat? The terrible animation? The questionable plot? The only good thing about this movie is the positive message of women working together, and Tim Curry voices the villain.
9. The Three Musketeers (1986)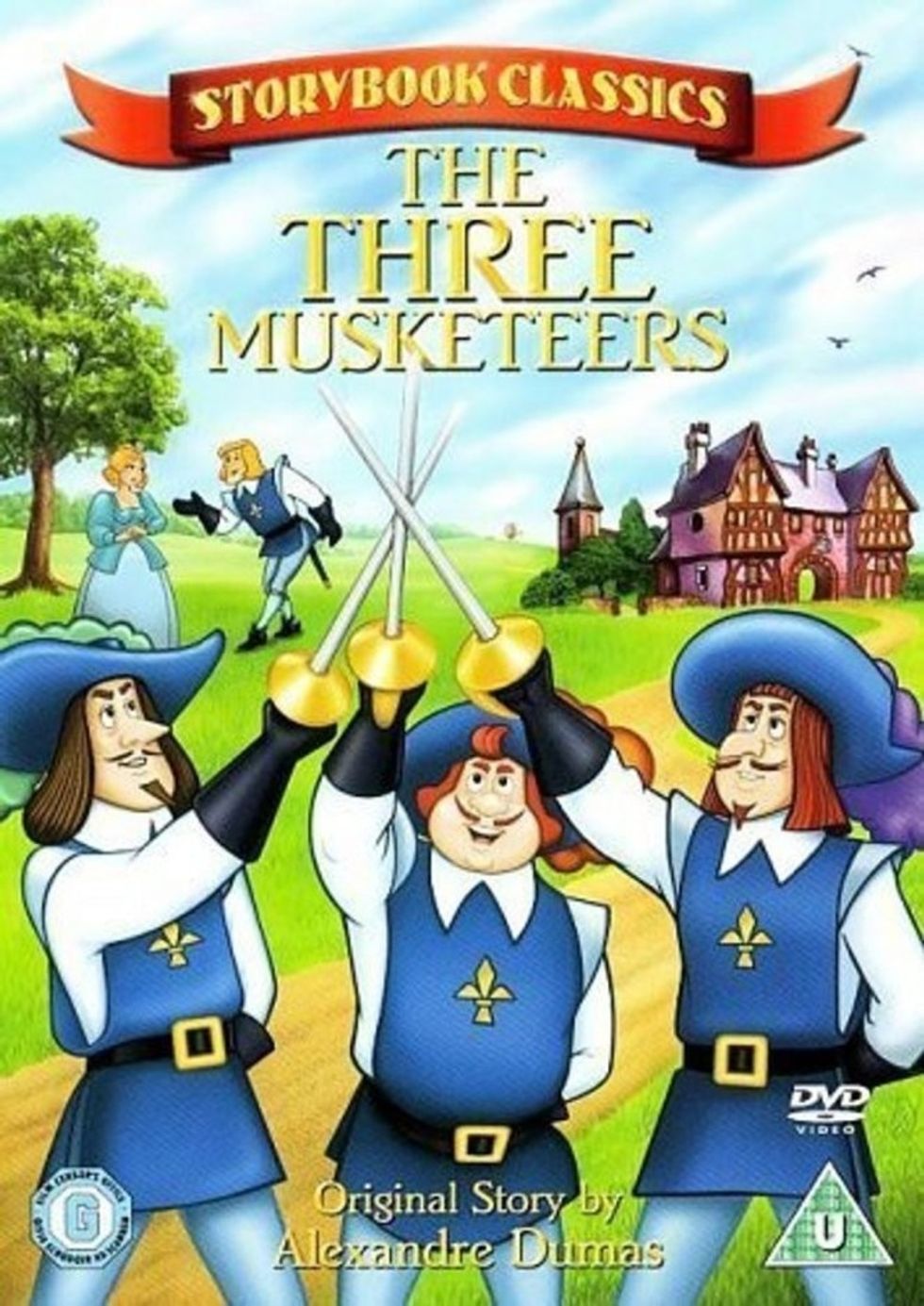 This movie plays like a fever dream.
https://www.dvdplanetstore.pk/wp-content/uploads/2017/12/vLvG0cJxhgXwXnPy6zXwdMLcyTH.jpg
I'm going to be 100% honest here, I barely remember this movie. It's barely even a movie with a 40-minute run time. The animation was clunky, and Milady was executed, that's it. Oh, and the Musketeers are color-coded to help the viewer tell them apart.
The Three Musketeers (2011)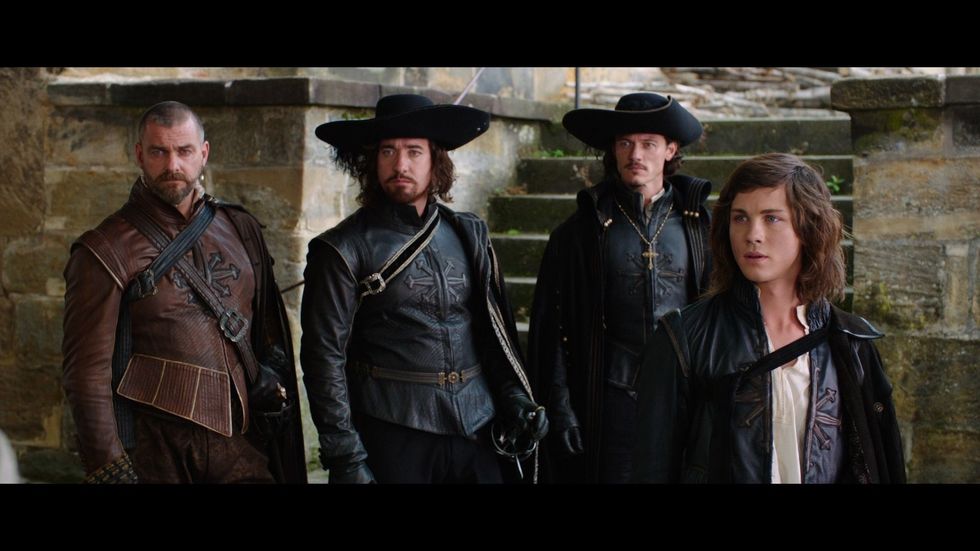 I could go on for days about how bad this movie is...
https://i.pinimg.com/originals/bd/6b/ea/bd6bea3873556097bc71af7a4d942bfe.jpg
Oh, buddy. This movie... I wanted to like it, but oh God. I could write an entire article about why this movie is atrocious, but for now, I'll settle with saying that there are flying ships, flimsy female characters, and horribly annoying actors. The best part? When the gang is surrounded by the cardinal's men, Athos says this gem: "Wrong. We were the Musketeers. Now we're just... us." Seriously that's the only good thing about this movie. That one line.