Here again, at last, the first few weeks of school. Every year when this time rolls around all we see are ads for school supplies and actors portraying extremely happy school boys and girls. Due to being another year older, those commercials seemed to make me feel extreme nostalgia.
Growing up in my house, the first day of school was equivalent to Christmas morning. The first day of school was fun but the main event started after the final school bell rang. That bell indicated school shopping time! My sister and I always dragged my mom to the Office Depot, with my huge long list of "recommended school supplies" for that year. Yes, of course, we purchased every single thing on that list.
Fast forward 10 years, and I'm starting my second year of college. If you're anything like me you bought a few 99 cent notebooks, a pack of pens, and maybe a pack of pencils if you were feeling ambitious. I'm pondering what has changed, why don't we care about school supplies anymore?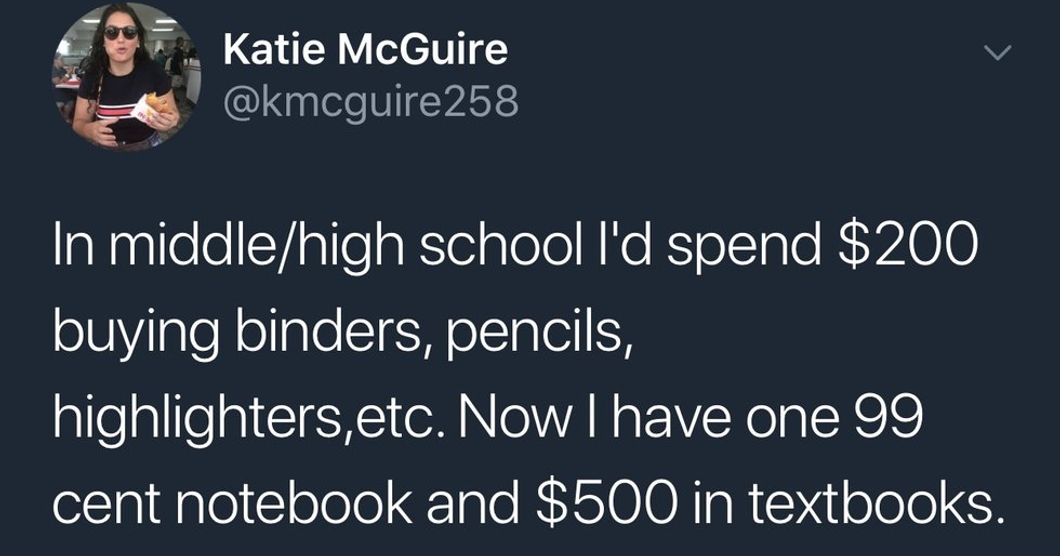 The more and more I thought about it I came up with plenty of reasons why we don't need as much school supplies and we once did (many, many years ago!) The first reason being, we as adults now understand the concept of earning and spending money. We would rather spend our well-earned money on a car or be stocking up our fridge, rather than blow it all on school supplies. The second reason being, we just do not need all of the things we did when we were in the fifth grade. We know for certain we will not be gluing paper together or needing magic smelly markers for our medical terminology or calculus classes (although some days we wish we would.) The third and most important reason being is TECHNOLOGY! Almost every single college level class I have taken requires a laptop. On the laptop, we can access our textbooks, calculators, a dictionary, type and turn in assignments virtually, and not to mention we can pretty much look up anything in a matter of seconds.
Although it was fun to buy all types of school supplies, we have seemed to rule out all the unnecessary items and have stuck to the tools that are detrimental to our success (how responsible of us!).