Costa Rica wasn't a country that had been on my bucket list. In fact, I'd never envisioned myself there on vacation, until I was invited to go on a trip with my best friend, her two older sisters, and another friend. Thank goodness I was given this opportunity or else I would've missed out on all that Costa Rica has to offer. We spent our time in the capital city, San José, and in a small town called La Fortuna. The change from city to town was amazing to get to compare the two. Yes, they were, of course, different in architecture and population, but both places held the same friendly, easy-going Pura Vida lifestyle.
Day 1
On our first full day in Costa Rica, we started the day off by walking around our neighborhood and exploring. We stayed in an AirBnB, instead of a hotel so it made us feel more like natives rather than tourists. We stumbled upon the Costa Rica Beer Factory for lunch. It was a beautiful outdoor restaurant with lots of lively colors and unique decorations. Also, the food was great. (Oh, and fun fact, if you order lemonade in Costa Rica, it's frozen like an icee. Can you say, yum?) Personally, I think it's better. 10/10 would recommend.) After that, we wandered the city looking at markets, stores, flower stands, and the national theater. My favorite place we went was the Arts and Craft market. I probably spent too much time there admiring the art and buying souvenirs for myself, family and friends. One man who was making jewelry made us each a ring with PV on it for Pura Vida. (This is Costa Rica's motto.) We ended the day eating at yet another amazing outdoor restaurant with the best tacos ever. I was only just beginning to see the unique aura of Costa Rica.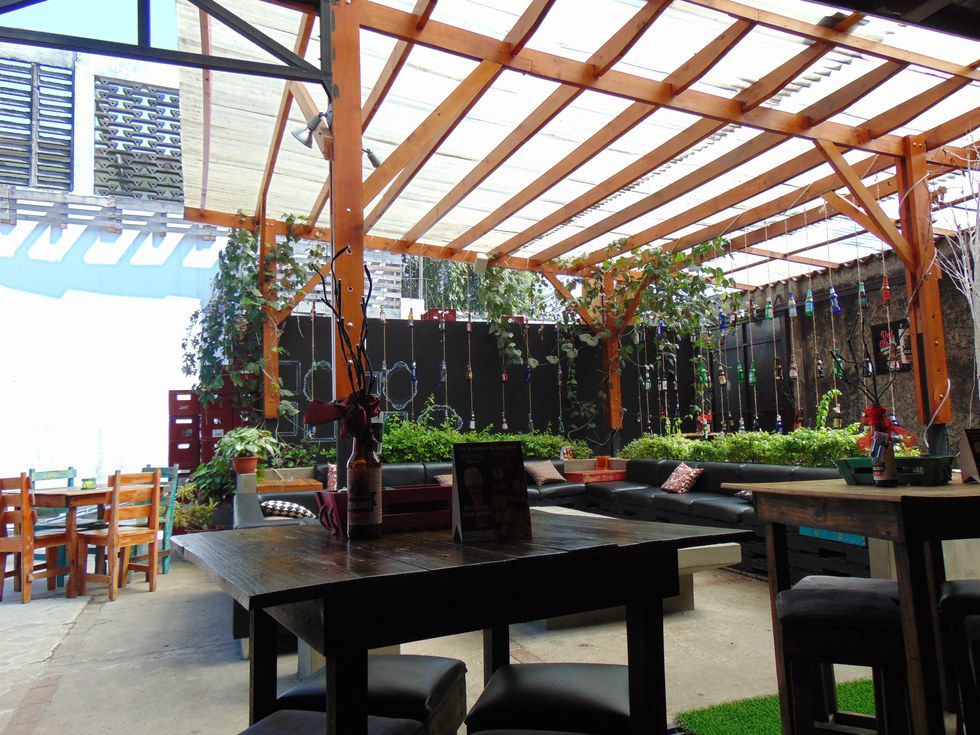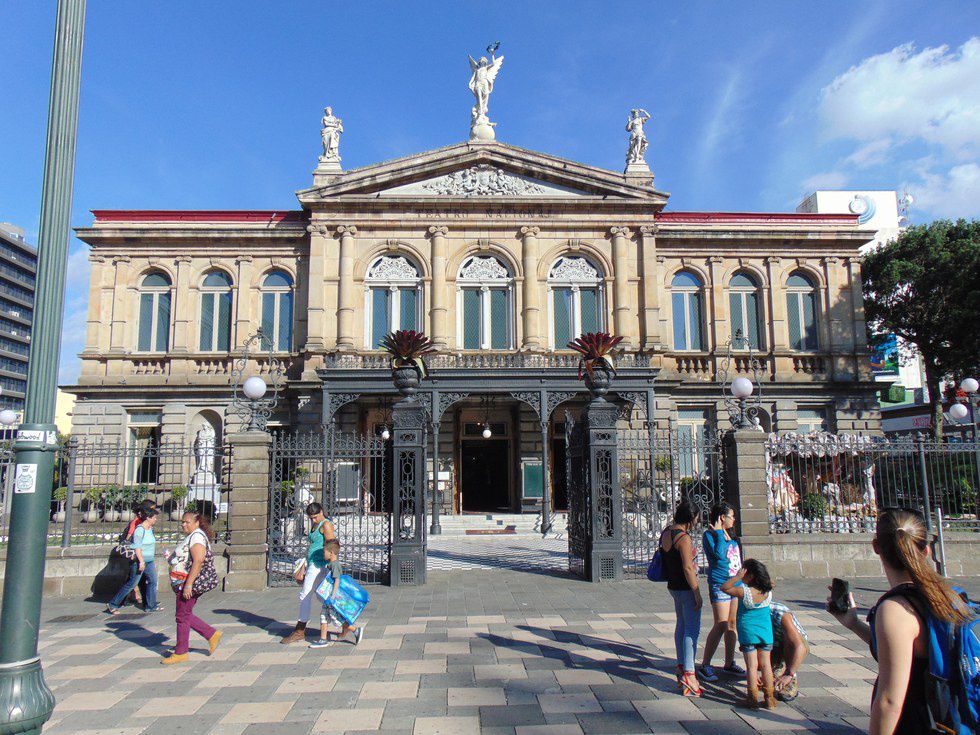 Day 2
We woke up bright early to hop on a bus to La Fortuna. The bus ride was through the green countryside will lots of hills, farms, and little towns. I remember sitting on the bus thinking about how peaceful and perfect their lives looked in the Costa Rican countryside. Once we arrived in La Fortuna we headed to our next AirBnB. This house was my favorite we place I have ever stayed on a vacation. The house was painted like a mural with houses and sunsets, we slept in bunk beds, could watch the sunrise and sunset from my bed, and the second floor had a wrap around balcony that gave us a view of the neighborhood, the volcano, and the mountains. For the remainder of the day, we relaxed on the balcony, explored the town, and ate delicious chocolate cake. Then we turned in early to prepare for our two busy days to come.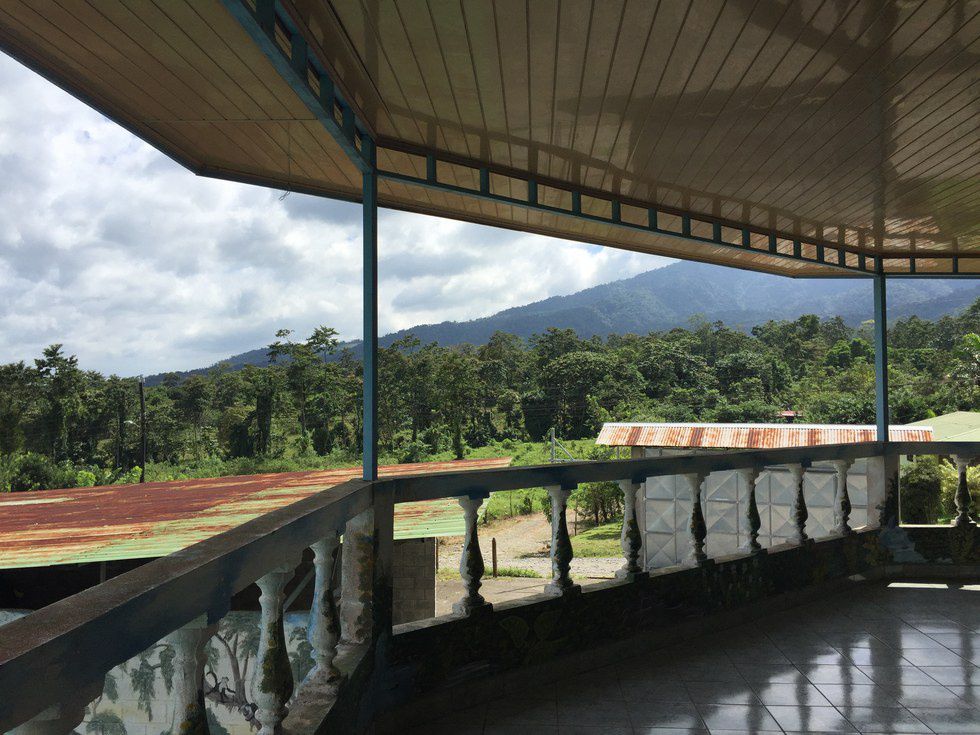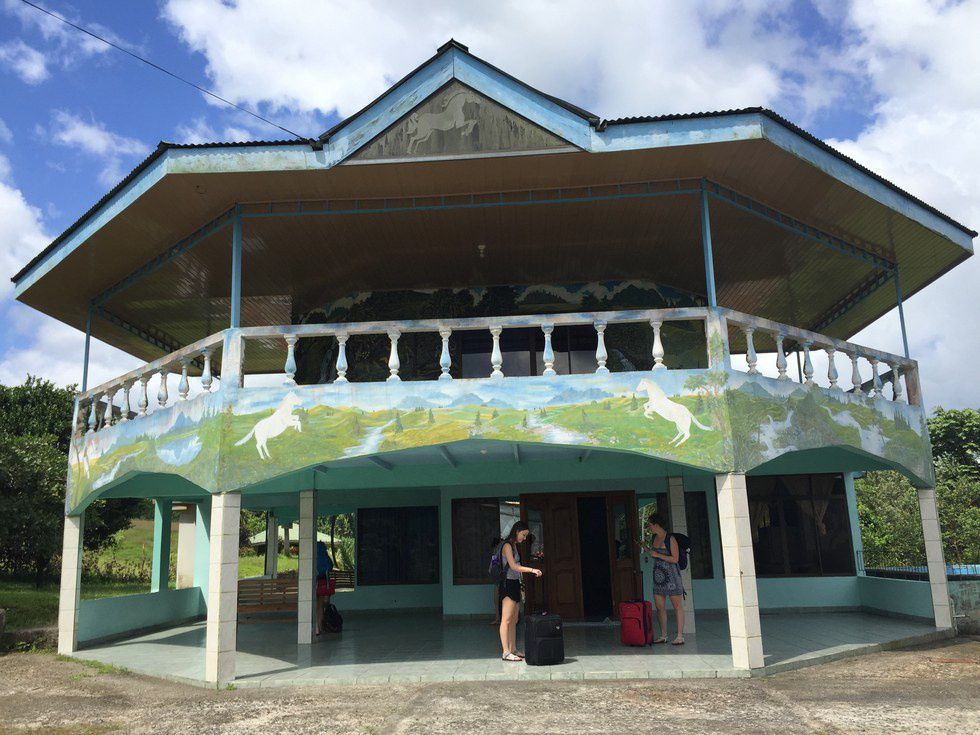 Day 3
We started the day off right with chocolate. From our house, we walked to small cacao bean plantation to go on a Chocolate Rainforest Tour. We learned about the history of the cacao bean, go to plant a cacao plant, see how the chocolate is made, and best of all try the chocolate. After feeling content and full of chocolate, we went into town to grab a small lunch before zip lining. We were picked up by the zip lining company and driving out to the location to get our harnesses and meet our tour guides. The tour guides were extremely friendly, (they even invited us to go rollerblading with them) so it made me feel safer automatically. Ziplining, of course, was scary at first but absolutely beautiful as we flew through the rainforest, past waterfalls. After that adrenaline high, we stopped at an outdoor bar for snacks and drinks before heading to the market to pick up supplies to make dinner at the house. After making tacos, we were picked by our new friend, Wilson to take us into town to explore the nightlife and talk about the adventures we've had so far and the one to come the next day.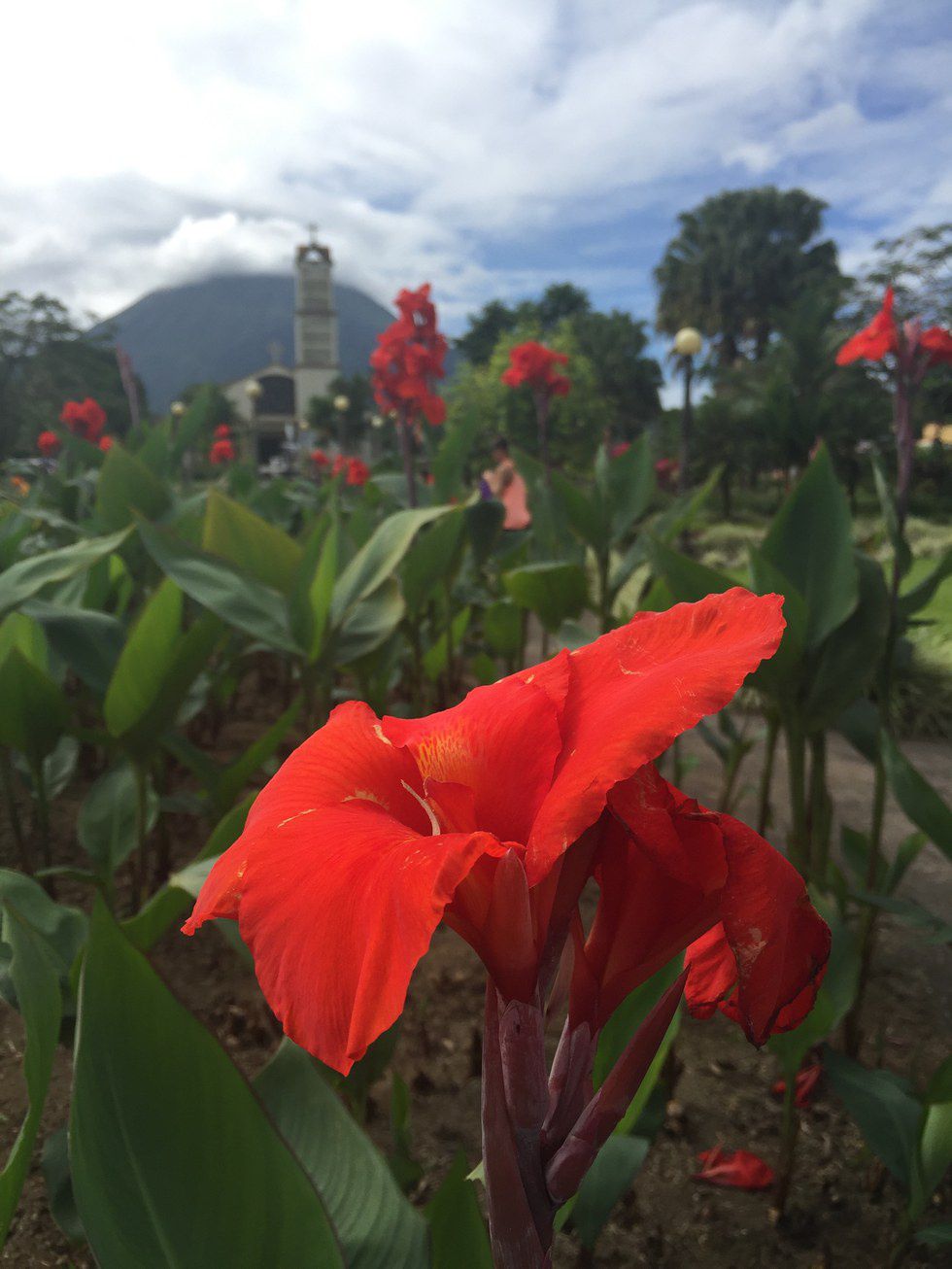 Day 4
On this day, we decide to take an all-day 2 volcano exploration hike through the rainforest. I was terrified, to say the least; not only because the warning of the hike's difficulty but also the fact that there could be iguanas.(oh yeah, I have a major Iguana phobia.) Although it was the longest day, it was the most exciting and memorable and ultimately my favorite. A quick run through of the day: Hiked 4 hours to the top of the volcanic crater, hiked down in the rain to the lake in the volcanic crater. Hiked four more hours down to the bottom of the volcano, crossed a hanging bridge, hiked to a waterfall, hiked to a resort to watch the last bit of sunset on the balcony, got on a bus and headed to natural hot springs, sat in the hot springs with drinks and volcanic mud masks and then was bused to the town center where we had dinner with our tour guide and our hiking group. It was hands down the craziest experience of my life. The hike was rainy while trying to climb over trees, make our own path up and down the steep volcano side, falling on our hands and knees, swinging on vines, falling in mud and while watching where we placed our hands and feet so we don't step on snakes. I'm unbelievably grateful that I did (and came out alive) because we got to laugh at ourselves, be in the rainforest, hike up a volcano, stand next to a waterfall, get to know people from Boston, Canada, Costa Rica and the Netherlands while having a day unlike any other I've had in my life. AND, we didn't run into iguanas.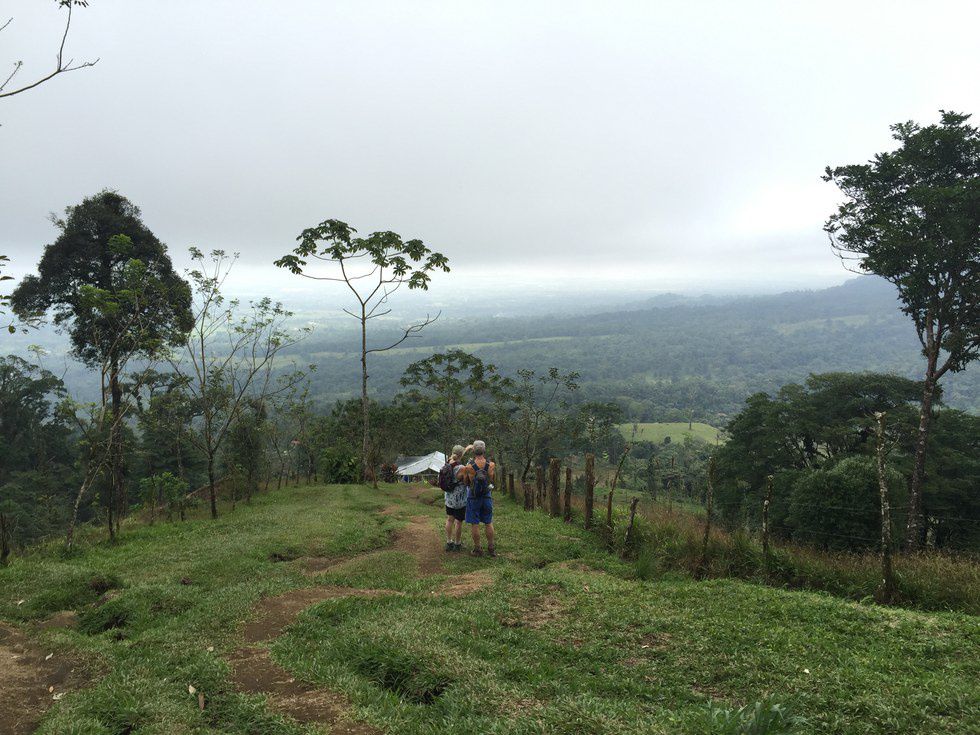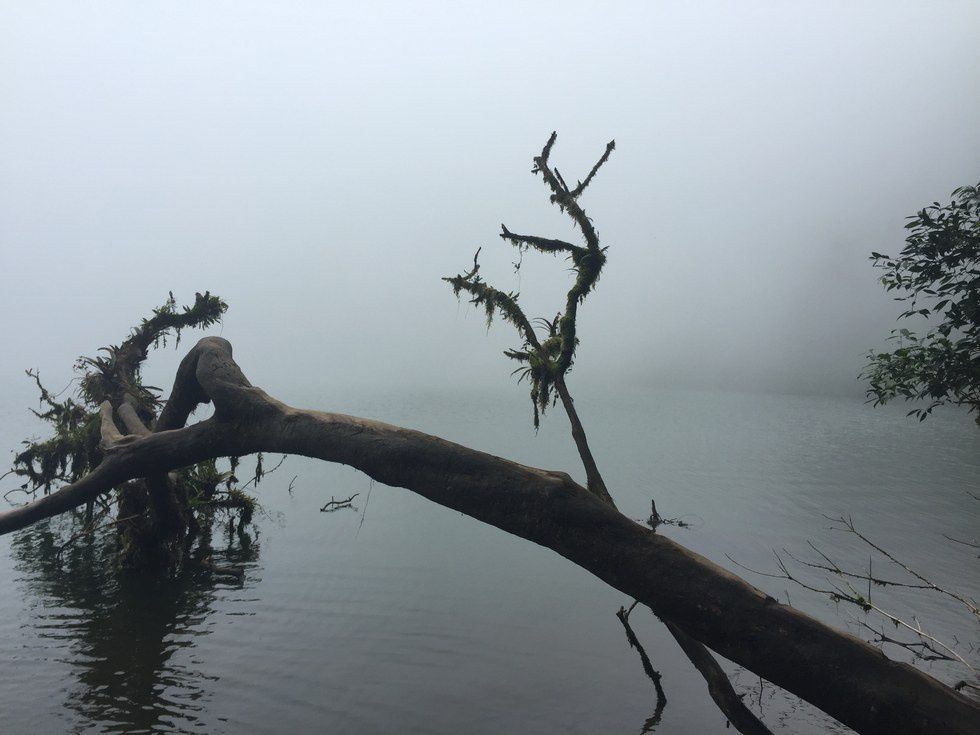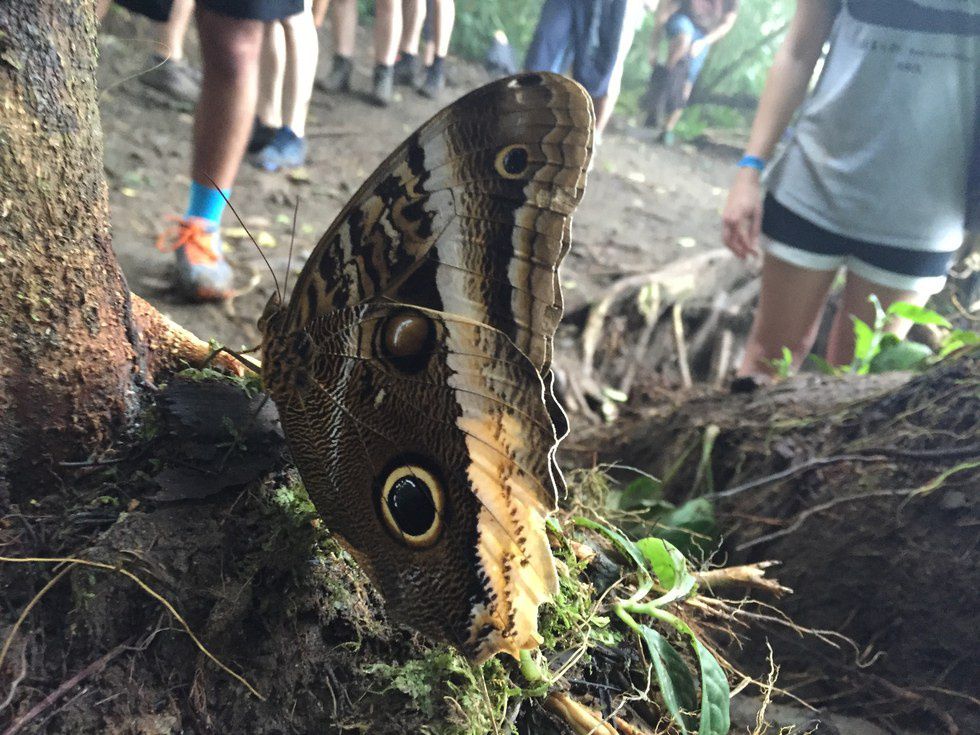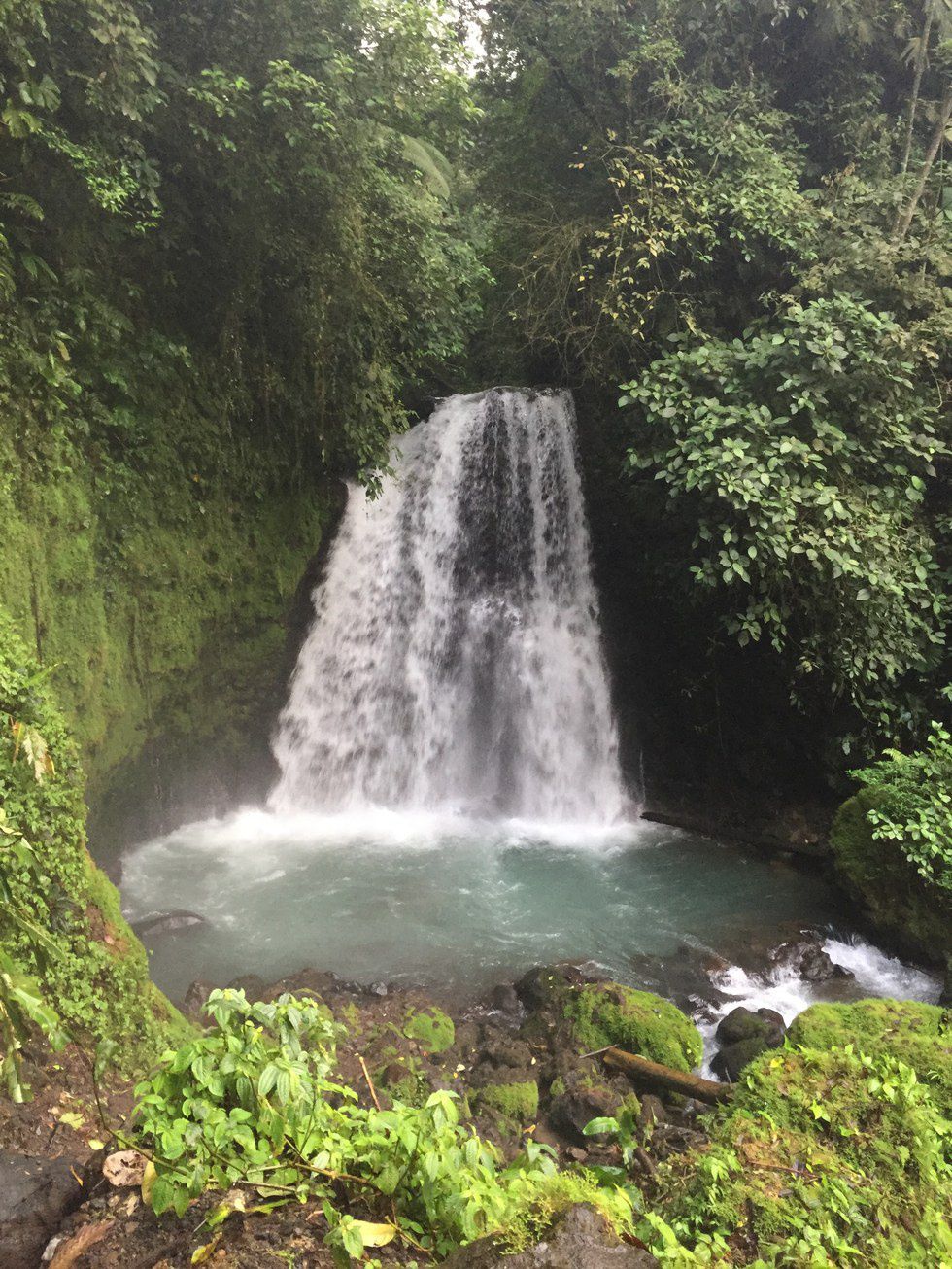 Day 5
It was our last day in La Fortuna, so we packed up and heading into the town center to have breakfast, souvenir shop, take our last pictures and then load back on the bus. This bus ride was even better than the first because it was cooler and we're winding through the countryside while the sun was setting. The route was different too, so we're able to pass through new little towns. (One thing I noticed in every small town in Costa Rica was that at the center of every town was church, while on the outskirts of the town center were the restaurants, markets, and shops.) Once we returned back to San José, we went back to our AirBnB and called it a day.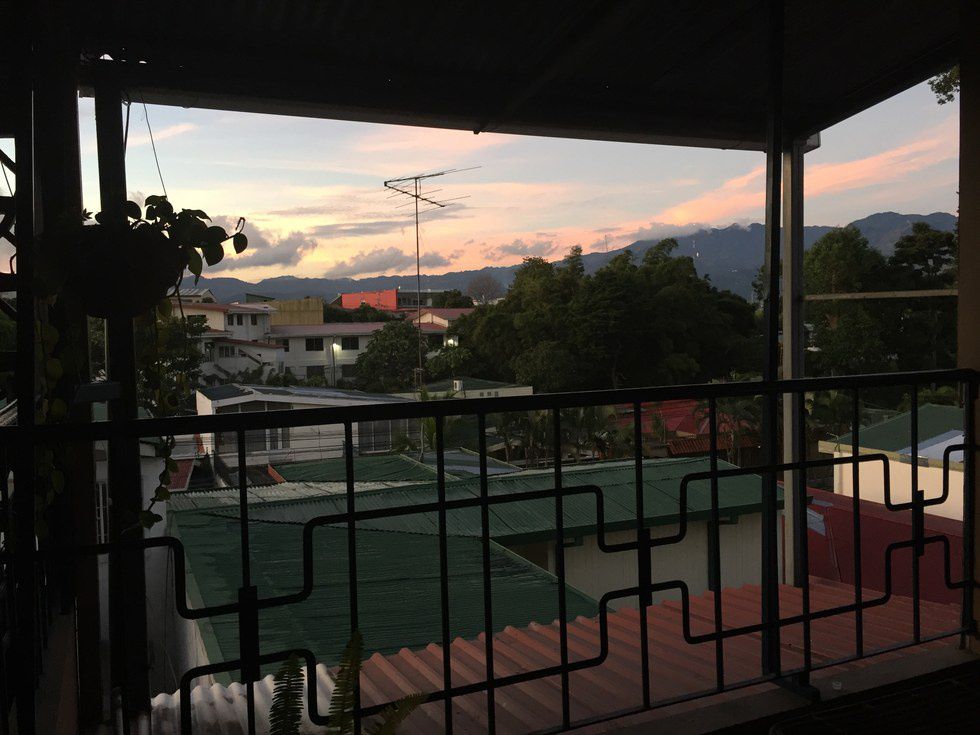 Day 6
For our last full day in Costa Rica, we went back to the Arts and Craft Market to finish souvenir shopping. After that, we walked through the university and looked at the campus. While exploring we came across some awesome street art. After taking pictures of the art, we went back to the apartment, packed up and got ready for a fun night out. We saved the best club for our last night in Costa Rica: The Jazz Club. The night we were there it was a Beatles cover band. It was incredible to hear the band and people sing all The Beatles songs in English with such passion and then go back to speaking Spanish when introducing the next song or speaking to one another. It was unbelievable to see two cultures meet in such a fun way.

Somehow we survived in Costa Rica. Actually, I'd say we thrived. The accumulation of each of our Spanish skills allowed us to effectively communicate. We made friends with our hiking tour guide, Errol, our cab driver, Wilson, (he drove us everywhere in La Fortuna and taught us a lot about honking), our zip-lining guide, Bryan, and our Uber driver in San Jose (I don't remember his name but I remember he wouldn't let me roll down the window.) Everyone was genuinely friendly and helpful. They loved their country and their lives, so we couldn't help but love it too. We spent the entire trip hearing people scream 'Pura Vida' so we'd scream it back. At first, we didn't know what it meant or why they screamed it, but by the time we left we understood. There is no definition to clarify or certain person to explain; the only way to understand it, is experiencing Costa Rica. ¡Pura Vida, my friends!