Three minutes exactly. In precisely three minutes and zero seconds, "American Psycho" touches on American capitalism, materialism, and the competitive nature of the business world in a perfect mix of sardonic and thought-provoking through the infamous "Business Card Scene."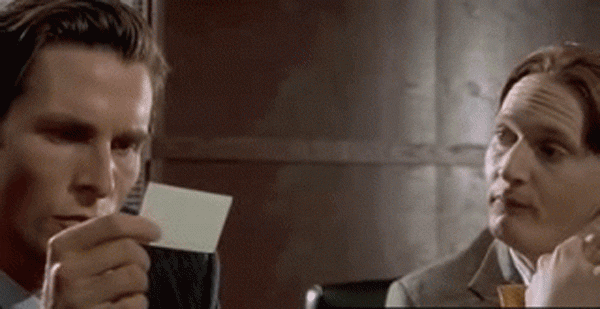 Think 1987, the upper echelon of wealth, New York investment banker. Those qualities all define not only the film but the main character of Patrick Bateman played to a T by Christian Bale. To me, no scene perfectly encapsulates the film as a whole more than the scene of trading business cards.
Every little detail about this scene is just amazing, but the aspect that stands out the most is undoubtedly the dialogue. What makes the dialogue stand out so much is the dichotomy of what the characters are saying to each other and what Patrick Bateman is narrating, consequently the thoughts in his head.
As Paul Allen, a competitor financer played by Jared Leto walks in and starts talking to Patrick Bateman. It immediately becomes evident that Allen has mistaken Bateman for another man named Marcus. Instead of Bateman reminding Allen who he actually is, he just goes along with answering all of Paul Allen's questions as if he were Marcus.
This creates a truly hilarious scenario that we, as an audience, get to experience. Outright we see the responses that Patrick is giving to Paul, answering as if he were Marcus. However, through Patrick's inner dialogue we hear how he truly feels about Marcus. Commenting on all the similarities between himself and Marcus, they both wear Valentino suits (though Patrick comments how his own are slightly finer) and how they both have a penchant for Oliver's People glasses.
However, the best inner narration comment comes as Patrick Bateman says how "Marcus and I even go to the same barber, although I have a slightly better haircut." This scene becomes truly sardonic as the camera pans to Marcus and he looks like an exact clone of Patrick Bateman. Perhaps signifying how in our personal stride to feel superior to others, we, in turn, end up just being clones of one another. Especially in the finance world of 1987 New York.
Yet, the moment to end all moments within this exactly three-minute scene is when Patrick Bateman first sees Paul Allen's business card. First, Patrick Bateman subtly pulls his business card out of the silver container it resides in and hands it to his coworkers to gauge their reaction. They briefly glance at it, commenting it's "nice". Patrick Bateman is devastated, but you would never guess it based on his face.
The true weight of meaning this business card holds to Patrick Bateman is evident through the words he narrates to the audience. Comparing the eggshell color of one business card to the ivory of another. Ending it finally with the subtle-off white coloring and subtle thickness of no one else's but Paul Allen's business card...it even has a watermark.