It's that time to pack our bags, decorate our cars, and head down to Indio, California for an unforgettable weekend of music, art and festivities in the Coachella Valley. Coachella-goers from all over the world are eagerly preparing for the event that we have been highly anticipating since the moment it ended one year ago. While we are all well-aware of the lineup and will be spending most of our time running from set to set, there are many activities that could easily be over-looked but definitely worth your time. The Coachella experience is full of hidden opportunities to add to the adventure. Here are some things to add to your Coachella bucket list that you probably didn't know about.
Activity Field of Dreams
This field will hold many activities such as 4 Corners, Spring Olympics hosted by the World Dodgeball Society, Dodgeball Tournaments, Hula Hoop contests, Balloon Toss, Giant Foosball, Bad-Dancing contest and much much more. If you get the win in any of these events, Coachella guarantees you prizes, bragging rights, and bad tans. Who would want to miss this?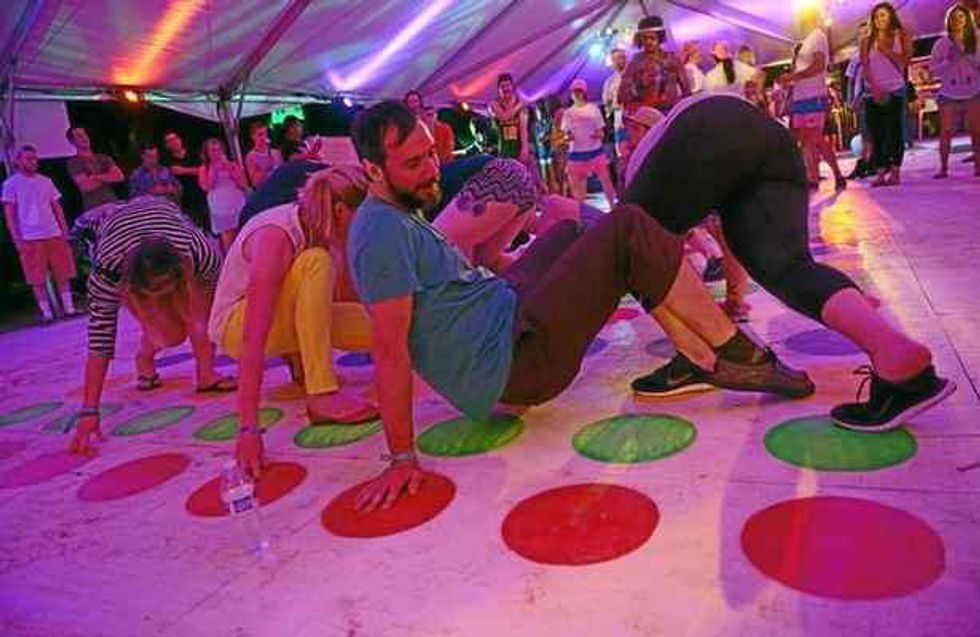 Location: Camp (Lot 8)
Open Thursday 9 A.M. – 3 A.M. and Fri – Sun 7:00 A.M. - 3 A.M.

The activities are kicking off Thursday morning at 7am-5pm with the Early Bird Raffle where you can win prizes for just showing up. These prizes include VIP upgrades and merchandise. There are also various contests such as ping pong, twister, giant jingo, and cornhole. If you're trying to unwind, you can take advantage of the power stations, lounge, and wellness area. The wellness center (open 8am-3pm) has a team to pamper your needs. Enjoy the spa, essential oil blends, foot soaks, iridology readings, and massages for 1$ a minute. Cash and Credit Cards are accepted.
Or enjoy the night activities from 11 P.M. - 1 A.M. with live DJs and continued competitions. One DJ to checkout is DJ Moustache who will be playing all-vinyl sets Thursday 11 P.M. - 1 A.M. and Sunday 11 P.M. - 1 A.M.

Location: Camp
Open Friday-Sunday 8 A.M. - 3 P.M.
Guys can get straight razor shaves and haircuts in the Barber Shop. Girls, get your hair done at the Beauty Bar, where they are offering blow outs and other such services. And the best part is, it's all free.
Coachella Art Studios
Location: Camping Center (Lot 8)
Open Friday-Sunday 10 A.M. - 2 P.M.
Get your creative juices flowing at the improved art studios located in the campgrounds. According to Coachella, you can "chop and screw new fashion accessories, press your own pin, upcycle bike inner tubes and/or make an Instaprint to take back home."
H&M Loves Coachella

Location: GA Next to Sahara Tent
Take an air-conditioned visit to the H&M tent where you can complete your festival look and shop the H&M Loves Coachella Collection. The tent isn't only for shopping, however. You can get water refills, participate in the interactive video booth, or connect with the charging station or Wi-Fi. You can also donate your old clothes to be recycled and receive 30 percent off your next purchase.

Heineken House

The Heineken House is "bringing the Old School into the New School" with surprise performers and a stacked lineup. But get this, your dance moves will light up the party. What does that mean? The Heineken House has a sustainable dance floor that converts your energy into usable energy generating the lighting for the venue. If you're 21 or over, be sure to check this off your list.
The lineup is as follows: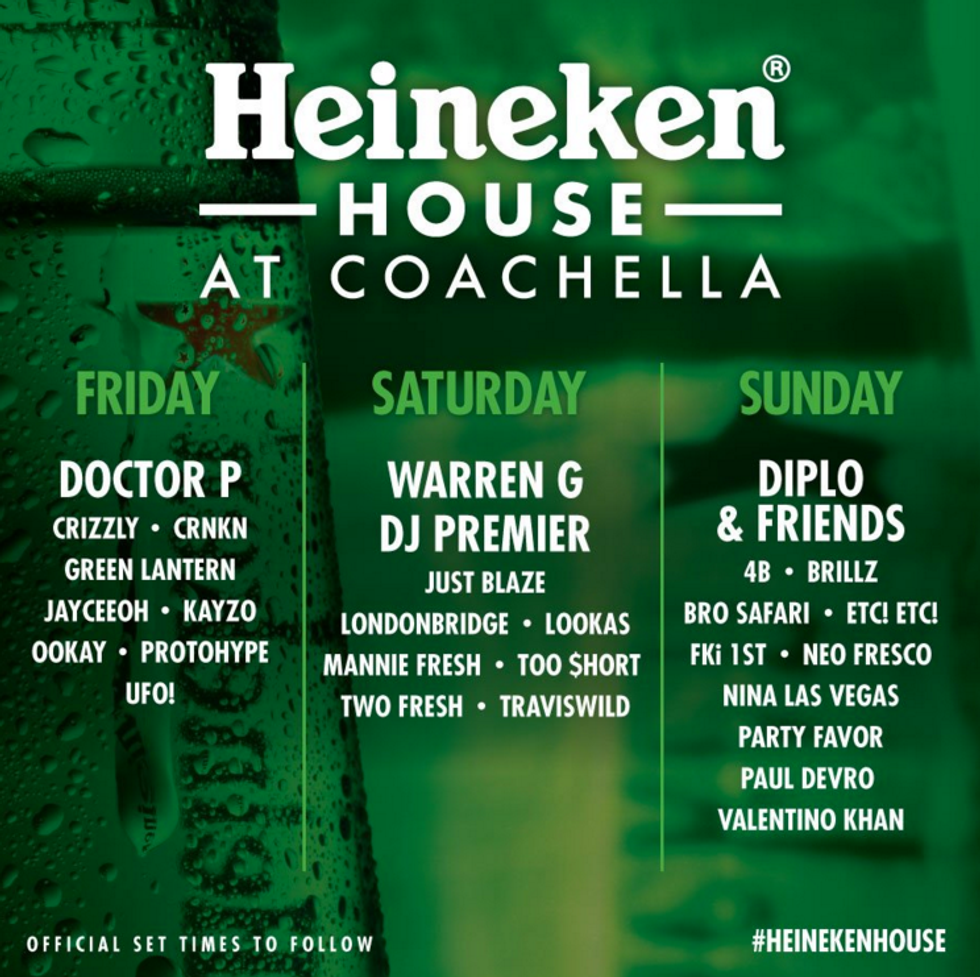 Yoga and Pilates
Location: Shade structure in the Camping Center between the Dome and Activities Tent.
Open Friday through Sunday.
Yoga: 7:30 A.M., 8:30 A.M., 9:30 A.M. and 11:30 A.M.
Pilates: 10:30 A.M. and 12:30 P.M.

Unwind and get some exercise in the morning at the campground. If you bring your mat you can enjoy pilates and yoga classes with professional instructors.
[rebelmouse-proxy-image https://media.rbl.ms/image?u=%2Ffiles%2F2016%2F04%2F10%2F6359592212783952981478014699_8728697_do-lab-announces-2016-coachella-lineup-and_3e95406f_m.jpg%3Fbg%3D6C5C64&ho=https%3A%2F%2Faz616578.vo.msecnd.net&s=875&h=75fb88efd90e83dfdb413eab61203711a1610fd4257429ab748c3d705e6a35fa&size=980x&c=390345008 crop_info="%7B%22image%22%3A%20%22https%3A//media.rbl.ms/image%3Fu%3D%252Ffiles%252F2016%252F04%252F10%252F6359592212783952981478014699_8728697_do-lab-announces-2016-coachella-lineup-and_3e95406f_m.jpg%253Fbg%253D6C5C64%26ho%3Dhttps%253A%252F%252Faz616578.vo.msecnd.net%26s%3D875%26h%3D75fb88efd90e83dfdb413eab61203711a1610fd4257429ab748c3d705e6a35fa%26size%3D980x%26c%3D390345008%22%7D" expand=1 original_size="1x1"]

Also be sure to check out the more well-known Do Lab, Silent Disco, Not So Silent Dance Party, and Beer Garden. Let the festivities begin.