Sometime in mid-2013, my older brother flipped the channel to "Impractical Jokers." I groaned and begged him to change it, because I thought it looked absolutely stupid. He promised me it would be hilarious, and so we watched a couple of episodes. Suddenly, I found myself being the one who was avidly watching the show, even after he left to do whatever. The TV show consists of "four friends who compete to embarrass each other." They prank the naive citizens of USA for the sole purpose of making themselves look silly in public.
One year later, I got the pleasure of meeting the stars, Joe Gatto, James "Murr" Murray, Brian "Q" Quinn and Sal Vulcano.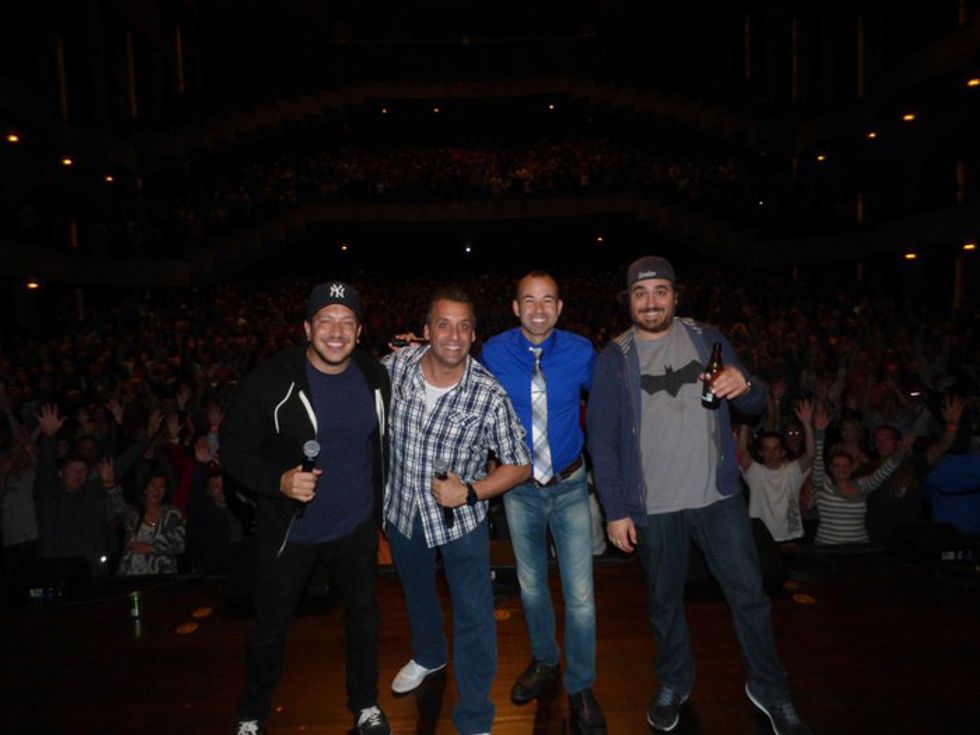 Now, it's vital that you're familiar with the two Emilys involved in our Joker encounter. One was my lifelong friend, who I will call Em, and then-college roommate at South Dakota State, and the other was my younger sister, who I will just leave as Emily, who was a sophomore in high school at the time.
Now that you have been properly introduced, let me get on with it. We bought tickets that summer to their upcoming show on September 30, 2014, in Sioux Falls, South Dakota. I'm eternally grateful that there was a mix up in their schedule, because they replaced some state down south with our glorious Dakota. Originally, we aimed for a show in Minneapolis, five hours away.
We were (and still are!) major fans, so of course we had to splurge and buy Row A seats. Little did we know, we bought meet and greets. You heard it. We bought tickets and had no idea that they were meet and greets.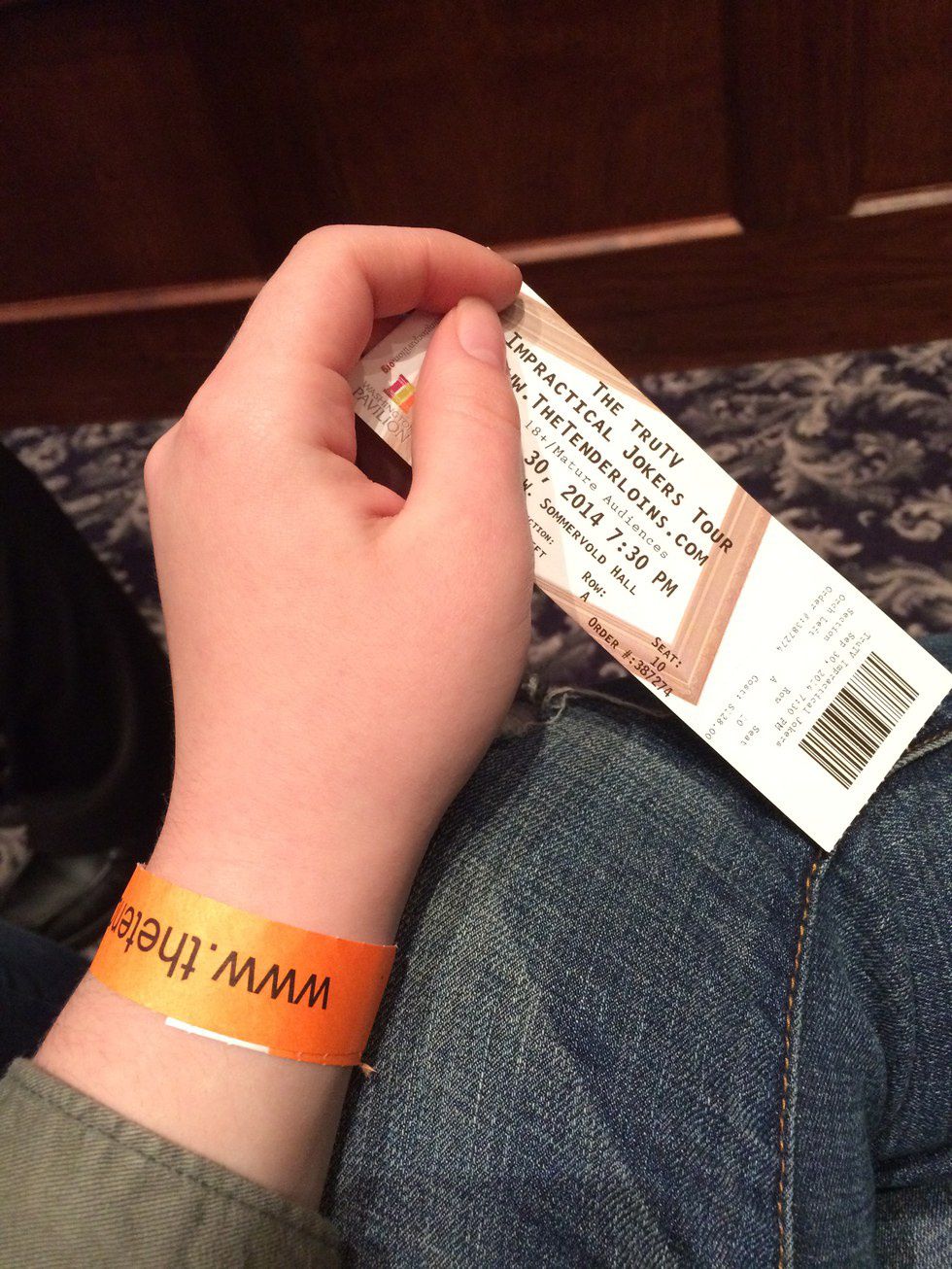 Anyway.
After our classes, Em and I drove from Brookings to Sioux Falls, where we met up with Emily, who was traveling from our hometown, Mitchell. On the way, Murr favorited a couple of our tweets, and we had a panic attack. How were we supposed to meet these guys if we freaked out over simple media encounters?
The rest of our day consisted of food, shopping and chatting about the event to come. And finally, after hours of waiting, it was time.
We journeyed to the Washington Pavilion and found our seats pleasingly close to the stage (Row A, I repeat). The guys ran out and we were sort of starstruck. We hadn't ever met or seen a celebrity before, because let's be real, who comes to South Dakota? The show was amazing, and soon cleared out once it finished. Except for 60 of us, who bought meet and greets.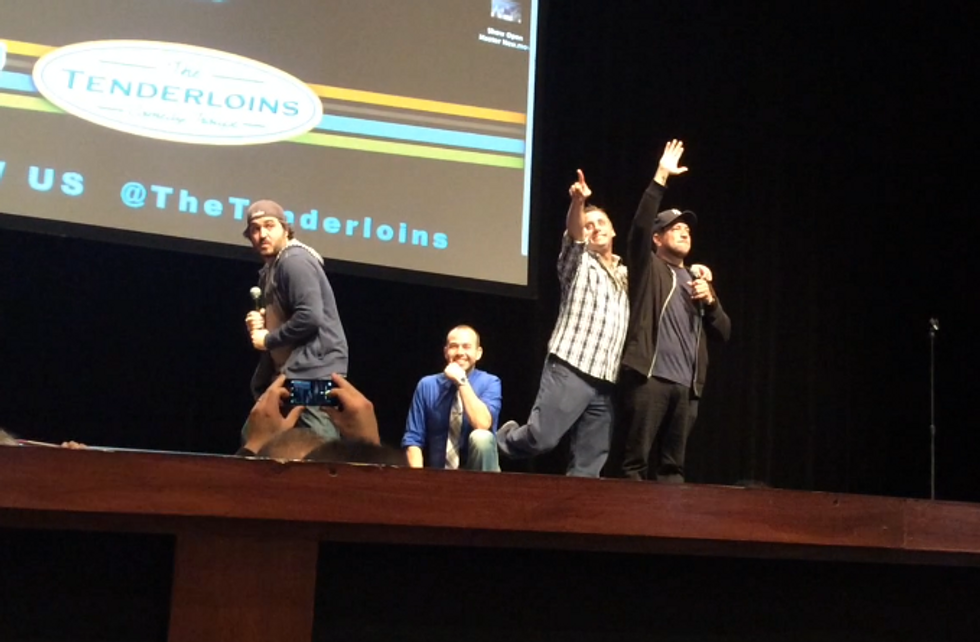 Em, Emily and I stayed behind so we could be the last group of 20 to head back and meet them, because I guess we wanted the experience to last longer. When we did head back, we couldn't believe that the four guys we'd come to know from television were finally right in front of us.
We told Murr how excited we were that he favorited our tweets. We had a face-to-face with Joe and asked him why on Earth they even wanted to come to SoDak (because again, no one ever visits). Sal complimented my hair and told me that I reminded him of Rachel from "Friends." And Em made Q spit up his beverage when she interrupted him mid-swig. There were so many more great moments, but those were just some of our favorites.
We took a picture with them all, one of us between each of them and headed back to our hotel. Emily had school the next day and left for Mitchell. Em and I had five hours to sleep since we needed get up at 3 a.m. and catch a flight to Atlanta. I must have experienced aftershock, because I didn't catch a wink of Z's during those five hours.
Fast forward one more time to 2015, and the Emilys and I drove to Minneapolis for round two (this time, no meet and greet). A second show with many more laughs in the books. We even felt like it was a possibility that some of the guys even recognized us. At least, that's what we like to think.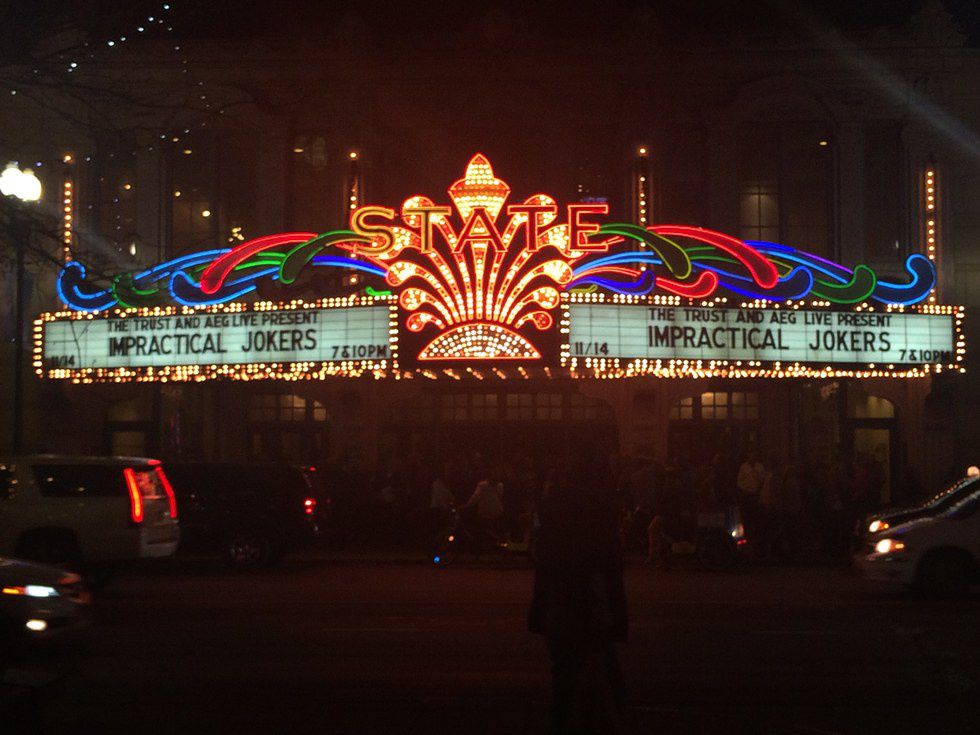 Who knows, if the time and money prove convenient for us (as we are broke college students and one of us is heading off to Arizona next fall), maybe round three isn't so far away.