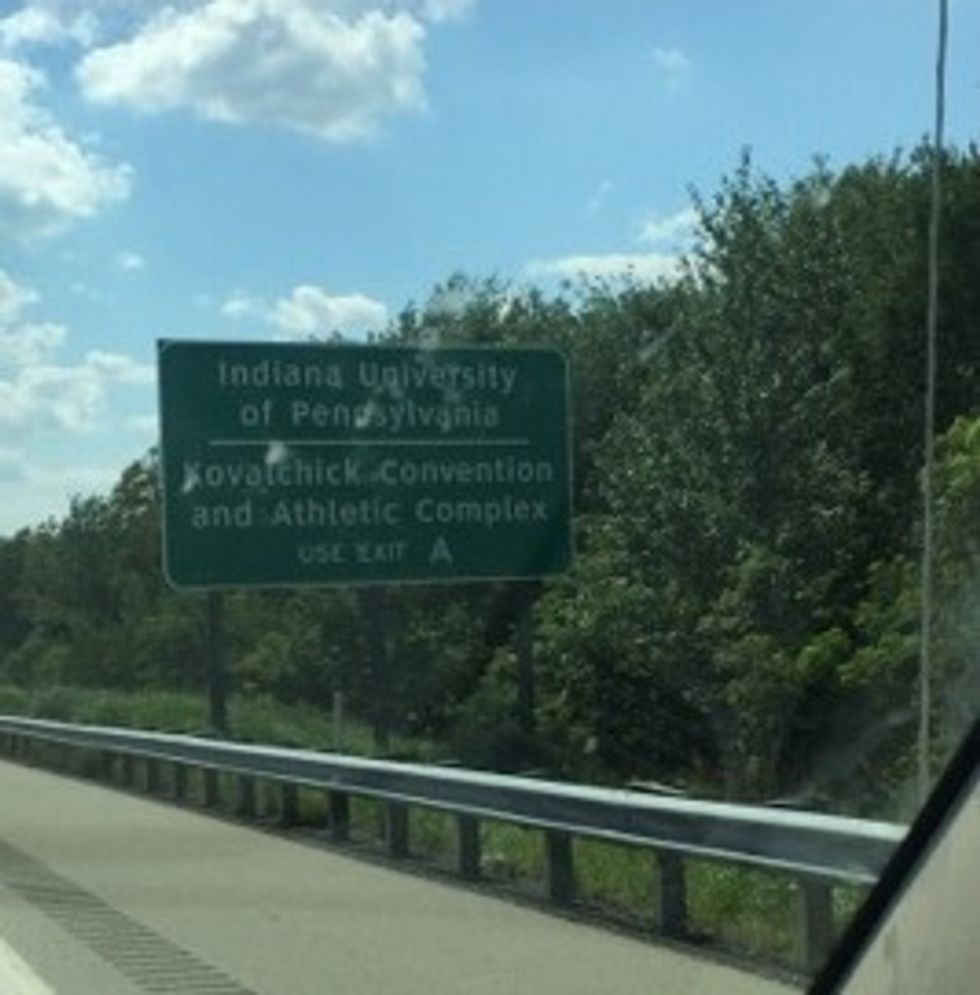 As I am typing this, I am almost halfway through my summer college experience. Wow. It has gone by so fast and it's scary but also really great. I have spent the past week and the week to follow at IUP, Indiana University Of Pennsylvania, as part of their Summer Honors College Program. This program is meant to give high school students a college experience in the span of about 2 weeks.
While here I took a discipline class of Discrete Mathematics, and two core classes, which are Fine Arts and Poetry. These classes have challenged me beyond words, which has been an amazing experience. Before this program, I could not write poetry to save my life, but its been 4 days in that class and I have already written 2 poems. The teachers really spark our interests even if we aren't interested to begin with. Fine arts has opened up the class to many debates. For example, we debated about our morals by using the train analogy (https://www.youtube.com/watch?v=yg16u_bzjPE), we edited this a little by instead of it being one worker on the side, it was one of your family members. We debated whether it was always the right thing to be honest, while usually honesty is the best thing, people brought up situations where it might not be, which really opened all of our eyes to both sides, in example, if your wife is pregnant and she asks you if you she looks fat in her dress, you don't say yes or that she looks pregnant. However, by far Discrete Mathematics, is the most challenging class I have ever taken. The professor in this class, really makes us think. While we may know that 2 times 0 equals 0, we weren't all able to explain and prove why the answer was correct. He opens us up to the concept that, yes, we know how to solve a lot of problems, however, we dont know why we solve them in the manner that we do. My career goal as of right now, is to become a secondary education teacher with either a focus in math or in English. So seeing the math that math majors have to take, was really intriguing and I really love it.
While the academics have all been amazing, this experience wasn't all about class. When I first arrived, I checked in, and received my room key. This is when it all set in. It finally set in that I would not be sleeping in my bed that night and I will not be sleeping in my own bed, in my own room, for two weeks. It set in that... I was going to have a roommate. The dorms are pretty spacious however, so having a roommate has not been bad at all, but I really do miss my bed. We have activities that we go to every night and many firsts happened so far. I rode a public bus and went to a thrift shop for the first time, the shop had really cool items and the public bus wasn't as bad as people make them seem. We have done capture the flag, until it rained, a lot. Fun fact: It rains in Indiana, PA basically everyday. We make 9:30ish trips to local fast food restaurants too, which has been fun.
Another fun fact: If you ever want to get healthy, just live on a college campus. College campuses really give you nice exercise. Dorms are on third floor, the dining hall is a little more than half a mile from the dorms, and math class is also a little more than half a mile, with many inclines. A few of our walking trips have been a mile or more from campus. When you add this all together we walk on average about 20,000 steps a day and 30 flights of stairs.
This trip has been really amazing, and I've made a ton of friends. However, I miss home. Utica is beyond amazing and I love all the people there, and I mainly miss.. the food. I gained a new appreciation for pizza back home and home cooked meals. I miss my friends an absolute ton. I miss my family and my house. But, there's no reason to be nervous about this trip, I come home soon and I gained many memories and learned a lot about educational studies and myself.
So Utica, I'm coming home soon because I really miss you.
In the spirit of that: ://www.youtube.com/watch?v=k-ImCpNqbJw