You ever so sad that you listen to sad music on purpose to be even sadder? Well here's a list of songs that I listen to just for that!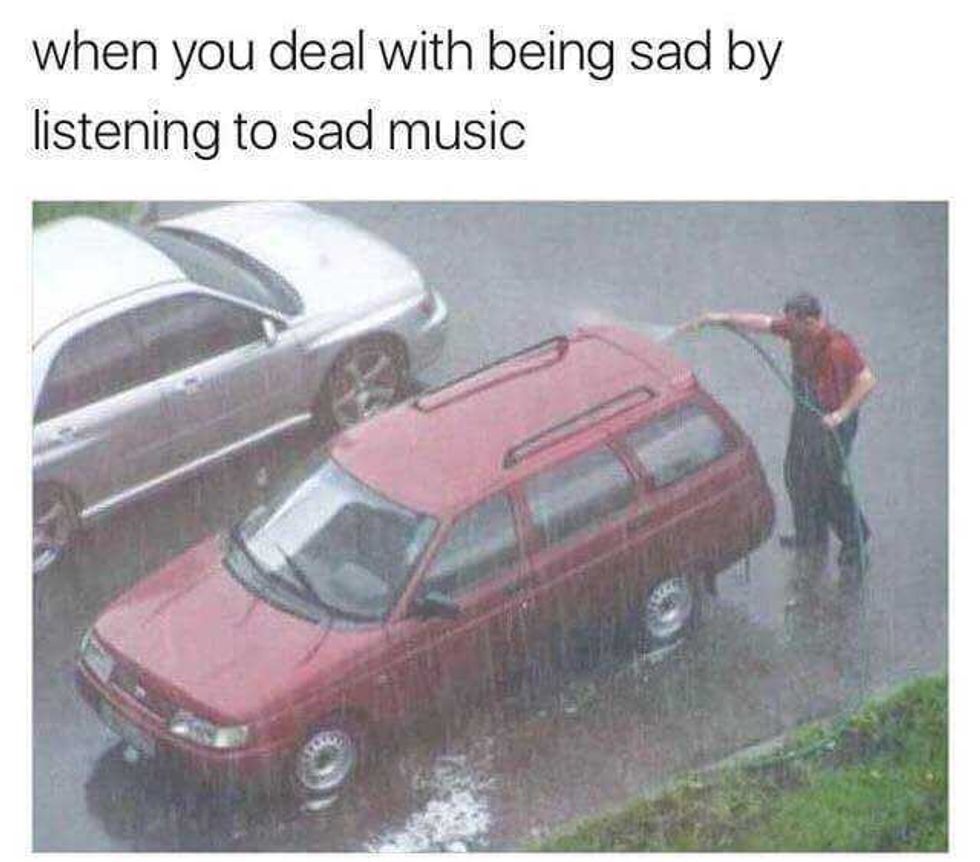 Whenever I'm depressed or need a good kick to feel even more depressed, these are the songs I listen to do just that. These sick boppers are the one to get the job done and help me feel worse about life.
Make sure to click on the link below or at the way bottom to check out the playlist I made on Spotify with all these depressing jammers on it!
---
*some songs might not be included in the playlist*

---
The Amity Affliction- All Fucked Up
This Is my Go To song when I really want to feel low!
Fall Out Boy- 7 Minutes In Heaven
Anna Clendening- To My Parents
As It Is- Okay
NSYNC- That's When I'll Stop Loving You
Bring Me The Horizon- Doomed
As It Is- My Oceans Were Lakes
Fall Out Boy- What A Catch, Donnie
Sleeping With Sirens- Low
Hawthorne Heights- Nervous Breakdown
ONE OK ROCK- Heartache
Crown The Empire- Lead Me Out Of The Dark
The Story So Far- Clairvoyant
The Wonder Years- There There
ONE OK ROCK- All Mine
Fall Out Boy- I've Got A Dark Alley And A Bad Idea That Says You Should Shut Your Mouth (Summer Song)
Little Brother- Cleveland, OH
NeverShoutNever- BigCityDreams
GrayScale- Beautiful Things
Pierce The Veil- Caraphernelia
Anthony Amorim- Hey September
Natalie Merchant- My Skin
Boston Manor- Trapped Nerve
La La Land- City Of Stars
Mayu Wakisake- 24 Hours
Sleeping With Sirens- With Ears To See And Eyes To Hear
SEVENTEEN- Don't Wanna Cry
The Wonder Years- You In January
This is my go to when I want to feel like no-one loves me
Fleetwood Mac- Landslide
GrayScale- Palette
MayDay Parade- You Be The Anchor That Keeps My Feet On The Ground, I'll Be The Wings That Keep Your Heart In The Clouds
Adele- Chasing pavement
Gabrielle Aplin- Please Don't Say You Love Me
Jeff Buckley- Hallelujah
Neck Deep- In Bloom
Iron and Wire- Such A Great Height
City And Colour- The Girl
Real Friends- I've Given Up On You
The Goo Goo Dolls- Iris
Hawthorne Heights- Ohio Is For Lovers
Sleep On It- Let Me Go
José Gonzáles- HeartBeats
Decemberism- Man OverBoard
The Wonder Years- Cigarettes And Saints
Paramore- The Only Exception
Chase Coy- Take Me Away
Pierce The Veil- BulletProof Love
Sleeping With Sirens- Stomach Tied In Knots
Bring Me The Horizon- Drown
This song especially makes me feel worse about life, but also gives me hope
Blink 182- What Went Wrong
Mat Kearney- Ships In The Night
NeverShoutNever- Small Town Girl
Front Porch Step- If I Tremble
From First To Last- Emily
Peter Gabriel- The Book Of Love
The Fray- How To Save A Life
State Champs- If I'm Lucky
SecondHand Serenade- Fall For You
Bon Iver- Skinny Love
I Prevail- My Heart I Surrender
Logic- 1-800-273-8255 ft Alessia Cara/Khalid
Carpenters- Rainy Days And Mondays
MayDay Parade- Stay
Chase Coy- I Fell In Love Once
José González- Stay Alive
ROAM- Tracks
A Day To Remember- You Had Me At Hello
Sleeping With Sirens- James Dean And Audrey Hepburn
This song gets to me each time I listen to it
Bring Me The Horizon- Can You Feel My Heart
---