Simone Biles has been a household name in the gymnastics world since 2013. She has racked up an insane amount of awards, earning the titles of three-time world all-around champion (2013–15), three-time world floor champion (2013–15), two-time world balance beam champion (2014, 2015), and, most recently, five-time United States national all-around champion (2013–16, 2018). On the 19th, Biles became the first gymnast ever to win five U.S. all-around titles, after she won every event in the U.S. Gymnastics Championships. This feat, alone, is impressive, but it is even more amazing taking into account that Biles took a two-year hiatus after the Rio Olympics.
Biles is often applauded for her poise, power, and grace out on the floor. But it is the fierceness and humility that she embodies in her work and everyday life that makes her so admirable. In 2017, Larry Nassar — former USA gymnastics team doctor — was convicted of child pornography charges and seven counts of sexual assault of minors... one of those minors being Simone Biles. Aly Raisman was the first gymnast to come forward about the sexual abuse that occurred, with members Maggie Nicols and Mckayla Maroney following closely behind (Biles and Gabby Douglas came forward later). The gymnastics sex abuse scandal rocked the nation, revealing a tightly-kept and dark secret within the industry.
Coming forward took great strength for all of the gymnasts involved. Oftentimes, they are seen as indomitable simply because of their sheer power and strength. Being able to push their bodies to almost superhuman limits falsely conveys the notion that they are invulnerable. But all women and men are at risk and can be targeted at any time, an important point to make in a world that is overwhelmingly consumed in rape culture.
Biles is an amazing role model for girls growing up in this generation. Aside from being a bad-ass gymnast, she shows young girls that there is a multitude of ways to achieve success and fulfillment. Social media has skewed the idea of what it means to be an influencer or to be famous. So many people are obsessed with attention and validation that they go about getting them in the wrong manner. "Trolling," aka deliberately making offensive posts or doing offensive things, has become popular by internet personalities like Boonk Gang, Woah Vicky, and Logan Paul, while young girls idolize Youtubers and Instagram models who are little known for anything other than being pretty or starting drama (Simplynessa15, Chandler Alexis, Tana Mongeau, etc.). Biles shows girls that hard work is rewarding and that they can be successful doing things they love, not things meant to shallowly draw attention.
Not only that, but Biles, and every other female gymnast, challenge traditional beauty standards and the narrative of what it means to be beautiful or feminine. Today's society is obsessed with being "thicc," which is unrealistic and impossible for many women. Biles shows girls what an actual healthy body looks like. We claim to be obsessed with fitness and being in shape, but oftentimes we worry so much about getting a bigger butt or bigger boobs that we don't place any importance on living an actual healthy lifestyle.
Even worse, we narrow-mindedly believe that large muscles are signs of masculinity. Not only that, but we kill ourselves trying to always be perfect: we need the perfect hair, makeup, outfit, selfie, etc., simply because we think anything less than perfection is not worthy. Among many other well-known girls her age, Biles is one of the few that posts pictures with messy hair, basic outfits, and subpar lighting. She isn't concerned with being perfect because she's unapologetically herself and she knows that's worth enough.
No, Simone Biles is not "thicc," nor does she always look like a perfectly polished model. But she is still unbelievably athletic, thriving, and beautiful inside and out... something that girls need to be constantly reminded of. Fulfilling beauty standards is not the only way for you to be seen or validated, and it is not a determinant of your worth.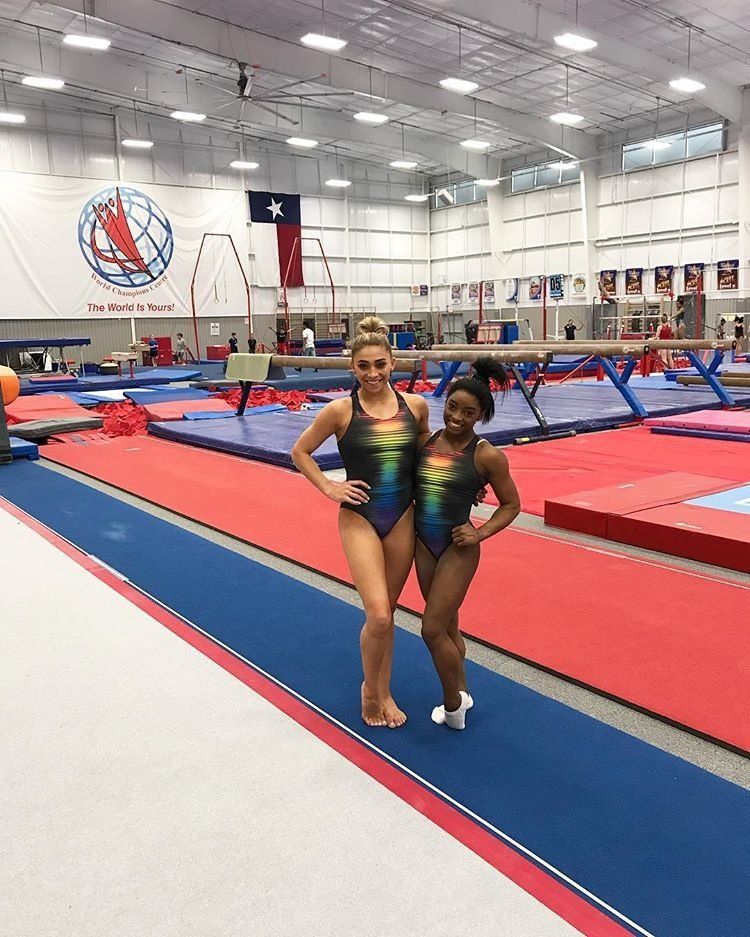 simonebiles / Instagram
Female gymnasts have been breaking barriers and inspiring others for years, and Simone Biles is no exception. Now, more than ever, we need more women who are strong, full of integrity, and unapologetically themselves.