There are so many bridal shows on television nowadays, such as "Bridezillas" and "My Fair Wedding." With all of the new shows constantly coming out, there will always be a series near and dear to our hearts: "Say Yes to The Dress." Whether your heart lies with "New York," "Atlanta," "Bridesmaids," or "Randy Knows Best," here are 11 ways that you know you have a bit of an obsession.
1. You know exactly what you want to a T...


You know what designers you like, styles you prefer, and what you're budget is going to be. #Lazarogirl all the way.
2. Or you have absolutely no clue because there are so many beautiful choices.

3. Deep down you know that Monte from "Say Yes to the Dress: Atlanta" is your spirit animal.
He is the perfect mixture of cheeky quips and southern charm.
4. You are now very aware who NOT to bring to your bridal appointment.

There are always those brides that bring groups of people that are overly opinionated and never have the bride in mind. You also know that it is never a good idea to have too big of a group with you.
5. Friday Bride Day is your favorite day of the week.
"Say Yes to the Dress," "Say Yes to the Dress: Atlanta," "Say Yes to the Dress: Bridesmaids," "Four Weddings," "Bride by Design," and more! It's everything our satin- and lace-loving hearts desire.
6. You judge other bride's fashion choices.
Some brides have the absolute worst choices when it comes to picking their dresses, especially if they have a theme. Legitimately, there was a girl that wanted a pirate-themed dress. I can't make this stuff up.
7. You're willing to travel to Kleinfeld's or Bridals by Lori to find your perfect dress.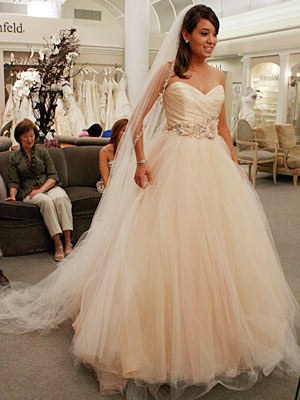 You can't wait until you're able to get up on that pedestal in front of your loved ones in a gorgeous wedding dress. These stores also have so many options that many other bridal shops don't offer, such as dresses in colored options, like this blush gown by Lazaro.
8. When Randy gets sassy and it makes the episode that much better.
Randy (most) always knows what is best for the clients, and when they go against his advice or are particularly picky or rude, he will unleash the ultimate sass.
9. You have no idea why someone would spend more than a down payment on a house for a dress.
$4,000 dollars is actually a reasonable price, considering that many of the brides go up to $10,000, and in some episodes, they have featured brides buying multiple dresses or even purchasing a dress upwards of $50,000. That is literally the price of two brand new cars.
10. You feel like you're best friends with the bridal associates.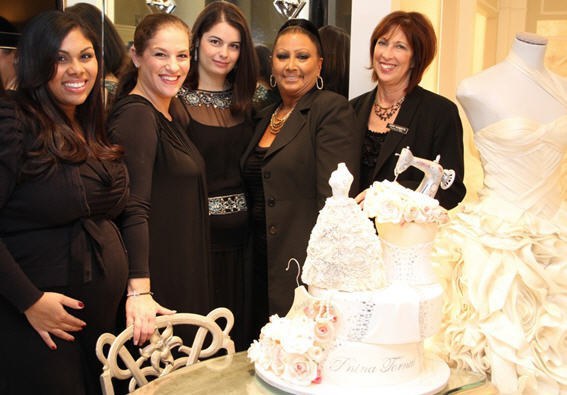 In addition to following the journeys of each individual bride, you get to learn about the bridal associates and their lives as well. Watching Nicole get promoted and Sarah pick out her wedding dress made us giddy with excitement.
11. And you can't help but smile and feel giddy inside when they finally say yes to the dress.
You can't wait to go shopping for your own wedding dress after watching brides find the dresses of their dreams. Whether they want to look like a princess or old Hollywood glamour, each bride that finds a dress fits them perfectly and makes us happy for them.