We all have guilty pleasures, and don't even think to say that you don't because you know you do. They are things that we secretly like or love but don't bother to share and tell our friends and family about it because they might seem a little embarrassing. It can be a type of food, TV show, or even a certain hangout spot that you love to visit. However, for this list, I will be sharing seven music acts that I consider to be guilty pleasures of mine. While I might not necessarily like everything that these artists put out, I do find myself listening to them if I'm either in a certain mood, like a particular song of theirs, or because I think they are very talented at what they do. So, in no specific order, here is my list of musicians that I am secretly fond of and therefore will make me lose some of my friends. Okay, obviously I'm joking of course but if any of my friends are reading this right now, I apologize in advance if me having a soft spot for these artists changes a little bit of your perception of myself or makes you want to laugh in my face, which is all good. No harm taken!
1. Nick Jonas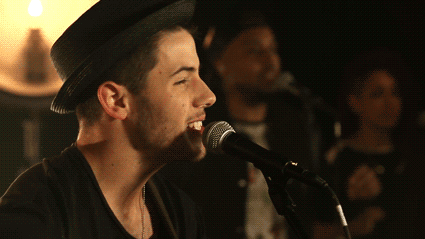 http://www.teen.com/2014/11/05/music/new-music/nic...

I know, but it's true. I like listening to a Jonas Brother. However, through my years of having to both watch and listen to the Jonas Brothers, partly, uhhh... nope actually all thanks to my loving sister, I thought Nick had the most star potential out of the three, sorry Joe and Kevin. Sure he's a former Disney star and to some his vocals, particularly his falsetto, might sound somewhat boyish which has led to a few of his songs sounding a little out of place or awkward based on what they're about lyrically. But in all honesty, I have never had a problem with Jonas' voice and the guy has dished out some pretty great tunes ever since he started his solo career. While he's certainly no Marvin Gaye or Barry White, Jonas still has shown his ability to write and perform some very sexual and intimate slow burners and ballads so far throughout his career and I honestly don't see him stopping anytime soon with these types of songs as they have seemed to work out well for him. So, hate me if you must for being a fan of a Jonas Brother, but what can I say? I like his music.
Favorite songs: "Close" (feat. Tove Lo), "Chains," "Levels," "Wilderness," "Bom Bidi Bom" (feat. Nicki Minaj)
2. Lukas Graham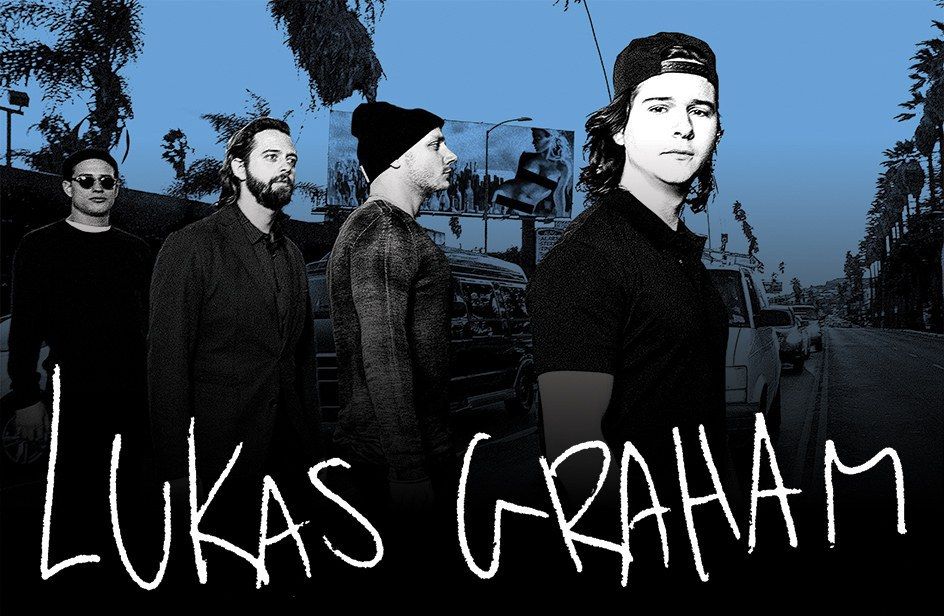 http://www.rds.it/gioco/lukas-graham/
To be honest, despite being somewhat fond of this pop band out of Denmark, I don't like their song "7 Years" at all, partly due to the constant amount of airplay it has gotten on the radio, but also because the song is very bland sonically and the lyrics are both confusing and not very well written in my opinion. The same can be said about tracks like the cringe-worthy "Strip No More" and "Drunk In The Morning." However, I have enjoyed many of the other songs off of their self-titled second studio release (but debut album released in the United States and United Kingdom) such as "Take the World By Storm," "Don't You Worry 'Bout Me," and "You're Not There" which have good melodies to them and empowering lyrics, especially on "You're Not There" since it deals with the painful loss of lead singer Lukas Forchhammer's father who died of a heart attack. Lastly, I would say that Forchhammer's voice is the biggest reason why I have secretly become a fan of Lukas Graham because the tone that he creates with his vocals is relatable to my own voice since I'm more of a person who likes to sing out and show emotion when I perform, so his voice is always a great one for me to sing along to as well. I hope to continue being a fan of Lukas Graham and I'm looking forward to hear what they put out in the future years to come. Yes they may be a bit corny, but I have grown to like them and that's all that matters to me.
Favorite songs: "Take the World By Storm", "Don't You Worry 'Bout Me," "You're Not There," "Funeral"
3. Christina Aguilera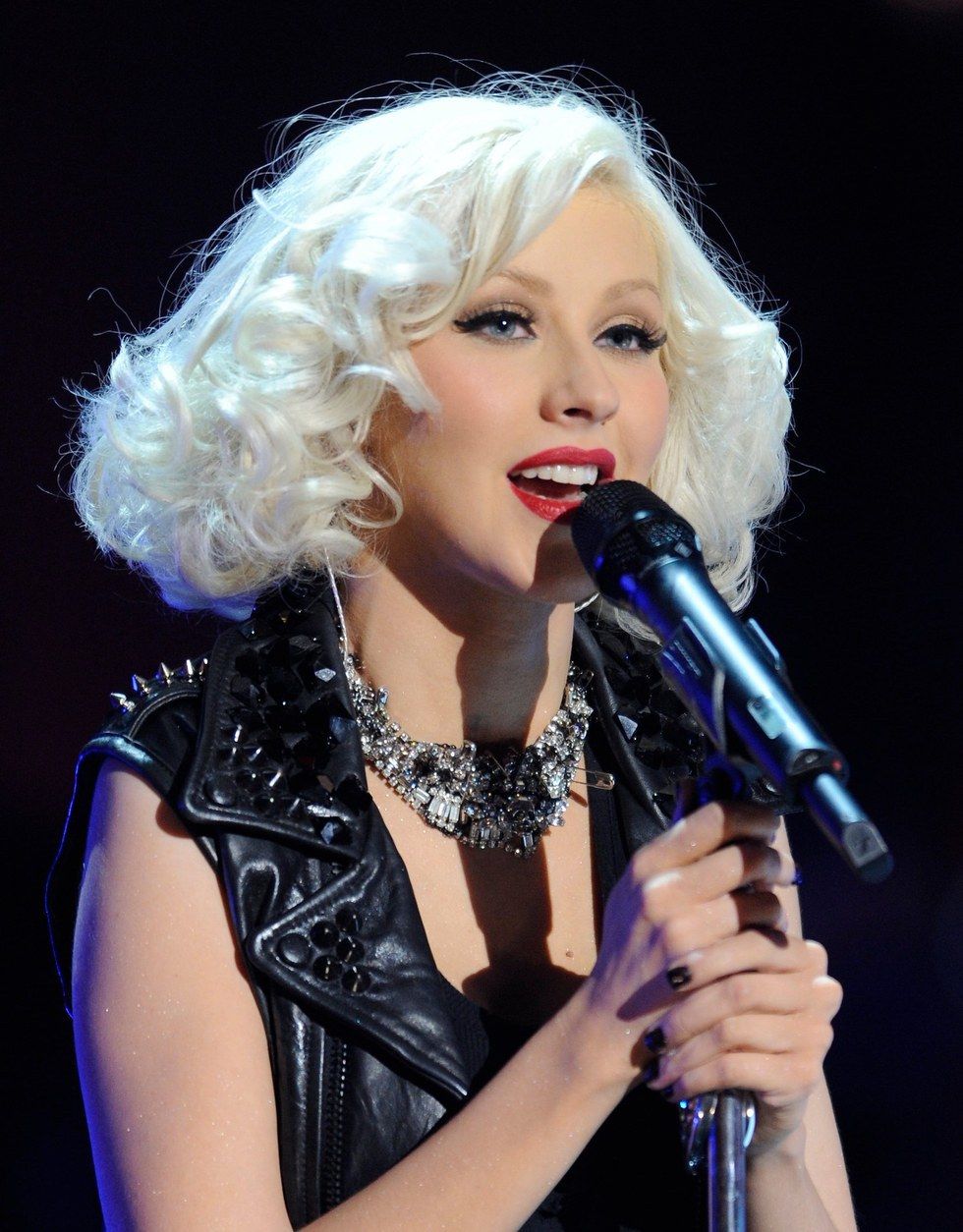 http://pinstake.com/christina-aguilera-singing-in-...
While many guys my age had a celebrity crush on the once princess of pop music, Britney Spears, back when they were younger during the early 2000s, I thought differently as mine was the one and only, Christina Aguilera. Now, I obviously haven't just liked Aguilera for her beauty and looks, although that is part of it, but her AMAZING voice is the main reason why I have always held a soft spot for her through the years. The amount of passion and power that she has and uses in her vocals is absolutely incredible and they give me goosebumps every time I hear them on any of her songs. Now, even though she's seemed to have hit a rough spot in her career over the last few years, I still think she has one of the greatest voices in pop music and has the ability to continue making impactful music in the industry today. Even at 21 years of age, I will always consider Aguilera to be my celebrity crush and I would take her over Britney any day of the week.
Favorite songs: "Dirrty", "Beautiful", "Fighter", "Candyman", "Ain't No Other Man", "Genie in a Bottle", "Reflection" (song from the Disney movie Mulan), "Your Body"
4. Christina Perri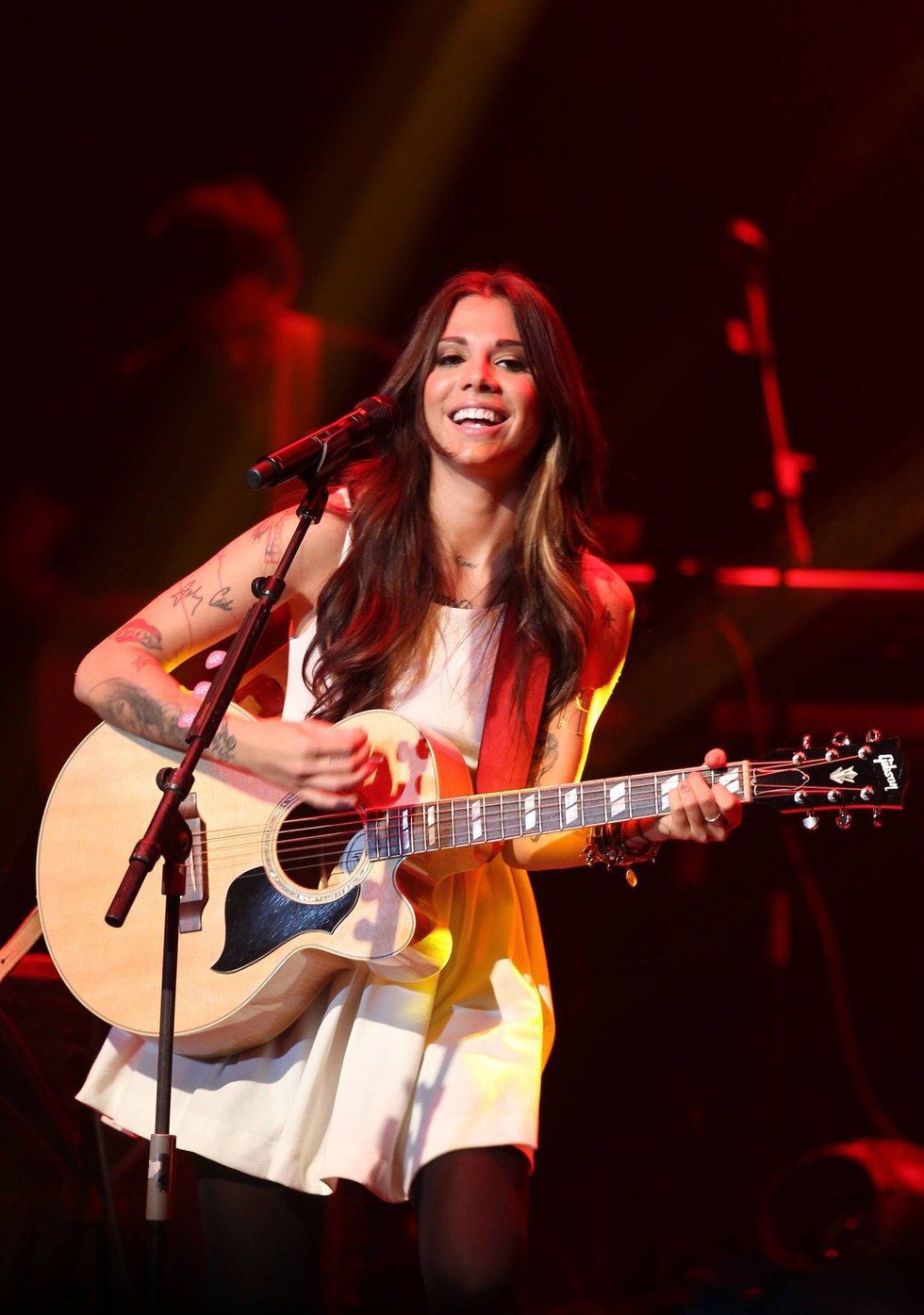 http://rage.com.my/perri-nice/

I still have memories of seeing Christina Perri open for Jason Mraz back in 2012 for his "Tour is a Four Letter Word" tour at Blossom Music Center, having no clue who she was at all, and falling in love with her music by the end of the outstanding performance she gave. Her voice, while not as powerful or strong as someone like Christina Aguilera's (aka "the other Christina"), was still soothing, relaxing, and captivating as well at points. Immediately after I saw her put on that impressive set during that concert, I started listening to her debut album lovestrong., became instantly hooked, and have been a fan of hers ever since. Whenever I am having an off day or feel like absolute crap to the point where I begin to hate on myself, I automatically turn to Perri's music because it is so calming to me and while many of the lyrics in her songs can be depressing and heartbreaking, they remind me that I'm still here on this earth for a reason and how I can acquire the strength and determination to get to my ultimate goal in life. You can bet that I will be listening to Perri's music for as long as I live, and I'm sure as heck not embarrassed for making that statement.
Favorite songs: "only human," "Jar of Hearts," "arms," "A Thousand Years," "distance" (feat. Jason Mraz), "bang bang bang"
5. Luke Bryan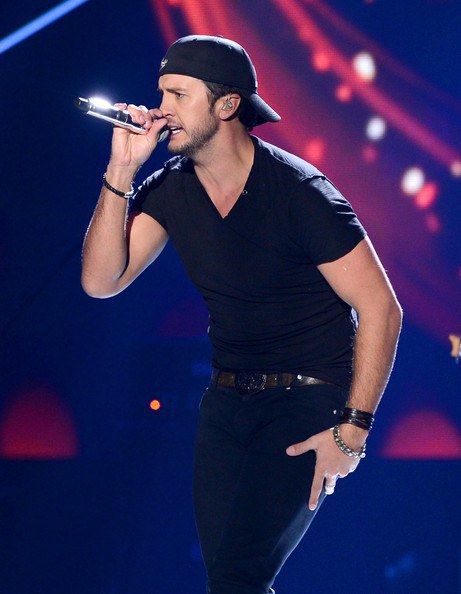 http://www.zimbio.com/pictures/cK3KJkglHRh/2012+Am...
Even though I haven't been the biggest fan of much modern day country music, especially in the bro-country sub-genre, Luke Bryan has been one of the very few country artists out today that I really like. For one thing, I will say that he has the best, if not one of the best, voices in country music right now as his vocals have a nice tone to them and aren't as nasal-sounding as some other country singers, and yes I'm talking to you Jason Aldean. While most of the topics he sings about in his songs aren't anything mind-blowing or intellectual, Bryan has dished out some songs throughout his career that contain lyrics of personal thought, emotion, and meaning. Some songs that come to mind regarding this include the powerful and in some ways beautiful acoustic ballad "Drink A Beer" written as a tribute to his late brother, and "Blood Brothers." The final thing I have to say to explain why I am fond of Bryan is praising the stage presence that this guy has while performing to sellout crowds all across the country. The way he can get his fans involved during his shows is awesome in my opinion as I've seen videos of him dancing and singing along to his songs with little kids on stage to showing off his many "creative" dance moves to ladies in the front row at his shows. So long story short, if you want to go to a country concert that is worth your money, go see Bryan live as I'm pretty sure he doesn't disappoint. Overall, while I don't care for everything that he has put out, Bryan is and will continue to be an artist I will stand behind and enjoy, after all I do own his entire discography from his 2007 debut record I'll Stay Me to his most recent album Kill The Lights which was released in 2015.
Favorite songs: "Drink A Beer," "Blood Brothers," "Kiss Tomorrow Goodbye," "I Don't Want This Night To End," "Baby's On The Way," "Kick The Dust Up," "Play It Again"
6. Sam Smith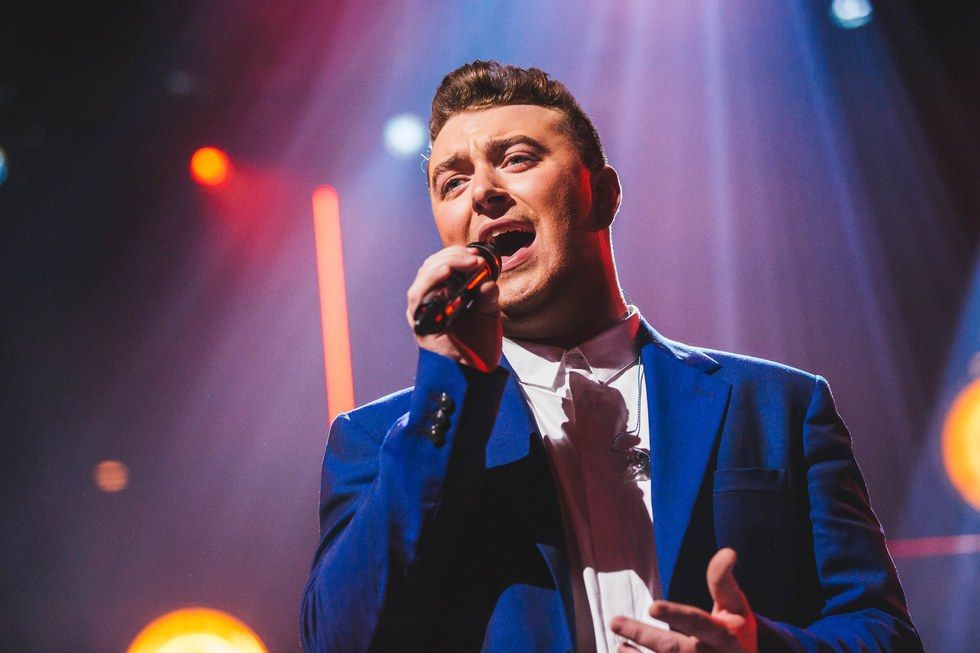 http://www.supajam.com/review/show/Sam-Smith-at-th...
Yes I like Sam Smith. Deal with it. He does have a great voice and I personally adore his falsetto especially on songs like "I'm Not The Only One" and "Lay Me Down." I realize that his music involves a lot of songs that contain lyrics regarding heartbreak, depression, and might seem a little too sappy for some people to even consider listening to, but he does a nice job at portraying the lyrics set to the songs through his passionate, raspy, and at times smooth vocal delivery. In addition, I am also a big fan of the songs that Smith has been added as a featured singer such as on Naughty Boy's track titled "La La La," and on Disclosure's hit song "Latch." While Smith has had a rough couple years ever since releasing his multiple Grammy award-winning debut album In the Lonely Hour back in 2014 by having to go through a surgical procedure on his vocal chords in 2015, and giving a somewhat awkward and mediocre performance of his song "Writing's On The Wall," which was the theme song for the 2015 James Bond film Spectre and won Smith both a Golden Globe and an Oscar for Best Original Song, I hope he comes back strong while returning back to the music scene again and I'm looking forward to listening to the follow-up album to his hugely successful debut record. But until that happens, I will continue practicing my own falsetto to his songs, even though it's still a struggle for me to get up to his level, if I ever get there.
Favorite songs: "I'm Not The Only One," "Lay Me Down," "Like I Can," "Latch" (Disclosure song, added as featured singer), "La La La" (Naughty Boy song, added as featured singer), "Good Thing," "Writing's On The Wall"
7. Ariana Grande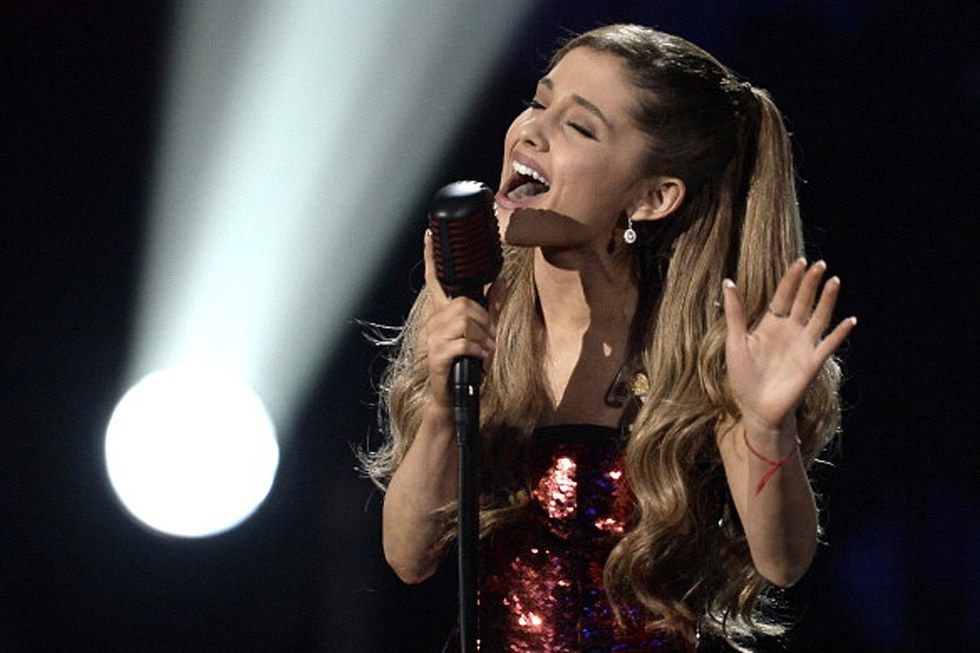 http://picphotos.net/this-is-a-video-of-ariana-gra...
Hey, how can I not like Ariana Grande? I might not actually care for her as an overall person, but I will admit that she's one hell of a singer, like seriously. She possesses a voice in which she can hit up to a whistle register and there are very few voices throughout the history of popular music who have had the ability to have as high a vocal range as Grande's. I know that many fans and critics have compared her vocals and music style to Mariah Carey's, which is a fair comparison to make, but the truth is that she is an artist that has been able to find her own sound and style thanks in part to influences like Carey. Overall, she is the real deal in pop music right now and while I wish she wouldn't come off so arrogant and self-centered in the media and press, I will always appreciate her voice and music. I mean go ahead and poke fun at me for being a fan of hers, but just listen to the songs "Problem" (feat. Iggy Azalea), "Into You," "The Way" (feat. Mac Miller), "Be Alright", and "Love Me Harder" (feat. The Weeknd) and you'll see why.

Favorite songs: "Problem" (feat. Iggy Azalea), "Into You," "The Way" (feat. Mac Miller), "Be Alright," "Love Me Harder" (feat. The Weeknd), "Baby I," "Greedy," "Moonlight," "Dangerous Woman"