This Sunday, April 30, Santa Clara University will host a number of powerful, influential women to take part in a day-long conference and networking event. The summit, which is open to students and staff of SCU, will host more than a dozen women and men who are outstanding in their respective career paths. These innovators/professionals/trailblazers come from all sorts of career and life backgrounds and their presence on campus is something you won't want to miss.
The day will be lively and exciting, with a number of opportunities to grab some free food. It'll consist of presentations by keynote speakers Blye Faust (Producer of Spotlight) and Sandra Spagnoli (Chief of Police, Beverly Hills) as well as breakout sessions that attendees can choose based on their personal interests. The breakout sessions will cover topics such as asking for a raise, finding your voice, destressing your life, being resilient, building your network, developing inner confidence, and several other matters that are particularly pertinent to young leaders on the cusp of entering the professional world.
But why do we need an event like this in the first place. It's 2017. Women have been accepted as part of the general workforce now for decades. Is it really that important to set aside an entire day teaching women how to be more principled leaders? The short answer is yes. The long answer is a little bit more complicated than that. Although women are as equally represented in the workforce as men, with nearly a 50/50 split between men and women in the professional world, female workers still face high levels of gender bias and discrimination in their daily work lives. On average, women make 20 percent less than their male colleagues. This number is even worse for women of color, with Hispanic/Latina women making a mere 54 cents to the white man's dollar.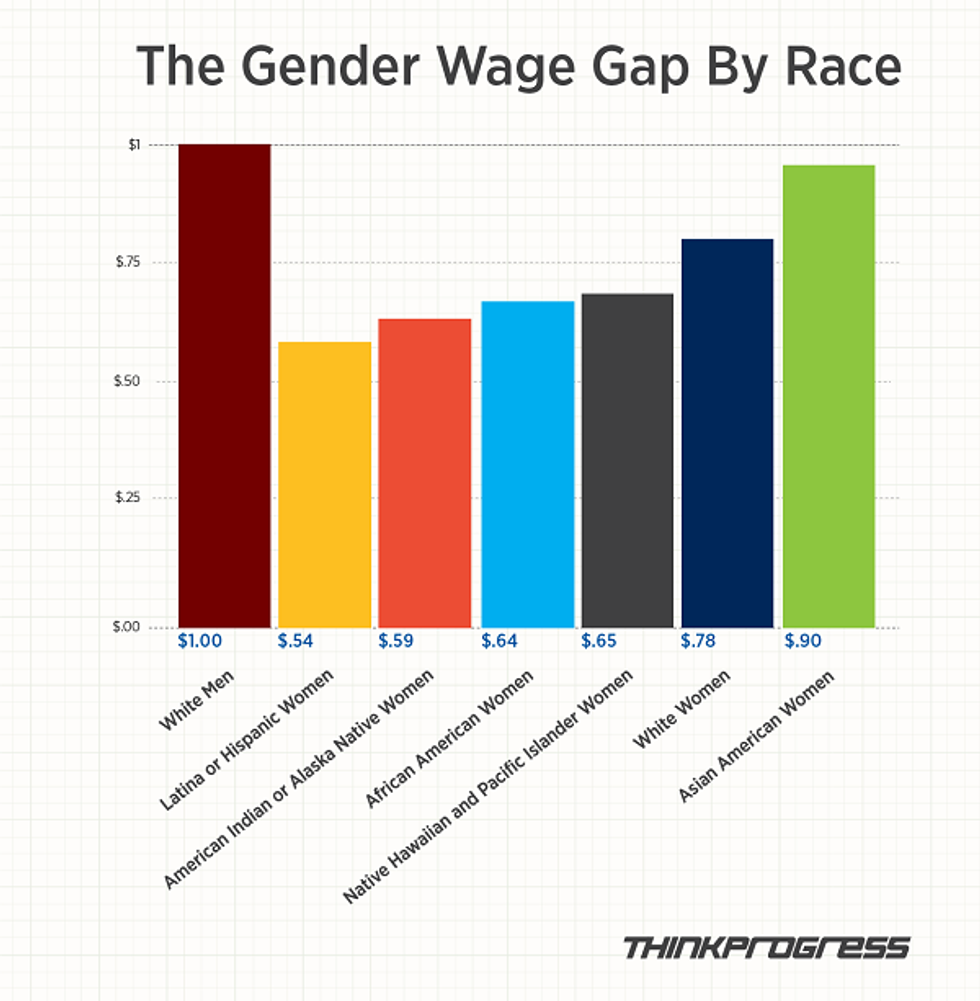 Source: ThinkProgress/ Dylan Petrohilos
Women also continue to face an extraordinary amount of sexual harassment in the workplace, with one in three women reporting that they have been harassed at work. 70 percent of those women will not go on to report the harassment, and many are unaware or unwilling to admit that the harassment is making them uncomfortable, for fear of retaliation.
It's clear that the fight for equal rights for women in the workplace is far from over. Despite the great strides we've made in the last years, decades, and centuries, we still have a long way to go to dismantle the social structures that have placed working women at a disadvantage over their male counterparts.
I, for one, cannot wait for the Summit. I am beyond excited to spend a day with other college students that hold some of the same values as I do and I am thankful to the conference for providing me with the opportunity to get to know some female role models and to be able to pick their brains for a day. My hope for the SCU Women's Own It Summit is that it will empower strong, courageous, passionate young women to find their voices and to provide them with the skills they need to excel, not only in business, but in life. I am thrilled to be a part of a university community that takes the advancement of women so seriously that we are dedicating an entire day to talking about it. The movement for female empowerment in the world we live in is far from over but, with a qualified, motivated group of people such as this one, I believe that we can move mountains.

For more information, or to get tickets to this event, visit their website.