The two musicians filled the stage with music. One wore a navy dress, the other a purple hanbok. One sat on a bench and leaned into the music. The other sat on the floor and cradled a long piece of wood. One played the familiar ringing melodies of a piano, the other the twanging notes of a geomungo.
A geomungo is a six-stringed zither, and it is just one of the traditional Korean instruments I had the opportunity to hear. Of course, a geomungo is not typically accompanied by a piano. More often, it is joined by a janggu, a Korean drum shaped like an hourglass, to make sanjo, a form of traditional Korean folk music. Sanjo pieces can last over an hour. I only listened to excerpts, but I heard both a traditional sanjo and the combination of the geomungo and the piano. The music is beautiful, playful, haunting, and utterly foreign to audiences accustomed to Mozart.
Sanjo is a lovely, difficult solo demonstration. Unlike a western solo recital, a drummer always accompanies the sanjo performer. Together, the two musicians maintain a set rhythmic pattern called a jangdan. The jangdan can have up to 24 beats in a measure. I used to play piano, and I am used to counting in three, or four or six. However, the sanjo performers must follow a rhythm of 24 distinct beats that cannot be truly divided into four or six beats.
The differences do not end there, however. Traditional Korean music also follows a unique musical notation system. With strings made from silk rather than metal and flutes made from bamboo, the instruments themselves have a different sound. To further distinguish sanjo from western solo performances, both the drummer and the audience of sanjo show their approval of the music with exclamations of encouragement called chuimsae. Chuimsae must come at the end of the drumming pattern. It assures the soloists that they are playing well and prompts them to play even better.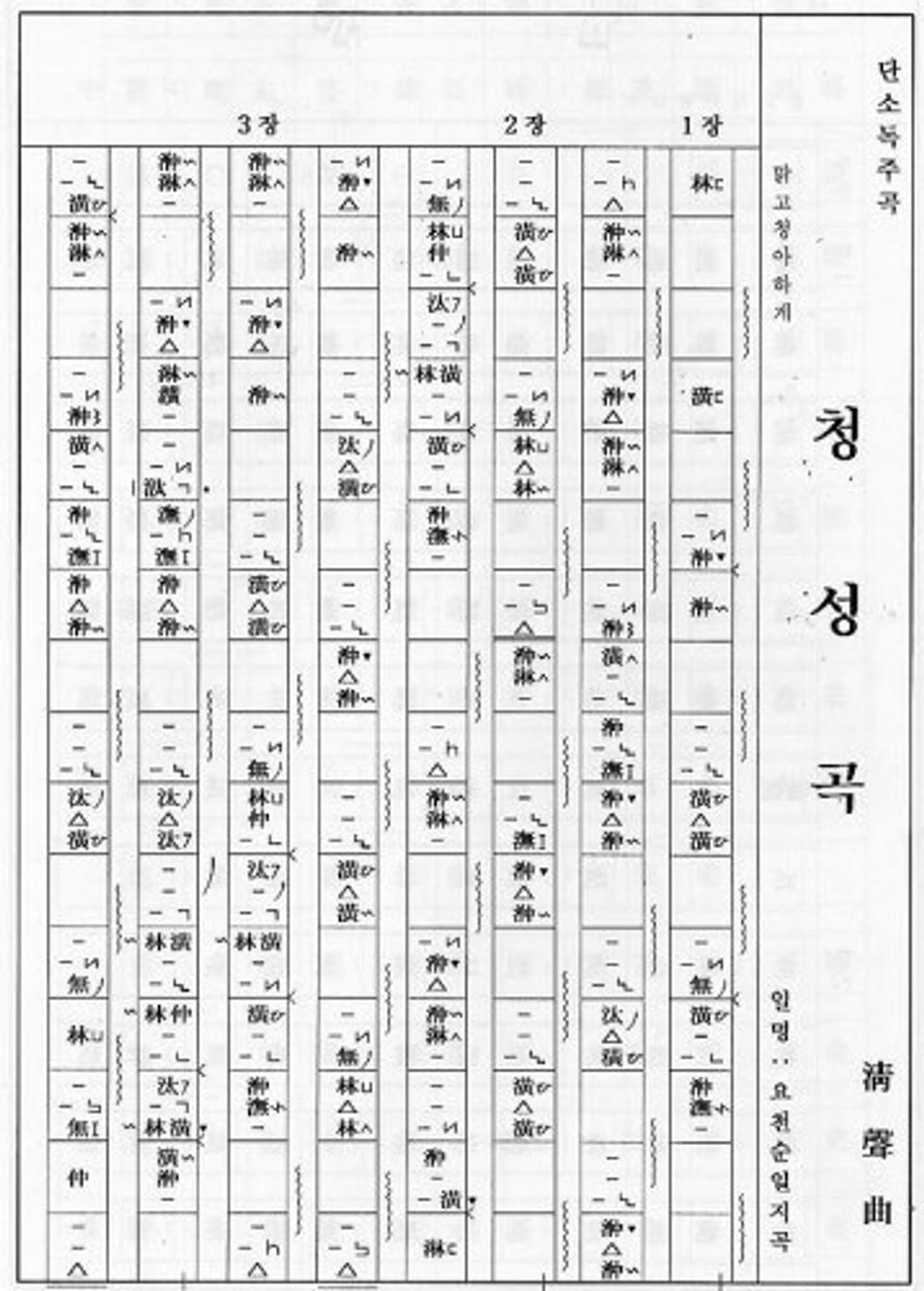 Jeongganbo
:
traditional Korean musical notation

All these differences were heightened by the collaboration of the pianist and the geomungo player. Sometimes the piano music and the twang of the geomungo blended together beautifully. Other times, they seemed to exist completely unrelated from one another. The sounds, rhythms and melodies did not mix, but formed two separate songs. I could turn this observation into a lesson on the blend and separation of cultures in our globalized world, but I think I should rather keep my assessments in the realm of music.

Even though everything about traditional Korean music is unfamiliar to me, I can still enjoy it. Those two women both dedicated their efforts to creating art from sound. Music truly is a universal language. It is the language we all speak and the language we all want to hear, no matter what traditions and techniques are used.