First-time Olympian, Jacksonville, Florida native, and 2013 Bolles School graduate, Ryan Murphy, will bring home a gold medal from the Rio Olympic Games after winning the men's 100 meter backstroke final. The current California Berkley Golden Bear swim team member narrowly missed out on the 2012 Olympics as he earned sixth in the 100-meter backstroke and fourth in the 200-meter backstroke, his two signature events. Only the top two swimmers qualify in each event.
This year was different, however. Ryan made the United States' Olympic team and was an early favorite for the gold. He is being called one of the next big names in swimming. Ryan qualified for the 100m backstroke final after racing a 53.06 second qualifying race - placing second in heat 3 to China's Xu Jiayu.
In the final moments of Monday night's race, Ryan pulled away touching the wall with a time of 51.97 seconds. Taking the silver was China's Xu Jiayu with a time of 52.31 seconds. Fellow American and also a first-time Olympian, David Plummer, took home the bronze with a time of 52.40 seconds. Ryan's win was not only a gold medal but also an Olympic record.
Ryan always knew he would be an Olympic champion. At the age of 8, he penned this letter to his parents: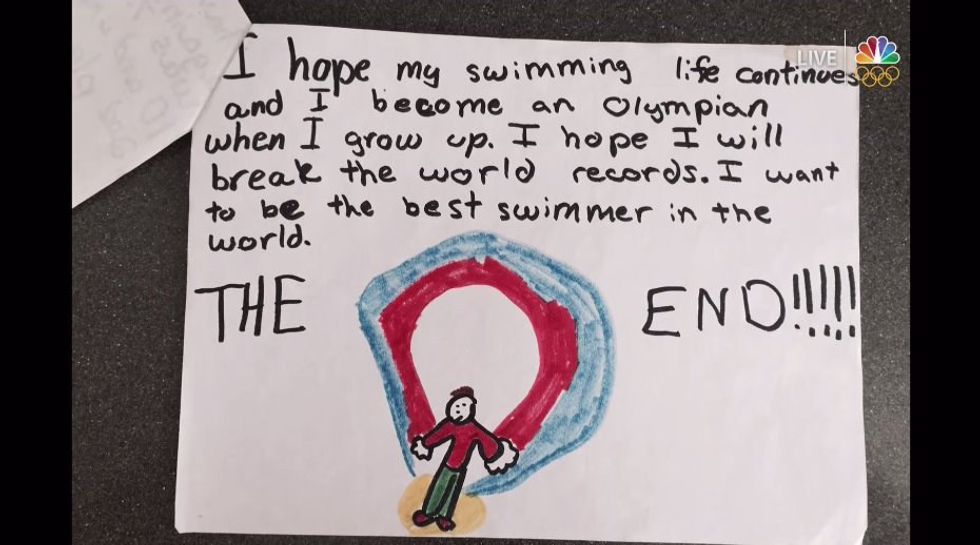 "I hope my swimming life continues and I become and Olympian when I grow up. I hope I break the world records. I want to be the best swimmer in the world. THE END!!!!!"
It is true that Murphy may now officially call himself the best 100m backstroke swimmer in the world, and with his win, Murphy kept an American tradition alive. A U.S. athlete has won the event at every Olympiad since Canada's Mark Tewksbury beat USA's Jeff Rouse by .06 seconds back in 1992.
Murphy is now among some of the best in the world and the best ever in the record books.