Translated into English by author

Sipping a cup of chai with steam escaping from the edges, Raj Vadgama sat down with me to speak about his recent achievement of completing the Badwater Race.
Besides running this race, Vadgama has also undertaken the "Bharathon 10000, a unique ultramarathon connecting the four corners of India," running from August 15, 2014 (Independence Day) to January 26, 2015 (Republic Day). The run was 9,902km long and took 165 days, going about 60km per day, to complete.
Considered the toughest and most prestigious foot race in the world, Badwater has proven to be impossible for many highly-trained runners. To have even considered undertaking such a trial is a feat within itself, forget loving every moment of the journey. More than anything, it is clear that running is far more than just a sport for Vadgama. It is a way of life.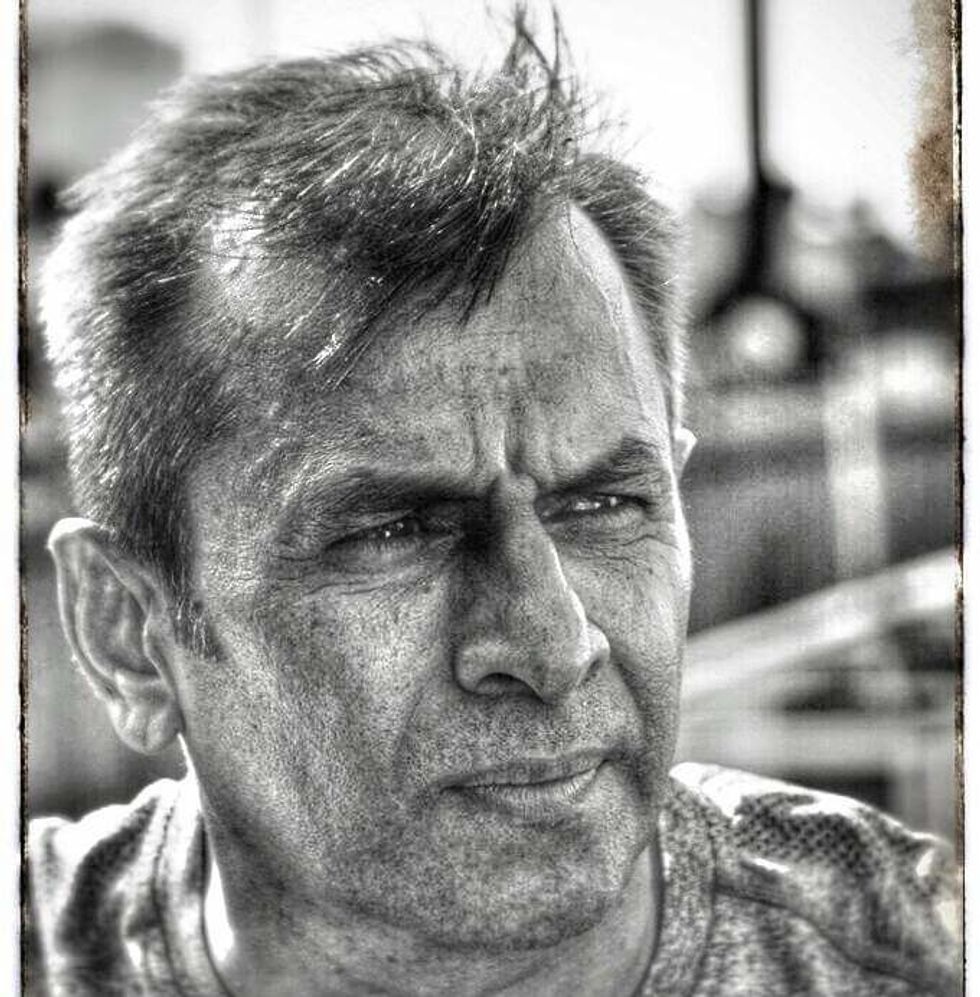 Raj Vadgama
Q: Why running?
I saw one article in the newspaper that the International Marathon was happening in India. It was the Standard Chartered Mumbai Marathon. So I said, "Yeah sure! Let's take a part and the goal is to win the race," though I didn't know what a marathon was.
I mean, it was something different after doing my own practice as an interior designer for almost 22 years. At the age of 35, 36, you settle down in your business, settle down with your family. So, I took a chance to participate in the marathon. It was 2003, September.
I still remember. I registered for the marathon, and the moment I got the confirmation letter, I started running. So now, from September 2003 onwards, I have been running.
Q: Have you always been into running?
No, I used to do martial arts. At a very early age, at 11 or 12, I started Chinese martial arts and practiced for almost 12 years. I also did competitive judo.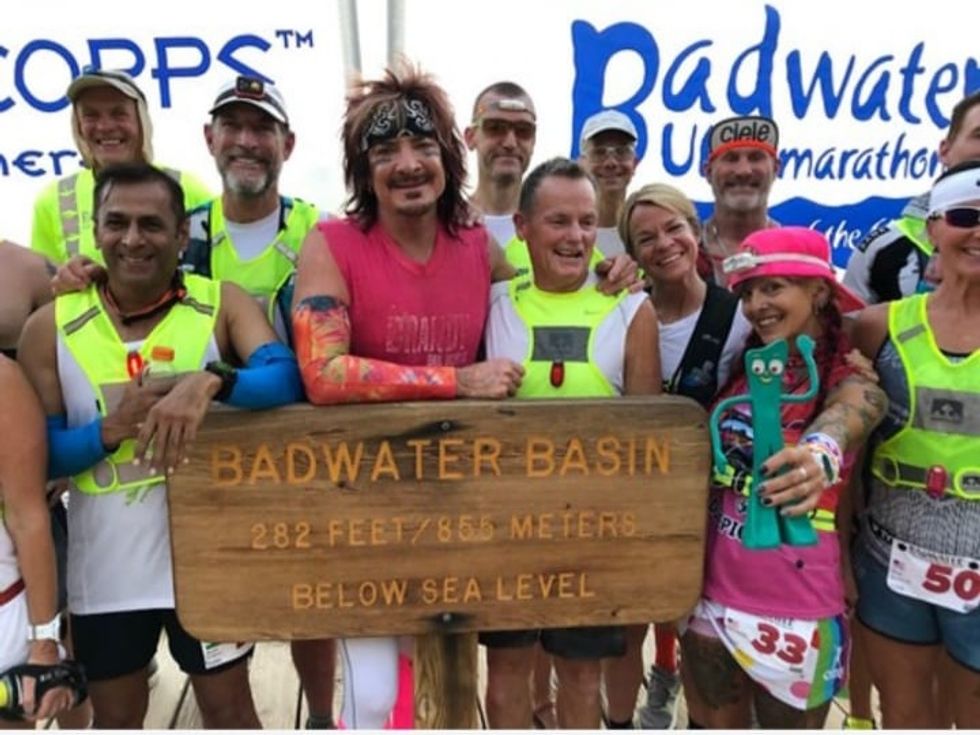 Raj Vadgama
Q: So how did that develop into the career you have today?
In 2003-2004, there was no idea of running for sport in India. People would just go to the gym; they might run 2-3 kilometers on the treadmill. Hardly few people — and normally we saw only on TV — they went to the Olympics and competed in the 100-meter, 200-meter. That's all people knew. Nothing about the marathon.
So, [other runners and I] used to practice together and we knew just that when you practice any sport, you have to do warm-ups, you have to do roll-down stretching. We knew this sequence because our master had taught us that much. So, I started taking warm-up sessions and after the run I started taking cool-down stretching. Irrespective of any sport you play, you need to develop a strengthening and conditioning of the muscles so you can play well. People started getting less injured.
Initially in the first two years, people had a lot of enthusiasm, you know. They just wanted to improve fast. But that doesn't work. Slowly, slowly they improved.
Q: Technique started to develop?
Technique started, yeah. Technique is nothing more than a simple strengthening workout.
So, in doing this, four to five years went by and by that time I was a known person in the running fraternity. So people would come from 50km away to the Aarey Colony to run with me. And by that time I was hooked on running.
Even with martial arts, I am a bit of an introvert. I enjoy solo sports, and you don't need anyone [in running]. Just put on your shoes and start.
Doing all that, I participated in a 50km ultramarathon. But, then, people started asking me, "Do you train?" Until then I wasn't really looking into anything. All of a sudden, you know you say, "Enough is enough." You don't want to earn so much money and you have to do what you really love.
Then it was a thought process in my mind that, 'Can I change my profession?' And then, I did the American Council on Exercise. If you're going to be professional and give someone training, then you need to know each and every portion of the human body. People asking me and initially, for two years, I would send people to other coaches, go here or there. But people started turning up to me [for training], and I thought why not. So, it became a second profession.
Q: Since it wasn't common in India, what did you refer to or did you have a mentor in the process of becoming a trainer?
We were watching a video of people running in 50-54°C temperature and they were blistering. In terms of technique and stuff like that, if you can perfect the conditioning your body, then you can play any kind of sport. The same thing worked for me with running; there were a lot of questions about shoes, barefoot running. There were a lot of things that I tried out, but thanks to martial arts training you develop your strength, you develop your balance of the body. I mean, you do it naturally.
When you see a small kid, 2-3 years old, when you see them run, we think that we are putting in so much effort. They don't put in effort: they just enjoy running.
There were people who were telling me, "this is happening to me, that is happening to me." I couldn't give an immediate answer so then I started reading a lot about running. Then, when I did American Council on Exercise, everything opened up. You get exactly what you're looking for any kind of sport. Then slowly, by reading, experimenting on myself with diet habits or running posture or shoes or what clothes to wear or where to put cream so you don't blister, over a period of time I developed training.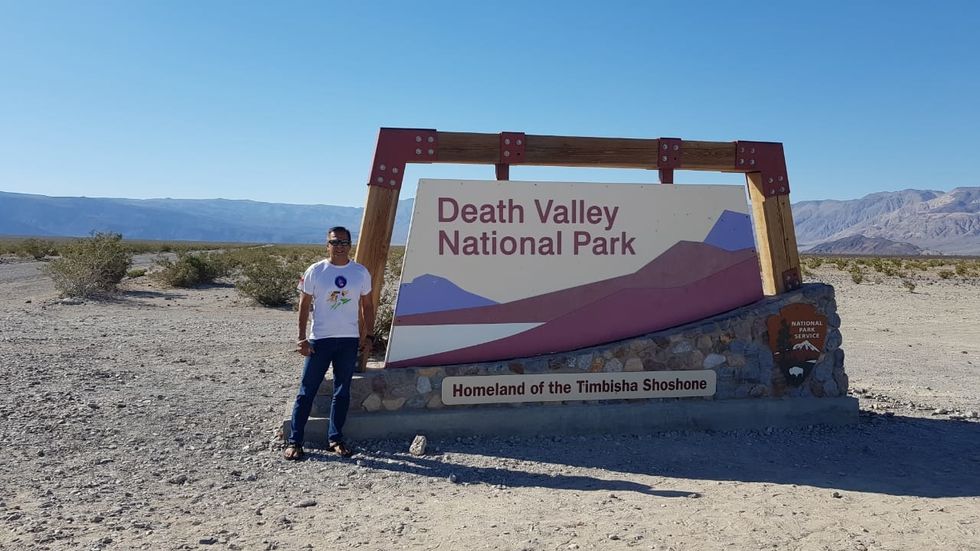 Raj Vadgama
Q: And all that led up to the race you ran most recently, Badwater. What exactly is Badwater and what makes it so special?
Badwater is a 217km (135 mile) race. Every race has a uniqueness about it. What's unique about Badwater is that you start from Death Valley (Furnace Creek). This is considered to be the world's toughest and most prestigious race. This time I did it, it was the 42nd edition [of the race]. When you're in the 42nd year, you have vast experience about organizing the event.
For a runner, when you go to participate, the experience has to be good. Irrespective of how tough the race is, organization is key. If you get the right information and if everything you need is there then the runner can really enjoy [the race].
Every ultra distance runner has a Mecca so yes, I had to do Badwater. It's one of the hottest places in the world. Badwater Basin is the lowest part of the Earth's surface, 285ft below sea level. There is a feeling you get when something is different in the world and you're standing at the starting line. There is an excitement. And I wanted to check how the human body can manage different situations, different atmospheres, so that's why I took part. That dream was 10 years in the making.
Q: What was the experience like?
Normally people say that they feel anxiety and nervousness before a race. I'm the opposite because I never feel anxiety. I never feel depressed. I never feel low as if, "Oh, will I make it?"
The reason is that I practice a lot. If you know that you are going for something, you have to prepare a lot. If you are not prepared, then don't do it. Again, I had read a lot about the experiences of the runners who have done the race 10, 15, 20 times. Everything was clear in my mind. All that was left was for me to experience it.
Q: How did you prepare for a race like this?
As I said, this race is the world's toughest, so you have to be qualified for it. Because it's hazardous running, there is the possibility of death. Fortunately, in many years, this hasn't happened. The process is that you have to complete three 100-mile races in a year, year-and-a-half. The second criteria is that you have to complete a qualifying run to be eligible to apply for this race.
From India, there were six people registered for the race, but fortunately, my biodata — being a marathon coach and since I have done a lot of runs and I have raised money for different causes — I got to represent India.
Then, you need a crew. Maximum you're allowed is four crew members plus a car, so I had two crew members from India and the other two from here. The car should be big enough to hold ice because if you're there 48 hours in 58°C degree temperature, then you need ice. And, throughout the race, on the complete route, there are no hotels.
There are three different cut-offs throughout the race. If you do not finish within that particular time, then you are out from the race. First 80km, then 122km, then 150km are the different cut-off points. At night when you're running you need a reflective vest and lights; these are their rules and regulations. That's why I was saying: they have every single detail precisely planned so there's no chance that you'll miss something.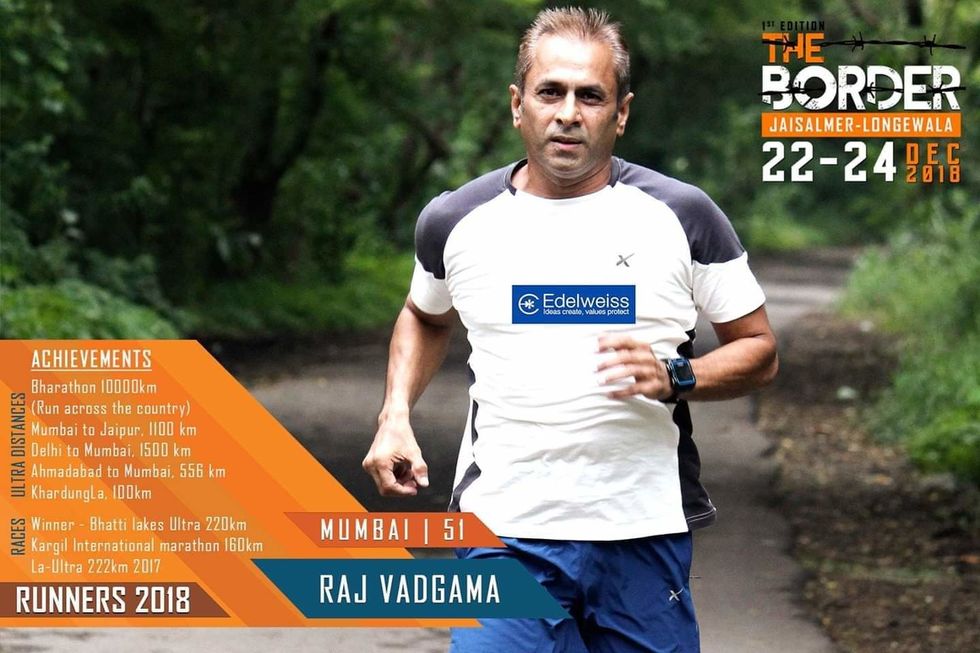 Raj Vadgama
Q: For a majority of people, even running 5km sounds mentally exhausting. What are you thinking about when you're running something like this?
Running is my sport. No doubt. I'm a hardcore runner. But people don't enjoy running. People say, "Why are you running every single day on the same route?"
When I'm standing on the starting line of any race, whether it's the 5km or a 500km, the excitement is there. I had read something that someone had written. That the reason why running is such a different sport is because irrespective of the color of your skin, the god you worship, or the language you speak, we all are the same at the starting line. And we all are winners when we finish the race.
I mean you could get a medal, there's no doubt, but there is a self-achievement in running. People run together, but it's an individual sport. Cause you have to cross the finish line. And that's why I'm running.
The moment you start running there's excitement, but slowly you get tired. But when you're tired and when you feel very bored, what you have been practicing is what you have to remember. And instead of thinking about the finish line, I enjoy every single step. Like when people are crossing, or when I see some nature, or there's a crew member who's giving me water. Every single clap for us is exciting.
You're in the moment.
Yes, exactly, in the moment.
Q: What was the first thing you did at the end of the race?
There was a bit of a problem with my wife, who also had come to be a part of my crew. She had a heat problem so she shifted to the hospital. It was that 6-7 hour period that was very tough. Because when something like this happens, you mentally break down.
But what I thought was that there were people who I trusted — being a marathon coach I have more than 2000 students — and they look at you like, 'Well, if the coach fails, then what will happen to us?' I got information from another crew member that she's in the right health and I don't have to worry about it.
My thought was not to cross the finish line, but if my wife will come or not. From Lone Pine to the finish line at Whitney Portal, that is 21-22km so that was a very difficult part. It was uphill and I had started at 11 a.m. so the heat was also there. And you have to climb up to 8000 feet above sea level.
In my mind there was the thought of will she come or not. And I couldn't even tell tell her to come because she was not well. But, she came. And I thought let's let everyone hold hands and cross the finish line together.
The moment you cross the finish line it was a dream, as I told you. That 10 years old dream and the moment I crossed everything was peaceful. It was like standing in the deep sea.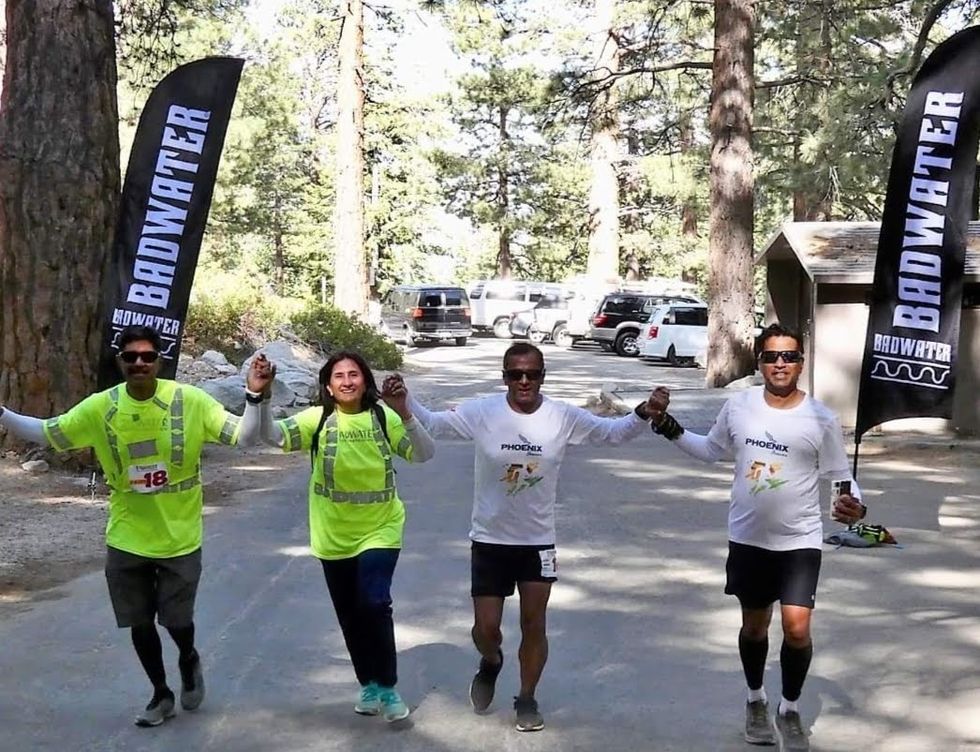 Raj Vadgama
And your final time was?
44 hours, 37 minutes, 39 seconds.
Q: Wow. You said this was your dream for ten years. Obviously there's a lot more coming up in your career, but was this the BIG achievement?
This was the big achievement.
The reason is me being a coach. And when you are a coach, you are also a teacher. People look at you in a different angle. You have to speak a certain way or act a certain way. They see you as a hero. And the hero never fails.
Q: And you said that you have about 2000 students back home. What is your business like at home as a trainer?
Currently, I have reduced my profession. I am connected with a club where I train 200-300 students, but I train people online as well.
I was getting up in the morning at 4:00 a.m. early morning, then in one hour I make sure I'm ready. Usually in the Bombay area, people train in the morning or in the evening because in the day time it is very difficult for people to train or run or anything because people need to work. Not like in the USA where I've seen people running in the afternoon, as well.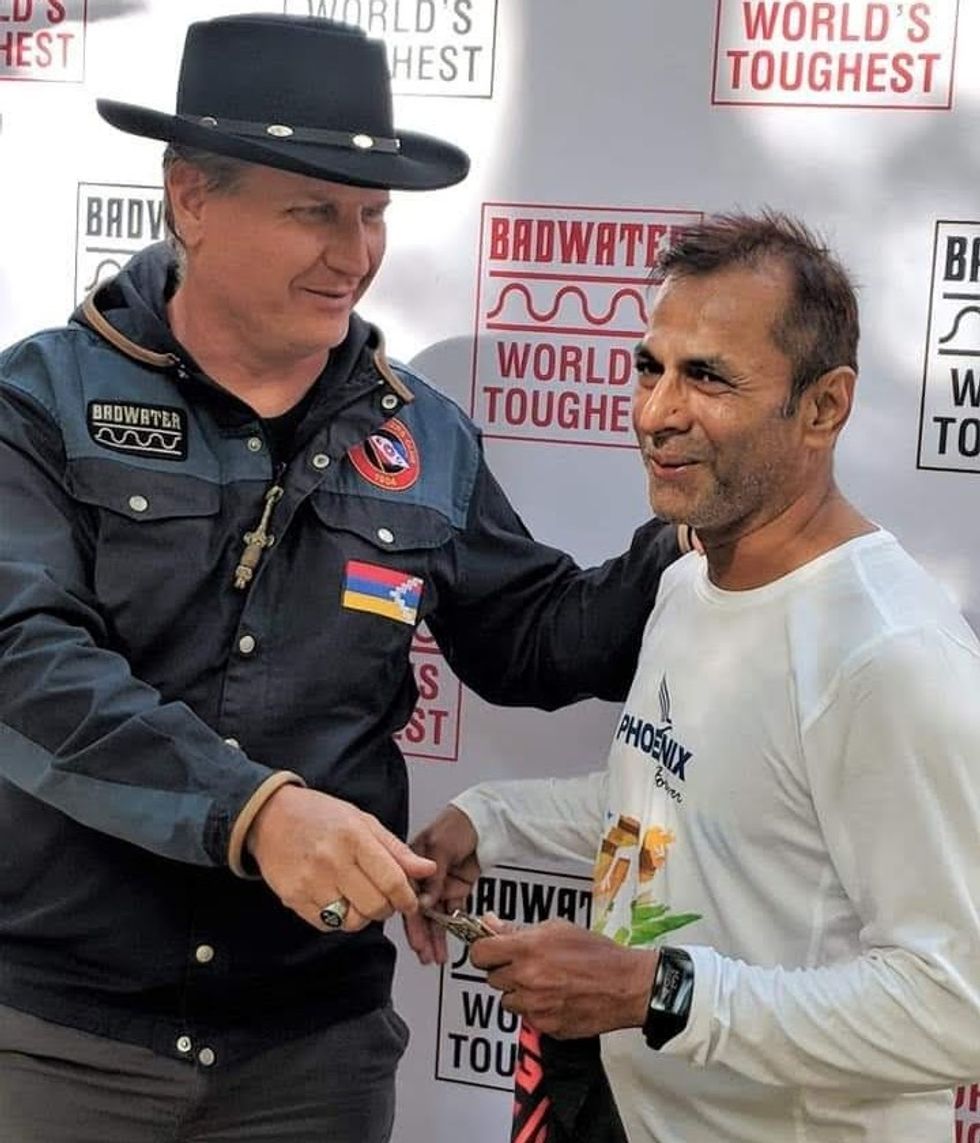 Raj Vadgama
Q: What's in the future?
Definitely I will look for some more challenging runs. But the future of running is that people have transformed a lot from the running I have seen. They reduced their weight, they improved their fitness, and most of the medical conditions lifestyle-related, they reduced it. Whether you say diabetes or blood pressure or people who have cardiac problems, as well, they improved their running. They are also running 100km nowadays.
My goal is to spread the right training program to the people. So, in simple words, I want to educate the educated people. Everybody wants to be fit, everybody wants to start running. I want to give them the right training program because when you practice for a race like Badwater you learn a lot. We also get injured. We know some medical/mental stress is there, so that mental stress we can help people overcome that. One hour is hardly four percent of the day. Anybody can put that effort in.
Q: Can you see more and more marathons coming to India?
There are, there are.
From last five years, I think more than 3000 marathons are happening every Sunday in India. Whether 5km, 21km, half marathon, full marathon, and ultra. It's a good profession also, of course. [laughs]
Q: Any lasting thoughts?
Any sports or anything in the world, if you want to achieve, there are three things that you have to follow. Physically, mentally, and most importantly your soul; if you are connected with your goal emotionally, then both other things will follow in place. So, mind, body, and soul: three important things you can achieve and you can cross the finish line anytime.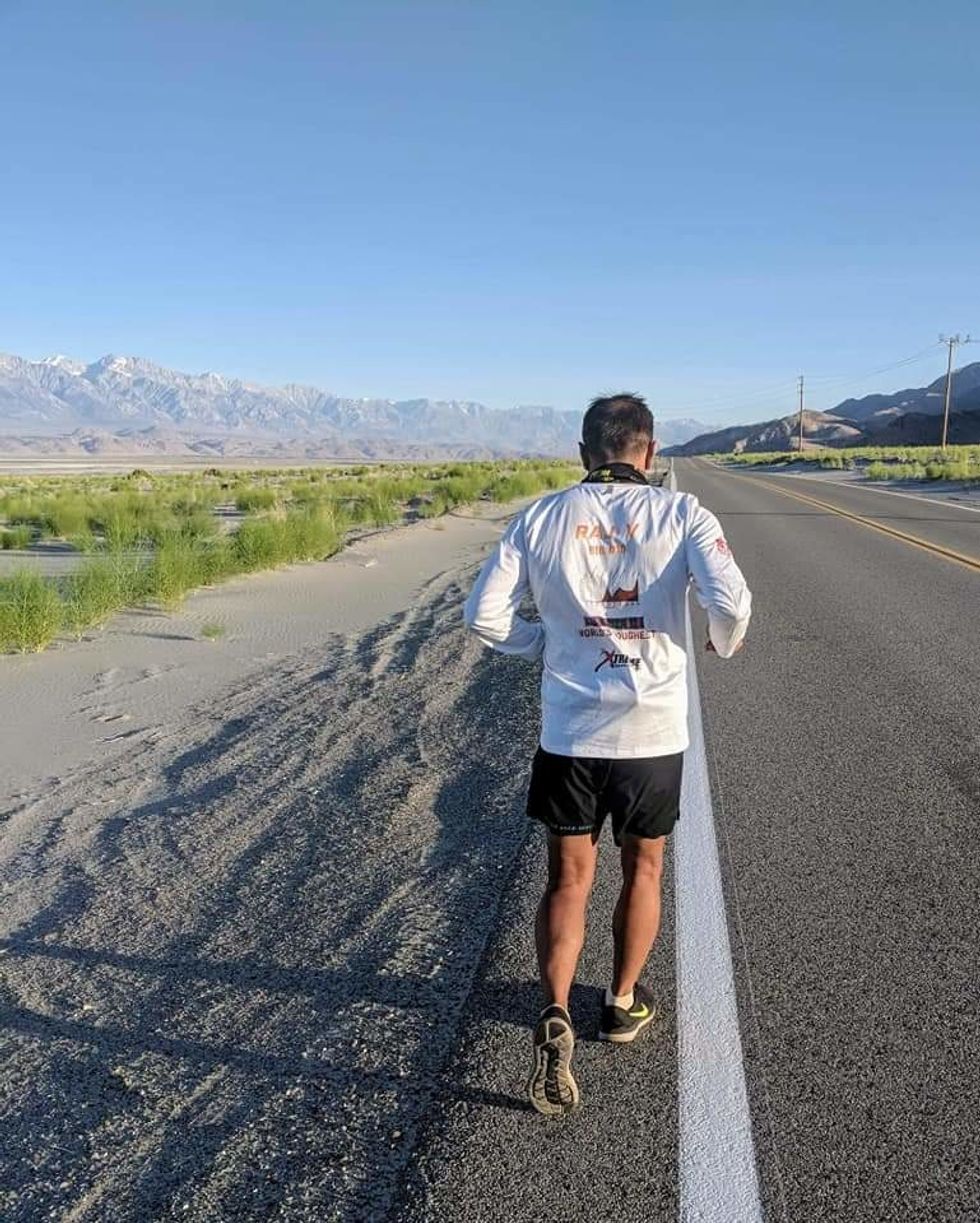 Raj Vadgama
Related Articles Around the Web