As soon as I saw the throng of articles popping up on my Facebook feed about a bagel shop in Brooklyn selling rainbow-dyed bagels, I knew I had to take the opportunity to go and try one while living in New York City.
Scot Rossillo founded The Bagel Store with the idea of creativity always being on the menu; he's been making these colorful creations for over two decades.
https://www.youtube.com/watch?v=-H1wAtCKlIE
Due to his rainbow bagels only being made in small batches, Rossillo's team can't keep up with the demand of orders coming in. This memo is currently posted on the store's http://www.thebagelstoreonline.com website: "We are no longer taking reservations, everything will be on a first come, first served basis. We cannot guarantee to have any product in stock at any time after our viral videos. Thank you for your patience and understanding." Before this memo, rainbow bagels were available to be shipped nationwide as well as delivered locally. However, if you want to be notified when they open for more orders again you can submit your contact information to their list http://www.shop.thebagelstoreonline.com here.
On Saturday morning, I ventured to one of the two locations of The Bagel Store with a couple friends to try this new food trend. When we arrived outside the small shop around 8:45 a.m., there was already a small line forming- proof that their latest social media exposure is making an impact on business.
I ended up ordering not only a rainbow bagel with strawberry cream cheese, but also a bacon, egg, and cheese on a plain bagel for the sake of comparison. For some reason, my rainbow bagel's color was more of a strange tie-dye looking concoction rather than a beautiful Play-Doh creation, but that was okay with me because the strawberry cream cheese was delicious.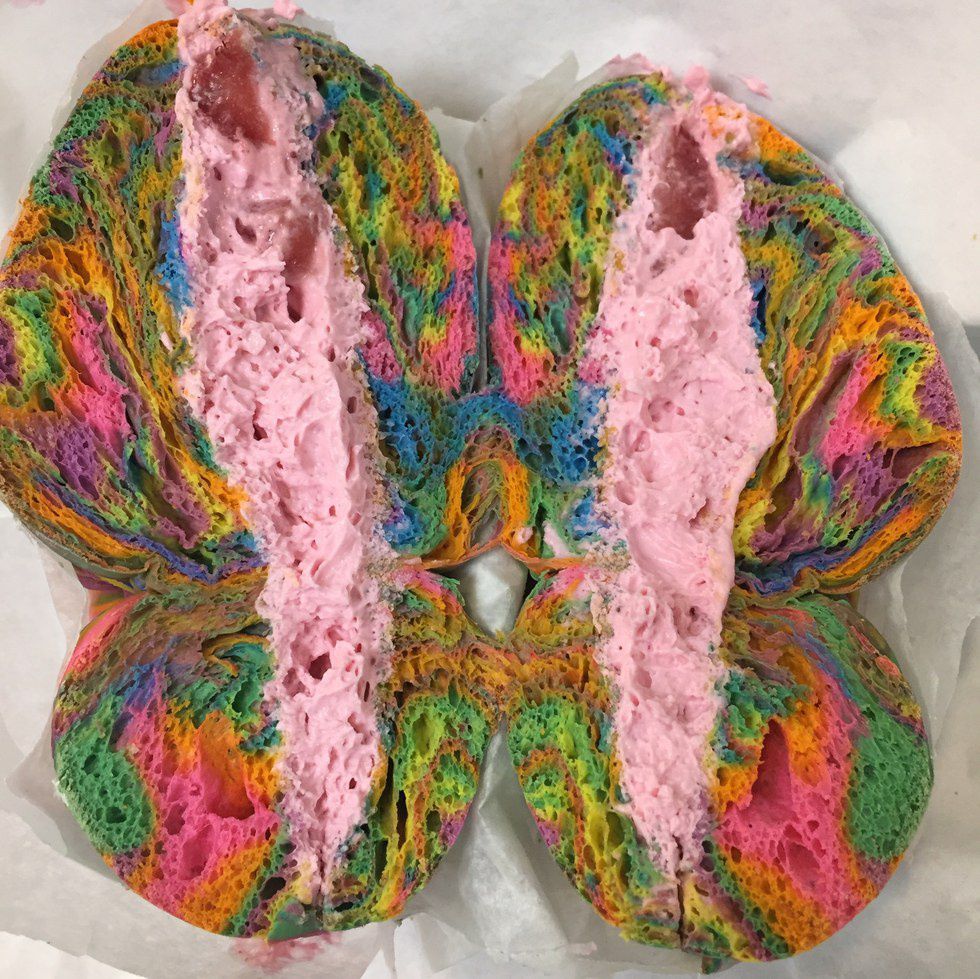 One of my friends went the trending route of getting the rainbow bagel with funfetti cream cheese, but also went for something savory and less recognized, but just as good with a bacon, egg, and cheese on a "cragel." Cragels are another invention of The Bagel Store; they call it a cross between a croissant and a bagel. I ended up wishing I had gotten a cragel despite the almost extra dollar it costs. My plain bagel was still delicious, but after having a bit of the softer and thinner cragel, I was sold.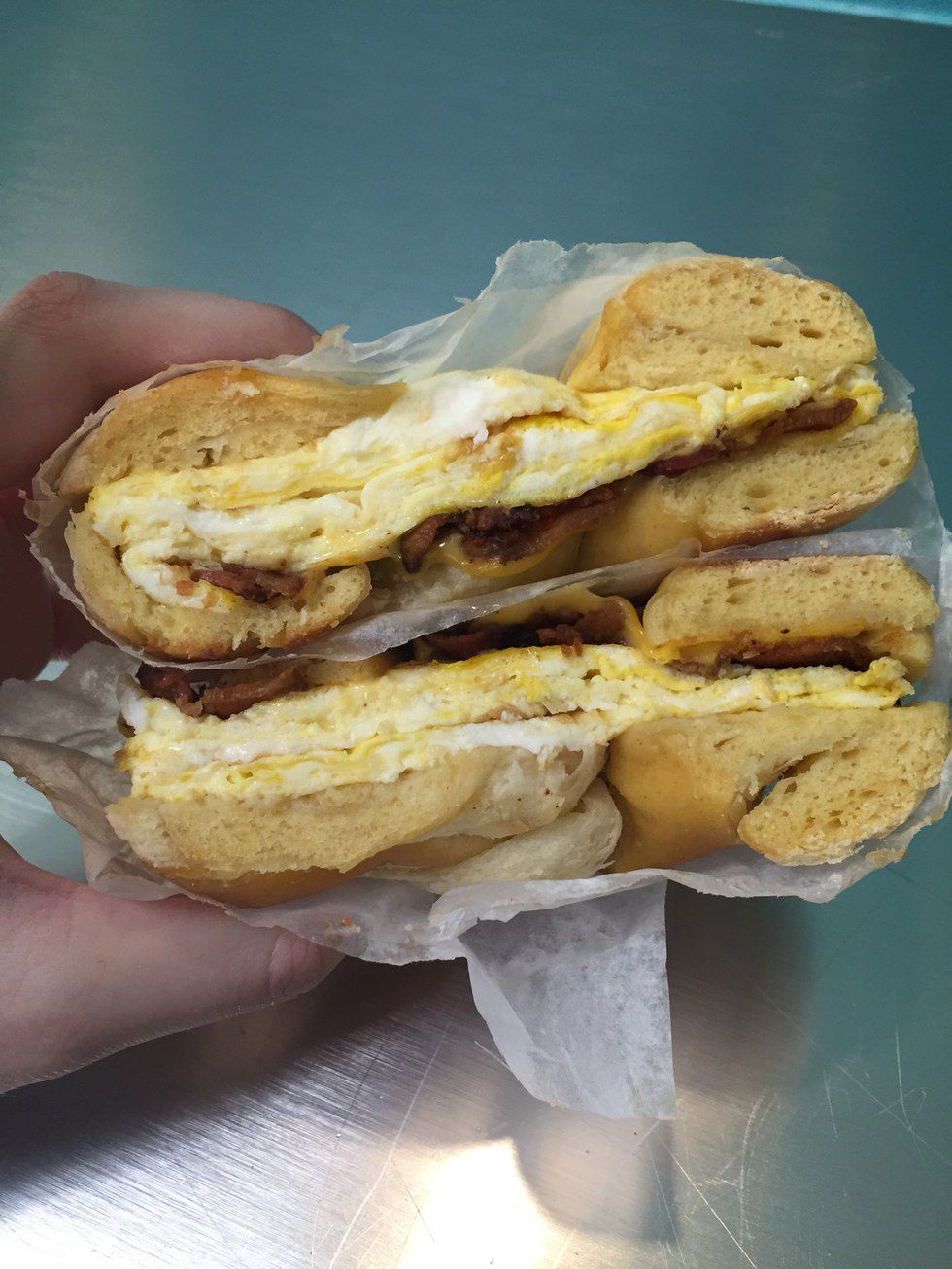 My other friend went with their tofu cream cheese on both of her bagels (rainbow and plain with avocado) and liked it a lot. The added variety of cream cheeses and spreads is a bonus for the store. They range from cannoli and cookies and cream, to spinach and artichoke.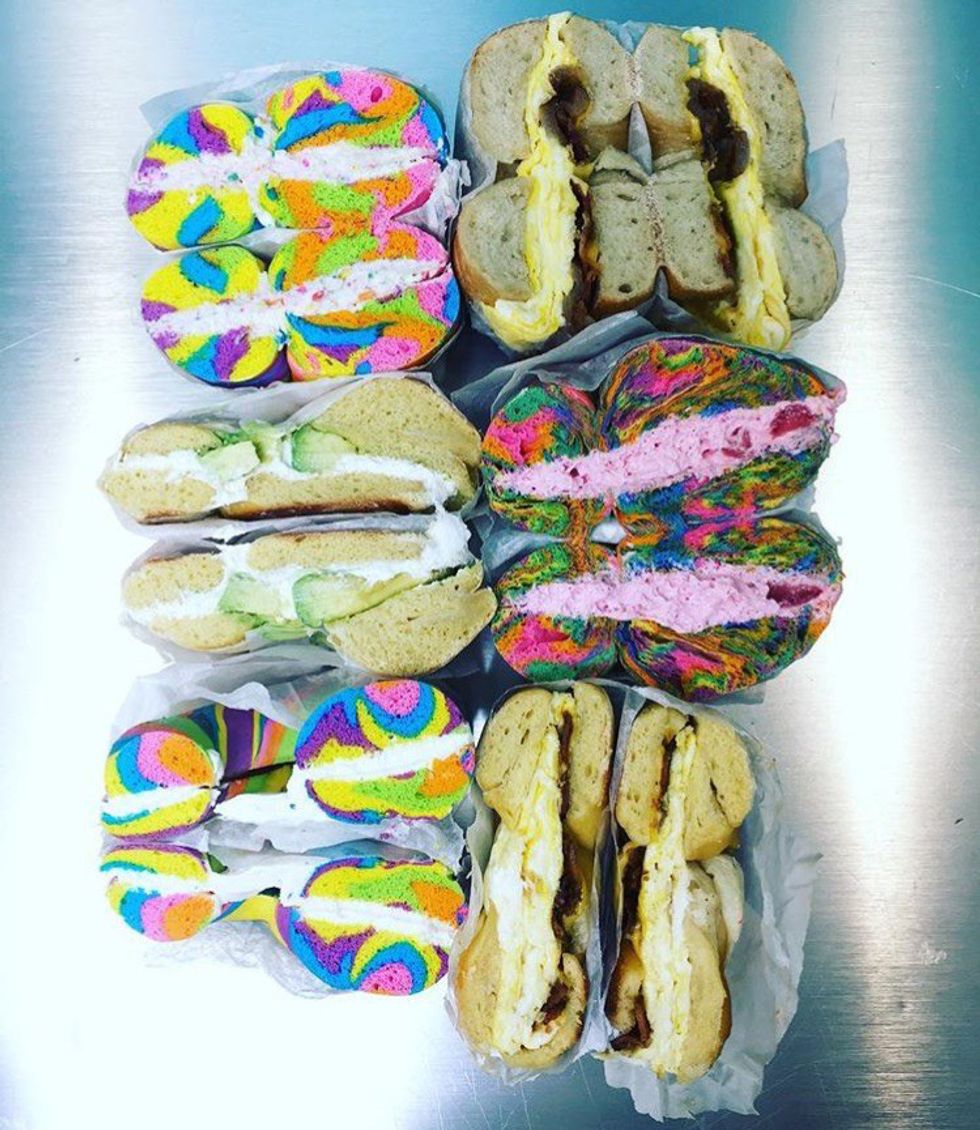 I was happy with my experience at The Bagel Store overall, but be aware that prices are steep for bagels and the cost adds up pretty fast. They also only accept cash payment and have an ATM available right in the store in case you are surprised by all that you accumulated while your eyes wandered the menu.
I may go back to the store again, but next time it probably won't be for their rainbow bagels, but rather their variety of cream cheeses and cragels. At the end of the day, my friends and I agreed that the rainbow bagels were Instagram worthy and beautiful, but they didn't taste all that colorful.