Thanks to coronavirus (COVID-19), most of the United States has gone into its own version of quarantine. While no one loves this new way of life we're adjusting to, it's the necessity that will eventually help us fling open our front doors and frolic freely once again!
Premature thinking? Maybe. But while we're in the midst of this quarantine time, we're chatting about the most terrifying, the funniest, and the weirdest thing that quarantine has forced us into recently.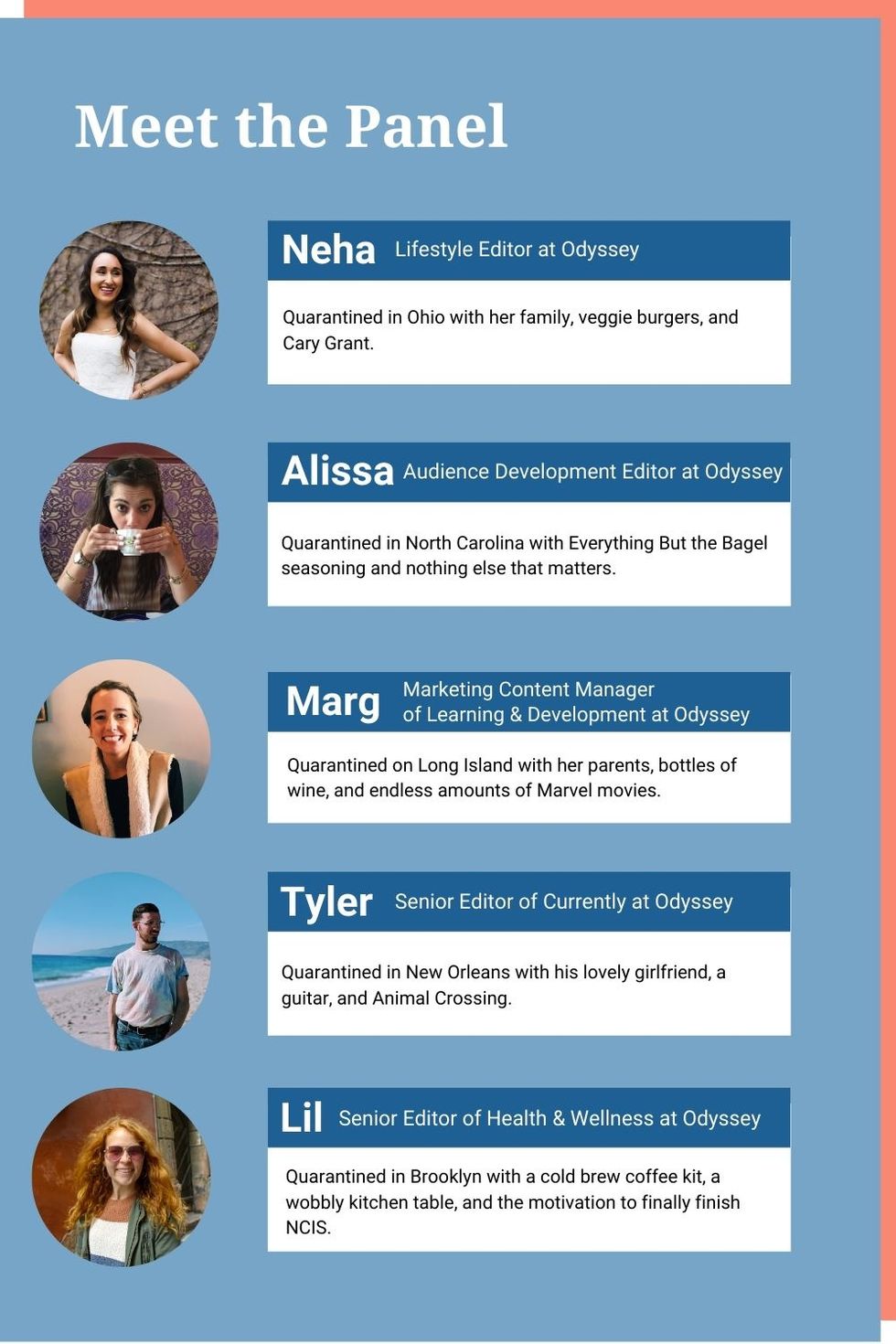 How would you normally spend Memorial Day weekend? 
Neha — At the beach with friends.
Alissa — I always eat macaroni salad, but nothing else is different usually.
Marg — At the beach with my family and friends!
Tyler — Probably going to the beach and going on a hike.
Lil — I was going to be in D.C. for Memorial Day, with giant crowds of patriotic people and ice cream.
How did you actually spend Memorial Day weekend? 
Neha — In a veggie burger, lasagna, carrot cake coma.
Alissa — I made homemade macaroni salad.
Marg — Exercising, reading, and sitting outside in my parents' backyard.
Tyler — My partner and I went on a bike ride (safely and with masks), made a super special dinner, and played a lot of "Animal Crossing."
Lil — I still got outside, but I was not in DC and it was juuuuust me.
What are you still looking forward to this summer? 
Neha — Outdoor workouts.
Alissa — My sister and I have toyed with the idea of getting an inflatable kiddie poor for her front lawn. Stay tuned.
Marg — Just the warm weather and sun in general. I would love to not look like a ghost anymore.
Tyler — Watermelon, socially distanced hikes, and moving!
Lil — The sunshine! And perfecting my cold brew recipe! And watching "Hamilton" on Disney+ on July 3! And doing all sorts of yoga! And taking (safe) field trips around my neighborhood! Summer camp with Lil is in full swing, buckle up.
What's been canceled that you're SUPER bummed about? 
Neha — My dating life.
Alissa — Well, New York City's still pretty canceled, so I'm super bummed about that.
Marg — Jones Beach summer concerts. They always have a great line-up and it's the perfect place to see a concert in the summer.
Tyler — Some concerts I was really looking forward to have been canceled and I'm pretty bummed about that.
Lil — I've had three trips canceled, so that really stinks.
If you could win 1 million dollars by accurately guessing when your state would open back up, what would you guess? 
Neha — Ohio? I'd say sometime in July we'll be fully open.
Alissa — I was gonna say a year from now, but to put it musically, "525,600 minutes." That's how you measure a year.
Marg — Total shot in the dark, but I'd say August 20, or even later at this point.
Tyler — Louisiana? LOL, pretty sure phased reopening is already happening here.
Lil — I think we'll start phased reopening toward the end of June. Totally reopen? September.
What's one thing you did a lot at the beginning of quarantine/social distancing that you don't really do anymore? What are you doing more of? 
Neha — Puzzles.
Alissa — I did a lot of bingeing, but now I'm low-key really over television. I'm doing more workouts and reading outside. Remember fresh air?
Marg — For the most part, I think I'm doing the same things I was at the beginning of quarantine. Maybe less word searches, but definitely still doing them.
Tyler — I'm a creature of habit and all my habits are still happening and haven't changed...
Lil — Oh, my routine changes on a weekly basis these days. I am over TV. I signed up for a running challenge (I am supposed to run the length of the NYC subway system before Labor Day) since I have only run once since quarantine started. I have a list of meals I want to cook — chickpea coconut curry is on this week's list. That's where I'm at.
Want to be a part of this panel in future weeks? Want to host a panel of your own? Email lily.moe@theodysseyonline.com for more information!
As an Amazon Affiliate partner, Odyssey may earn a portion of qualifying sales.