In America, one of the most hot-button issues is abortion....On January 22nd, 1973, the Supreme Court heard Roe V. Wade. The court granted that abortion was a constitutional right protected by the right to privacy under the fourteenth amendment. They concluded that regulations on abortion had to be determined by a compelling state interest. Along with this ruling came a "trimester framework" test. Simply put, it meant that States could only start regulating abortion in the third trimester. So, ever since then the question of abortion has been settled right? Not really. The landmark Court case spawned grassroots activism on both sides of the spectrum. Along with that, many have tried to bring their cases to the Supreme court to chip away at the legal status of abortion in any way that they can. While States cannot ban abortion, they have found ways to put up barriers to make it harder for women to get abortion such as waiting periods. In this article, I hope to show that there is truly a false dichotomy between the pro-life and pro-choice movement and there are places they can actually work together for the greater good. Indeed, I hope to point out that through this fight, both sides are missing a point that needs to be said. And one quick disclaimer: I am not an advocate for abortions left and right. But I am also Pro-Choice. I hope to explain why later on. Anyways, I pray and hope that this article is received by people from all sides of the debate.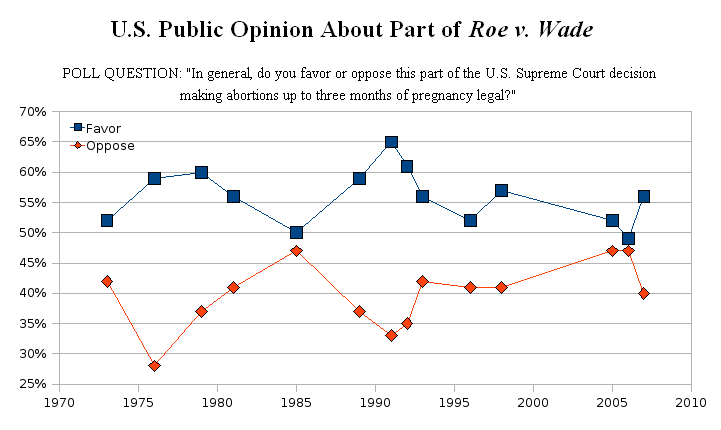 A study done by Gallup polls in May 2015 found that for the first time since 2009, a majority of Americans consider themselves pro-choice compared to pro-life. Though, the divide is still pretty even. (50 percent pro-choice v. 44 percent pro-life.)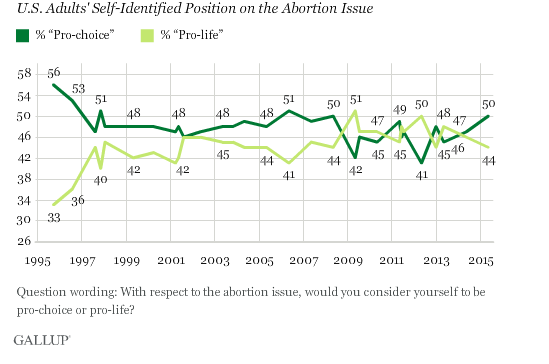 So what is the big deal about abortion? Why are so many Christians so staunchly against it? (It should be noted that for this article, I will only address one religion, for it is what I know. Although a majority of those who identify as religious tend to be pro-life also.) According to many Christians, the Bible forbids it. They often go back to the following bible verse to draw their conclusions: ""Before I formed you in the womb I knew you before you were born I set you apart; I appointed you as a prophet to the nations." (Jeremiah 1:5) So to many Christians, they are literally fighting to save lives. They truly believe that life begins at conception. Although more can be said about this, the point of this article is not a theological debate, so I will move on.
The pro-choice side does not believe this. They believe that the woman's right over her body is essential. In terms of when they believe life begins, it varies from person to person. For some, this issue matters while for others it does not. Like the other side, most of the people you will find in this movement will have good intentions.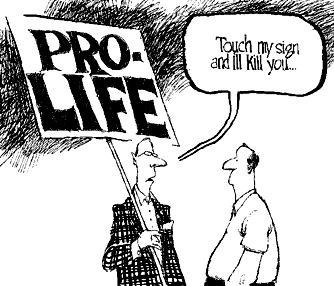 To be fair to the pro-life side again, I am sure there are certain,instances where abortions are done out of simply selfish and conventional reasons. Yet, this is not the majority of abortions. It is sadly not always a clear delineating line separating both sides as clearly good and evil. That is actually just a version of media sensationalism.
In terms of when life actually begins scientifically, for awhile it was held to be 24 weeks, but new developments show that it might actually be 22 weeks. To determine this, scientists observe and calculate when a baby can be born prematurely. Yet, this article is not meant to talk about exactly when the personhood of a baby begins, for that in itself is an arduous task that many scientists are still not clear on themselves. (If you disagree with me on this point, please point it out, I am by no means, a scientist!)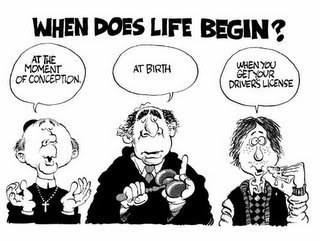 Hopefully now that I have been fair to hatching out both sides, let's get to what I am trying to get at. It would be a fallacious lie to say that all pro-choice individuals want more abortions or think that it should always be the first option. On the same token, it would also be a fallacious lie to say that everyone in the pro-life movement is trying to deny the rights of women. Indeed, many do support abortions in cases of rape or other traumas.
Again, at the heart of this complex issue is rather or not life begins at conception or birth or somewhere in between. Given that this is a sensitive issue for many, the wages are high and the issue is highly polarized on both sides. Many Christian churches openly say that they are pro-life and some even protest at abortion clinics. My question to everyone involved: does it really need to be a war?
Let's put aside the politics for a second and think about this rationally: Each year, nearly 1.2 million Americans have an abortion. The most common reasons are pregnancies resulting from rape or incest, cases in which the woman is endangered, to prevent the birth of a child with serious birth defects, and birth control failure. 9 out of 10 abortions every year are performed within the first 9 weeks. The pro-life side, says (for some,even in cases of rape or incest) that the woman should just have the child and give it to an adoption agency. Yet, the pro-choice side says that this impedes on the right of a woman and for many young women it can be a traumatizing event. (especially in cases of rape or incest.)
What do I think? Well, I believe abortion should be legal in America, so in that sense, I guess I should give my Christian badge away.... Just kidding guys... Yet, I also believe that wherever life begins, the actual potential of human life is a seriously weighted decision to make for anyone. Given I am not a woman, I will never experience this. Yet, since we are on the topic, I will push further. Again, I believe abortion should be legal, but I also believe that other alternatives should be encouraged. First, adoption should be encouraged. Not only encouraged, but I believe that Christians need to do a better job of pushing for reform in the foster and adoption agencies in America, which are a wreck. In fact, this is a common goal EVERYONE should work on both sides of the spectrum. It's a practical solution. Secondly, more partnerships need to happen between abortion clinics and adoption agencies. Not to intimidate the women to choose adoption, but to lay all of the options in front of her. Thirdly, many do not consider that for many women that seek an abortion, they cannot afford to undergo the costs of being pregnant due to poverty. In those cases, should the government offer assistance? Perhaps churches, communities, etc. should be a part of this. In whatever sense, it is a factor that needs to be considered.
Additionally, think about this: many times the people that speak out against abortion, do not consider the child's future when it is actually born. For instance, a poor parent who had to have a child is now in poverty. This happens a lot. Also, did you know that many women die internationally from trying to induce their own abortion? If abortion is outlawed, more people will probably try to do so in ways that could harm themselves. While I do not agree with it, I think it is a factor to consider.
To be fair to my fellow Christians let me level with you: I am a deeply convinced follower of Christ myself. It is not only with my own reasoning I came to this stance but also through praying about the matter at hand. I am not saying I have a monopoly on the matter at hand, but needless to say, whatever your stances are on abortion, can we agree that many of the things such as ignored poverty, ignored single moms, and rape are grave moral sins that we must address? Perhaps if all of us (not just Christians) tackled this more, abortions might occur less? One fights an illness by attacking the symptoms. (Not to say that those that seek an abortion have an illness.) Can we not say that issues like rape and poverty are at times symptoms of abortion? Likewise, let us do the same. On the same token, I acknowledge that abortions should always be a woman's choice and it is something I can never understand.
So in conclusion, I hope this starts a conversation and gets people to think. I am open to dialogue. We all need to do better everyone.It is not just a black and white issue. Yes, abortion should be legal. (while limits should still be set.) But, on the other hand, other alternatives should still be encouraged. And that is something I am passionate about. Truth be told, speaking from a simply human point of view, the potentiality of life is a serious thing to me. Regardless of when life begins, I think everyone should realize the weight of the matter at hand. That fetus could one day be a talking and living human being. This is not something I take lightly. I just believe that both sides are wasting time on the issue of abortion and what everyone should really focus on is strengthening counseling , improving adoption agencies, and of course helping those in poverty who cannot afford to feed another mouth. That is the Christian thing to do. I just do not believe that legislating morality in areas of clear dichotomous areas in society is the only route for the Christian to go. You can be against it, but at the end of the day, we have a separation of church and State and women legally have ownership over their bodies. Let's use that energy to support these women in their times of needs while also acknowledging that abortion is a personal choice and right.