When you ask most little girls what they want to be for Halloween or what they want to be when they grow up, 95 percent of the time they will answer with "princess." Not that this is necessarily a bad thing, it's just the norm. Though that doesn't mean it is a good thing either. Being an avid Disney Princess fan (and Disney in general) I have always loved them. However, as I grow older, I started to see things from a new perspective. The term has been coined The Disney Princess Effect. A recent article published by Brigham Young University believes that this beloved part of many childhoods may be pushing gender roles on children, causing a negative effect upon young girls and boys that they carry into adolescence and later adulthood.
The research was conducted by BYU family life professor Sarah Coyne. Her research was conducted among 198 preschoolers and dissected how much they were in contact with the Disney princess culture (what is described as "Princess Media"). Coyne's study concluded that 96 percent of girls interacted with the Disney princess culture and that 87 percent of boys interacted with it. People may do a double take at the percentage of boys but yes, that does say 87 percent. That may seem pretty high considering that typically, boys are known for playing with cars, dinosaurs and watching action-adventure movies. This to me, is the first problem; 1. Why are we as a culture telling little girls and boys what they can and can not like based on their gender? 2. Why is it considered a bad thing if a little boy likes princesses, or if a little girl likes trucks?
Switching gears to girls, aka Disney's target audience for these movies. Being a girl in today's society is rough sometimes. Self esteem, body image and fitting in are just some of the many issues facing girls today. It is said that the Princess Effect is feeding these issues early on in life. For the longest time the typical body type of a Disney Princess was this: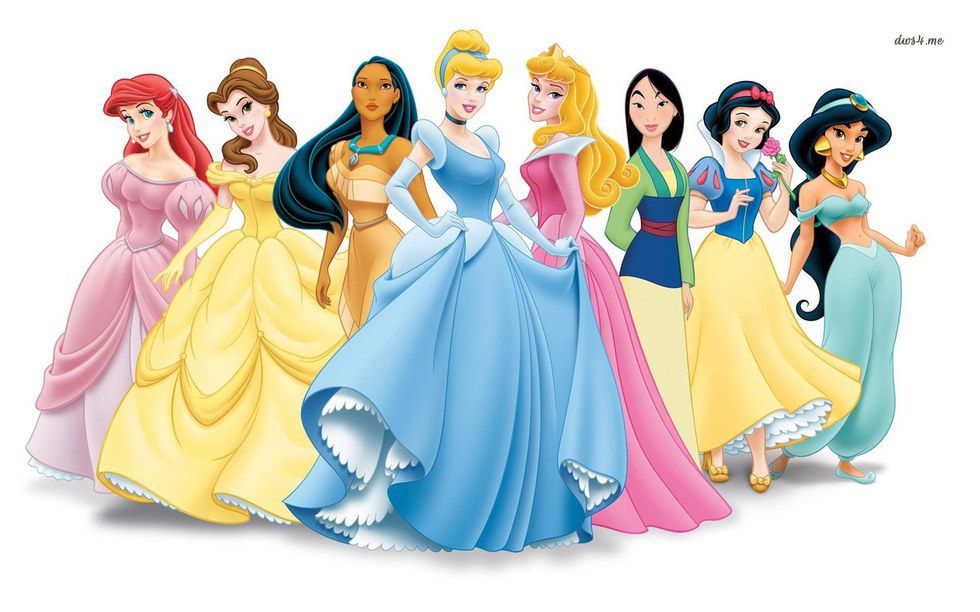 But as time has gone on, the multibillion dollar company has gotten much better at creating princesses with different body types and ethnicities, such as this:

Though no matter the body type or color of their skin all of the princesses are beautiful. This is something that we as a society should be teaching girls of all ages. No matter what you look like on the outside, it is truly the inside that counts. When you ask a 5-year-old girl, "Why is (insert Princess here) your favorite princess?" her response is highly likely to be: "Because she is beautiful!" This to me is sad. I was always taught that it is what is on the inside that counts. We need to start helping girls (and boys) recognize that there are different things that make everyone beautiful, other than physical characteristics. Like being kind, brave, strong, independent, standing up for what you believe in, etc.
We all know the classic fairytale storyline: the damsel in distress being saved by the prince. This is teaching boys and girls that their gender is set to do specific things in relationships. It's saying boys have to be the man, save the girl and be her protector, while it's teaching girls that a man will always save them, and that they need to rely on them. This is not to say that it's not OK to ask for help, because it definitely is. But always rely on yourself first, whether you're a boy or a girl. The popular Disney group The Cheetah Girls sang a song "Cinderella" that perfectly captures this ideal stating, "I can slay (I can slay) my own dragons (my own dragons) /I can dream my own dreams (my own dreams)/My knight in shining armor (shining armor) is me./So I'm gonna set me free." This is great. Always first rely on yourself before you rely on the opposite gender.
All in all, Disney Princess movies (all Disney, really) are not bad. They promote imagination in kids and foster their creativity as they grow. It is important, though, to recognize that they are not a guide for gender roles. When society can stop creating likes and dislikes for boys and girls, ideas of beauty, stereotypes and just let them choose for themselves, we will all live happily ever after.
[rebelmouse-proxy-image https://media.rbl.ms/image?u=%2Ffiles%2F2016%2F07%2F21%2F6360471899714944921799956083_disney%2520gif.gif&ho=https%3A%2F%2Faz616578.vo.msecnd.net&s=294&h=10ebbd92104c66b8d6d06d0599a4c312d06fd0bf309c4c93322724457981f06b&size=980x&c=1163273121 crop_info="%7B%22image%22%3A%20%22https%3A//media.rbl.ms/image%3Fu%3D%252Ffiles%252F2016%252F07%252F21%252F6360471899714944921799956083_disney%252520gif.gif%26ho%3Dhttps%253A%252F%252Faz616578.vo.msecnd.net%26s%3D294%26h%3D10ebbd92104c66b8d6d06d0599a4c312d06fd0bf309c4c93322724457981f06b%26size%3D980x%26c%3D1163273121%22%7D" expand=1]