Welcome back
Sign in to comment to your favorite stories, participate in your community and interact with your friends
LOG IN WITH FACEBOOK
Lonely heart aches for your voice...
Open wounds never stop bleeding...
Scares cover the places you hit..
Tears never stop flowing....
Report this Content
This article has not been reviewed by Odyssey HQ and solely reflects the ideas and opinions of the creator.
Subscribe to our
Newsletter
Featured
When you realize we're half way through summer and you did nothing fun
104
Well, the Fourth of July has passed and now you suddenly realize that summer is practically over, and you didn't do half of the epic fun things you thought you were going to do. For many of us, summer vacation is anything but a "vacation". Between the hustle of internships and seasonal jobs, we've forgotten to have a little fun too. But it's not too late! With only a few more weeks left of summer vacation, here are five more ways you can take advantage of the rest of what summer has to offer.
1. Road Trip!
It's never too late to take another road trip. A road trip doesn't mean a long cross-country drive either. A lot of college kids swore up and down that they were going to the beach and haven't been yet. Looking for a quick get away? Pile a few good friends in the car and head to the nearest beach for a fun and relaxing day.
2. Have friends over to chill
You haven't seen any of your old home friends since you've been back in your hometown, so to make good on all those "We're definitely going to hang this summer" texts, invite over a few good friends who you don't see often. Add good music and even better food, and you'll be sure to have a cool time.
3. Explore a new place to eat
This is one of the few things I told myself I was going to do when I came home, and still plan on doing! Get out of your dining comfort zone and research some different restaurants in your city. Be that Asian, Indian, or Mexican cuisine—experience something different so you'll be able to talk and rave about that dish you never knew existed later. You'll be surprised by the treasures that have been literally five miles or fewer from you all this time. I bet you'll find a gem of a place and be glad you did by the time the check comes.
4. Go to a festival
Every year in my hometown, we hold four annual celebrations: the African American festival, Artscape, the Stone Soul picnic and HonFest, which are all outdoor festivals filled with loud music, great food, and lots of cool vendors selling a plethora of goodies. Find out if your hometown or surrounding area is hosting a similar event and plan to spend the day having fun enjoying all the things that make your city unique.
5. Take a Yoga class
As Janelle Monaé would say, "Let yo' booty do that yoga." Yes, yoga! Yoga is a great way to stay fit, happy and healthy. Passionate yoga practitioners note that yoga is helpful in aiding one in becoming more mentally, physically and spiritually rejuvenated. And with it almost being time to head back to school, we could use the extra time to prepare ourselves for a kick ass school year. Because once we get back, it's back to business. Don't have money for a class? Find a nice quiet spot and research some yoga poses for beginners to get started.
Keep Reading...
Show less
Featured
Dr. Cox may be the most sarcastic, snarky, and nasty person to ever cross television screens.
688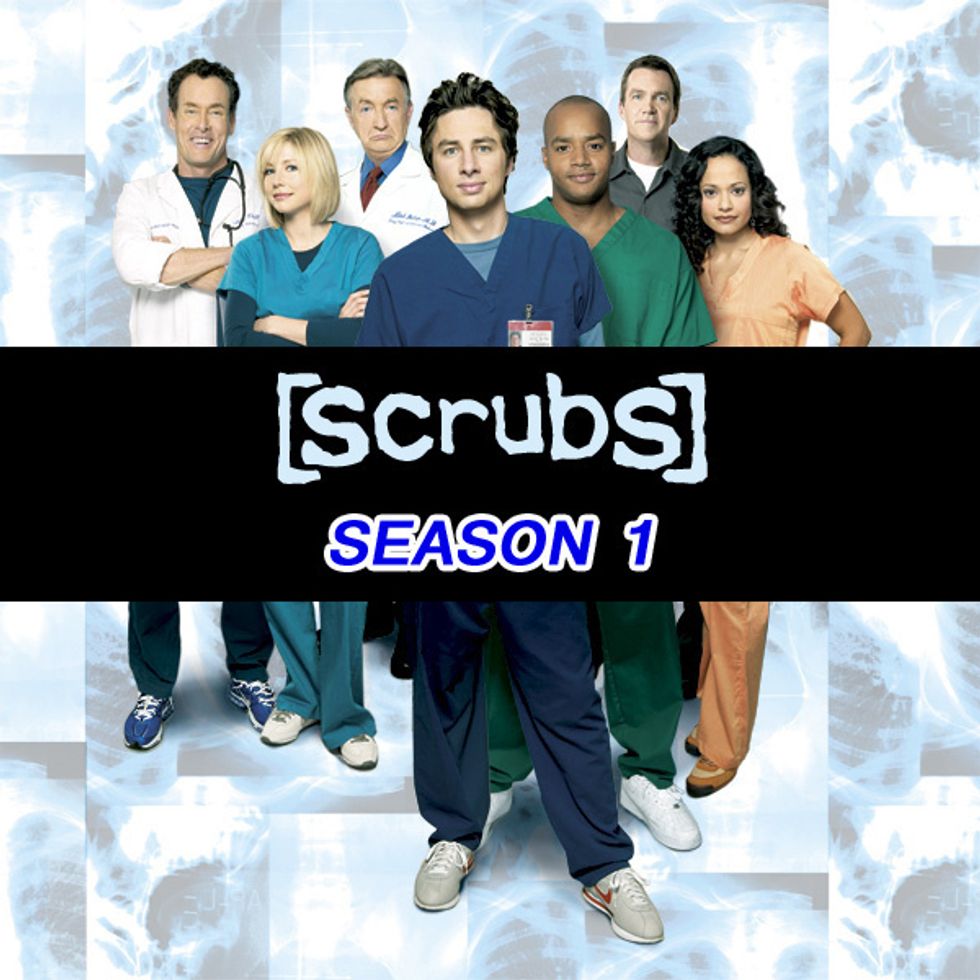 Dr. Cox may be the most sarcastic, snarky, and nasty person to ever cross television screens. His long-winded commentary and ability to destroy just about anyone made him terrifying and hilarious. Once you broke through his tough persona, Dr. Cox was genuine, caring and dedicated. He wanted the best for his patients and his interns. Here are some of funniest, most sarcastic and downright mean lines that Dr. Cox has said during his stint on Scrubs.
Ladies and gentlemen, allow me to present, me not caring!
JD: "You're ex-wife, she's the answer!" Dr. Cox: "Uh...things that ruined my life? Things that took half of my money? Things with sharp edges?!"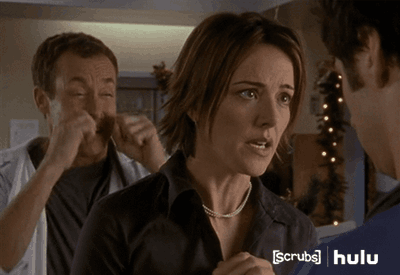 giphy.com
From now on, whenever I'm in the room, you're not allowed to talk
Hand to God, If you so much as look at me for the next month, I will mummify your head in surgical tape
You see, I am a lot of things. I'm a Scorpio, a registered Independent, a foodie, a parrot-head, yes I do love that Jimmy Buffet-always have, always will, a leg man. But I can assure you the one thing I am not is lonely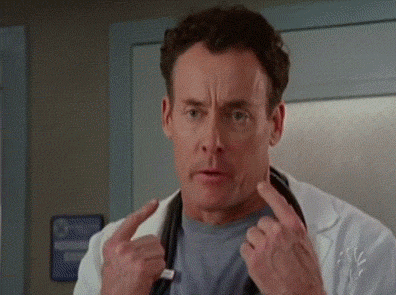 giphy.com
Laverne: "Does it help to know that Jesus love you?" Dr. Cox: "It does not!"
Jordan: "You know, you're gonna miss me more than I miss you" Dr. Cox: "Oh pah-leeze, I don't need those 4lbs of makeup and quarter inch of synthetically paralyzed skin!"
Wrong, wrong, wrong, wrong, wrong!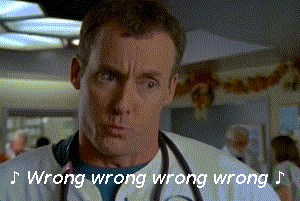 Giphy
I know what Kim did to you was just crazy, but pregnant women are among a select group of people who are actually allowed to act insane. Much like sports mascots, local weatherman, theme park performers, and that guy with a question mark jacket who teaches people how to get free money from the government
That's what we call a lie... or, when you're married, communication
So, if you wanna solve a real mystery go ahead and figure out who is taking my New York Times every Sunday. Or, better yet, how about why anybody on the planet actually thinks that Dane Cook is funny?
Oh my god, I care so little I almost passed out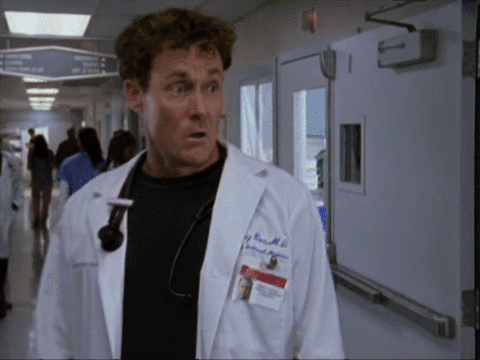 Giphy
JD: "Do you think I need to grow up?" Dr. Cox: "Wow. You dream your whole life about that one moment. When it finally comes, you're just-you're not ready for it. Here goes. The answer is a sincere, emphatic, 100% definitive, never been so sure of anything in my life unequivocal yes."
Jordan, you're not looking as processed and overly-medicated as usual!
Payback is a bitch!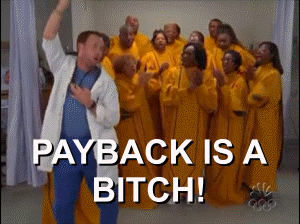 Giphy
Dr. Kelso: "Looking for something?" Dr. Cox: "Yes, my cloak of invisibility so that I can avoid conversation with soulless dictators such as yourself. Unfortunately it's really hard to find because as the name suggests, it's invisible."
Even though we all currently despise each other, we're professionals. For example, I can lend Barbie a hand despite the fact that she's a heartless, red-state-supporting, N.R.A. backing, illegal-immigrant-hating, self-righteous, misinformed dope, essentially Karl Rove with smaller boobs
Dr. Cox: "Go to Hell, Bob" Dr. Kelso: "I didn't even say anything!"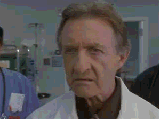 giphy.com
What is it with friends and the whole wanting to be in your life thing?
JD: "Dr. Cox!" Dr. Cox: "Okay, Linus, you're way too excited. I want you to get your blankey, go in the corner and take a timeout"
People aren't chocolates. Do you know what they are, mostly? Bastards. Bastard coated bastards with bastard filling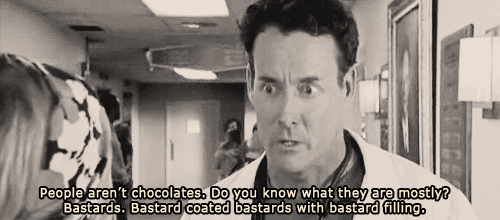 giphy.com
You, honest to God, get me so angry I'm afraid I may hurt myself
JD: "What is wrong with me?" Dr. Cox: "You're an annoying, whiny man child"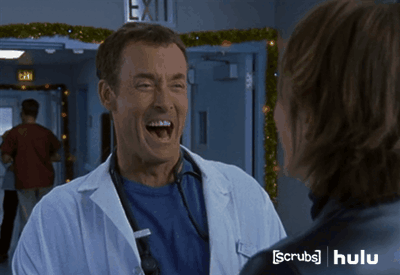 giphy.com
Mr. Morrison, I understand that one of our interns spent an hour in here telling you over and over that you are going to die. I would make him apologize personally but I'm having him spend the rest of the day checking that counter-top's heartbeat
I find your particular brand of psycho-babblery about as useful and about as effective as fairy dust
If you go ahead and listen very carefully, you'll hear the familiar sound of no one caring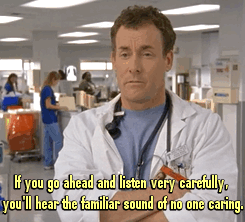 giphy.com
Before we start today, who watches Deal or No Deal *intern raises hand* Get out
A coffee place in a hospital? What's next Bob, an ice cream parlor in the morgue? Admittedly not a horrible idea, seeing as the freezer's already down there. Plus, it'll be a perfect place for kids. One of our famous vanilla malteds definitely takes the sting out of having to identify the freshly charred remains of your father!
I would literally swear on my father's grave, but whenever I go there, I usually just end up dancing on it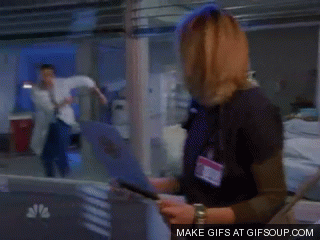 giphy.com
I'm afraid you have confused me with someone who gives a crap
Should I talk slower or get someone who speaks fluent moron?
If someone is standing in front of me in line at the coffee shop and can't decide what they want in the half hour it took to get to the register, I should be allowed to kill them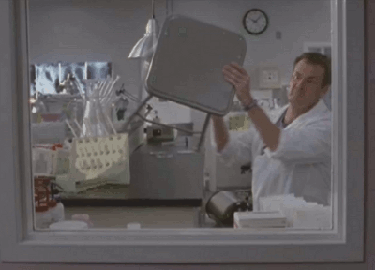 giphy.com
"And the category is-ding!-things that have a better chance of happening than you winning the lottery. Tedski, throw ten seconds on the clock for me, would you please?" "Go!" "Brain transplants, Britney Spears having another hit record, the Rolling Stones going on a farewell tour and actually meaning it, me caring about anything that happens on Wisteria Lane, Jessica Simpson winning an Oscar, Jessica Alba winning an Oscar, Jessica Simpson becoming Jessica Alba Simpson-" "Time!"
Any other day I'd say no, but today, I'm going to go ahead and just say no
I realize that your heart is made up mostly of muffin bits, the souls of little babies, and the denture grip you swallow every time you suck your teeth to get out the muffin bits and baby souls stuck in there, but what do you care?
God, My brillance is becoming a bit of a burden. Get back to me.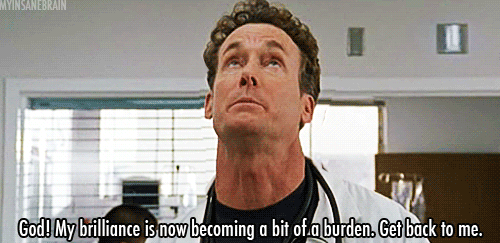 giphy.com
It just makes me wanna pick you up and shake you until all the wasted years of my life fall out!
Bob, I will admit to anything that's true, no matter how embarrassing. For example, I've always wished to carry a child inside of me and you know, birth it. But I'll never admit to missing you.
If the next two words out of your mouth aren't "see ya" then the third will be: "Oh my god, my crotch. You punched me in my crotch"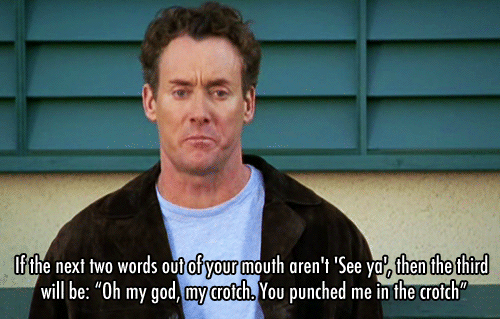 giphy.com
You would hear crickets chirping but they were too uncomfortable about just unfunny that actually was
Laverne: "God works all things for good, Romans 8:28" Dr. Cox: "Bull dinky, Perry Cox 6' 1", Buck 85 after lunch"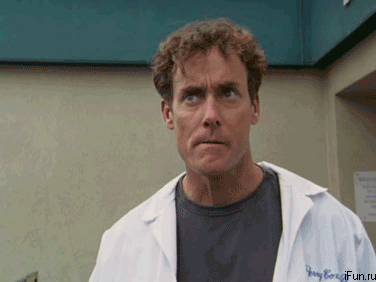 giphy.com
I never went to Acapulco, Mrs. Goldstein. I lost three patients and spent the last two weeks on my couch trying to drink myself to death so that my victims and I could be reunited in the afterlife and they could rightly have their vengeance. Then I realized that that tactic would never work, as I'd be sent straight to Hell, which I imagine is actually a lot like Acapulco, only there would be fewer Latin men trying to sell me Chiclets on the beach. All the best.
"Laverne, would you go ahead and thank what's-his-name for me?" Laverne: "Jesus?" Dr. Cox: "That's him"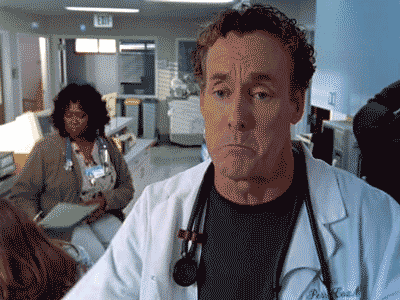 Dr. Kelso: "So what do you think, Perry?" Dr. Cox: "Either this kid has a lightbulb up his butt or his colon has a great idea"
I'm gonna go ahead and say this just as carefully as possible: Dr. Kelso is the most evil human being on the planet and may in fact be satan himself
Dr. Cox: "I've seen the Wiggles in concert... twice." Turk: "Did they perform Big Red Car?" Dr. Cox "They opened and closed the show with it, it was... awesome"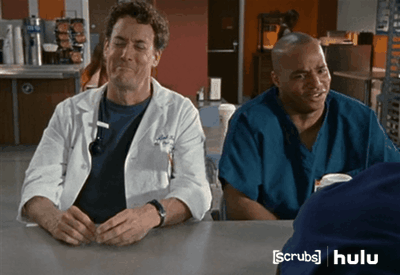 giphy.com
You know, as a doctor, I rarely root for the disease, but with you, I find myself chanting 'go hypercalcemia with underlying M.E.N syndrome, go, go, go!"
You go do that, and I'll go find God, quit drinking, get in touch with myself emotionally, and we'll meet right back here at half-past impossible!
Keep Reading...
Show less
Featured
If you can be proud of your country on he 4th of July, you can be proud all year long.
6046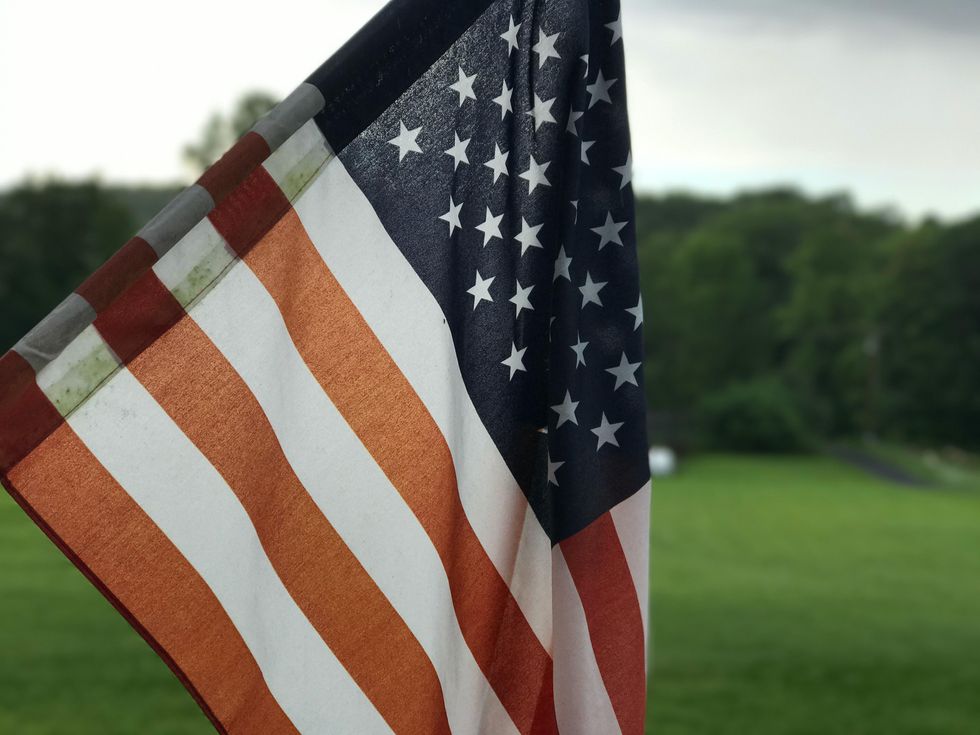 I'm the child of a Marine Veteran. He may have been out of the service by the time I was born, but the Patriotic Pride he lived by has been my family's life line. I grew up with the American Flag hanging in my front porch. My dad has the "Proud to be a Marine" license plate in the front of his car. And red, white, and blue is a completely acceptable way to decorate your living room. But it doesn't end with just that. You need to know why we celebrate freedom.
We celebrate on the Fourth of July, beacause that was the official day that the original thirteen colonies declaired their independence from Great Britain, by the terms and reasoning of the Declairation of Independence. We celebrate to thank those men and women who continue to keep us free from any other governing nation. Every year since 1776, we have had to fight to keep our freedom. Whether that be in wars,
Keep Reading...
Show less
Featured
The Fourth of July
7523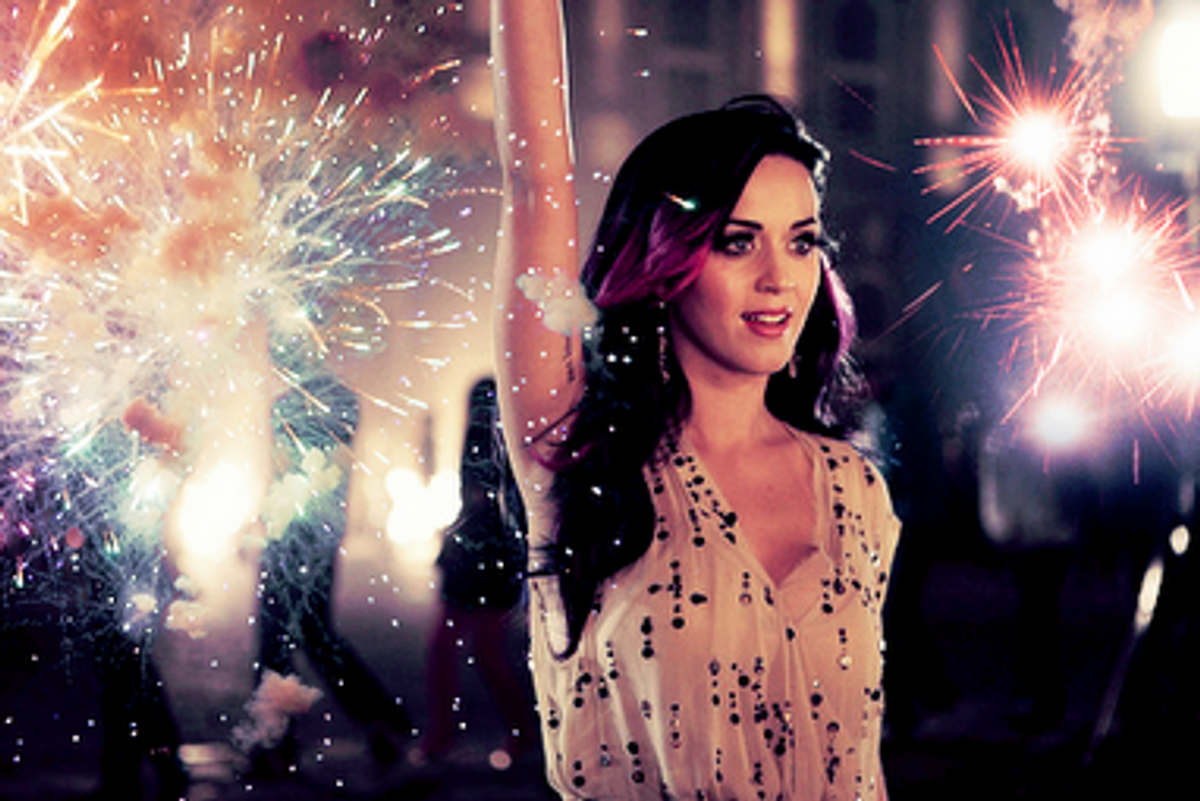 According to Katy Perry, "Baby You're a Firework." I don't know if she was referring to the Fourth of July when she was referencing fireworks, but this song has allowed this generation to rejoice. The song "Firework" allows people of all ages to appreciate the lyrics, as the song brings forth a positive state of mind. Unfortunately, just like the song, not every knows what the Fourth of July is actually for. Many just assume it is that one time of year you get to spend time barbecuing and see fireworks light up the sky. Even though many are not aware of the American historical significance, this holiday has annually encouraged people to come together happily, which could very much be the importance of it.
Many of us have childhood memories of the Fourth of July.
When I was young, I remember my family lining up outdoor chairs on the grass of our backyard. My grandparents would come over; my dad would be off of work. We all got our blankets and popcorn ready so we could watch the night sky light up with fireworks. We lived in the Los Angeles Valley, where it was terribly hot especially during the month of July. But we still cuddled together eating popcorn in blankets so the family could be all together.
Many of us are huge fans of barbecues.
Who doesn't like barbecuing and watching corn get roasted?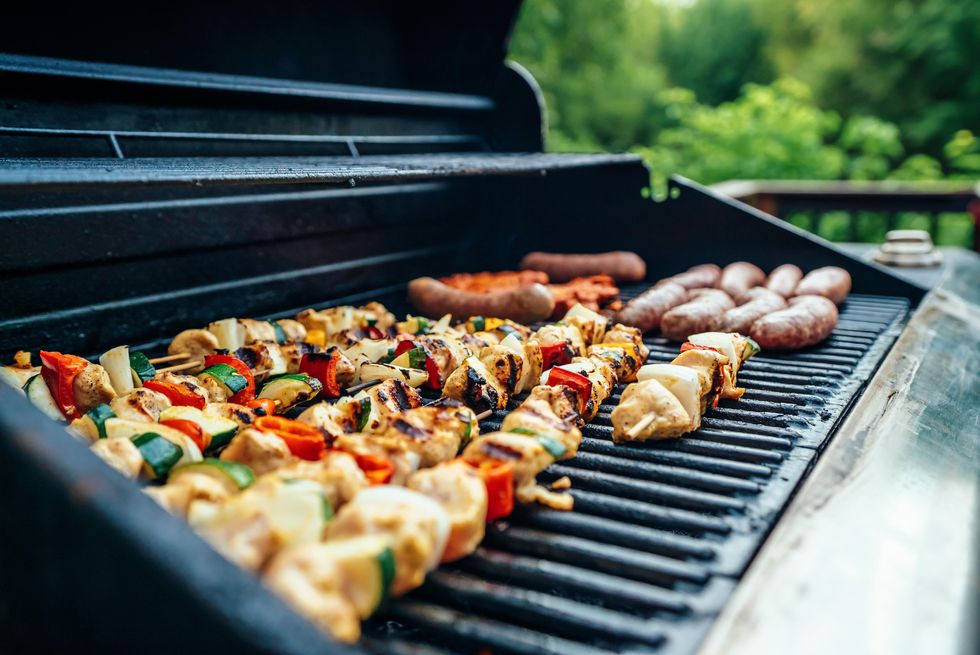 grilled barbecues on black and gray grill Photo by Evan Wise on Unsplash
Some of us enjoyed throwing fireworks illegally.

I won't mention any names, but I have quit a few friends that throw fireworks illegally with their friends. It is a tradition so many of them don't worry about getting in trouble. They already know of all the sneaky places to go so that they don't get caught.
Some of us live in places where we are never able to see the fireworks in person.
Some of us might live in the middle of the countryside where seeing fireworks is not so accessible.
But it is still a tradition for the family and friends to gather around the television and watch them.

Regardless if we can see the fireworks in person or not, many family have a tradition to crowd in front of the television and watch the fireworks annually together. Though they have seen the same firework display yearly, it never gets old for them.
Sometimes, the Fourth of July gives us a big excuse to go on a date with our significant other.
Who doesn't love dates? And if there is already a place where you know has a good firework display, you don't have to do much planning.
Plus, who doesn't like an excuse to cuddle and watch fireworks?

Cuddling is great. Take advantage of this day.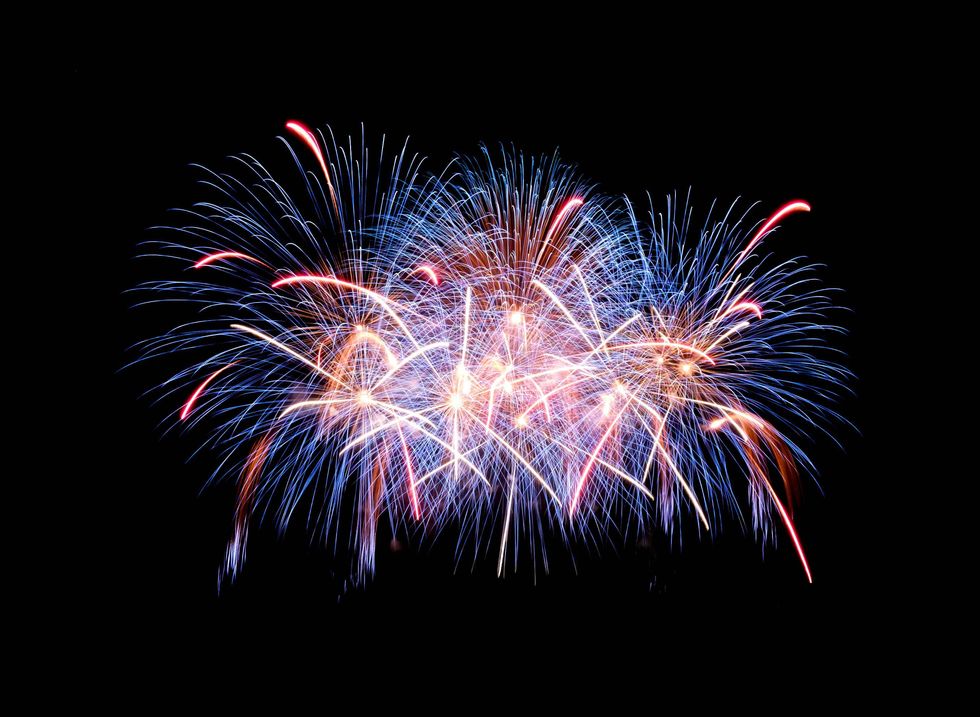 fireworks display Photo by Jingda Chen on Unsplash
The Fourth of July is also a good excuse to make plans with friends.

This is a perfect day to eliminate that summer boredom and hang out with friends. And if you claim to not have any friends, make them quickly.
Therefore, you must all take advantage of the Fourth of July as an excuse to spend time with loved ones or just see a great firework display. This holiday is only once a year, so go have some fun.
Keep Reading...
Show less
Featured
It's the celebration of our great nation, and you're all invited.
4264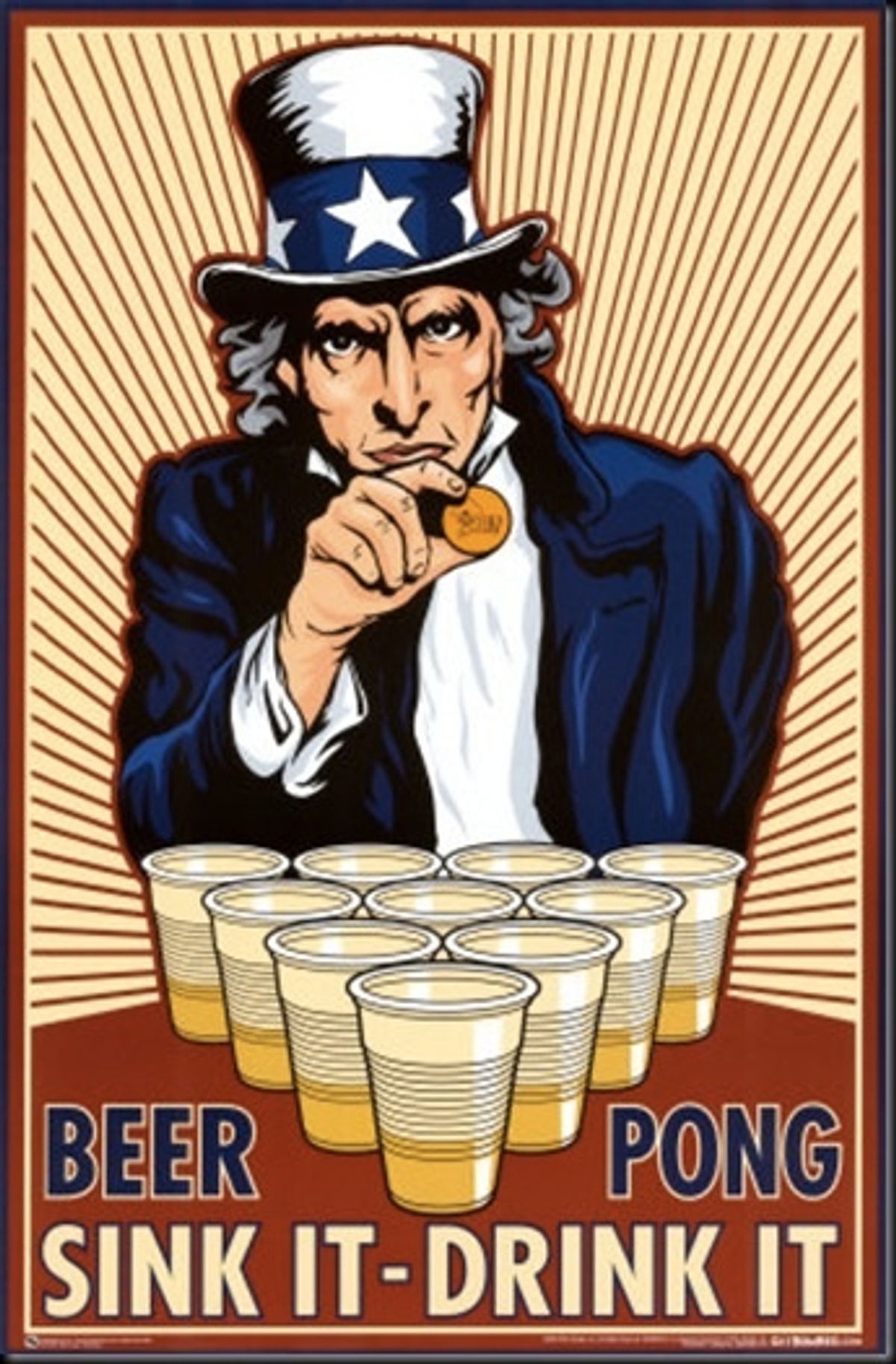 It's the celebration of our great nation, and you're all invited.
It's basically the middle of the summer season and all you've seen is the inside of your cubicle. You're drowning in business casual attire, and if you're a fool, you've spent your 9-5 hungover and getting coffee. Needless to say, summer isn't everything it used to be. If you're a working, 'real' human this summer, you haven't worn your letters for quite some time...your boss doesn't necessarily appreciate a frocket and homemade lunch packed in a painted cooler, so you've suppressed the Greek party animal within. The beer hungry, Ke$ha craving beast has been denied all indulgences and you're sick and tired of being a slave to the man, the clock, and income tax. So when you see Fourth of July on the horizon, the promise of a post game, a day drink, and girls scantily clad in color coordinated attire hangs in the air:
1. You finally have more that two days to get drunk this weekend: Praise the founding fathers that the 4th falls on a Friday this year. A 3-day weekend means more drinking and more beach time. Cheers Benjamin!
2.   You will always have appropriate attire to wear: Thankfully, your fraternity or sorority always designs at least one v-neck or tank that cheesily incorporates your letters into a cliché American slogan
3. Everyone is chillin', even the cops: Even though school's out for the summer, that college-cop-radar installed in you is on high alert...especially when the armed forces and friends are everywhere you turn with their beer coozies and Gap American flag t-shirts. Hey, the po-po are free Americans too kids. They too want to fly their USA colors with pride and throw back a few beers.
4.   You can sing Wagon Wheel as many times as you please, maybe even enough times  'till you actually know the lyrics.
5.   Every house has an open door policy: Even if your not a brother of their frat and don't have cash for the cover, Fourth of July shows us the bigger picture. Everyone knows USA's secret handshake—iPhone in one hand, drank in the other, you can't even handshake so all is well. Welcome my American brotheren!
6.   Chubbies are a hot commodity: Heck, they're even encouraged. Your thighs need the tan and 'Merica doesn't have enough stars or stripes to cover the appropriate amount of you. So go ahead, girls aren't the only ones who can sport short shorts!
7.   Aside from a family wedding, it's the only other holiday appropriate to day drink with your parents, extended family and honestly any person 20 years your senior. 
8.   The food of the 4th is absolutely the perfect drunk food. (It's just a plus that it also fits this weekend's party allowance)
9. It gives your partying a purpose, therefore you can go extra hard. Nothing wrong with a weekend rager celebrating the Land of the Free and the Home of the Brave. Plus, you can finally listen to those EDM beats (you know the cool songs you found on Sound Cloud that you've been turning down on your ipod during your daily commute to work), out loud and be the trendy kid at the post-game with the under cover super sick songs.
10. When you accidentally sing your sorority song and throw up your gang sign, you won't have to feel embarrassed, because you'll know that frat and srat stars all across the USA are right there with ya. 
Keep Reading...
Show less
Subscribe to Our Newsletter