The po-boy is, without question, one of the most emblematic foods of New Orleans. In a city that looks for any excuse to have a festival, it's only natural that this iconic sandwich has an annual celebration in its honor. Testing the creative limits of what can be showcased between two slices of French bread, the Oak Street Po-Boy Festival is celebrating its 10th anniversary this Sunday, October 23rd, and it promises to be a momentous occasion complete with live music and featuring regional craft breweries. But the main event is, of course, the food, and with an extensive selection of po-boys from over 40 local vendors, it will be easy for festival-goers to be overwhelmed with choices. Never fear - this step-by-step guide can help you seize the day and maximize your po-boy consumption.
1. Assemble your foodie friends.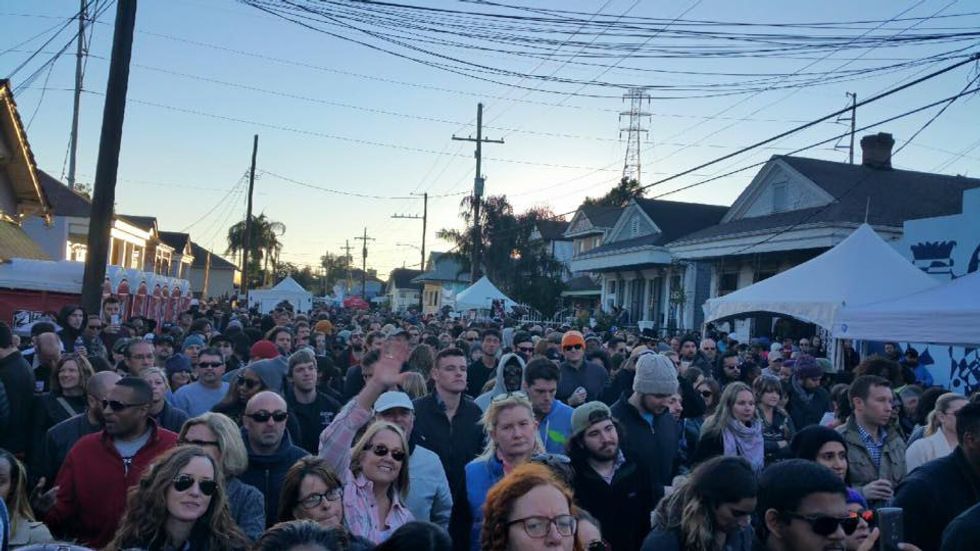 The premise is simple: more people = more po-boys. Organize a team of friends with big appetites so you can divide and conquer. This strategy allows you to all split multiple sandwiches so that you can try as many as possible without filling up too fast or spending a fortune. Plus, you can take turns tackling the longest lines, perhaps bringing food from shorter lines back to your place-holding comrade to enjoy while they wait to snag one of the most popular items. I have a friend who drives all the way from Auburn, AL, with his family each year for the festival, and this plan always serves us well.
*Pro-tip: Some of the longest lines tend to be at GW Fins and Seither's Seafood, so if you want an item from one of these, you might want to consider electing someone to stake it out.

2. Make it an all-day extravaganza.
The festival runs from 10am to 8pm, meaning you could totally make it a multi-meal outing. Arrive early, stay late, and pace yourself. Between po-boys, you can kill some time by enjoying live music from 11 different bands on three different stages, shopping around the many cool stores on Oak Street, or checking out the Where Y'Art Market, which will feature unique, handmade goods from more than 20 local artists. (Don't leave without a commemorative festival shirt! I got this one last year to sum up my priorities.) There will also be football viewing zones with full bars and plenty of seating to catch the Saints game.
3. Study the menu and map in advance.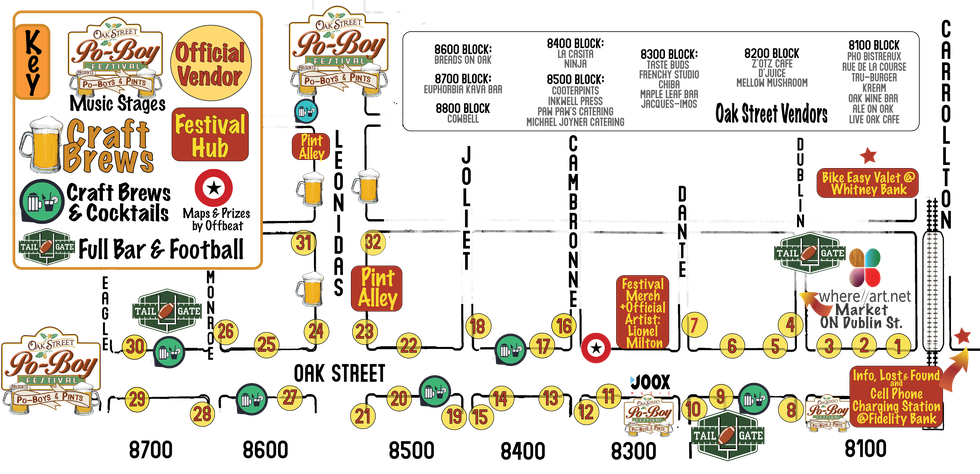 There are a lot of amazing po-boys to choose from, so looking over the menu ahead of time and talking through it with your friends can help you go in with a game plan. Decide how much you think you can feasibly eat and how much you want to spend and have a few top choices in mind. Then familiarize yourself with the map so you'll know where to find them - otherwise it can be easy to get lost in the crowd.
4. Relax and have fun!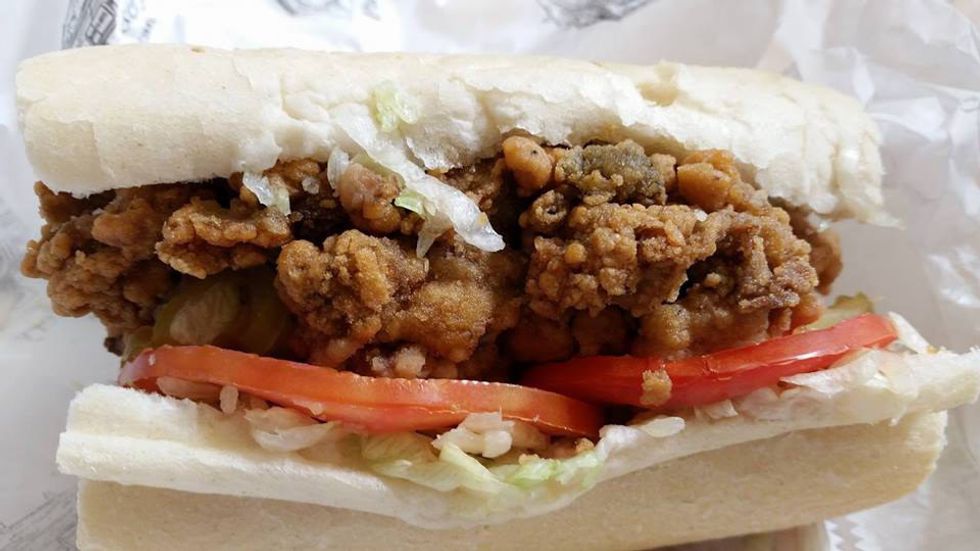 All that being said, don't overthink it. Po-boys are basically the opposite of stress, and with so many exciting sandwiches to be eaten and so much fun to be had, you really can't go wrong. In true New Orleanian spirit, the only rules are to enjoy the moment and eat your fill.