Some of the best parts of the musical phenomenon "Hamilton," if not the best parts, are the Schuyler sisters, Angelica, Eliza and Peggy. And anyone who has seen or heard the show will agree on at least one thing: Eliza Schuyler, wife of Alexander Hamilton and woman who established the first private orphanage in New York City, deserved better.
Eliza's personal arc is beautiful and poignant, going from a harmony-rich number with her sisters to an enraged and mourning wife and mother. But I won't spoil anything.
After performing together for nearly two years, Phillipa Soo, Renée Elise Goldsberry and Jasmine Cephas Jones (who play Eliza, Angelica and Peggy, respectively), have the same sort of sisterly bond that the Schuyler sisters have in the musical, which is probably symbolized best in their natural and almost instantaneous harmonies they create together on the fly.
What I will spoil, however, is that Soo is incredible and absolutely nails the role.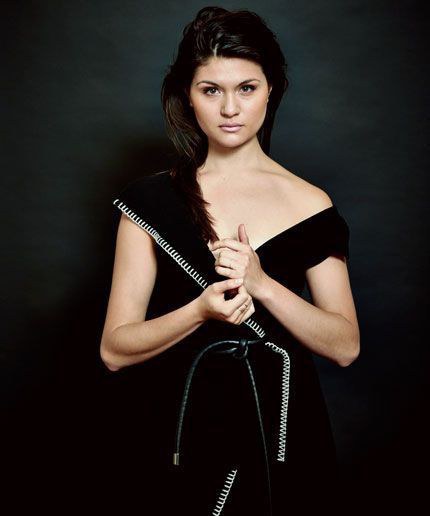 The Juilliard graduate and Illinois native was playing Natasha Rostova in Dave Malloy's "Natasha, Pierre, and the Great Comet of 1812," a musical based on Leo Tolstoy's "War and Peace." When Lin-Manuel Miranda, composer and writer of "Hamilton," saw the show and heard her soprano, he asked her to take part in an early reading for "Hamilton." The rest is history: There was no one better for the role.
The rest of the cast loves her, and why wouldn't they? Miranda himself referred to her in a recent Ham4Ham (fun mini-performances with cast members) as a precious cinnamon roll, too good for this world. To validate his point, she created a teaching artists program called The Eliza Project for the kids of New York City, as an example.
It's pretty hard not to be jealous of her. She's performing her art on the world's stage with some of the most amazing actors, singers and rappers on the face of the earth. She recently got engaged to fellow actor Stephen Pasquale, and performed at the White House for Barack and Michelle Obama at their workshop for students.
Jealousy is the wrong word, actually. She deserves the Grammy that the musical received and all the praise that goes with it, and after she worked so hard on the role (her Broadway debut role no less)!
Anybody who's a giant nerd like me can't wait to see what else Phillipa Soo does with her skills, and wishes her happiness with her engagement!